There is little else as satisfying at tending to a patch of earth and watching it grow. The color and textures of various types of greenery and flowers bring joy and life to our spaces, and growing herbs, fruit and vegetables helps reduce our carbon footprints while providing us with fresh things to eat.
Whether you're sitting on a couple of acres or have a tiny concrete patio, fire escape or windowsill, if you enjoy gardening you're likely to need supplies, like soil, seeds and starters, throughout the growing seasons. The pull of big box stores can be strong, but with so many independent and family-owned garden centers in Pennsylvania, we urge you to shop local instead!
Here are are 12 garden centers in PA where you can find everything you need to make your gardening and landscaping dreams come true and help support your local economy:
 

 

View this post on Instagram

 
Edward's Garden Center: What began as a small landscaping business in the 1970s has blossomed into a unique, 5-acre garden center that's about as different from Home Depot as it gets. Not only is the expert staff ready to assist with any inquiry, but the garden center is designed to be enjoyed by the whole family. In addition to the abundant selection of plants, gardening supplies and tools, Edward's has pet bunnies, pheasants, ferrets and ducks for the kids to say hello to, a free scavenger hunt, checkerboards for old-fashioned games of checkers, as well as a large display of fountains and interesting water features. 525 River St., Forty Fort; (570) 287-4329.
 

 

View this post on Instagram

 
Mostardi Nursery: Since 1976, this family-owned nursery has been serving Delaware County and the surrounding area with a gorgeous selection of plants and flowers. The landscaping here is simply stunning, giving shoppers plenty of inspiration, and the plants and supplies are always very well-stocked. Approach the friendly, knowledgeable staff with any questions, as they are a great resource for aspiring gardeners! 4033 West Chester Pike, Newtown Square; (610) 356-8035.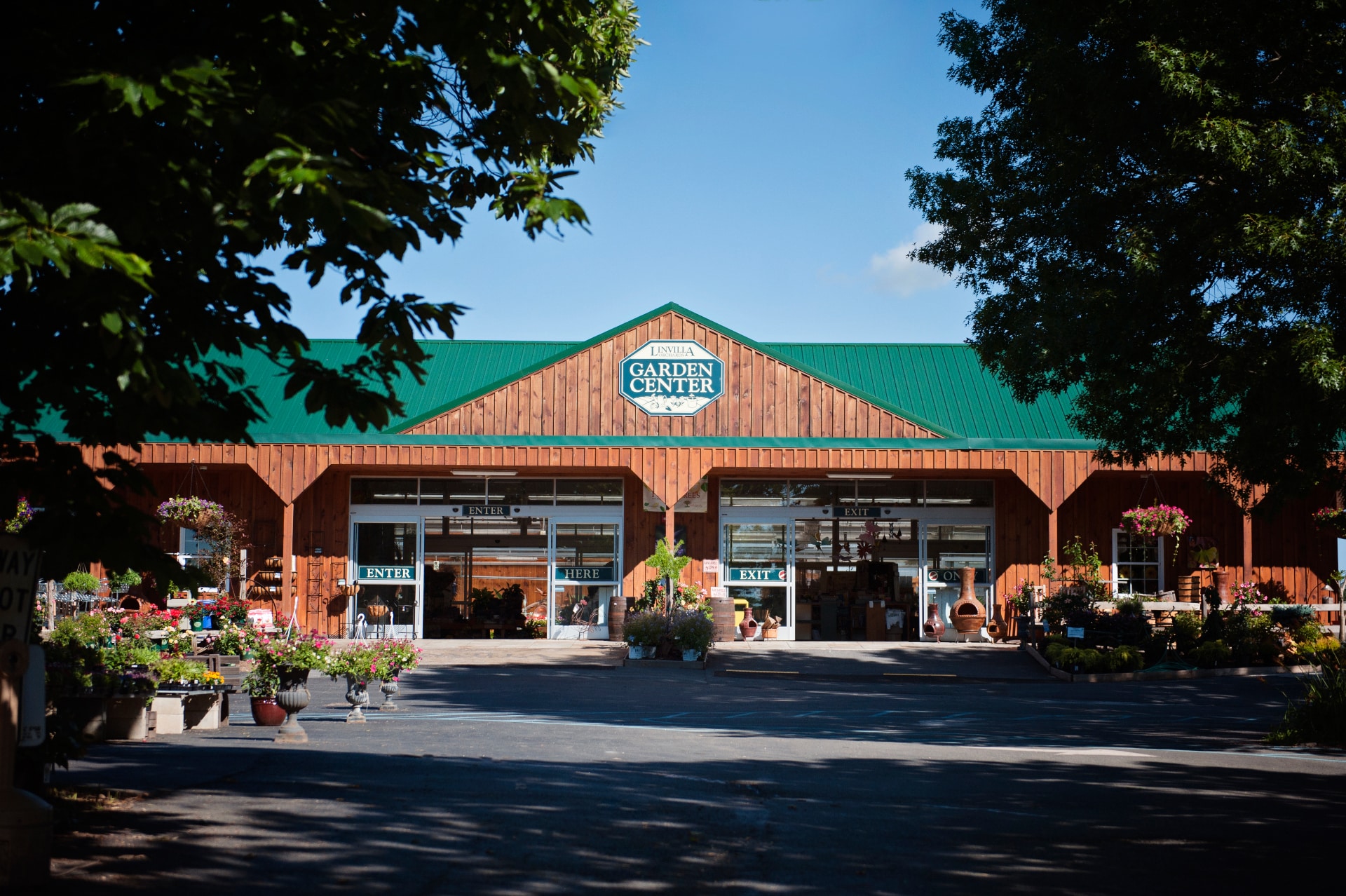 Linvilla Orchards is more than just a garden center — it's a destination. This 300-acre family farm, which is a century-old institution, may be best known for its apple picking and Pumpkinland celebrations in the autumn, but its garden center is not to be missed! The outdoor lot and beautiful greenhouse interior are packed with a beautifully curated selection of plants, including an impressive array of shrubs, fruiting trees, houseplants, and veggie and herb starts, as well as gardening tools and home decor items. Don't leave without popping into the farm market for a cider donut! 137 W. Knowlton Rd., Media; (610) 876-7116.
 

 

View this post on Instagram

 
Urban Jungle: In 2009, this lively garden center opened on East Passyunk Ave. to give city-dwellers a place to shop and seek advice on how to green up their concrete properties. In the year since, it's become a cornerstone of the neighborhood, with an ever-expanding inventory of lush houseplants, flowers, planters and supplies. It also offers services to build and install window boxes! New to Urban Jungle is a second location of an outdoor nursery in nearby Pennsport, that's open Friday through Sunday during the spring and summer. 1526 E. Passyunk Ave., Philadelphia; (215) 952 0811; 1721 S. Water St., Philadelphia; no phone.
 

 

View this post on Instagram

 
Palmer Nursery: This 15-acre property is one of the best spots in the Lehigh Valley to shop for gardening supplies. Palmer Nursery, which has been family-owned and operated for over 40 years, offers a wide variety of annuals, perennials, shrubs and trees. It also carries a selection of mulch, topsoil, stone and construction-grade sand, as well as gardening tools and pottery, birdhouses and other garden decor to help you spruce up your outdoor space. 2210 Corriere Rd., Easton; (610) 253-0948.
 

 

View this post on Instagram

 
Stauffers of Kissel Hill: With 7 locations throughout central Pennsylvania, this locally owned chain (which also operates a handful of grocery markets) has been serving the region for over 90 years with gardening supplies and landscaping services. Each of the locations offers diverse selection of plants, including succulents, cacti, and annual and perennial flowers, as well as shrubs, trees and gardening supplies. It goes the extra mile with lawn and garden care, birding supplies, outdoor furniture and home goods. For extra convenience, you can even shop online for curbside pick up. 1050 Lititz Pike, Lititz; (717) 627-7654; 301 Rohrerstown Rd., Building 1, Lancaster; (717) 397-4718; 51 Gettysburg Pike, Mechanicsburg; (717) 766-7993; 5350 Linglestown Rd., Harrisburg; (717) 657-1760; 1075 Middletown Rd., Hummelstown: (717) 566-6355; 4450 Lincoln Highway East, York; (717) 840-4026; 3949 Carlisle Rd., Dover; (717) 308-0330.
 

 

View this post on Instagram

 
Highland Gardens: This family-run neighborhood garden center is such a lovely place to shop, it's almost like wandering through a botanical garden! Its selection of plants and garden accessories is top notch, with everything from grass seed to rose bushes to evergreen seedlings to charming gifts. Not sure where to start? Highland's friendly staff is always ready to help answer questions. 423 S. 18th St., Camp Hill; (717)737-8633.
 

 

View this post on Instagram

 
Ashcombe Farm & Greenhouses: Since 1962, Ashcombe Farm has been "growing to please you" (isn't that a cute motto?). Situated in Mechanicsburg, this expansive spot offers a wide variety of houseplants, annuals, perennials, starts and shrubs, as well as gardening supplies (soil, seeds, etc.), gifts, gourmet foods, and its own line of baked goods. There's also a cafe on site, making it the perfect spot for a day trip. 906 W. Grantham Rd., Mechanicsburg; (717) 766-7611.
 

 

View this post on Instagram

 
Miller Plant Farm: This family-owned farm and garden center traces its roots all the way back to 1928? In its nearly 100 years in business, it's become established as a wonderful place to shop for plants and gardening supplies for both home gardeners and local farmers. Wander through its 11,000-square-foot greenhouse space to find nearly any type of vegetable transplant, specialty annuals, tropical plants (and much more) that you can imagine! Miller Plant Farm also runs a CSA and occasionally hosts fun on-farm events. 430 Indian Rock Dam Rd., York; (717) 741-2631.
 

 

View this post on Instagram

 
Fox Hill Gardens: This verdant 2.5-acre property is open spring through fall, selling plants appropriate for Pennsylvania's climate, as well as other gardening must-haves like fertilizer, soil amendment, mulch, and other landscaping materials. The plant selection includes more than 450 varieties of perennials, specializing in natives and shade plants, and over 200 types of woody trees, shrubs and ground-covers. Even if you're not a gardener, Fox Hill is a serene, beautiful place to take a walk, complete with a pond, plenty of shade trees and, of course, tons of flowers. 1035 Fox Hill Rd., State College; (814) 237-9087.
 

 

View this post on Instagram

 
Grow Pittsburgh Garden Resource Center: This is not a traditional garden center or store; in fact The Garden Resource Center is a tool-lending library and garden materials depot. This model is meant to reduce barriers to growing food by making it easier for local gardeners to access the supplies they need to build and grow. To use the Garden Resource Center, you must become a member; the annual fee is a sliding scale and includes access to the inventory of woodworking, gardening and power tools, as well as 5 buckets each of compost, topsoil and mulch each month, and 1 bale of straw per year. 147 Putnam St., Pittsburgh; (412) 362-4769 x 215.
 

 

View this post on Instagram

 
Stan's Garden Center: With two locations in Erie, Stan's is a beloved community institution. It was founded in 1954 by Stan and Anna Marie Skarzenski who, at the time, only sold mums. Of course now, nearly 70 years later, Stan's sells a huge array of plants, including annuals, vegetables, herbs, houseplants and bonsai trees, as well as specialty shrubs, and fruit, nut and flowering trees grown at its nearby nursery. Its team of horticulturalists and garden specialists are on hand to help you pick out the perfect plants and trees for your property. 5001 Buffalo Rd., Erie; (814) 899-5424; 5341 W. Lake Rd., Erie; (814) 835-6960.
Where do you love to shop for plants and gardening supplies in PA? Let us know on the PA Eats Facebook page!
Feature image and Linvilla storefront photo:

Linvilla Orchards