Got a bag of John Cope's Dried Sweet Corn in the cupboard? You don't have to wait until the holidays to use it! This crunchy, sweet dried corn (so much more flavorful than frozen kernels!) makes an excellent ingredient in baked goods, like these tender, delicious muffins.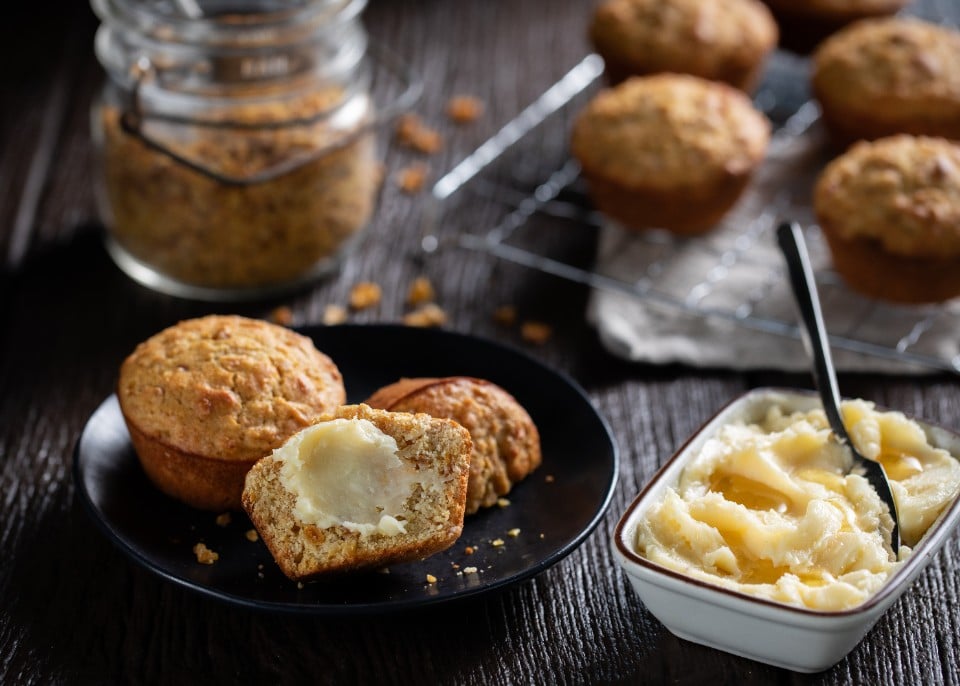 If you love corn-y flavor, you won't believe how much is packed into dried sweet corn, especially when it's combined with cornmeal. The salted honey butter is more than worth the extra few minutes it takes to make, and makes the muffin's corn flavor shine even brighter! Make a batch on a cold morning, or as a side for a holiday meal, to enjoy this classic Pennsylvania product in a way you might've never imagined.
Sweet Corn Muffins with Salted Honey Butter
| Prep Time | Cook Time | Total Time |
| --- | --- | --- |
| 5 min | 25 min | 30 min |
Ingredients
1 cup coarse stone-ground cornmeal
1/2 cup all-purpose flour
1/2 cup whole wheat flour
1/4 cup granulated sugar
1 teaspoon kosher salt
1 tablespoon baking powder
1/2 cup butter, melted
2 large eggs
1 cup buttermilk
1/4 cup honey, divided
1 cup boiling water
1 cup dried sweet corn (we like John Cope's brand)
1/2 cup salted butter, softened
Method
Preheat oven to 375°F. Coat muffin pan with non-stick cooking spray. Combine flours, sugar, salt and baking powder in large mixing bowl. Stir in butter. In a separate bowl, whisk together eggs, buttermilk and 2 tablespoons honey.
Combine boiling water and sweet corn in small mixing bowl and let sit one minute. Drain water from corn.
Stir wet ingredients into dry ingredients until just combined. Fold in sweet corn. Divide batter into prepared muffin pan. Bake 25 minutes, until tops are starting to turn golden brown and toothpick inserted into center comes out clean. Let muffins cool in pan on cooling rack for 5 minutes before removing from pan to cool completely.
While muffins bake, combine remaining honey with salted butter until smooth and creamy. Serve with warm muffins.