Usually, polenta is made from boiled corn meal, and when it's made right, it's rich, creamy and comforting, fortified with plenty of butter and cheese. But, like most porridge-type dishes, it can be a bit rich, especially during warmer months. The PA Eats kitchen team developed this recipe, meant for the height of corn season in Pennsylvania (July through September), to show off polenta's lighter side.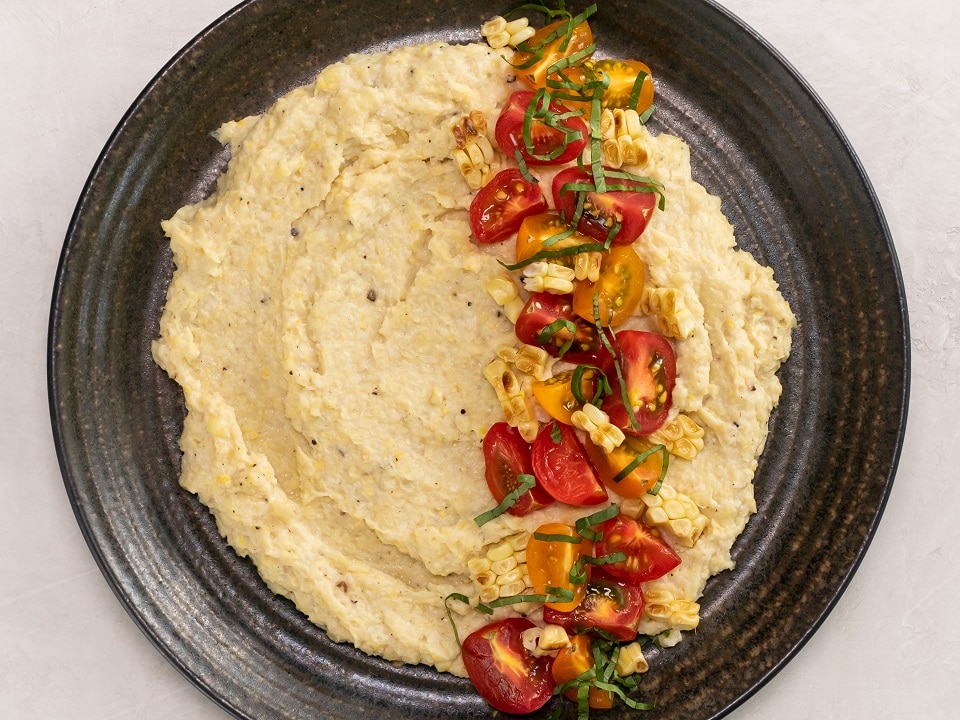 Instead of cornmeal, this polenta technique requires fresh corn – eight ears in all – to create a super-corny base. You shouldn't have any trouble finding PA-grown corn, no matter where you live, as corn is one of the main agricultural crops grown in the state! Whether it's sweet corn from Brecknock Orchard in Lancaster County, organic ears from Sarver's Hill Farm in Westmoreland County, or a haul from your CSA from Hoppy's Produce in Wyoming County, choose local produce for the freshest, most delicious results. While you're at it, grab a pint of local heirloom tomatoes and a bunch of basil to make the juicy salad to complete the dish.
Fresh PA Corn Polenta
| Prep Time | Cook Time | Total Time |
| --- | --- | --- |
| 5 min | 15 min | 20 min |
Ingredients
8 ears PA sweet corn, shucked
1 teaspoon kosher salt, divided, plus more to taste
1 teaspoon black pepper, plus more to taste
2 tablespoons unsalted butter
1/4 cup Parmesan, grated
1 cup PA cherry tomatoes, halved
1/4 cup fresh basil, sliced into ribbons
Method
Cut kernels off corn cobs into a large, high-sided saucepan over medium-high heat. While holding cobs over saucepan, slide back of knife down length to extract remaining corn and liquid from cob.
Add 1/2 teaspoon salt and enough water into saucepan to just cover kernels. Cover and bring to boil. Reduce heat and simmer 8 to 10 minutes, until corn is tender.
Remove saucepan from heat and strain corn. Transfer corn to food processor and pulse until just smooth, leaving a few bits of corn large for texture.
Return corn to saucepan over low heat and stir in remaining salt, pepper, butter and Parmesan cheese. Continue stirring until cheese is incorporated and mixture is thickened, about 3 minutes, adding salt to taste, if needed.
Serve immediately topped with tomatoes and basil.