Every salad, in our opinion, needs a crunchy element. While croutons are often put to that task, we much prefer nutrient-dense (and gluten-free!) nuts to lend a little something-something to veggie dishes. This special seasonal salad utilizes an under-the-radar nut that we'd love to see take its rightful place alongside more mainstream varieties — chestnuts! Pennsylvania is a big grower of chestnuts and we love to use them to accent dishes, especially around the holidays. This raw brussels sprouts salad (with local veggies, of course!), with a delightful sweet and tangy maple dressing and a dusting of Parmesan cheese, is a perfect example of a dish where the gorgeous buttery texture of PA chestnuts can really shine.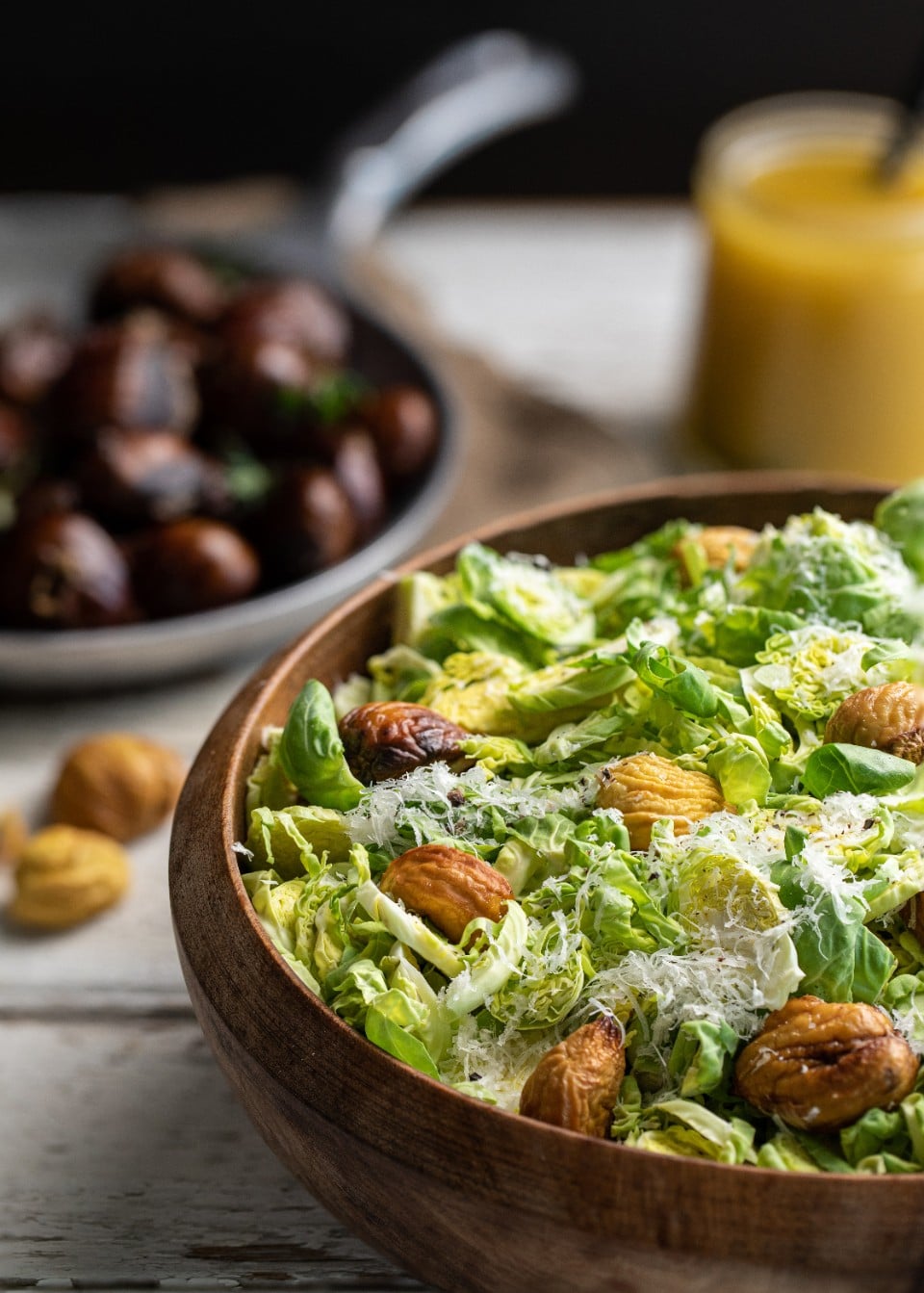 It can be daunting to work with a new ingredient, but roasting chestnuts is actually no big deal. Take a look at our recipe for Roasted Chestnuts with Rosemary Honey Butter to see the technique. Once you've got it down, you can roast up a batch anytime, and keep them on hand just like you would with almonds or walnuts, using them to garnish not just salads, but desserts, roasted veggies, pasta dishes and so much more!
Pennsylvania Chestnut and Brussels Sprouts Salad with Maple Vinaigrette
| Prep Time | Cook Time | Total Time |
| --- | --- | --- |
| 15 min | 0 min | 15 min |
Ingredients
1 pound Brussels sprouts, trimmed and thinly sliced
1 cup roasted and shelled chestnuts, halved
2 tablespoons maple syrup
1 tablespoon Dijon mustard
2 tablespoons apple cider vinegar
1/3 cup extra-virgin olive oil
Kosher salt and freshly cracked black pepper
1/2 cup Parmesan cheese, grated
Method
Combine Brussels sprouts and chestnuts in large bowl. In small bowl, whisk together maple syrup, mustard and vinegar. While whisking, slowly pour in oil, continuing to whisk until dressing in emulsified. Season with salt and pepper, to taste.
Toss sprouts and chestnuts with dressing and top with Parmesan cheese.