In the canon of Pennsylvania-specific foods, pickled beet eggs hold a high place of honor. These rosy pink beauties are a perfect happy-hour snack or addition to a big salad, but we prefer them simply sliced in half and showered with a generous amount of fresh black pepper and salt.
Many PA families, have their own methods or recipes for making pickled beet eggs, passed down from one generation to the next. We'd bet that someone in your family has a handwritten pickled egg recipe on an index card tucked into a recipe box, just like our team member Rich's mom, Mrs. June Ashenfelder of Williamsport, PA, has in her recipe box.
And, like so many family heirloom recipes, this family's recipe has created a bit of a rivalry going between which faction's version is best. (In this case, it's a maternal grandmother's recipe vs. paternal grandmother's recipe that go head-to-head in the rivalry.)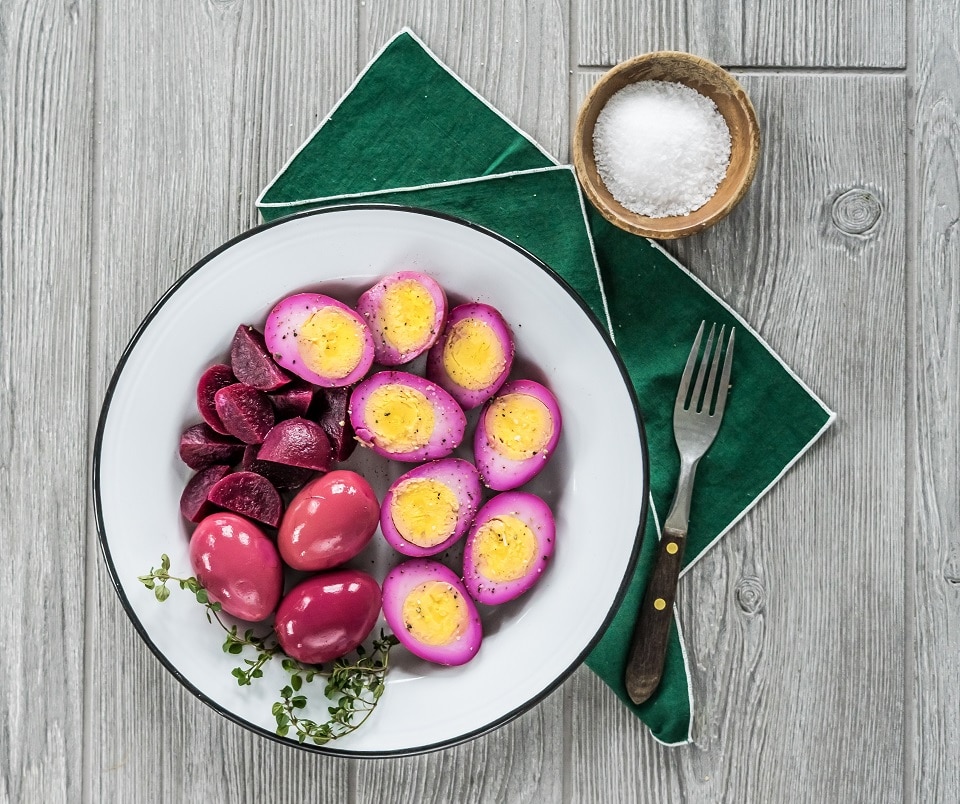 At holiday gatherings, a plate of each type is set out for snacking and everyone comments on whose is better! As far as the "proper" way to make pickled beet eggs, the jury is still out. Mostly, the ingredients (eggs, vinegar, beets and beet juice and sugar) are the same, but the proportions change. Some prefer fresh eggs, and others claim that older eggs work better, and there is much discussion about how long the eggs stay in their beet bath for for maximum pink coloring and "pickle-iness."
Does your family have a similar situation? If not, June was kind enough to share her grandmother's recipe with us, so you can serve this classic PA snack at your next soiree (or even just make a big batch all for yourself!).
Pickled Beet Eggs
Yield
1 dozen pickled eggs
| Prep Time | Cook Time | Total Time |
| --- | --- | --- |
| 5 min | 5 min | 10 min |
Ingredients
1 dozen hard-boiled Pennsylvania eggs, peeled but left whole
1 can whole beets, drained (keep the juice)
1 cup white sugar
1 cup apple cider vinegar
Method
Drain the beets, saving the juice.
Combine the beet juice, sugar and vinegar in a medium pot over high heat and bring to a boil.
Place the hard boiled eggs in a large glass jar, then carefully pour the hot vinegar mixture over the eggs.
Let the jar sit on the counter for one day, then move the jar to the fridge.
Let the eggs pickle in the fridge for five days, then add in a few slices of canned beet. Serve within one week.