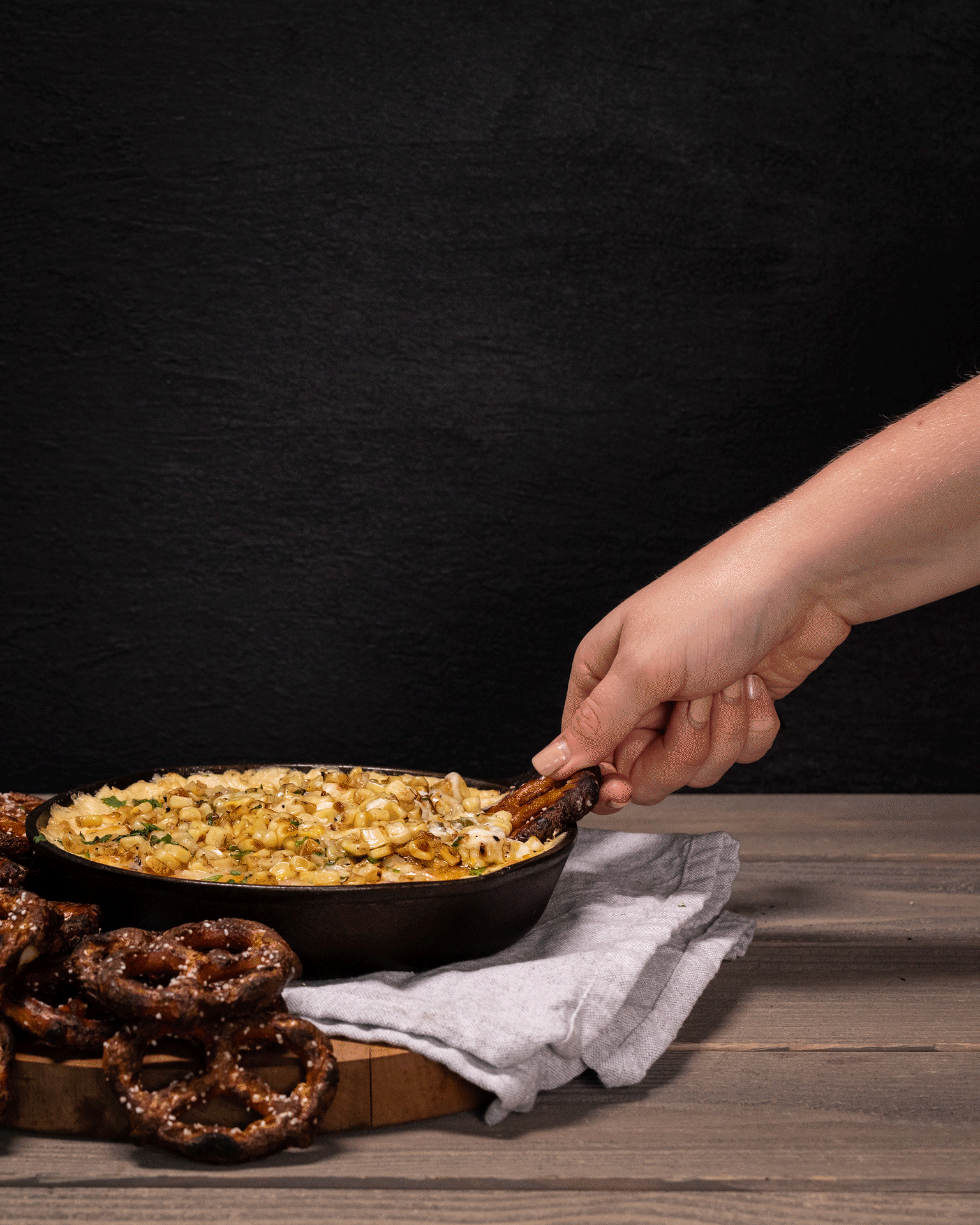 We've come up with the perfect blend of summer sweet corn and cheese in an indulgent melt-y dip that will keep you coming back for more, right to the very end of corn season. The presentation is a showstopper: a sizzling cast-iron pan, bubbling away with a mixture of sweet Pennsylvania corn and cheese, ready and waiting for a locally made pretzel to dive right in. Mayo, cream cheese and sour cream make it creamy and luscious, while jalapeno lends some heat. Put a dish of this out before a barbecue or during movie night with a round of cold beers, and watch it disappear like magic!
Hot PA Corn Dip
| Prep Time | Cook Time | Total Time |
| --- | --- | --- |
| 10 min | 40 min | 50 min |
Ingredients
2 tablespoons olive oil
2 tablespoons butter
4 ears PA sweet corn, kernels cut off cob
2 cloves garlic, minced
1 small yellow onion, finely chopped
1 large green bell pepper, finely chopped
8 ounces shredded PA cheddar cheese, divided
1 large jalapeno, seeds removed and minced
8 ounces cream cheese, room temperature
1 cup sour cream
1/2 cup mayonnaise
1/2 teaspoon kosher salt
Fresh cilantro, for serving
Hard pretzels, for serving
Method
Preheat oven to 325°F. Melt olive oil and butter in large cast-iron skillet over medium-high heat. Add corn and garlic (working in batches if necessary), and cook until browned 4 to 5 minutes. Transfer to large mixing bowl.
Add onion and bell pepper to skillet and cook until tender, about 5 minutes. Transfer to bowl with corn.
Stir half of cheddar cheese into corn mixture and add jalapeno, cream cheese, sour cream, mayonnaise and salt.
Spread mixture evenly in cast-iron skillet and top with remaining cheese. Bake 30 minutes, until dip is bubbly and cheese is golden brown. Garnish with cilantro and serve with hard pretzels.