If sustainable meats are your thing, do not underestimate the power of venison! Deer meat has a similar flavor profile to beef, and it works extremely well in most applications where you'd use ground beef. Especially if it's hunted, it's more environmentally friendly than factory-farmed beef, and it's super nutritious. Three ounces of venison contain 134 calories and 3 grams of total fat (versus 247 calories and 15 grams of total fat in beef). Venison has one-sixth the amount of saturated fat than beef and more protein — 26 grams of protein versus 23 in beef.
If you're worried about gaminess in venison, this spicy chili is one of the best ways to go. The rich mix of chorizo, dried spices, tomatoes and coffee creates the perfect foil to the meat, and black beans add even more protein. This is a quick supper or a great dish to meal-prep for the week ahead.
Spicy Venison Chili
| Prep Time | Cook Time | Total Time |
| --- | --- | --- |
| 5 min | 60 min | 65 min |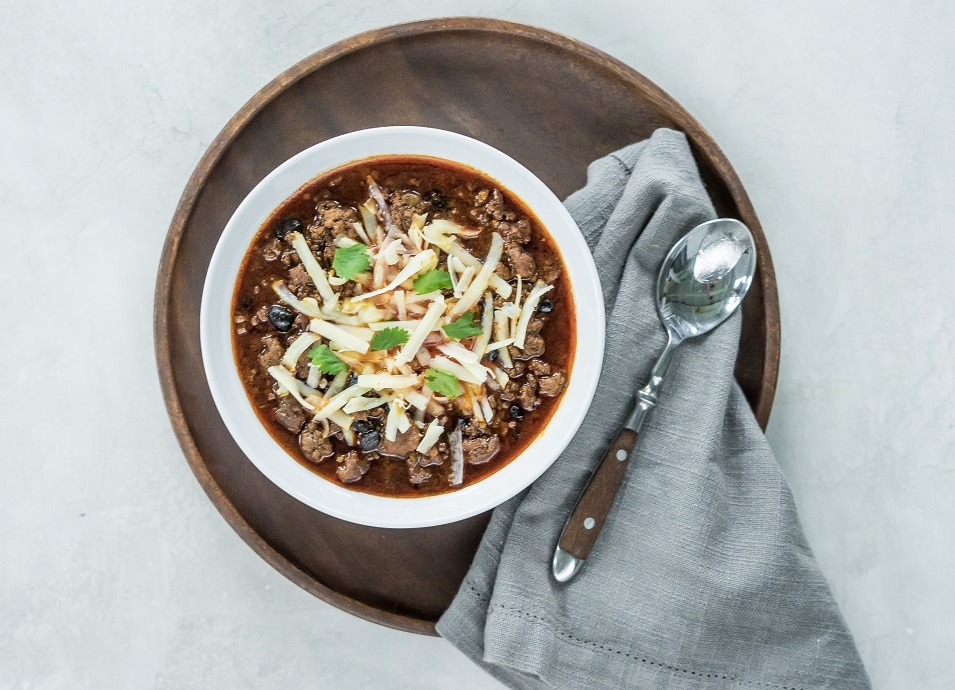 Ingredients
8 ounces Mexican chorizo
2 pounds ground venison
1 medium yellow onion, finely chopped
3 cloves garlic, minced
2 tablespoons ground cumin
1 tablespoon smoked paprika
1/2 tablespoon ground coriander
2 tablespoons molasses
1 cup brewed coffee
1/4 cup tomato paste
1 tablespoon adobo sauce from canned chiles in adobo
1/2 teaspoon kosher salt, plus more to taste
32 ounces beef broth
2 (15.5-ounce) cans black beans, drained and rinsed
Shredded PA sharp white cheddar cheese, for garnish
Fresh cilantro, for garnish
Method
Heat large, heavy pot over medium-high heat. Add chorizo, breaking up with wooden spoon. Cook for 5-7 minutes until browned. Remove with slotted spoon, and set aside on plate lined with paper towels.
Add ground venison and onion to pot, breaking up meat with spoon. Cook for 5-7 minutes until venison is browned and onions are translucent. Add garlic and cook for 1-2 minutes.
Return chorizo to pot and add cumin, paprika, coriander, molasses, coffee, tomato paste, adobo sauce and salt. Stir until combined, then add beef broth.
Reduce heat to low and simmer, uncovered, for 35-45 minutes, stirring occasionally. Taste, and adjust salt and spice, if necessary.
Stir in black beans and cook for 10 minutes, until beans are warmed through.
Serve topped with cheddar cheese and cilantro.