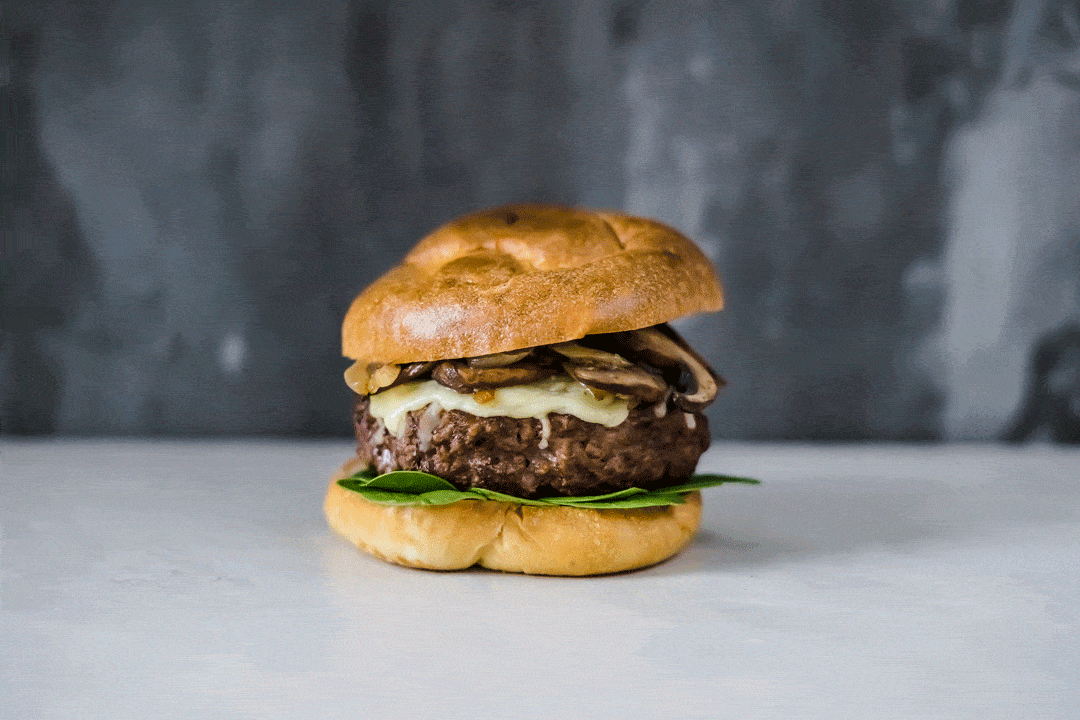 Over the whole gourmet burger thing? Nope, us neither. There's no better way to celebrate a Friday night than by staying in, cracking open a local beer and cooking up a craft burger that rivals your favorite gastropub.
We're loving this recipe, which swaps out ground beef with ground venison (use local, if you've got it), then adds in a bit of pork, as you don't want your burger too lean. Shallots, baby portobello mushrooms and melted Gouda add layer upon layer of umami and a pretzel bun adds a bit of fun , and is sturdy enough to soak up all the delicious juices.
Venison Burger with Mushrooms and Gouda
| Prep Time | Cook Time | Total Time |
| --- | --- | --- |
| 5 min | 15 min | 20 min |
Ingredients
2 tablespoons unsalted butter
2 shallots, thinly sliced
8 ounces baby portobello mushrooms, sliced
2 teaspoons kosher salt, divided, plus more for cooking burgers
1 1/2 pounds ground venison
1/2 pound ground pork
1 teaspoon Worcestershire sauce
1/2 teaspoon black pepper, plus more for cooking burgers
4 ounces Gouda, shredded
1/2 cup fresh baby spinach
4 pretzel buns (regular burger buns are fine, too)
Method
In a medium skillet, melt butter over medium heat. Add shallots, cooking for 5-7 minutes, stirring frequently, until translucent. Add in mushrooms and garlic, cooking for an additional 5-7 minutes until mushrooms soften. Reduce heat to low and continue to cook, stirring occasionally, while burgers cook.
In a medium bowl, gently combine venison, pork, Worcestershire sauce, remaining salt and pepper until just combined. Form into four equal-sized flat burger patties, slightly wider than buns, and gently push the centers down to help keep their shapes. Season top side of each burger with additional salt and pepper.
Heat 1 tablespoon olive oil in cast-iron skillet over medium-high heat. Once oil is shimmering, add burgers, salted-side-down, working in batches. Season other side with salt and pepper. Let cook, untouched, for 3-4 minutes on each side, or until cooked through.
Sprinkle cheese on top of each cooked burger and cover pan with lid until cheese melts, 1-2 minutes.
Serve each burger on a pretzel bun with fresh spinach and mushroom and shallot mixture.