Capture local and seasonal flavors with these festive mini venison meatballs. Venison is an easy swap for ground beef (more nutritious, too!). With ground pork mixed in, along with the sweet, savory glaze, this recipe plays up the bold, meaty flavors of the deer meet while masking any lingering gaminess. Try the mini venison meatballs as an appetizer for a party, or with some creamy polenta or risotto for dinner.
If you have access to PA venison, by all means, use it to make this dish really shine!
Mini Venison Meatballs with Cranberry BBQ Glaze
| Prep Time | Cook Time | Total Time |
| --- | --- | --- |
| 5 min | 30 min | 35 min |
Meatballs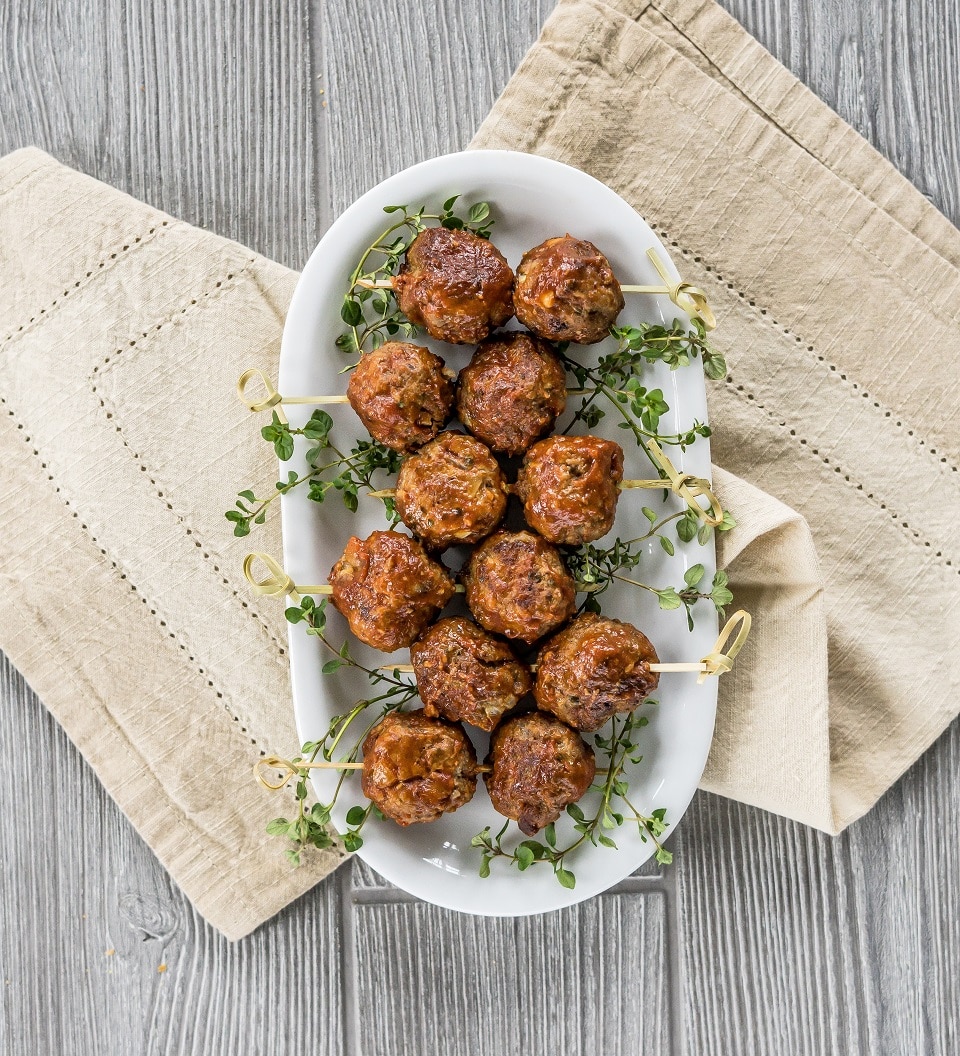 Ingredients
2 pounds ground venison
1/2 pound ground pork
1/2 small yellow onion, minced
1/2 cup panko breadcrumbs
1/4 cup whole milk
2 large eggs
2 cloves garlic, minced
2 teaspoons kosher salt
1 teaspoon black pepper
1 teaspoon dried sage
1 teaspoon dried thyme
2 tablespoons olive oil
Method
Preheat oven to 350°. Line 2 rimmed baking sheets with parchment paper. Add all ingredients for meatballs in a large bowl and gently mix until combined. Roll out meatballs, 1" in diameter.
Heat 1 tablespoon olive oil in cast-iron skillet over medium-high heat. Once oil is shimmering, add meatballs to skillet, working in batches, and cook 1-2 minutes per side, until browned. Add more olive oil as needed. Transfer meatballs to prepared baking sheets and bake 8-10 minutes, until cooked through.
While meatballs cook, prepare glaze (see below).
Dip cooked meatballs in glaze, letting excess run off. Thread meatballs onto skewer and serve. Remaining glaze can be stored in an airtight container in the refrigerator for up to 1 week — try it on burgers, braised meats, and french fries!
Glaze
Ingredients
2 cups fresh or frozen cranberries
1/4 cup brown sugar
1/4 cup red wine vinegar
2 teaspoons Worcestershire sauce
1 shallot, minced
1/2 teaspoon black pepper
1 teaspoon kosher salt
1/4 cup ketchup
2 tablespoons tomato paste
1 teaspoon Dijon mustard
1 tablespoon fresh thyme
Method
Combine all ingredients for glaze in small saucepan over medium heat. Bring to a boil, then reduce heat to low.
Simmer for 10 minutes, until berries start to break down. Remove heat and let cool for 5 minutes.
Puree with immersion blender until smooth.