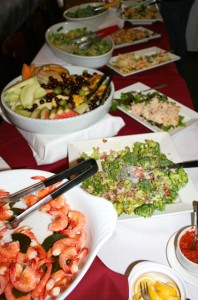 By LeeAnne Mullins
It's clear from the moment you step inside, The Drafting Room Taproom and Grille in Exton has something that makes it special. It could be the warm greeting you receive when you first walk inside. Perhaps it's the exceptional selection of beers available on tap and bottle. But maybe, just maybe, it's the amazing brunch spread laid out for all to lust over every Sunday morning and afternoon.
Orchestrated by Chef Theo Charitos, brunch at The Drafting Room Taproom and Grille offers everything from Eggs Benedict to fluffy French toast to hot and cold pasta dishes. Upon first glance, your eyes will fall upon salads, bowls of fruit and chafing dishes filled with the usual suspects of any good brunch. A closer glance will confirm that this brunch is anything but usual!
Start your day with an order of Eggs Benedict, made-to-order with a perfectly poached egg perched on top of pit ham or delightfully flaky crab mixed with spinach. While you're seated, the kitchen delivers orders of warm bourbon sticky buns to each table, where it's worth fighting with your table neighbor to secure the last bite.
Sweet, warm and dripping with lip-smacking bourbon sauce, these tasty morsels are not to be missed before hitting up the buffet tables.
The buffet is seriously impressive. The salmon, which is smoked in house, is first cured in vodka and brown sugar before being quickly cold smoked over applewood chips. The flavor is so unique and texture so smooth; the salmon really beckons to be visited for seconds. Challah chocolate chip French toast can be seen piled high on plates all around the restaurant, as kids and adults alike dig in with a smile, dragging each bite through sweet syrup or bourbon peach sauce. The spread here even includes an omelet station where you can ask for just about anything to be tucked inside fluffy eggs or whites! As Chef Charitos quipped, "We want to accommodate our guest's needs like it's nobody's business!" Clearly, they do mean business, as their brunch buffet has something for everyone from the breakfast potato lover to the sushi fiend.
The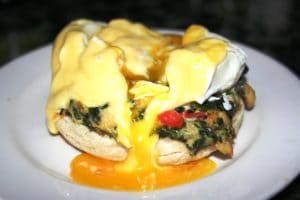 Drafting Room Taproom and Grille is owned and operated by the friendly duo Andrew and Howard Weintraub, who ensure that fresh kegs are always in rotation and there's always an interesting Scotch to sip. Named one of the top 50 places to have a beer in America by Beer Advocate, The Drafting Room offers many great beverage options to enjoy with your brunch.
The popular beer bar has a dozen taps that are constantly rotating with an interesting selection of local, seasonal and craft brews. They also have an impressive list of brunch cocktails or you can ask the friendly bartender to stir up a tasty concoction of beer and champagne if you just can't decide. No matter what you're in the mood for, The Drafting Room Taproom and Grille will not leave you hanging. Visit for brunch and be sure to bring your appetite. You can also opt to arrive a bit later in the day for their Sunday Supper, which offers your choice of two different entrees paired with a beer flight of three draft choices.
The Drafting Room Taproom and Grille's heavenly brunch is available every Sunday from 10 AM to 2 PM for $16.95 for adults, $7.95 for children 5-12 and free for little ones under 5. They also have a la carte menu options ranging from yogurt with fresh fruit to creamed chipped beef alongside buttermilk biscuits, home fries and sausage. For directions, menus and information about upcoming beer dinners and other special events, visit them at their website at www.draftingroom.com.
The Drafting Room Taproom and Grille can be found at 635 N. Pottstown Pike in Exton, PA.