Humor columnist Dave Barry once scribed, "Without question, the greatest invention in the history of mankind is beer. Oh, I grant you that the wheel was also a fine invention, but the wheel does not go nearly as well with pizza."
While Ron Inverso, owner of Ron's Original Bar & Grille (74 East Uwchlan Avenue, Exton), may not be in cahoots with the notable author, his eatery expresses similar love affairs, bringing together a top-notch draft, bottle and take-out selection of beers aside well-done brick oven pizza pies and ovals.
Ovals, original to Ron's, are a variation of a pizza round that is topped with your choice of toppings—and no sauce. Finished with Ron's specialty seasoning and baked to perfection, it's obvious that this eatery's handcrafted fare is well worth your trip to Exton.
But, it was not just yesterday that Inverso introduced Ron's Original to the grub-loving, beer-drinking dining scene of Chester County. In 2010, he celebrated his 20th anniversary, initially conceptualizing his establishment as Ron's Schoolhouse Grille, fully equipped with a yellow school bus' grill protruding vividly from one of the dining room's walls.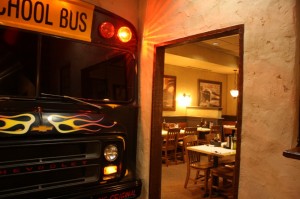 Just before the milestone celebration, in 2008, Ron's experienced a full-blown clean sweep, including a name change and an overall grotto-styled, rustic face lift. However, the eatery does still possess its notorious bus, now seen in blacks and petite flames, blending in with the subtle décor of the renovated space.
What didn't change for Ron's over the last two decades was the owner's philosophy and mission, which has always been to serve healthy food made on-site daily with the freshest, best-quality ingredients. Setting up shop every day at 6 am, his staff preps food fresh and from scratch—never relying on additives and preservatives.
Living by the motto, "If I wouldn't eat it, I won't serve it!," Inverso ensures that Ron's never uses pre-portioned packaged frozen meats and swears by his in-house dressings and marinades. With a solid, wholesome menu concocted from handpicked ingredients, Ron's is easily an above-par neighborhood bar and grille.
Whether you prefer to a generous plate of fettuccine tossed with their classic creamy Alfredo sauce, a black pepper-crusted New York strip finished with whiskey cream sauce, an Alicia's Apple Salad tossed with walnuts, red onions and Gorgonzola cheese, or a Positano burger served with roasted sweet peppers, sharp provolone and prosciutto, Ron's has a comforting bite for all palates.
But, while we could easily handpick our favorites (ovals included), what keeps locals coming back is the bar and restaurant's first-rate craft beer selection. Whether you prefer to grab-and-go or you want saddle up and have a few pints, there is a never-ending lineup of porters, stouts, saisons, pale ales, barley wines, lagers, etc. Handpicked and constantly changing, Ron's packs one of the better beer selections in Chester County, both in bottle and on draft.
Better yet, with the increased interest in the craft beer industry over the last decade, Ron's continues to hold its own. In addition housing an alluring food and beer menu all-year-round, they also host weekly nights of entertainment, including music acts performing everything from classic rock and pop to soul and R&B.
To experience Ron's Original for yourself and have a brew or two, visit 74 E. Uwchaln Ave. in Exton or visit them online at www.ronsoriginal.com.