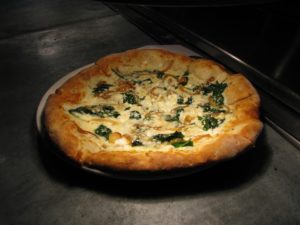 Tucked away in the Eagleview Town Center, Brickside Grille located at 540 Wellingtown Square, Exton, is a top-notch eatery that should not be missed.
Whether you are looking for something from the sea, flavorful pizzas from their wood burning oven, unique sandwiches and soups, or slow-roasted prime rib, Brickside Grille can please any palette. Everything on their ever-changing menu is made from with crowd favorites including baked shrimp wrapped in prosciutto with a horseradish sauce, beer battered oyster BLT on a brioche roll, or the Mediterranean brick oven pizza. Their raw bar is stocked with fresh oysters, shrimp, and clams that arrive daily from a local fish market in Philadelphia.
"Depending what you feel like eating that night, you can hit that niche," said owner Drew Weintraub. "We try to be creative, not just like the place down the street."
Their vibrant bar has sensational cocktails, 12 drafts with rotating microbrews and a large bottled beer list. Brickside Grille offers something that is unheard of in the restaurant industry – a $10 over the cost program for their numerous bottles of wine. All bottles in the 60+ collection are handpicked and hail from regions all over the world.
Looking for the perfect way to close out a long week? Head over to Brickside for a glorious Sunday brunch buffet from 10am-2pm. The bountiful buffet includes a carving station of prime rib, salmon, and ham; a frittata station, eggs benedict, oysters and clams, as well as other breakfast favorites. Their in-house magician will entertain children of all ages with his tableside tricks, balloon animals and gifts.
Want to snag exclusive deals and get the inside scoop? Brickside Grille offers exclusive specials for facebook fans and their email subscribers. Right now, on Tuesdays through May 31st, Brickside Grille will help not only feed you but also someone in need. They will donate a dollar for every guest that dines on Tuesdays to the Chester County Food Bank. From April through October, enjoy dining on the beautiful outdoor patio that overlooks a park filled with manicured trees, brilliant seasonal flowers, and flowing fountains.
The raw bar, wood oven pizzas, large selection, friendly service, lovely libations all lay down the foundation for a fantastic dining experience at Brickside Grille.