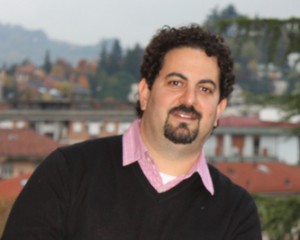 Sean Weinberg, chef/owner of Restaurant Alba has been selected to prepare a traditional Piemontese dinner for the James Beard Foundation at the Beard House in New York, NY on Monday, April 11 at 7:00 pm. Chef Weinberg's menu "Savoring Northern Italy" (see below) will feature traditional Piemontese recipes paired with some of his favorite wines from the region.
The mission of the James Beard Foundation is "to celebrate, preserve, and nurture America's culinary heritage and diversity in order to elevate the appreciation of our culinary excellence." Chefs are invited to "perform" at the Beard House by presenting lunches, brunches, workshops, and dinners to Foundation members and the public. The Beard House is located at 167 West 12th Street NYC. Reservations for this event are limited, call 212.627.2308 or visit online at jamesbeard.org/events.
Restaurant Alba is run by Philadelphian Sean Weinberg and his wife Kelly, a Chester County native. Sean's contemporary cuisine focuses on seasonal ingredients. Dishes are simply prepared and cooked over a state-of-the-art wood-burning grill. This allows the true flavors of the food to stand out while being enhanced by a live hickory and mesquite wood fire, a concept found throughout the countryside of Europe.
Weinberg grew up in his parents' restaurant, the Rose Tattoo Café in Philadelphia. He is a graduate of the Culinary Institute of America in Hyde Park, NY. He completed an externship in Los Angeles at the Checkers Hotel under the famous restaurateur, Thomas Keller, now of the French Laundry in Napa Valley. Sean completed a two-year apprenticeship throughout various restaurants in Northern Italy, two of which, Il Cibreo of Florence, and Al Covo of Venice are continually in the international spotlight. He also has extensive work experience in Mexico and throughout the American West. Sean was Executive Chef for five years at the Rose Tattoo Café prior to opening Restaurant Alba.
Restaurant Alba is located at 7 W. King Street, Malvern, PA. Call 610.644.4009 or online at restaurantalba.com.
Menu for the James Beard Chef Event is as follows:
Assorted Crostini: Piemontese-Style Beef Tartare; Sheep's-Milk Ricotta with Honey and Sea Salt; and Fava Bean Purée
with Gabriela Mayr Brut Riserva 2005
Vitello Tonnato with Spring Vegetables
with Picollo Ernesto Gavi 2008
Pecorino Sformato with Pea, Pea Tendril, and Crispy Sweetbread Salad and Quail Egg
with Poderi la Collina Labra di Giada Dolcetto di Dogliani 2008
Rabbit Agnolotti del Plin with Broth and Parmigiano-Reggiano
with San Biagio Montersino Barbaresco 2005
Barolo-Braised Short Ribs with Rustic Polenta Integrale and Spring Radishes
with Giovanni Roggero Barolo Riserva 2004
Selected Piemontese Cheeses
with Giovanni Roggero Barolo Riserva 2004
Hazelnut Cake with Mascarpone Custard and Apricot Jam
Wines will be generously provided by Enoteca Diana.