Everyone is looking forward to the "Sweet" smells of Spring as well as the sweet smell of flowers and desserts at Waterloo Gardens!  Sixteen Chester County pastry chefs are putting the finishing touches on their delicious desserts for Sweet Charity.  Over 500 guests are expected to attend this highly competitive dessert contest on Tuesday, March 29 from 6-8:30 p.m at Waterloo Gardens, 200 North Whitford Road, Exton.  Hosted by Linda LeBoutillier, Sweet Charity benefits the Chester County Community Foundation and grows legacy philanthropy throughout the region.
Hoping to win again this year, New Street Catering as well as St. Peter's Bakery are back!  What creations will they bring to the table?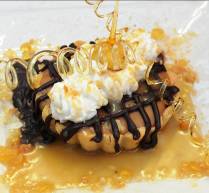 On March 29 guests will enjoy fragrant spring blossoms in Waterloo's greenhouses as they mingle with dessert chefs from Amani's, Brandywine Catering, Carlino's, Crazy About Hummus!, Cakes & Candies by Maryellen, Desmond Hotel, General Warren Inne, Jimmy Duffy & Sons, The Lincoln Room, MacDougalls Irish Victory Cakes, The Master's Baker, New Street Catering, Newton's on State Street, Ship Inn, St. Peter's Bakery and Whitford Country Club.  Those who are hesitant to spend a whole evening eating desserts will enjoy a delicious Gourmet Buffet by Aquilante.
This year's desserts include:  Chocolate Caramel Crunch Torte, Bread Pudding, Strawberry Rhubarb Tart, Tropical Fruit Napoleon, Toffee Pudding, Chocolate and Butterscotch Cake, Blackout Cupcakes, White Chocolate Bread Pudding, Strawberry Mango Dessert Spring Roll, Decadent Cake Truffles, Double Fudge Bacon Brownie, Rice Pudding Timbale, Gemstone Cookies, Truffle Raspberry Bread Pudding and Coconut Panna Cotta.
Sweet Charity also features the Sweet Victory Welcome Area, pairing Victory Brewing beers with desserts.  Sweet Victory is hosted by ChesCo Community Imprints, a network of Chester County's aspiring, emerging and established philanthropists and community volunteers aged 30-45.
Sweet Charity is a must-attend benefit supporting an important cause.  The Chester County Community Foundation helps families and businesses become involved in charitable giving for the long run, by encouraging legacy gifts and increasing awareness of the needs and issues facing Chester County. The Community Foundation holds over 320 funds in trust and annually awards $1.5 million in grants and scholarships.
All are invited to attend the charity fundraising event on Tuesday, March 29 from 6:00 to 8:30 p.m. at Waterloo Gardens on Whitford Road in Exton.  Tickets begin at $125.  For more information about Sweet Charity or the Community Foundation's philanthropic programs, call (610) 696-8211 or visit www.chescocf.org.  All event proceeds benefit the Chester County Community Foundation and its programs.