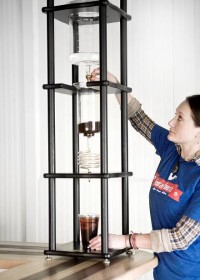 The only place in Philly (maybe the world) that pumps out a combination of the best coffee, donuts and chicken has embarked on an Iced Coffee journey unlike anything you've ever seen before. The contraption may look unusual but there is nothing strange about the fine taste of the iced "picker upper" it can produce. Although a picture is worth a thousand words, it takes more than talk to justify the smooth, rich flavor of this refreshing beverage. You'll need to get a taste!
That's right, in addition to serving the city's most crave-able donuts and fried chicken, Federal Donuts (1219 South Second Street) also offers exceptional Iced Coffee.  From Topeka, Kansas' PT's Coffee Roasting Co., the propriety blend is cold brewed over six hours, creating a 16-oz., $3 cup of iced coffee that perfectly accompanies a fresh donut or crispy bite of fried chicken.
Thomas Henneman, co-owner and coffee expert reminds us that you can drink coffee no matter what the temperature is or time of day, but their iced coffee makes it a little easier to enjoy the amazing flavor of your favorite beverage, even when it's 100 degrees outside.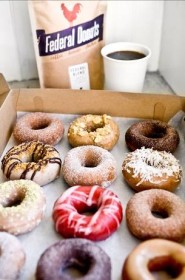 So how does it work?
The twin Japanese Syphon towers are the secret to Federal's pure coffee drinks.  A customized grind and up to six hour drip time through ceramic filters results in superior extraction of flavor compounds; unlike hot brewing coffee and then chilling it, no aromas or flavors are lost upon refrigeration.  P.T.'s beans – both those  intended for iced coffee and hot drip – are a blend from Ethiopia, Brazil and Central America. This means the great tasting coffee is available year round. Bags of whole beans or custom grinds are always there for take home, too, at $9 a piece.
Federal Donuts opens everyday at 7 a.m. serving coffee (iced and hot) and fresh cake donuts.  Donuts can be ordered two ways:  Hot ($1.25) are freshly fried to order, then rolled in one of several custom seasoned sugar blends, such as Indian Cinnamon, Appollonia Spice and Vanilla-Lavender;  and Fancy ($2.).
Why not try them topped with decadent summer time flavors like Creamsicle, Mandarin-Coffee, Strawberry-Rhubarb Pie and Mango-Chile? Take one down with a fresh, iced coffee and your day will be unbothered by all of life's little worries. It's THAT good!
Photos credited to Michael Persico.