Burlap and Bean really does it all.
By the day, this coffeehouse is a spacious upscale space inhabited by those seeking excellent in-house roasted coffee, espresso, sandwiches and light snacks. At night, Burlap and Bean hosts well known singer/songwriters on their stage, giving suburban music lovers the opportunity to see excellent live acts without driving into Philly.

On a recent Friday night, we packed a few beers in a cooler and headed to Burlap and Bean to see renowned singer/songwriter Jeffrey Gaines. Gaines is an accomplished songwriter with six albums under his belt. He wrote the popular song, "Hero in Me," and his cover of Peter Gabriel's "In Your Eyes" is loved by many.
Burlap and Bean seats approximately fifty people for shows, and the place was packed. In addition to table seating which can be reserved, they also have a delightful seating area with a few comfy chairs and couches. The room is spectacular. The stage is elevated enough to insure a good view from all angles but still provides an intimate performance. The stage is also in an interesting location, taking up the front corner of the coffeehouse, right inside the front door.
The opening act was Stephanie Carlin, a Brooklyn singer/songwriter who played haunting songs with themes of loneliness and solitude, war and peace, and more. Though we'd never heard her before, we were mesmerized by her songs, one of which included a refrain sung in sanskrit. She was a powerful performer.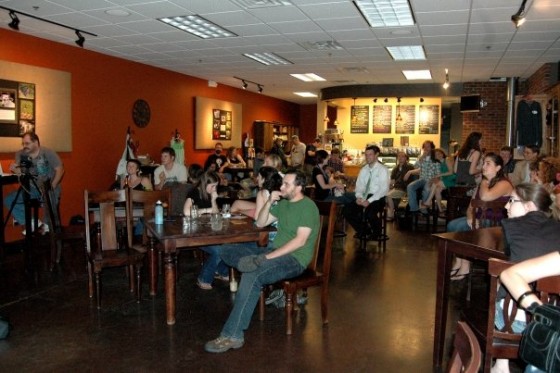 After Carlin's opening act, my date made her way up to the counter to order a coffee. Loving that Burlap and Bean is a BYOB, I cracked open a second beer and struck up a conversation with the couple at the next table. They were obviously experts at this, as they had brought their own thermos filled with martinis. Phyllis and Bob Markovitz regularly attend Burlap and Bean's live shows on weekends.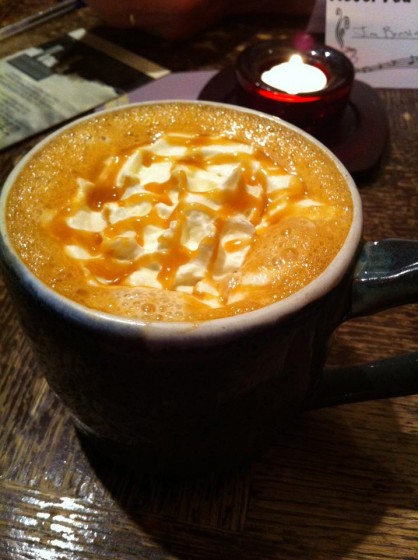 "We love the live music," Phyllis told me. "We love Burlap and Bean, they are wonderful owners and a great staff. We've been to a lot of others (coffeehouse shows) but we like this room." Our conversation was interrupted when Tara Endicott, one of the owners of Burlap and Bean, delivered a gorgeous birthday cake to their table to celebrate Bob's birthday and the whole room broke into song. My date returned with a caramel apple cider (seen, to left) that she promptly fell in love with and has been longing to return for another mugful.
A few minutes later, Jeffrey Gaines casually wandered in through the front door with his guitar slung over his shoulder. He hopped on stage, plugged in, and started wailing on his guitar within about three minutes. Dressed all in black, with his spiked hair and yellow tinted glasses, Gaines played with a physical force. We were seated so close, just to his left side, that we were immediately enraptured by his passion. Phyllis handed us slices of the decadent cake as though we were already part of her family. Throughout the next ninety minutes, Gaines intertwined several of his own songs such as "Hero in Me," "Elliot," and "Happy That," with cover tunes such as the Beatles "Across the Universe" and the Pretenders "Stop Your Sobbing." Between sipping a bit of my date's cider, enjoying my beer and the delicious cake, we were rocking in more ways than one.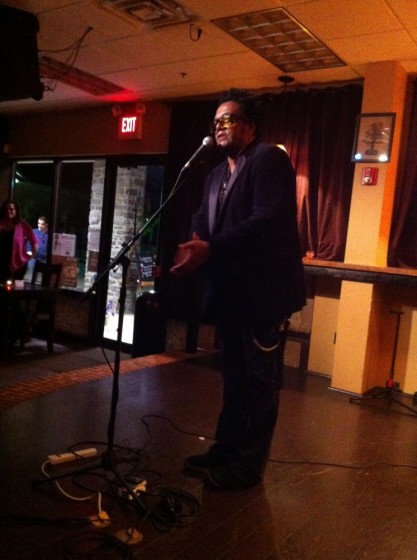 I also must note — Jeffrey Gaines is funny. He told interesting backstage stories about performing with folks such as Bonnie Raitt and Judy Tenuta, and joked about how he had come directly from hanging with Peter Gabriel at the Wells Fargo Center, where he had "rubbed Peter's shoulders and talked him through it."
At one point, Gaines talked about how his parents tried to interest him in football, but as a teenager he just wanted to play guitar. His parents relented, though his father finally sighed, "if we could just get him to play something other than Ramones songs." After a few more tunes, Gaines asked the audience if they had any requests and I couldn't resist calling out "Sheena Is A Punk Rocker." Gaines looked directly at me and cracked up, and then he launched into the classic Ramones' tune with a grin on his face. To me, that moment exemplified the personal experience of seeing a show at Burlap and Bean.
Burlap and Bean is located in The Shops at Springton Pointe, a shopping center along Route 252 south of Newtown Square but north of the reservoir. The coffeehouse is owned by the Endicott brothers, Ben and Brent, and their respective wives Christi and Tara. Ben is the head roaster, Christi handles marketing, Tara books the musical acts and Brent works behind the scenes as the president.
Check out the schedule for upcoming shows here. Find Burlap and Bean Coffee at 204 South Newtown Street Road in Newton Square, or online at burlapandbean.com. "Like" Burlap and Bean on Facebook too, by clicking here.
Coffee Lineup and Music Crowd photos courtesy of and credited to Burlap & Bean. Remaining photos credited to Jim Breslin.