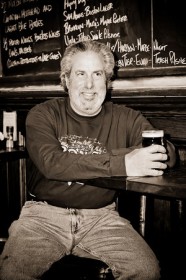 You only need to spend five minutes with Ron Inverso – maybe less – to learn that healthy food can and does taste great. One bite confirms the same.
Ron's Original Bar & Grille has been a local favorite for more than two decades, serving up family must-haves such as pizzas, strombolis and sandwiches along with traditional Italian and classic dinner selections. Yet four years ago, a family illness changed the way Ron thought about food, and changed how he now feeds his family and his customers.
"Four years ago, my wife was diagnosed with a major health issue," he explained. "She had a significant surgery, and is doing great now. But while she was recuperating, I was researching, and came across information about what it really means to eat in a healthy way."
And research he did. Ron devoured information in books, magazines and online, and came to the conclusion that many of those charged with keeping an eye on what goes into what we ingest aren't always making the best choices. So he took matters into his own hands.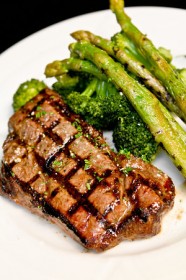 "Let's face it: some companies produce and serve junk that's filled with preservatives, artificial colors and flavors, fillers … it's just not 'real' food," Ron said. "I immediately changed my family's diet, but then I became very concerned about what we were feeding our customers. There's a right way to do it, a right way to run a restaurant, and I began to implement what I'd learned."
Much to his suppliers' chagrin, Ron began reading every label. Every one. He has final say on all purchasing and rules out a long list of things he won't eat: nitrites, hormones, antibiotics, added chemicals, MSG, additives, preservatives, artificial colors and so much more. He's looking for simple food that's close to nature. This philosophy is proudly posted on his website.
"If you can't pronounce it, or if your grandmother doesn't know what it is, you probably shouldn't eat it," he surmised. "If I won't eat it, I won't serve it."
Fear not, regulars! Tried and true favorites and the staples that made Ron's Original so popular are still on the menu. Here's the good news: they're just better for you. And tastier. Serving hormone- and antibiotic-free beef and chicken, for example, means the taste is superior, fresher, like Mother Nature intended. Ditto for PCB-free Jail Island salmon. Or fresh, ice-packed, never frozen, mussels and calamari.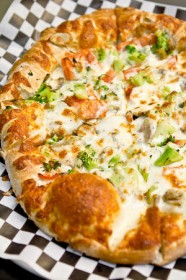 Any why wouldn't they taste great? Everything is prepared right there in the kitchen, not in some far-away factory. Ron figures he's paying for labor either way, so he'd much rather his trained chefs hand-cut and bread chicken fingers to bake, or hand-cut and prep steaks to grill, than pay for a machine to do so somewhere else. It's clear: when you're at Ron's Original, there's someone making you a home-cooked meal.
"You name it, we make it here: soups stocks, sauces, salad dressings, desserts, even the salads. They don't come from a gas-filled bag," he added. "That means we're here at 6 a.m. to prep for the day."
Ron's Original has started to offer gluten-free items (Ron's daughter eats that way), and hopes to move toward a fully organic and non-GMO (genetically modified organism) menu. He buys as much organic as he can right now while keeping an eye on prices.
"We have a vision we're trying to promote: back to the basics, healthier choices," Ron emphasized. "We're starting to introduce some new items for the health-conscious while keeping the things our customers have always loved. Our next Kids Menu will feature eight side dish options so parents can select something other than fries, chips or veggie sticks. We aim to satisfy our regulars and to draw in new people who are interested in the healthy options."
There's no shortage of regulars at Ron's Original, even when I arrived at 2 p.m. "after" the lunch rush. Ron, his manager and staffers knew patrons by name, and vice versa. They stopped to chat about family and friends; it reminded me of a certain place where everybody knows your name.
Ron's Original's diverse menu also is available as take-out, delivery to about a four-mile radius and as catering. His catering is popular because it's just food, no set-up or liquor, so it's less expensive because he's not selling services, just great meals. The restaurant can be seen at area special events, and hosts its own events, which are listed on its website. It's host to a vibrant bar scene, with no-cover live music and dancing Fridays and Saturdays.
Ron's 20 rotating drafts and 200 craft beer-bottle selection is legendary, as is its take-out beer options. You want full service? Ron's Original even makes hormone- and antibiotic-free chicken dog food. And don't forget to ask about the R.O.C.K. Card (Ron's Original customer Klub loyalty card) for great points and prizes. No wonder it's a Main Line Today "Best of the Western Suburbs," County Lines Magazine's Best of the Best Annual "Best Family Restaurant" and Suburban Life "Golden Fork" award winner.
You only need to spend five minutes with the original Ron – maybe less – to understand his sincere desire to make a difference in people's lives by offering good-for-you food and a good time at his down-to-earth restaurant.
Find Ron's Original Bar & Grille at 74 E Uwchlan Ave (Route 113 just north of Route 100) in Exton, PA. They are reachable by phone at 610-594-9900, or online at ronsoriginal.com. Follow Ron's on Facebook too, by clicking here, or on Twitter, by clicking here. Be sure to  stay "in the know" with Ron's by clicking here to download their iPhone app.
Photographs credited to Nina Lea Photography.