Break out your spatulas, bowls and baking sheets. Because the 3rd Annual Great Food Blogger Cookie Swap results are in. Feast your eyes on over 500 new recipes for spectacular holiday cookies, from cutouts and biscotti to gingerbread and chocolate chips. More than 16,000 cookies were shipped around the world (each participant gave and received three dozen cookies) and over $13,000 was raised for Cookies for Kids' Cancer.
The 3rd Annual Great Food Blogger results are posted here and here. We've scoured the list from top to bottom and highlighted some of our 'must-bake' recipes below, as well as contributions from local bloggers.
I'm also sharing my recipe for chocolate toffee nut cookies, which are guaranteed to change your mind about meringue. Packed with high-quality chocolate, toffee bits and toasted nuts, they'll win over all the cookie sophisticates in your life. Crunchy, sweet and decadent, throw these meringues together and impress even the biggest holiday cookie critic.
'Tis the season for baking!
Inspiration from Local Bloggers…
Cafeteria Oatmeal Cookies – Design + Life + Kids
Chai Tea Eggnog Cookies – It's Good to Be the Cook
Hot Cocoa Cookies – I Can Cook That
Dark Chocolate Caramel Corn Delights – Cupcake Friday Project
…And Talented Cooks Across the Nation
Festive Fig Rolls with Orange, Honey & Cinnamon – The Little Loaf
Stained Glass Biscuits – Digital Diva
Salted Caramel Pretzel Chocolate Chip Cookies – Fantastical Sharing of Recipes
Triple Ginger Cookies – Noms for the Poor
Chocolate Pistachio Sables – Fork Vs Spoon
Peppermint Mocha Thumbprints – The Busty Baker
Salted Vanilla Chip Oatmeal Cookies – Neufangled Dessert
Chocolate Chip Cookie Dough Billionaire Bars – Stracciatella
Panaforte Bites – Juls' Kitchen
Figgy Cranberry Cookies – Pretty Awkward Life
Raspberry Marshmallow S'mores – My Life Made Sweet & Saucy
Laura Koster's Own Cookie Contribution
Chocolate Toffee Nut Meringues
Adapted from Alice Medrich's Chewy Gooey Crispy Crunchy Melt-in-Your-Mouth Cookies
Makes approximately 4-5 dozen cookies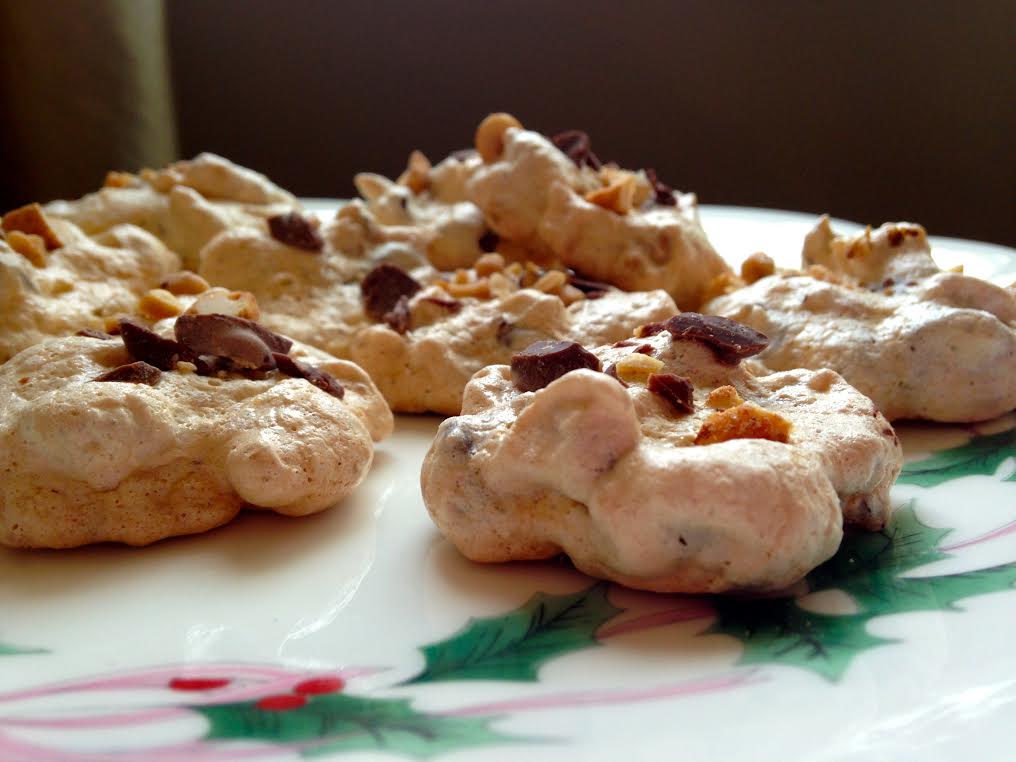 Ingredients:
1 cup salted, toasted nuts, roughly chopped (hazelnuts, peanuts, almonds, cashews, etc.)
1 ½ cups high-quality chocolate chips (such as Ghirardelli bittersweet or milk chocolate)
1 cup toffee bits (such as Heath Bits 'o Brickle Toffee Bits. For a chewier cookie, try Kraft caramels, finely chopped)
¾ cup sugar
4 egg whites, at room temperature
1/4 tsp. cream of tartar
Directions:
Preheat the oven to 300 degrees. Position racks in the upper and lower thirds of the oven. Combine the chocolate, nuts and toffee, reserving a 1/3 cup of the mixture for topping.
Combine the egg whites and cream of tartar in a clean dry bowl. Beat at medium-high speed until the egg whites are creamy white (instead of translucent) and hold a soft shape when the beaters are lifted.  Continue to beat on medium to high speed, adding the sugar a little at a time, taking 1 1/2 to 2 minutes in all, until the egg whites are very stiff. Gently fold in the chocolate-nut-toffee mixture.
Drop generous tablespoons of meringue 1 1/2 inches apart on the lined cookie sheets.  Top each meringue with some of the reserved topping. Bake for 10-15 minutes, until the meringues begin to turn golden. Rotate the pans from top to bottom and from back to front. Turn the oven down to 200 degrees and bake for another 1 1/2 hours. Turn off the oven and leave the meringues in it to cool. Let the cookies cool completely before using or storing. Will keep in an airtight container for at least 2 months.