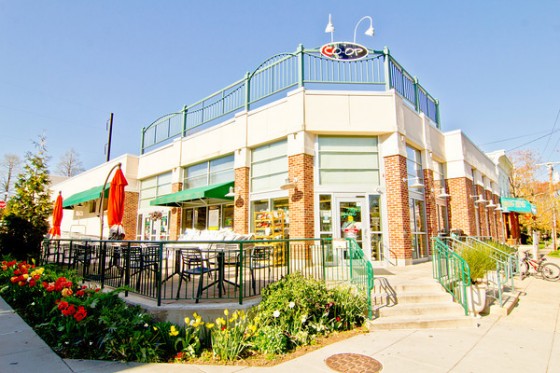 Long before concepts like "locally sourced," "sustainable" and "organic" were chic, there was the Swarthmore Co-op. In fact, it's safe to say this gem was at the forefront of bringing fresh and healthy products to its community.
Founded during the Great Depression, it was the brainchild of a few Swarthmore women determined to find quality produce during tough times. Their idea was genius, and today's farmers' and growers' markets owe their success to the original Consumers' Cooperative Association of Swarthmore, Inc. buying-club model: support local farmers and boost the Swarthmore economy while giving area families access to great products at affordable prices.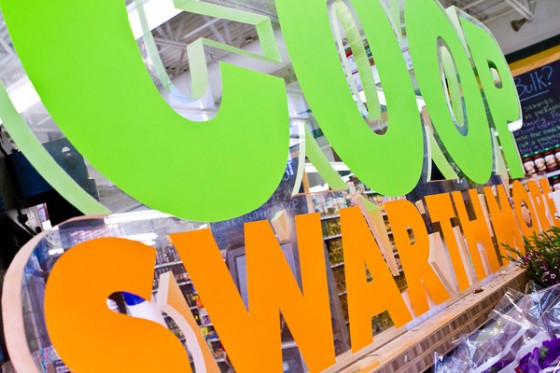 Over the years, the Swarthmore Co-op grew to include a full-service butcher and seafood counter, a deli, prepared foods made daily by the chef, produce, grocery departments, a bulk aisle, cheeses, dairy, sushi, specialty products, a bakery and pet food. It's able to do so because $640,000 in member loans provided for the current spacious storefront that opened in 2004.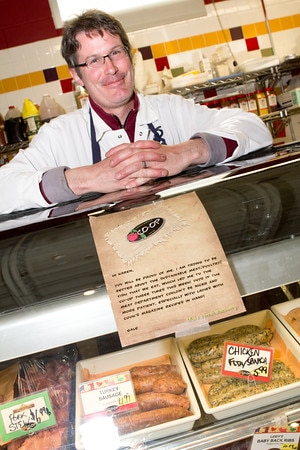 I stopped by on a sunny day to sit awhile and enjoy lunch on the outdoor patio. What a treat, and so relaxing. The Co-op is located on a quiet street corner, walking distance from the train station and Swarthmore College. Because meats, poultry and fish sold here are hormone- and antibiotic-free, I was delighted to sample the grilled chicken with Italian summer salad topped with a raspberry balsamic glaze. I don't get to eat chicken out a lot because I only eat this type or organic chicken, so it was really a pleasure to bite into these tender strips and their delicately charred exterior. The texture was perfect and the flavors barbecue big. The refreshing al dente pasta, greens, tomatoes and raspberries could not have been more perfect on a summer day. And kudos to the chef for the sweet-tart and syrupy raspberry glaze that tied it all together.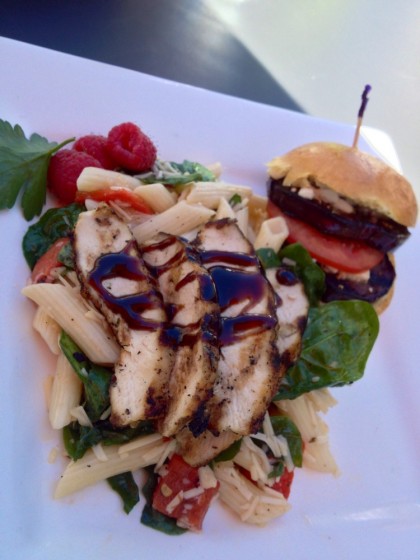 I also got to sink my teeth into a brioche beauty of grilled eggplant, goat cheese and tomato dressed simply with extra virgin olive oil, salt and pepper. Eggplant, in the wrong hands (read: mine) can be challenging to cook, and the Co-op's chef nailed it: it was tender and easy to eat, and not over-spiced thanks to the simple preparation. Both the tomato and the goat cheese added a bit of tang.
I can't emphasize enough how my meal was super-fresh. You can, most sincerely, taste the difference. And that's something you'll find through the Swarthmore Co-op. If it says local, it means it's traveled a max of 150 miles. Will you find "bigger" brands on the shelves and in the freezer cases? Yes, as this is a community grocery as well. But the majority of items are non-GMO, organic, local or sustainable.
I was particularly impressed with the Co-op's commitment to inspecting farms for programs like integrated pest management and organic practices, as well as its Swarthmore Co-op Certified program. Standards are high for everything, but in particular the Co-op certifies pork, beef, chicken, seafood and deli products.
The Swarthmore Co-op is located at 341 Dartmouth Ave. in Swarthmore. It's just 10 minutes from Media, Springfield, Ridley Park and surrounding towns, and 15 to 20 minutes from the Drexel Hill, Broomall and Newtown Square areas. If you're looking for just-picked fresh or certified free of harmful ingredients, it's well worth the drive from even farther out. The Co-op is open Monday through Saturday from 8 a.m. to 8 p.m. and Sunday from 8 a.m. to 7 p.m. A household-wide, lifetime membership is just $300 and there are payment plans. The benefits are many; call (610) 543-9805 to learn all about it.