I have been seeing dill pickle recipes on Pinterest for a while now, but I had never attempted. My mom is the one who taught me how to can and she's not the biggest fan of them, so we'd never made dill pickles before. So I set out to find recipes that most appealed to me and tracked down my top two from Lovely Little Details and Scrambled Side Up. When looking at recipes, not all of them are for canning purposes—some are just to make and eat immediately.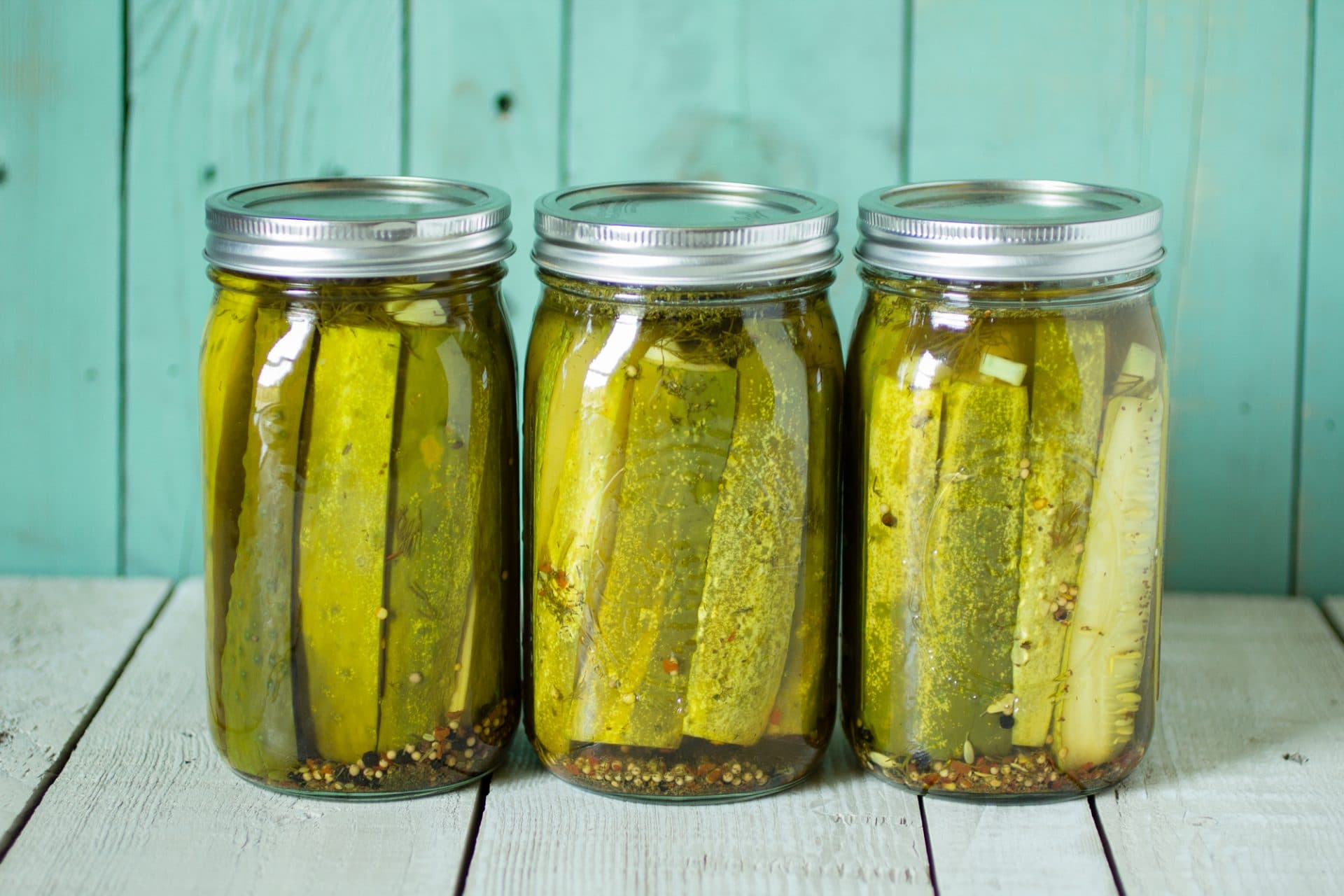 In my research I found the main difference between all the recipes out there are the ingredients—some people purchase premade pickle seasoning (found in the canning section) versus making their own. I've never used one of these seasonings before so I can't attest to how they work or taste, but I enjoyed making my own seasoning and knowing exactly what was going into each jar.
A lot of the recipes I was looking at called for only a few cucumbers, so I ended up making bigger batches, because if I'm pulling all my canning stuff out I'm making more than just two jars!
Dill Pickles
Adapted from Lovely Little Detail's recipe
Yields: 8–10 pint jars
Equipment:
Canning pot with rack on bottom

Large sauce pan

Cooling rack

Large bowl (big enough to hold pickles and 3 quarts of water with room to stir)

Pint jars, lids and bands—make sure to get widemouthed jars, lids and rims, and sanitize all by running the jars through dishwasher and dipping bands and lids into boiling water

Can lifter

Thermometer
Ingredients:
25–50 mini or "pickling" cucumbers (Try to select cucumbers that are the same length)

4 tsp. turmeric

3 quarts boiling water
Seasoning measurement for each pint jar (When shopping for ingredients, a container of each should be plenty):
1/4 tsp. dill seed

1/4 tsp. dill weed

1/2 tsp. black peppercorn

1/4 tsp. mustard seed

1/4 tsp. red pepper flakes

1/4 tsp. celery seed

1 Tbsp. fresh garlic finely chopped (Depending how much garlic you like, you can add more or less. I like more!)

1–2 sprigs fresh dill
For the brine

:
5 C water

5 C distilled white vinegar

6 Tbsp non-iodized pickling salt (Kosher salt may be substituted)
Directions:
Rinse cucumbers well, scrub lightly if needed. Trim off ends of cucumber, cut lengthwise into spears.

Place in large bowl with turmeric and 3 quarts of boiling water. Stir well until turmeric is dissolved. Let sit for one hour.

Take sanitized jars and begin filling with seasoning so they'll be ready for cucumbers

In a large saucepan, combine ingredients for brine, bring to boil until salt dissolves. Once salt is dissolved turn heat down.

Place large canning pot on stove with wire rack on bottom, fill with about 6 inches of water and begin heating water.

Once cucumbers are done sitting for an hour, drain and rinse; drain and rinse again.

Pack jars tightly with cucumbers, spears standing vertically.

Ladle brine into jars leaving 1/4 inch headspace. Take a chopstick or thin spatula and work down along edges between cucumbers and jar to let out any air bubbles.

Wipe rims of jars off. Place sanitized lid and band on jar, tighten to "finger tight." You don't want them to be too tight, air bubbles need to be able to escape to create a good seal.

Put jars in canning pot where water should be close to boiling. Use thermometer to check temperature. You want to keep the temperature right around 180⁰ F. If the water gets too hot it'll begin cooking the cucumbers making them soft not crispy. Process for 15 minutes—be precise!

Remove from canning pot, place on cooling rack and let cool for 24 hours. You'll hear lids popping, ensuring a good seal. Remember to label and date jars.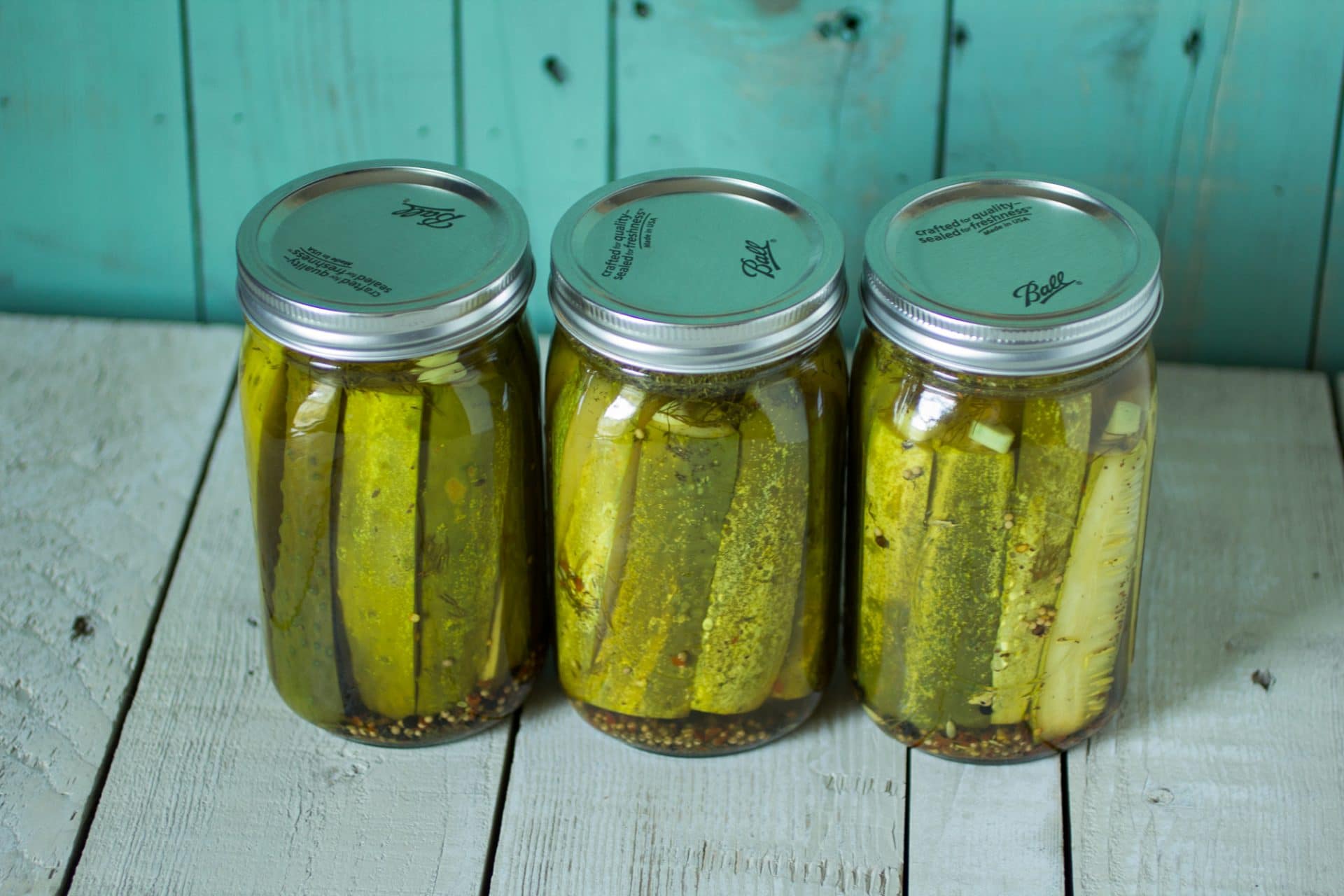 You want to wait about two weeks before you eat the pickles, letting the flavors absorb; however, I was too eager to know how they turned out and did open one jar right away to taste … YUM! Way better than store bought! As always, let me know how they turn out for you. Feel free to comment with questions. I love to hear your experiences!
Photography:

Sarah Kudlack