Hampton's Creek 'Just Mayo' is being sold exclusively at Di Bruno Bros, located in the Philadelphia area, and at Whole Foods Markets on the East Coast (including Philadelphia and its surrounding areas like Devon, Glen Mills, Jenkintown).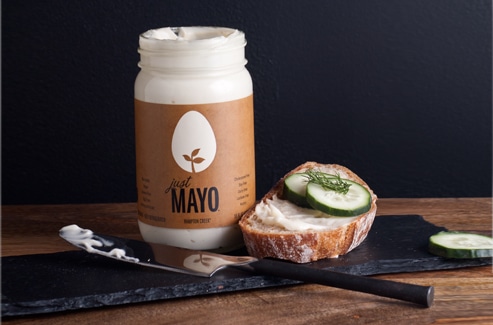 'Just Mayo' is more than just mayo. Supported by names as big as Bill Gates, Peter Thiel and Vinod Khosla, it's rich, creamy and smooth in consistency, and even more sustainable than regular mayonnaise. It's the first ever plant- based egg with less water, energy and less greenhouse gases still capturing the original flavors of regular mayonnaise. Use it on anything that you would typically use mayonnaise for to make your mayo recipe healthier for you and the environment. This all-natural green product makes everyone happy, including vegans, lactose-intolerants, celiacs…you name it.
Try it now for the following 8 reasons:
It's …
$4.99 instead of $6.99 (Until the end of March)
Cholesterol- free
Non- GMO
Vegan
Dairy- free
Gluten- free
Soy- free
Lactose- free
Food experts at Di Bruno Bros. have paired 'Just Mayo' with other ingredients to suggest a plethora of tasty recipes.
For more information or to speak to someone from Di Bruno Bros., please contact Joanne Jordan at (917) 673-9305 or Lorraine Gimblett at (917) 523-2327.