St. Patrick's Day is just around the corner. Shamrocks, leprechauns and Guinness recipes are slowly creeping their way onto my Pinterest homepage, indicating that Pinners everywhere are preparing to dye their food green, bust out some gold glitter and pour Irish coffee in a mason jar (for Instagram purposes, of course).
There is no time like the present to call on the luck of the Irish and try out some of these ever-popular posts. Keep reading to find out how I fared.
Experiment No. 1: Shamrock-Green Pizza (Original Pin)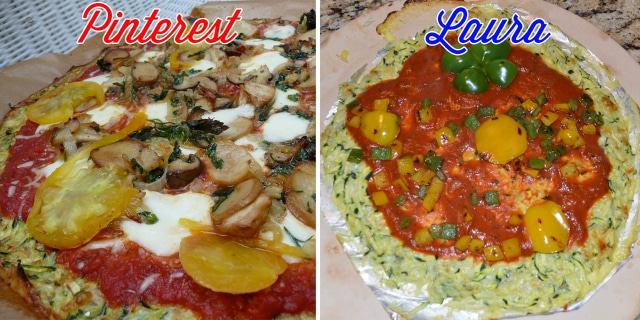 Experience Level: Difficult (Apparently)
Time Elapsed Before First Injury: 5 Minutes
This delicious-looking tutorial from Seattle Local Food had so much potential. Green pizza crust made of zucchini and cheese… I honestly thought it would be easy. Wrong. Complete disaster. Not entirely sure where I went wrong, but I do know that there was way, way too much cheese in my crust mixture. How do I know? Half of it is completely burnt and stuck to the bottom of my oven after oozing off the pizza stone.
As usual, I shaved off a fair amount of finger skin trying to shred the zucchini on my cheese grater and forgot to buy parchment paper (but don't worry, I didn't substitute with wax paper again. That lesson was learned hard). My feeble attempt to create four-leaf clover and golden coin-shaped peppers for decoration really didn't help the situation. News flash: peppers are hard to cut into circles. Second news flash: I am not creative enough to shape vegetables into cute figures.
So, Did It Work? Not really, but the final product tasted pretty good when mushed together in a bowl. Definitely not a pizza, but it will most definitely be used as a side dish for tomorrow night's dinner.
Experiment No. 2: Mini Leprechaun Hats (Original Pin)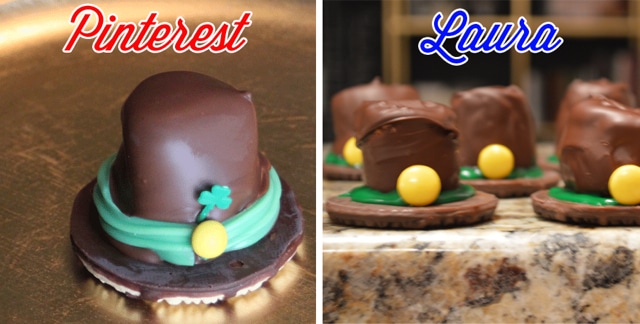 Experience Level: Moderate
Time Elapsed Before First Injury: No Injuries
When I saw these adorable little leprechaun hats from Twiggle Box Blog, I knew I wanted to try them. Chocolate-dipped marshmallows on top of cookies seemed easy, and for the most part it was. EXCEPT THE PART WHERE YOU ACTUALLY HAVE TO MELT CHOCOLATE CHIPS.
This is clearly a task meant for the highest level of chef. I burnt the chocolate chips three times and had to make a second trip to the grocery store before figuring out that stirring constantly is the key. Once the impossible task of melting chocolate chips was done, dipping and decorating the marshmallows wasn't that hard. The chocolate did take about two hours to completely dry and harden.
So, Did It Work? My hats turned out cute, but I wouldn't call them works of art. They do taste pretty good, so I'd call it an overall success and I'm fairly confident they will be all the rage in leprechaun fashion this season.
Experiment No. 3: Luck of the Irish Fudge (Original Pin)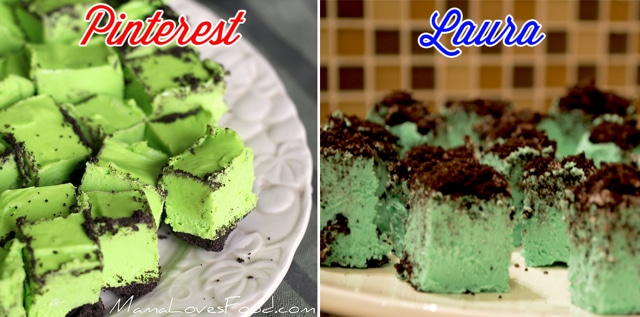 Experience Level: Easy
Time Elapsed Before First Injury: No Injuries
This green fudge recipe from Blissfully Domestic was scary easy to make. All I had to do was crush up some cookies, mix icing, mint extract, and food coloring together, combine with melted white chocolate chips (a cinch after I figured out how to do it in the previous experiment) and throw it in the fridge for an hour. Boom, it's done.
After setting in the refrigerator for a little over an hour, the mold was super easy to get out of the pan, which I did not expect at all.
So, Did It Work? Unfortunately, this no-bake fudge was sickeningly sweet, almost to the point of being inedible — and I like my sugar. I would not suggest unless you are in the mood for a palate-blast of minty sugar.
Have a Pin you'd like me to test? Leave it in the comments below.