It's all in the details. Jared Adkins has his eye on every aspect of the soon-to-be-opened Bluebird Distilling in Phoenixville, from the shape of the bottles and lettering on the embossed labels to the cooperage used for the hard-to-come-by barrels and, of course, the quality of what will be going into those barrels. The desire to make everything just perfect, right down to the extra touches, is sure to make visiting the distillery a memorable experience when it opens later this year.
Jared has tapped interior designer Chris Mullen (who most recently designed the newly opened Teca in Newtown Square) to work on decor, a local artist to paint two murals—one 55 feet long—and his father, Ron, a retired contractor, to oversee construction. All of this, he hopes, will create what snowboarders call a "bluebird day"—that day after the snow when conditions are absolutely perfect. Jared, whose passion and pride are infectious, sat down with us to talk about his plans for the distillery.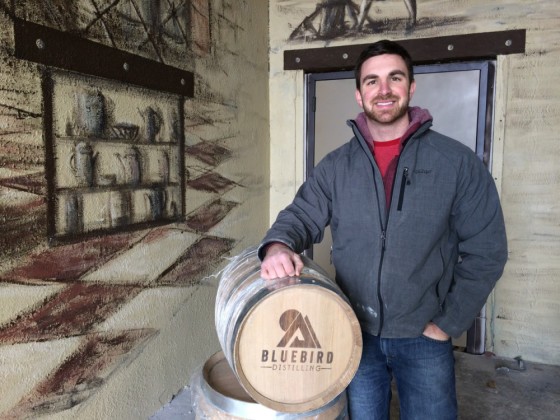 Phoenixville Dish: This is a huge space. What was here before, and what kind of challenges have you faced getting the location distillery-ready?
Jared Adkins: Before we were here the building was a professional laundry, and before that it was an auto repair shop, but it's been abandoned for over 10 years, so we have definitely had our work cut out for us since beginning renovations last June. The roof had caved in, and there was black mold everywhere. We had to install all new water pipes, a new roof, new floors, new walls … everything needed to be redone.
Why did you choose Phoenixville as the location for Bluebird?
Phoenixville was the best fit of all the towns I visited when scouting locations. There's a lot of foot traffic, a very vibrant downtown scene and a young professional demographic. Moreover, the people here understood my vision and worked with me to cut through the red tape involved in opening up a distillery right in the middle of town. Through working with the Phoenixville Area Economic Development Corporation (PAEDCO) we were able to find a space bring Bluebird to Phoenixville. The group really wants to bring new businesses into town, especially when rehabbing abandoned buildings are part of the process. It's all part of the larger picture of revitalizing the downtown to attract more residents and visitors.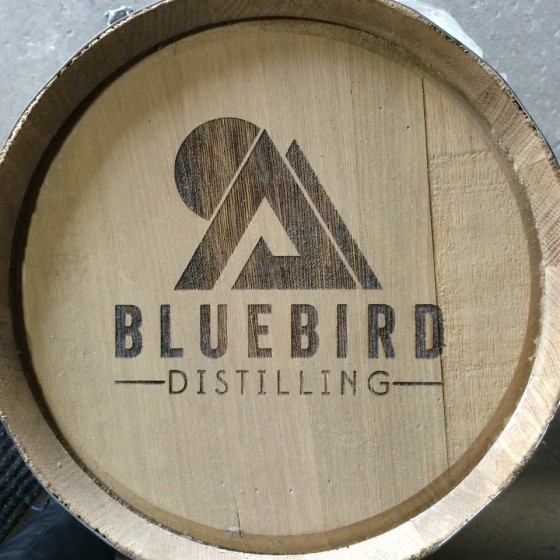 Tell me about your background. Do you have any experience distilling?
I came out of college and worked for four years for Pepsi and Nestle in high speed bottling/engineering. One day I visited Weyerbacher Brewing, and a light switch went off—I could be bottling beer instead of water. The next day I went out and spent a ton of money on a homebrew setup to brew beer, and my passion was started. I then took the next step. I left my job at my large Fortune 100 company to work for a brewery running their bottling and packaging department. I took a big pay cut, but I figured I could learn a ton more about the industry. Somewhere during this time I really began paying attention to the craft distillery movement. I took some local courses to learn more and attended Siebel Institute of Technology in Chicago for some more formal training. I set my mind to it, made up a business and financial plan and was able to convince my father and some other close friends that investing in a distillery was the way to go.
Local small-batch distilleries seem to be "hot" these days. Why do you think that is?
I think it was natural evolution, from wine to beer and now to distilling. When the local wine phenomenon ebbed, craft beer came into the picture. Now that craft beer production seems to be at its height, people are looking for something new to make, something that they can be a part of taking to the same heights as wine and craft beer, especially if it can be made locally.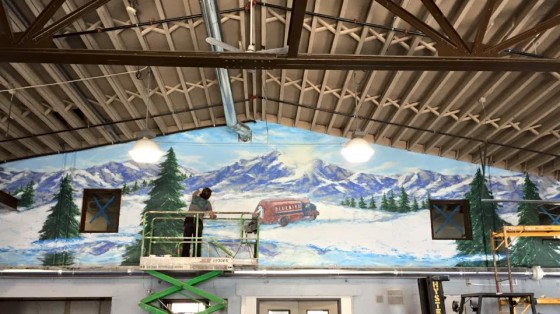 What will you be distilling, and how large will your production runs be? Will you try to distribute your products to local restaurants and elsewhere?
To start, I'll be making vodka, gin, white rye and a four-grain bourbon whiskey, 750 gallons at a time. The vodka, gin and white rye will use rye as their base. Our gin is going to be quite unique. We are currently working on a recipe combining juniper, cucumber, citrus and spices from around the world. It should be pretty exceptional when finished. Our four-grain bourbon will be made from corn, red wheat, rye and malted barley. Down the line we will be adding new spirits. First up most likely will be a white rum and possibly vanilla bean vodka (using no artificial flavorings, of course). When possible, all of my grains will come from Pennsylvania; if they can't come from the state, they'll be from within the United States.
I'll definitely be looking to sell our spirits outside the distillery. My state license allows me to self-distribute to restaurants, sell out of the distillery and sell in Wine and Spirits stores throughout the state. From there my plan is to grow to other states.
How will you position Bluebird in contrast or comparison to other local craft distillers?
Quite simply, I just want to make great whiskey and spirits, and my hope in doing so is that it will make my competitors be their best, too. A rising tide raises all ships! There has been a growing number of distilleries that do not make their own product, but buy in bulk from large factories and bottle it. That is not us. We are going to make all of products from scratch right at the distillery. My real passion is aged whiskey. We will be starting with a rye whiskey and four-grain bourbon. After the spirit is made it will then be aged in barrels ranging in size from 5–30 gallons. By utilizing smaller barrels rather than the traditional 53-gallon ones, the spirit has more liquid-to-surface area, causing it to age quicker and pick up the great vanilla, caramel and toffee notes from the barrel. Our whiskey is really going to be one of a kind.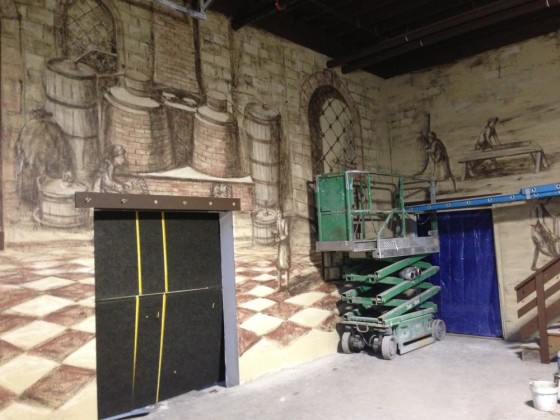 How will you run your tasting room, and will there be tours?
The front of the building will house our retail selection and bar serving Bluebird products, where we'll be doing tastings and serving drinks. We'll also have a nice selection of Bluebird swag, and people will be able to buy bottles at a time to take out. The food truck craze has really been taking off. That being said, we will be partnering with great food trucks, and people will also be able to bring in their own food. We'll have tables and a lounge area in addition to the bar, so there will be plenty of room. We will also feature live music and acts on weekends.
We will absolutely be conducting tours of the distilling operations, which will give a first-hand look on what our distillery is all about. We plan to offer tours multiple times per week and will provide a sensory tasting experience—I believe that part of the enjoyment of our product will come from seeing how it's made.
Who is the artist behind the murals on your walls?
All of our murals are by a local artist, David Bruce Michener, who just walked in one day and asked if I was interested in having him paint. David has done on an awesome job and was able to paint anything I dreamed up. I really want to emphasize not only local products but also local people at Bluebird, and this is a perfect opportunity to do so.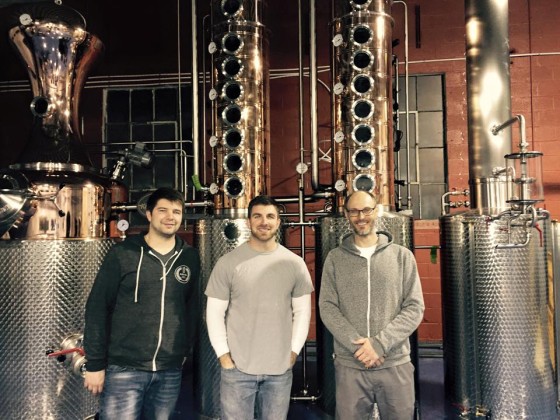 Tell me about that gorgeous still. What other equipment will you have?
Most of our equipment is coming from Germany from Kothe Distilling. The first part of our process will be creating our distiller's wash on a 3000-liter mash tun. From there it will be fermented in our 1000-liter fermenters. We will then distill in our main beauty, a 1000-liter, 17-foot-tall, all-copper hybrid still made specifically for Bluebird.
How long until you think the first batch might be ready? Plans for opening day?
Once the still is here and the engineers fly in to get everything set up, from start to finish it takes about three weeks to distill a batch of white rye whiskey, gin or vodka. If all goes as planned, we'll have our Grand Opening in May, complete with food trucks, live music and lots of tasting. In the meantime, I'm working on finalizing labels (ours will be embossed foil with an old-school feel) and all of the other details.
To keep up with the construction process, follow Bluebird Distilling on Facebook and Twitter, and sign up online for email updates!
Look for Bluebird Distilling to open at 100 Bridge St., Phoenixville.
Top two photo credits: Michele Kornegay; remaining photos credited to Bluebird Distilling