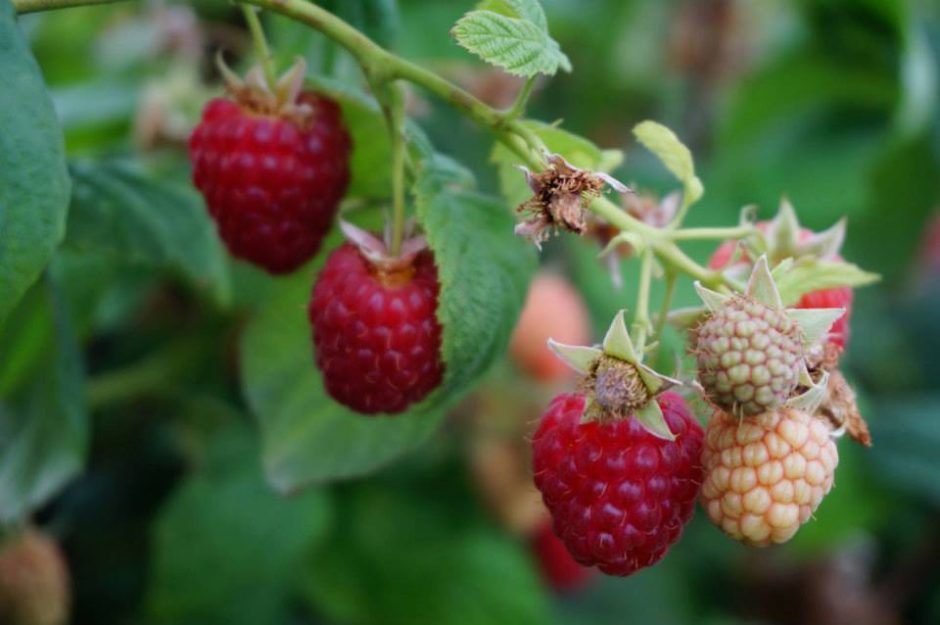 Red raspberry season is now in full swing at Weaver's Orchard, and black raspberry season isn't far behind. Weaver's summer crop of red raspberries started June 13 and will finish in July, black raspberries are expected to be at their peak from June 27–July 10, and here's something you may not know: raspberries aren't just for summer—a fall crop of red raspberries is anticipated from August 22–October 15. With this in mind, we're here to give you the 411 on all things raspberry, including some delicious recipes courtesy of Weaver's, to help you enjoy these bursts of sweetness all summer long and into the fall.
Growing Raspberries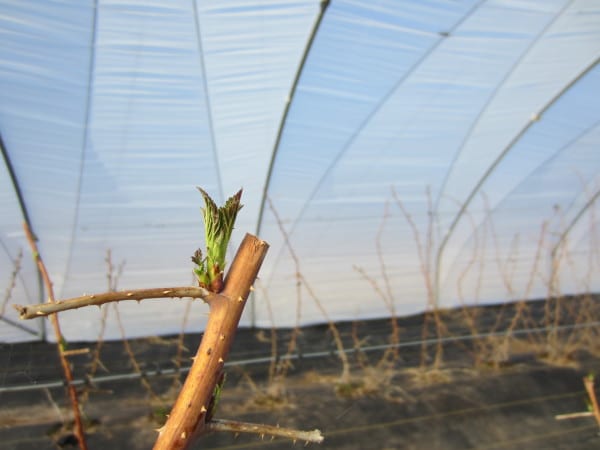 Weaver's protects many of its raspberry plants through the winter with high tunnels, opening the ends on warmer days to ensure that the temperature inside is just right to encourage growth. Using the tunnels speeds up fruit production; the plastic covering not only provides warmth but also diffuses the light to distribute the sun's rays more efficiently. Safe inside the tunnels, the plants are able to ripen about two weeks ahead of the exact same varieties planted outdoors. Luckily for us, that means we can get our fruit fix faster!
Nutrition Facts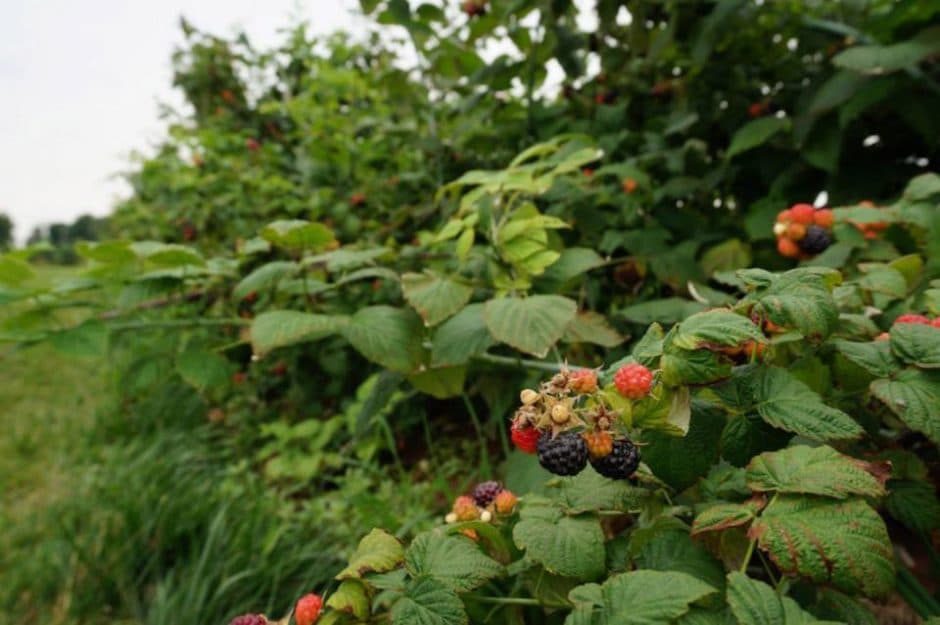 Raspberries aren't just delicious—they're nutritious too. Raspberries are free of fat and sodium and high in dietary fiber. Just one cup has eight grams of fiber and 1.5 grams of protein and meets more than half of your daily need for vitamin C. Raspberries also supply a healthy dose of magnesium, a mineral that supports healthy functioning in every organ of the body and keeps bones and teeth strong. They're low in calories also, at just 65 per cup. So don't be shy when you dig in—the more you eat, the better.
Picking Tips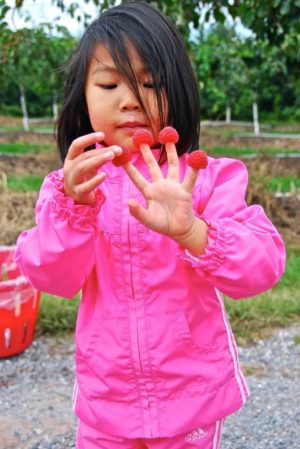 These tips from Weaver's will ensure that you fill your containers with only the ripest, best fruit: When picking red raspberries, avoid light red berries and berries with white or yellow tips, and look for deep red berries that drop off the core easily. If you're harvesting black raspberries, avoid the red berries (they're not red raspberries, just unripe black ones), and pick only berries that are such a deep purple that they are almost black. Ripe black raspberries separate from the bush easily. You should be able to just roll your fingers across them into your bucket.
For both red and black varieties, when buying raspberries in store, they should be plump and dry. Do not select any store-bought raspberries if they appear moldy or crushed. Most importantly, don't fill your containers too full or you'll end up with crushed berries at the bottom, especially on a hot summer day.
More advice from Weaver's—if you plan to forage and pick wild berries, be sure to only pick fruit you are 100% certain is edible. Bring a field guide with you, or go with an experienced forager just to be on the safe side.
Storage and Freezing
If you somehow manage to get out of the orchard without eating most of your raspberry-picking haul (which we've been known to do—don't judge!), here's how to keep your bounty fresh. Raspberries will last in the refrigerator for up to two days, covered loosely with plastic wrap. Wash just before eating. If you'd like to freeze your raspberries, first remove the stems, then rinse gently and place berries stem side down on a baking sheet. Once frozen, transfer berries to a freezer bag.
Sweet & Savory Berry Recipes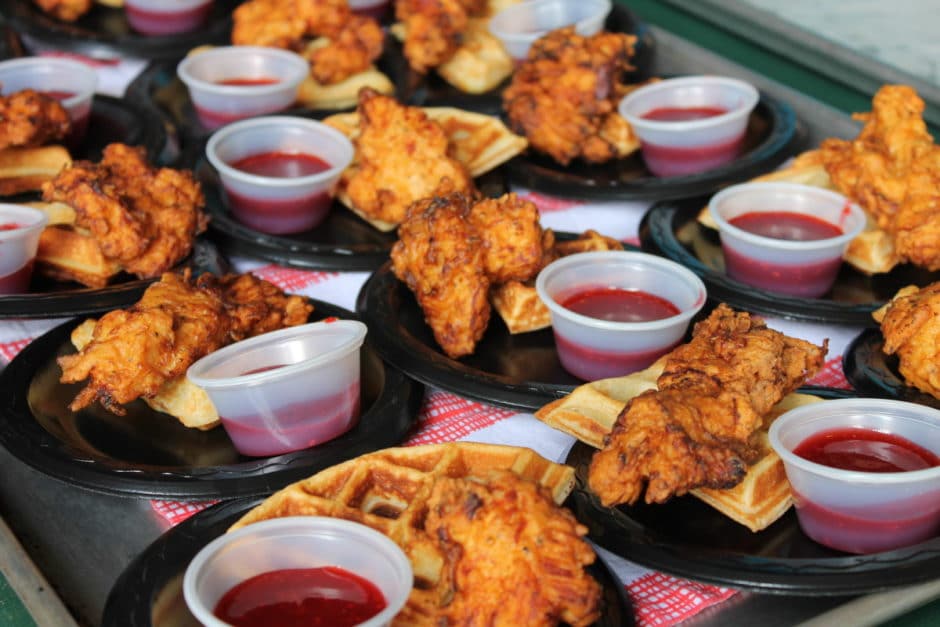 And now what you've all been waiting for: the recipes. The Weaver's Orchard website features step-by-step instructions—and even a how-to video!—on how to make a host of berry-licious recipes from a recent cooking demo by Phoebe Canakis of Phoebe's Pure Food in Lancaster, Pa. Visit the website for to-die-for dishes including creamy raspberry pie filling with lemon curd, raspberry lavender shrub and vegan lavender raspberry ice cream. You can also visit Phoebe's website for her no-fail recipe for pie in jars. Finally, for a dish that's truly spectacular, whip up a Sunday batch of chicken and waffles with a strawberry-raspberry caramel sauce. Your family will be running to the dinner table to dig in!
Get your share of summer's bounty at Weaver's Orchard. Hours are Monday–Friday, 7 a.m.–7 p.m., and Saturday, 7 a.m.–5 p.m. Remember to arrive at least one hour before closing time to allow enough time to check in and pick. Find Weaver's Orchard at 40 Fruit Ln., Morgantown; phone: (610) 856-7300.