Ripened within the pastoral fields of northwestern Chester County in 2001 were the beginnings of a vision. Warm sun-kissed soil and cool valley mornings created the birth of a partnership that would span several years and continues to thrive today.
The friendship of Lance and Val Castle and Jack and Karen Kuhn has not only created a winery with a superior sip but has also provided an experience—a way that people in (and out) of the area could savor local wine, relax, enjoy a little music, laugh and create long-lasting bonds and memories with family and friends.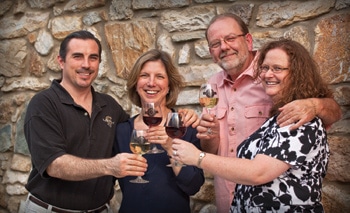 This dream team was instrumental in bringing the great taste of quality varietal wines to the area at one of the first successful wineries in northwestern Chester County and then expanding their vision to include a Tasting Room in Phoenixville in 2010.
There's always a story behind the success. More importantly, there are always people and personalities behind the process. We asked Lance Castle to answer a few questions about Black Walnut Winery on behalf of the team. You'll find his answers full of personality, knowledge and even a bit of humor. Welcome to the journey of Black Walnut Winery.
PA Eats: According to your website, Black Walnut Winery began with the seed of friendship. Was that friendship love at first sight?
Lance Castle: Oddly when Valerie and I moved to the Philadelphia area, I met Jack when we were working together in corporate jobs. Valerie and Karen, who worked in a different industry, worked for the same company at some point as well. We were all thrown together by fate and it was our love of wine that led us down the insane road of starting a winery.

We'd love to learn about how you came up with the name of the winery back in 2001. Who actually thought of it, and was there a group vote?
Actually, we started making wine as a hobby at our house, and our property has about 40 fully mature black walnut trees. We were constantly dodging walnuts falling from the trees in the autumn when we were making wine out on our driveway, so we often joked about needing to wear hard hats during crush. We called that homemade wine Black Walnut in honor of the falling walnuts that constantly kept us moving during our winemaking activities. We actually engaged a consultant prior to opening the winery, and he said it was important for there to be a story behind the name. We did consider a few other names, but kept coming back to Black Walnut.
Being one of the first to open a winery in the Sadsburyville/Phoenixville area, what made you choose these locations?
Sadsburyville is a wonderful little town, and we were lucky enough to find a building that met our processing and retail sales requirements right on business Route 30. The visibility of our winery on such a well-traveled road has definitely helped to make our winery more successful. Wineries that are located "two turns off a dirt road" are wonderful, but you spend much of your time and effort just getting people to know how to find you. As for Phoenixville, we had watched firsthand the transformation of the town, and when the storefront at the corner of Bridge and Gay Streets became available, we could not resist.
Renovating a barn is no easy task. It truly is a beautiful labor of love. How did you all survive the renovations at the vineyard without getting into arguments?
I will admit that it was a difficult process, but the beauty was that we did not initially have a timeline so we were able to work on the building nights and weekends at our own pace. At the end of the workday on the weekends we almost always had dinner or some drinks together so we could relax and relive the latest calamity that we discovered during the day. It kept us grounded in the fact that we had to continue to work through any issue that arose as a team to accomplish our goal.
What types of wines do you produce at Black Walnut Winery, and which ones do you feel seem to favor the weather here most?
We produce a wide variety of wines at Black Walnut. Certainly, I find that Merlot is a very viable grape for this region. It is hardy enough to withstand the wet weather in the fall and ripens early enough to avoid frosts in late October. Pinot Gris is the white wine that seems to do very well in this region. Again, it is hardy but it develops some wonderful soft flavors.
Any great seasonals being born this year?
While it is not really a seasonal wine, it has been a couple of years since we have created a new Seduction (our red port-style wine). We just released the 2012 version of Seduction and it is every bit as fabulous as our previous release in 2010.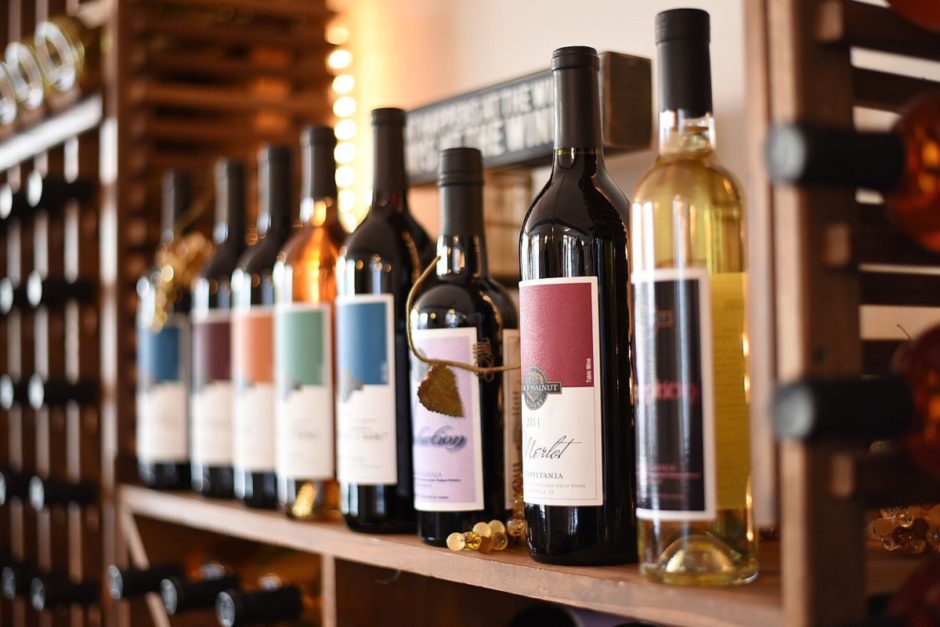 Do you have any stories of wine successes that surprised you?
Actually, our Apple wine was a delightful surprise. We had never made a wine from anything but grapes prior to our first attempt at making wine from apple juice. What makes it unique and different from the other apple wines we have tried is that we process the juice (purchased from a local orchard) in the same manner that we would if we were making a Chardonnay. It is fermented under temperature controls to minimize aroma loss, run through a secondary fermentation in order to reduce the tart acids that come from apples and finally, aged with lightly toasted American oak. It certainly does not taste like any apple wine that we have ever tried.

Tell us about a famous fail.
A few cases of our slightly sweet blush wine, Iridescence, had some residual yeast "wake up" in the bottles several years ago. Yeast in a bottle of wine with residual sugar is at risk of re-starting the fermentation process. Certainly, that is what you want to happen when you are making Champagne, but when you make Champagne, you use special bottle and special corks designed to support fermentation in the bottle. When you are using a regular wine bottle and normal corks, the pressure from the fermentation is going to push that cork out or blow the bottle up. We pulled these bottles from our retail line, but I will tell you that everyone that tasted the slightly sparkling Iridescence loved it!
Tell us about the winemaking process at Black Walnut.
Harvest begins in the fall, right at the beginning of September. We spend our time during September and October crushing and de-stemming the grapes, pressing the skins off the juice, initiating the fermentation process and racking (moving clean wine off of the sediment from the fermentation). After we get everything into tanks (usually early November), we take a little break from the cellar activities and focus on holiday activities at the winery and our Tasting Room in Phoenixville. Throughout the winter we rack some more, filter, oak and generally pamper our wines as we get them ready to be bottled during the spring and summer. Our 28 tanks are almost always full of wine until we need some of them to be emptied in preparation for the fall harvest. This is when our weekend bottling frenzy begins! We usually have to fill approximately 25,000–30,000 bottles with wine before crush begins in the fall to open up tank space for the new wines to be processed. All of these activities occur at our 10,000-square-foot, 200+-year-old building in Sadsburyville, Pennsylvania.

Any plans to tap into the cider market?
No, we are not thinking about the cider market at this point. It is something that is very interesting, but we do not have pressure tanks at the winery right now, and do not really have the space to expand in our building to accommodate them.
Phoenixville is fast becoming the center of fine dining and entertainment in this part of the county. Tell us about your tasting room location there. Do you offer bites or food choices?
The Tasting Room in Phoenixville as well as the winery encourage guests to BYOF (bring your own food). We offer a delicious cheese plate for purchase at the Tasting Room, but we always encourage our guests to bring in food from home or from any of the outstanding local restaurants to enjoy with their wine.
Any plans for alternative distribution of your wines?
Several of our wines are featured in a few local restaurants/breweries. We have discussed starting to support ordering/shipping from our website. However, we will probably not do more than that as we do not have a big enough production volume at this time to increase our reach nationally. But who knows? We are just one great review away from the Wine Spectator, where all of that could change.
As a vibrant stop on the Brandywine Valley Wine Trail, you seem to favor a really solid lineup of musical events at both locations. Why is music important to you?
We understood the benefit of adding live music to the wine-tasting experience before we even opened our doors. The abundance of supremely talented musicians in this area is astounding, and we agreed we had to take advantage of enhancing the wine-tasting experience for our guests. Certainly a wine tasting alone is a wonderful experience, but how awesome is it to sit back with your wine and be entertained?
Is having a sense of humor important in a business like this, and why?
Having a sense of humor in this business is incredibly important. In what business do you buy a building, acquire all of the equipment that you need to make wine, process tons of grapes and turn them into finished wines over three years before you are able sell your first bottle? "What? We owe the bank how much money? No problem. We just sold a bottle of wine for $20—we're fine!"
If you could do it all over again, what would you do differently?
Probably listen to every winery owner who told us not to start a winery!
Be sure to catch up on all the latest happenings, special events, musical interludes and latest greatest wine available for tasting and for sale on the Black Walnut Winery website and Facebook page or the Tasting Room's Facebook page.
Find Black Walnut Winery at 3000 Lincoln Highway in Sadsburyville; phone: (610) 857-5566. Hours are Wednesday–Sunday, 12–6 p.m. (or by appointment). The Black Walnut Tasting Room is located at 260 Bridge St. in Phoenixville; phone: (484) 924-8740. Hours are Wednesday–Thursday, 4–9 p.m.; Friday, 4–10 p.m.; Saturday, 11 a.m.–10 p.m.; and Sunday, 1–8 p.m. (or by appointment)
Top photo of Black Walnut Winery owners:

Kevin Black

Bottom photo of Black Walnut Winery owners:

Sheila Holmes

Remaining photos:

Ed Williams