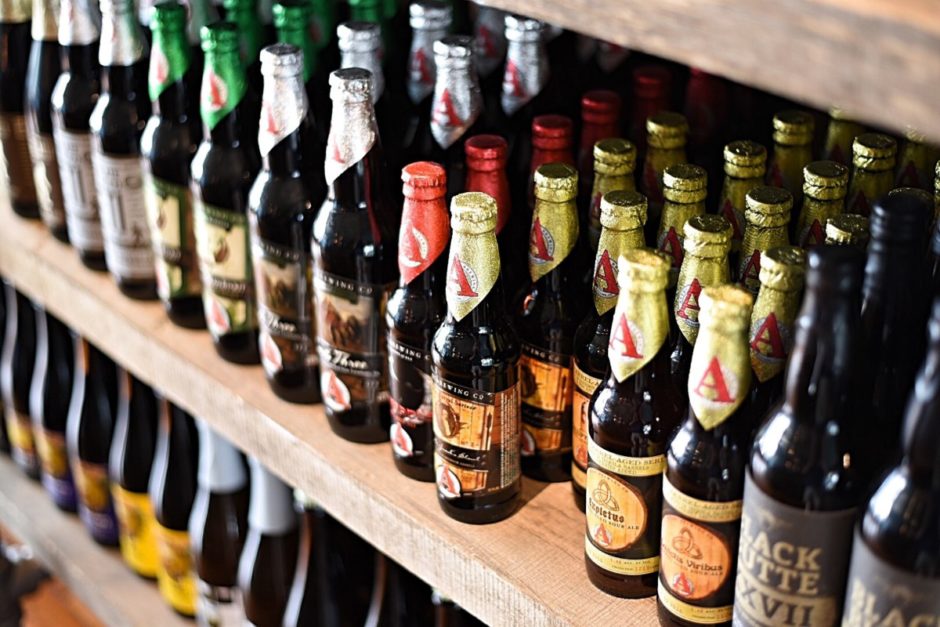 Now that The Bottle Room has had a chance to settle into a bit of a routine, we wanted to check in with the highly anticipated Downingtown hot spot. It's been written about, tweeted, snap-chatted, shared, liked and discussed on every social media channel and brew-centric publication known since its opening about three weeks ago, but it's more than just bottles and brews (more about those later).
There is a team of dreamers here that have brought this vision to life—craft beer and community enthusiasts who've worked hard to give the area a cool tavern-like spot to relax and unwind at the end of a day, fill a growler/crowler or just hang with friends to share stories on a Saturday night.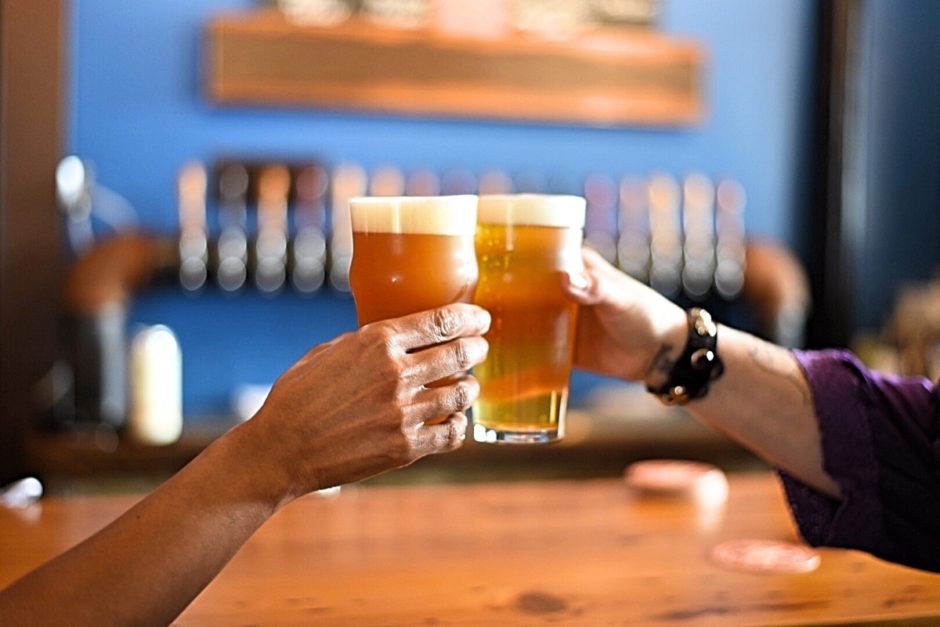 The local king of craft beer (my words, not his) Kerry Watson was hired as the general manager of The Bottle Room by owner Sean McGettigan (who also owns the successful Station Taproom next door). I had the opportunity to sit down with Kerry for a few minutes and asked him several questions about how it's been going at this newest venture in the heart of Downingtown.
Kerry displays his easy-going attitude and wears a trademark baseball cap whenever I see him (this time displaying a Bottle Room logo). It's difficult to miss his sheepish grin and his eager enthusiasm as he describes how he absorbed information about the taste of good beer.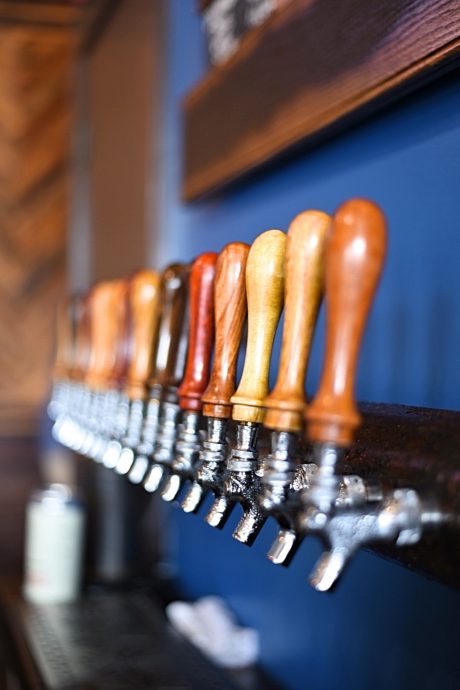 Aside from the typical "just becoming legal age" adventures that most of us share, Kerry began his professional love of suds while working for Victory Brewing Company when the original business evolved and expanded on the other side of the borough in 1996. "Back then tending bar was more than just throwing a mug of brew on the bar. Craft beer was in its infancy and there was an inherent need to educate the public about the different types, hops and tastes."
After that, he began an eight-year stint with Waywood Beverage in Kennett Square doing warehouse and delivery as well as working with some of the company's draft beer accounts. "I thoroughly enjoyed working with The Gables at Chadds Ford to advise them with their successful craft beer program." Kerry also helped gather other area brew-thusiasts with his "Chill the Firk Out" series of gatherings and information on up-and-coming brews on his In MyExBEERience Facebook page.
Kerry is quick to point out that he is not the supreme expert on the science and the processes of getting the beer in the bottle; however, he is confident on what tastes good—and is highly efficient at calling out flavors, styles, colors and aromas.
When asked for his definition of what a bottle room should be, he explains, "We're casual, non-pretentious and non-intimidating. We want the guest to come in and not be overwhelmed (or underwhelmed)—let them call the shots. We see ourselves standing out from other bottle rooms in that we offer a well-rounded 'curated selection' of close to 400 cans and bottles that are cellarable."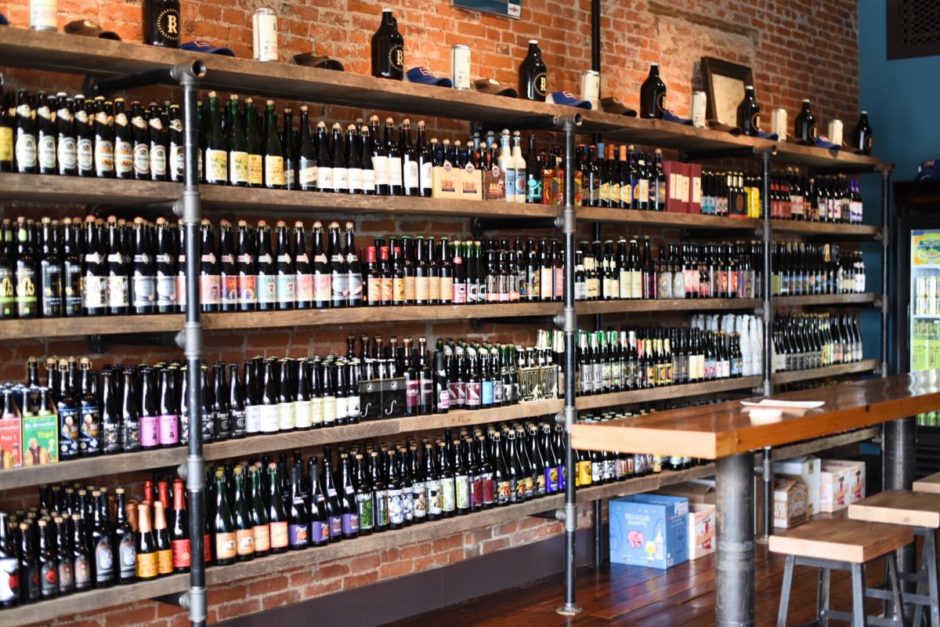 With no room to have a huge inventory of specialty beers that sit on a shelf until the right buyer comes along, Bottle Room completely manages to come up with a beautifully stocked wall (and loaded take-out cooler) of brews showing a great mix of local brews and hard-to-find higher-end selections as well, like St-Feuillien Green Flash IPA, Deux Amis Saison ale, Rocky Mountain D.O.R.I.S. and Pinot Suave ale from Deschutes Brewery.
The Bottle Room boasts 16 taps that include local favorite Hop Hands from Tired Hands Brewing Company (always on tap here at $6/pint), Brasserie Dupont's Saison ($10/10 oz.), Mosaic Promise from Founders ($5.50/pint), Tröegs' Dreamweaver ($5.50/pint), Ashtray Heart by Evil Twin ($6/10 oz.) and the double IPA Maharaja from Avery ($5.50/10 oz.). Most are available in pints and 5 and 10 oz. pours as well takeout 32 oz. crowlers and 64 oz. growlers.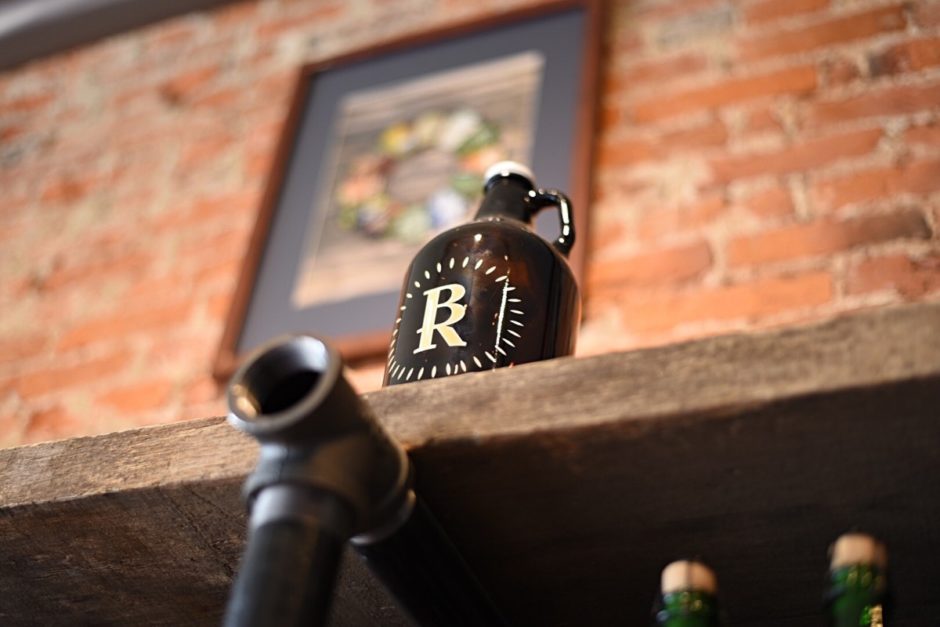 "Sean and I sit down on Tuesdays over coffee in the morning (or beer if it's the afternoon) and decide through our list of distributors and what is moving from the shelves and taps which things we'd like to include," says Kerry. "We're pretty early in the game, so obviously, the longer we're in business, the more statistics we'll have to work with. We're both astute as to what's new, who's bottling what and keeping room open for seasonals as well."
Perfectly timed, McGettigan (who in my opinion looks like he invented beer) stops over to say "hey" during our interview and explains that he's "very pleased with the finished result of the space, the team of experts manning the space, as well as the numbers coming out of the space." It's safe to say that Downingtown has another hit on its hands.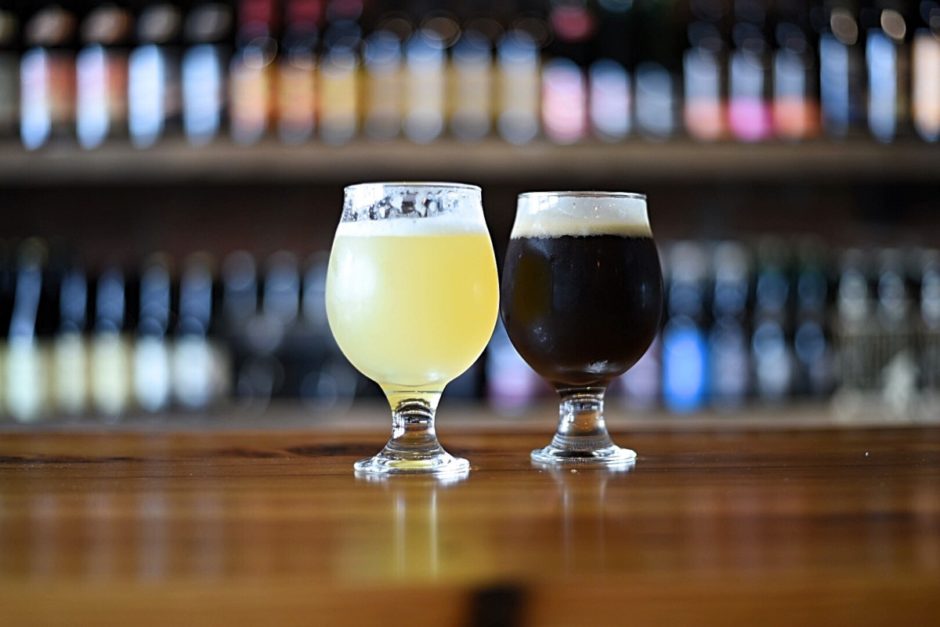 The pub is a state-of-the-art spot that feels like it's been here forever. In reality, the building hails from the late nineteenth century. Kerry shares a demo story of the team finding newspapers (as insulation) under the floorboards that touted Babe Ruth (now framed in the restroom).
The interior is truly a work of solid design, craftsmanship, art and love. Kerry states that Sean "made the space happen" with a cohesive team of local contractors, carpenters, plumbers and electricians. Keeping things in the family, lead carpenter J. McGettigan (Sean's brother) took the reins with construction and worked with Brad Kottmeyer, who specializes in reclaimed carpentry to come up with the rustic look—including creating a magnificent bar and viking table from wood excavated during kitchen renovation and using old doors from Sean's farm as a base for the bar. James Brown Plumbing and Heating not only took care of the utilities but also fabricated pipe that was used in shelving and creation of the multi-seat viking table in the center of the room.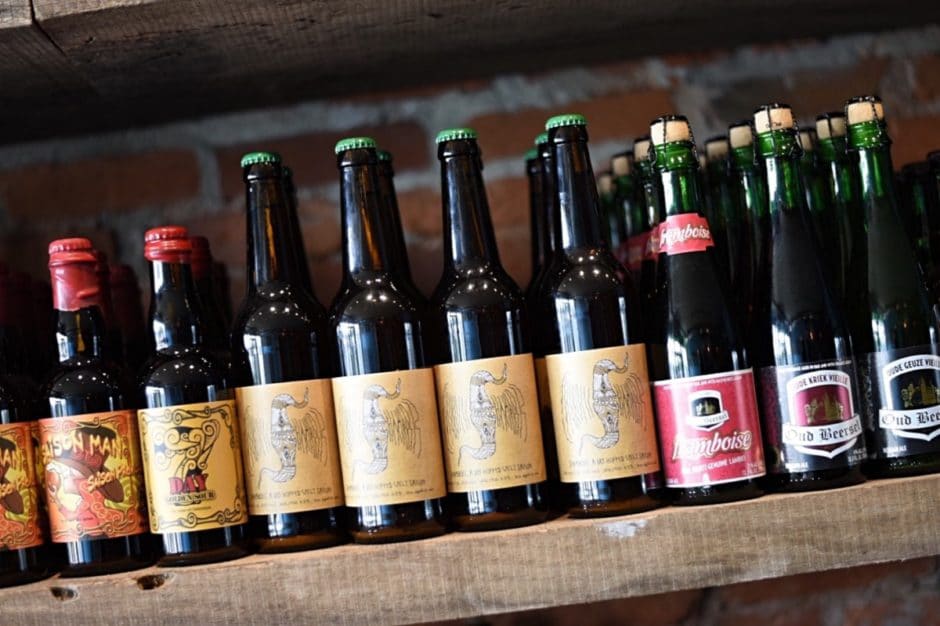 Local wall art is a must-see (and buy) with chalk art beer-centric renditions by local bartender Jesse D. Gilbert and Josh Wingenfield's (carpenter for J. McGettigan) "HopArt" series of collages created from recycled beer cartons.
The menu is short, sweet and rotates along with the beers, according to Kerry. Simply headed with cheeses, small plates and charcuterie (made in-house head cheese, chicken liver mousse and pork sausage), local purveyors are used (with the exception of their lobster roll and country ham) and include products from The Farm at Doe Run, Birchrun Hills Farm, Bobolink Dairy and Maiale cured meats. Prices vary from about 12 bucks a plate to going all out with a jaw-dropping full board loaded with flavorful cheeses and charcuterie at $24. Sampling is encouraged and is without a doubt a great way to challenge the tastebuds while enjoying the company of friends and family.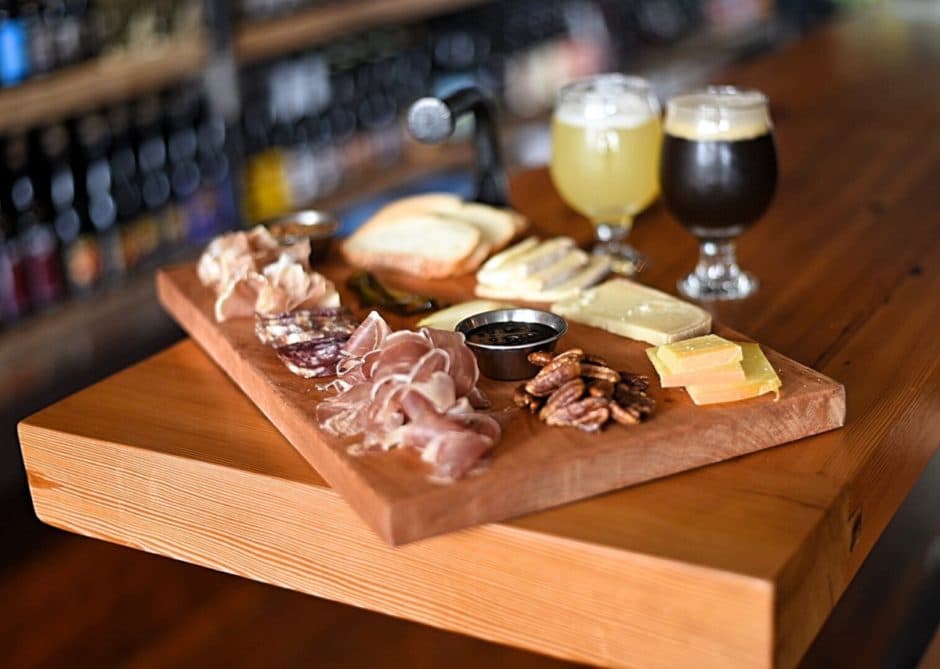 Feel at-ease as Bottle Room's well-qualified staff rattle off pairing recommendations as if it's second nature. Many of them float between the two joint locations through a common kitchen and are versed at assisting customers on mixing up bottles and cans from the room's wonder wall and cooler.
The crowd here is mixed with professionals, locals and hipsters, and Kerry mentions that the occasional tourist or beer aficionado travels to the location (via the "designated" train line whose station is conveniently located across the street). Kerry mentions that the buzz he's been hearing from guests has been positive and encouraging.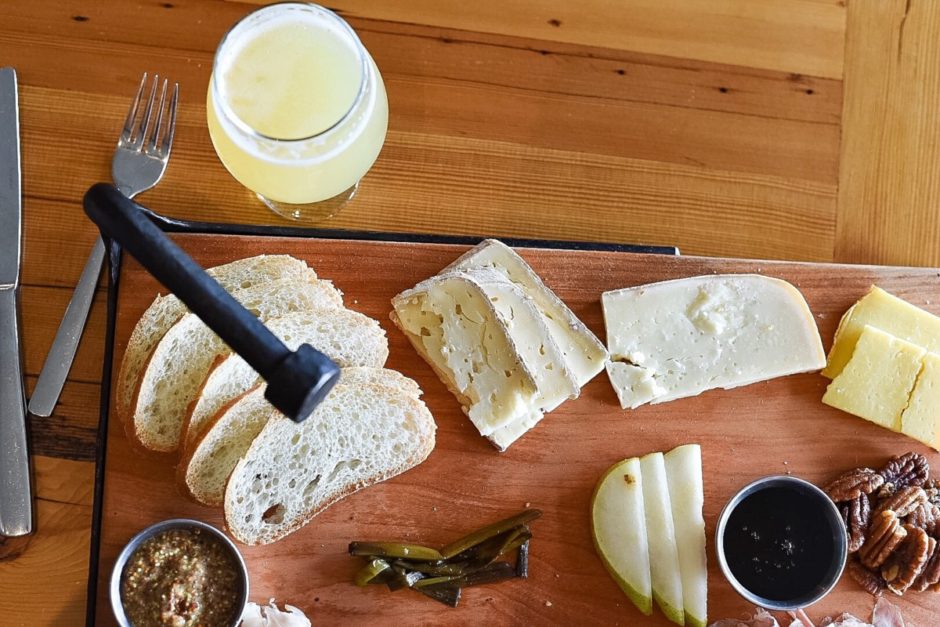 Convenient two-hour parking is located directly out front (great for running that growler in and out), and plenty of spaces are available in an adjacent lot as well as in the lot across Lancaster Avenue at the train station.
Stay abreast of the newest brews on tap, bottles and cans via the Bottle Room's Facebook page. Hours are Monday–Friday from 11 a.m.–10 p.m., Saturday from 10 a.m.–11 p.m. and Sunday from 11 a.m.–10 p.m.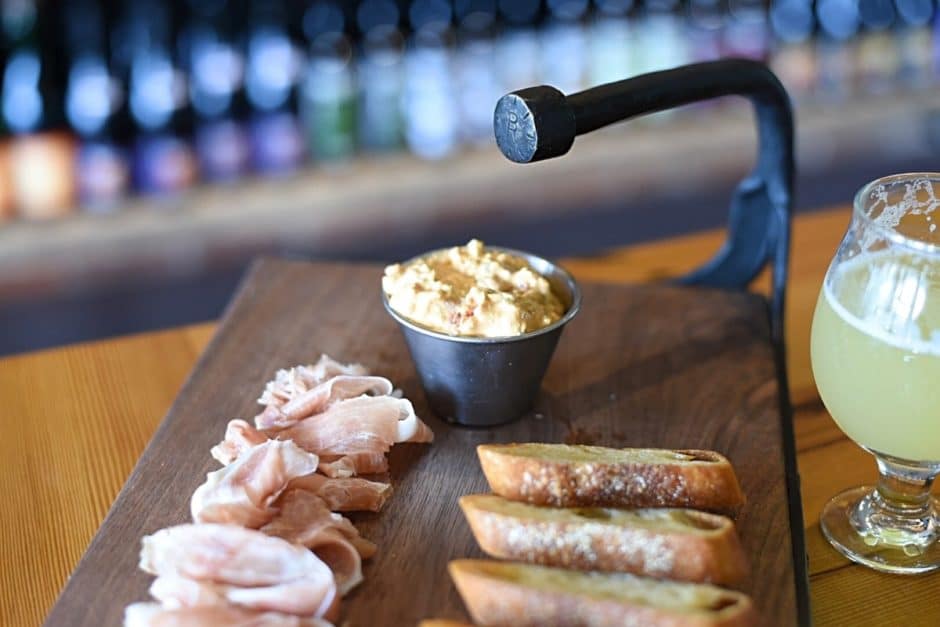 The Bottle Room is located at 209 W. Lancaster Ave. in Downingtown; phone: (484) 593-2972.