Maya.J's menu, revamped to include seasonal selections, is like a virtual culinary tour around the world. Come with me and read about my experience with some of the restaurant's new summer offerings and dishes.
Keep in mind that the menu is divided into three categories—Land, Sea and Earth—and is defined by each plate's main ingredient. Tapas-style portions make it fun and easy to try several dishes from each category. We have a lot of territory to cover. Let's go!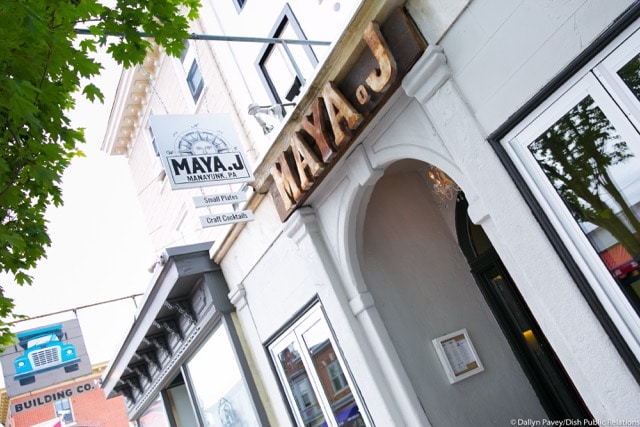 The menu is very inclusive, with something to appeal to all tastes. My recommendation is to be adventurous and take a bite of a dish that you may deem out of your comfort zone. You just might love it.
A few more suggestions: eat on the second floor and plan on two to three dishes per person. The goal is to share, share and share!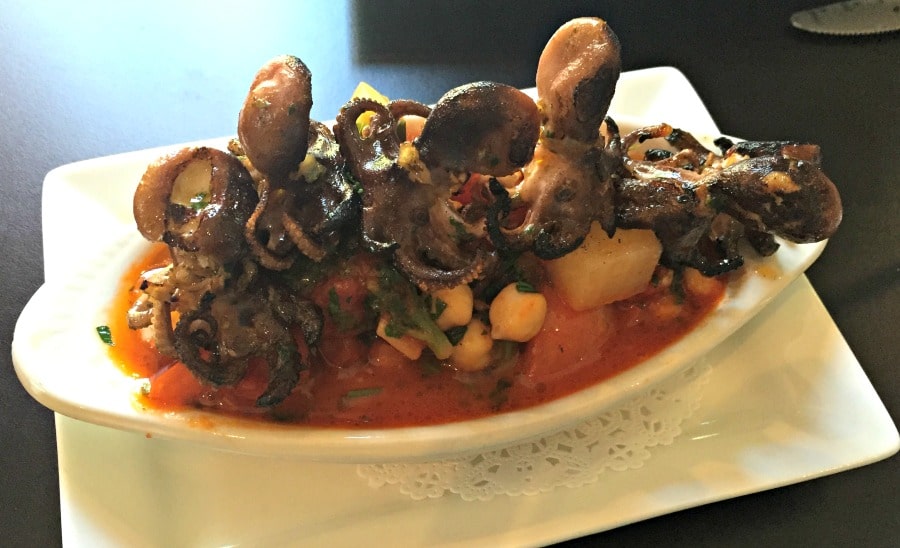 Our waitress, Gina, was a pure delight—sweet, knowledgeable and helpful. We discussed our preferences with her to get some feedback before ordering. Our food tour began with two dishes: a spicy, colorful and robust char-grilled octopus with lemon, parsley and roasted Italian long hots and tuna poke, one of the new summer menu items. Avocado, pepitas, roasted garlic, sesame, soy, lime and chile helped make this dish refreshing and yet full of bravado.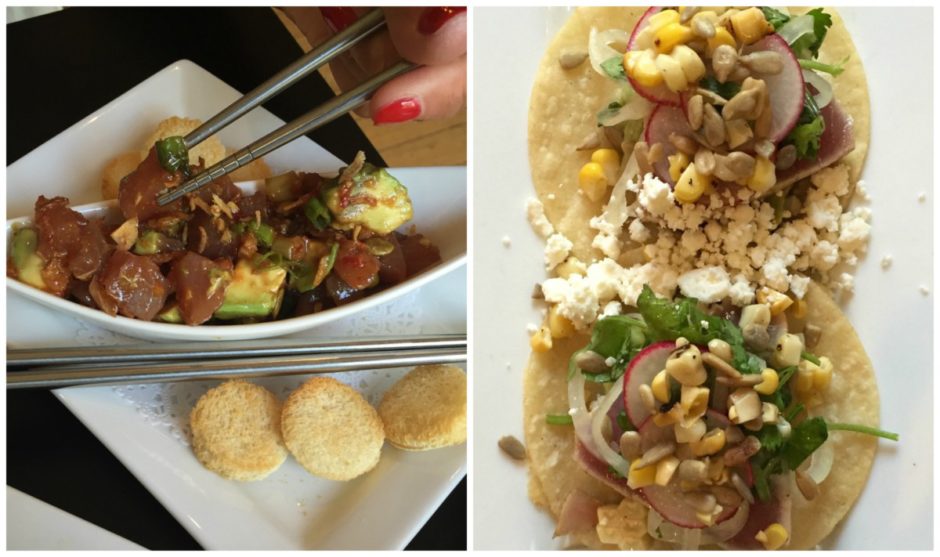 Our journey continued on to tuna tacos with corn tortillas and a side of tzatziki sauce. These were flavorful and vibrant. The sauce lent a nice creaminess to this substantial, tasty dish.
We moved on to Madras-curried cauliflower with pickled Tandoori onions and grilled naan. As a regular cauliflowerian (yes, I made that up), I was hesitant to try the dish because I didn't think I was a fan of curry. It was outstanding! Cooked to perfection with a light, crunchy coating on the outside, the dish had a subtle sweetness and an irresistible sauce.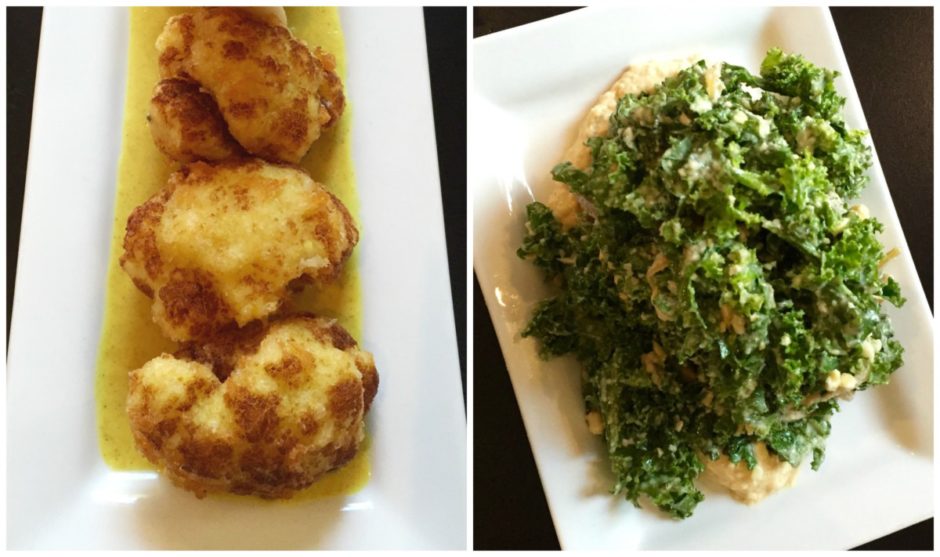 Next up was a kale salad over a bed of hummus and caramelized onions with a creamy cashew dressing. This quickly became a personal favorite; something about it was comforting, different and incredibly delicious at the same time. I had to apologize for eating the majority of it so quickly. Oops.
A shrimp and grits special with huge chunks of shrimp was also delivered to our table. My dining partner declared it "the best shrimp and grits around, as Southern and authentic as it gets." High praise indeed.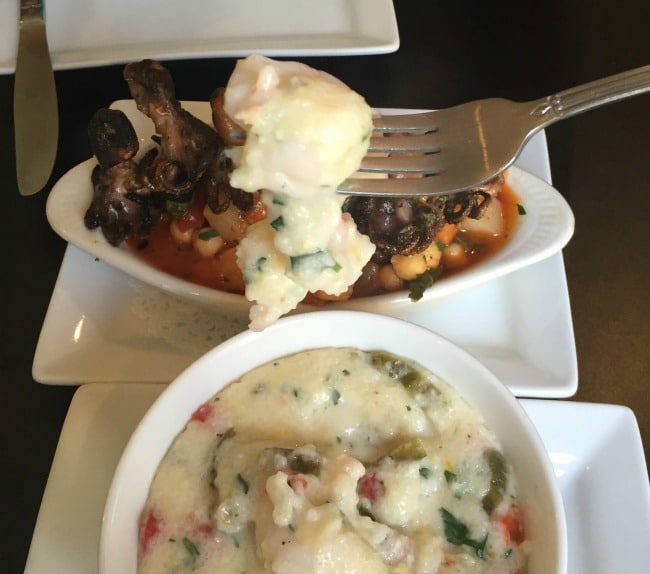 Although some of the dishes are inspired by far-away lands and cultures, we decided to sample a signature drink that kept it closer to home. The Shore House cocktail "looks girly but isn't too sweet"—the perfect marriage of vodka, elderflower liqueur, fresh lemon, strawberry champagne and a splash of champagne.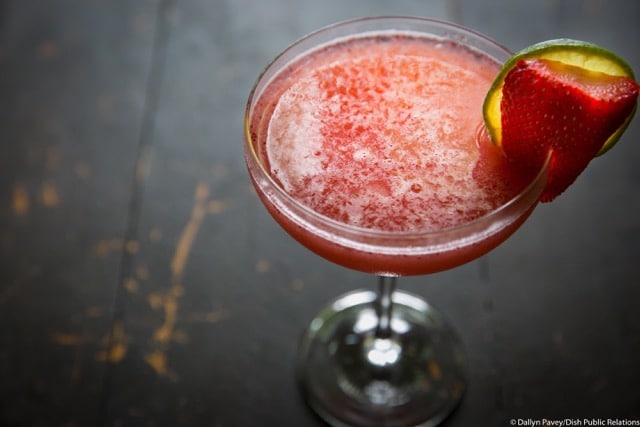 Chef/owner Craig Wilson has hit a home run with Maya.J. I will absolutely go back—maybe even run back! I look forward to his next launch, the soon-to-open Gigi Italian Bistro, just a hop, skip and a jump down the street.
Until next time, enjoy the summer and stay cool. More importantly, stay thirsty and hungry!
Find Maya.J at 4371 Main St. in Philadelphia, phone: (267) 297-8961.
Exterior and cocktail photos:

Dallyn Pavey/Dish Public Relations

Remaining photos:

Jen Cohen