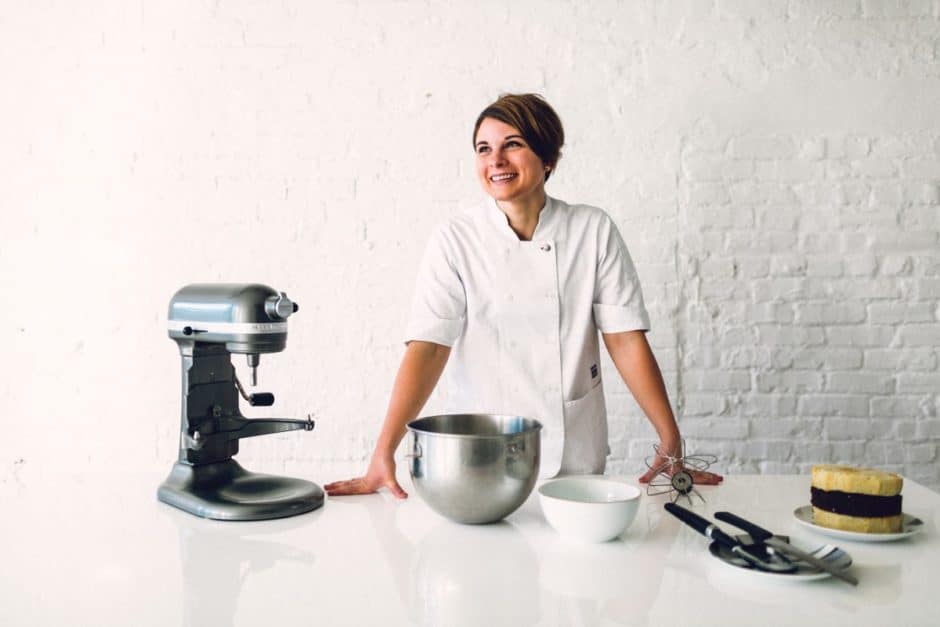 Steve Jobs once said, "The only way to do great work is to love what you do." Enter Meg Skill of Nutmeg Cake Design. She is one part spice and two parts sweet, refreshingly genuine, bubbly and adorable. Nothing artificial here.
Meg embodies what we've all been taught—follow your dreams. Her entrepreneurial spirit is alive and kicking, and baking up a storm. While working at a boring desk job after graduating with a degree in fine arts, she started baking at night and on the weekends. Family and friends began to enjoy her treats and soon the requests came pouring in. Meg took a hobby and made it her reality.
Meg is self taught. She began with the Internet. Blogging and Instagram were on the rise and she paid attention—reading, watching and studying various masters in the field as they wrote and showcased their creations. Meg then began to hone her craft in her own kitchen, developing her own recipes and setting her own standards. A business was born, and so was a new chapter in her life. 
Her lucky break came when she was offered rental kitchen space in bakery/café The Bakeshop on Twentieth. Finally, she had a place where she could harness her passion and creativity. 
Meg quickly outgrew this location and, as of March 1, 2016, is now headquartered in Manayunk. This is where the magic happens, where she spends much of everyday baking, decorating, planning and perfecting her products. 
"This location is accessible to so many additional geographic areas, it just made sense, " said Meg. "It's opened up a whole new world for me and for clients. Manayunk is also in the midst of a resurgence, so it's a fun place to be, too." 
In addition, Meg is a part of Camp Confetti in Kensington—a shared showroom and meeting space for tastings, appointments, classes and demonstrations. 
I asked Meg what she enjoys most. First, she truly loves every painstaking detail involved in creating and hand-painting delicate sugar flowers. Where some might find this process nerve-wracking, Meg thrives on the attention and focus needed to produce each decorative accent. Second, she enjoys her clients and the relationships formed. 
"Very often I create a wedding cake for a customer, and we establish such a nice rapport that they call me to do something for their baby shower, first birthday, their mother's birthday and so on," said Meg. "A custom boutique bakery lends itself to this and I truly value the bonds and connections I've made."
Tidbits and Crumbs
Wedding cakes are her best sellers.

She is starting to branch into the bar/bat mitzvah circuit (cakes and favors look out!).

When asked if she would consider a stint on a reality show, a resounding "NO" was the answer, followed up with, "I'm too shy."

She adores being her own boss.

Advice for all the bakers out there on the rise: "Take it slow. Going from the creative side to opening a storefront bakery is a recipe for disaster and happens far too often in this industry." 

The answer to my "what-makes-your-products-different?" question: "Swiss meringue buttercream, never shortening or powdered sugar." I relished this great reveal and asked if it was OK to print. "Yes, share away," was the answer. 
Speaking of sharing, asking Meg how our readers can contact her and learn about her services and products lead to an interesting discussion on social media and business. For any naysayers out there, please lean in and listen: social media is a necessity for the corporate world. It is how Meg built her business, how she attracts new customers and how she spreads the icing—I mean the word. Her gorgeous website, Instagram posts, tweets and Facebook frolic have proven to be her best marketing methods. Followers, friends and fans alike, this is the way of the future. And it works, one cake tier at a time. 
I believe if you love what you do, people will love it, too—just one bite and you will agree. Meet Meg and you will see that dedication and sweetness reign supreme.
Find Nutmeg Cake Design at 220 Krams Ave. in Philadelphia; phone: (856) 906-6568. Find Camp Confetti at 2620 Martha St. in Philadelphia.