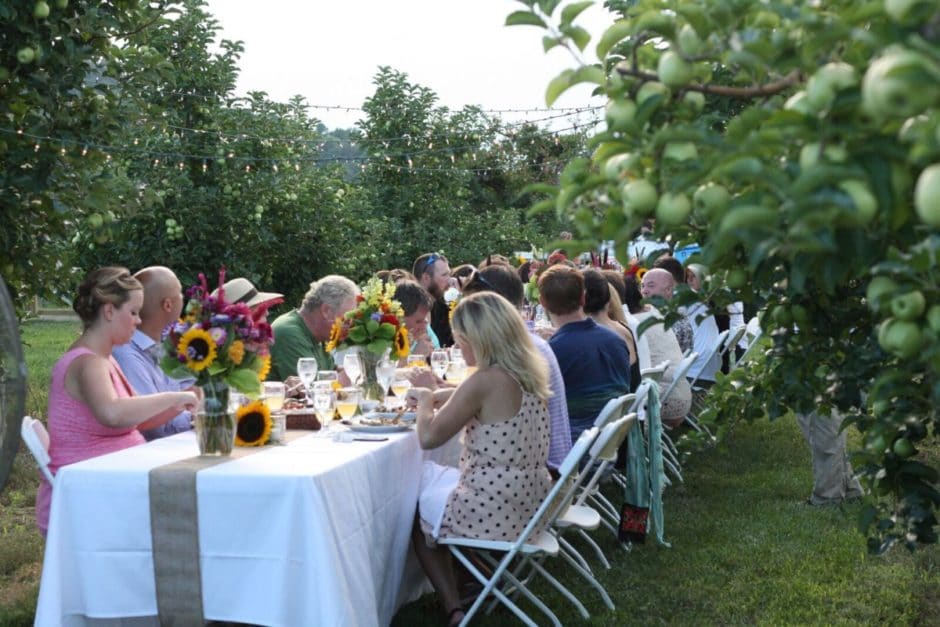 Steve Frecon is a true farmer, having grown up on Frecon Farms and then continuing the family tradition while helping expand the business. As we chat with him he's on a tractor in a field. With so many facets to Frecon Farms—the cidery, pick-your-own orchard, bakery, culinary classes and local farmers' markets—the Frecon family noticed that customers weren't getting "the opportunity to enjoy all of those things in concert," as Steve puts it. "We decided to create an event to give our customers an opportunity to enjoy, in one sitting and one setting, our vision and everything that we have to offer during a beautiful time of year in the majesty of an orchard."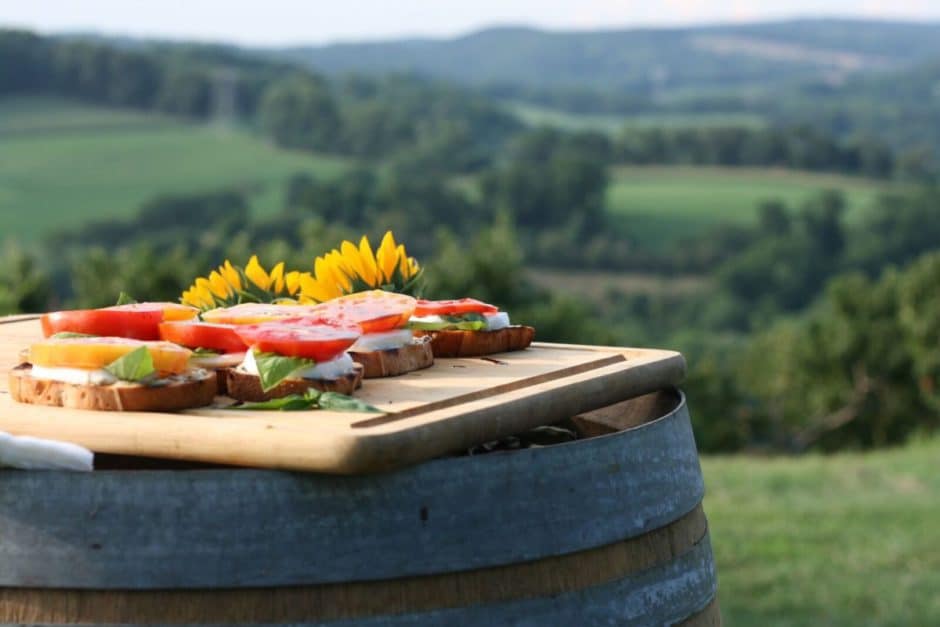 Farm-to-table is all the rage now. However, as with any trend that becomes widespread, it can be hard to discover an expression that is authentic, pure and representative of the roots that earned it a following in the first place.
So what about putting a table on the farm—as in smack dab in the middle of a working orchard? Then fill that table with four courses made on site that day, at the farm, from farm-grown ingredients. If that's not farm-to-table, then we don't know what is.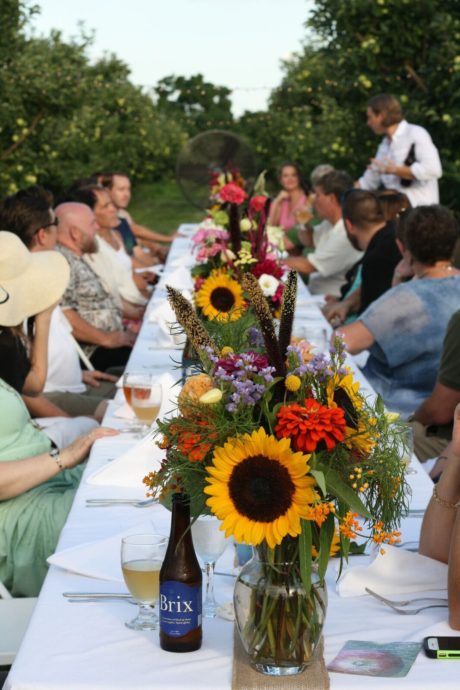 This is exactly what Frecon Farms is doing on Saturday, September 24, at its second Table in the Orchard Dinner. Frecon has paired up with local chef extraordinaire Gracie Skiadis of Gracie's 21st Century Cafe to offer a one-of-a-kind evening on the farm that no foodie or cider lover will soon forget.
The lucky few who snag tickets for this event will have the opportunity to meet the grower and cider maker during an unforgettable night of cider and luxurious local cuisine, among the fireflies and fruit trees of Frecon Orchard. A guided tour of the orchard and cidery will give guests a sneak peak into how local cider is made, and of course there will be fresh hard cider on hand to appreciate and sip while meandering the property.
The menu showcases rustic flavors with a refined touch and unique cider pairings with every course. Fresh peaches from the farm wrapped in prosciutto, local artisan cheese from Valley Milkhouse Creamery and more will be paired with a hard cider cocktail to start off a bevy of scrumptious courses to follow. A carefully composed salad of apple slaw, tender greens and julienned vegetables (paired with citrus vinaigrette and Crabby Granny cider) will whet diners' appetites and pique their palates.
The trio of options for the main course might just steal the show. Local eggplant offers up one last taste of summer: panko crusted, layered with fresh mozzarella and served atop an herbed couscous with corn and tomatoes. Smoky pork tenderloin glazed with a molasses marinade will feature a farm cider reduction with onions, apples and herbed yams. Whole roasted salmon served with fingerling potatoes, seasonal vegetables and caramelized onions (fresh lemon and thai chili aioli on the side) rounds out the list. With so many ingredients (including fresh-baked bread) coming from the farm and surrounding area, the flavors cannot get any fresher.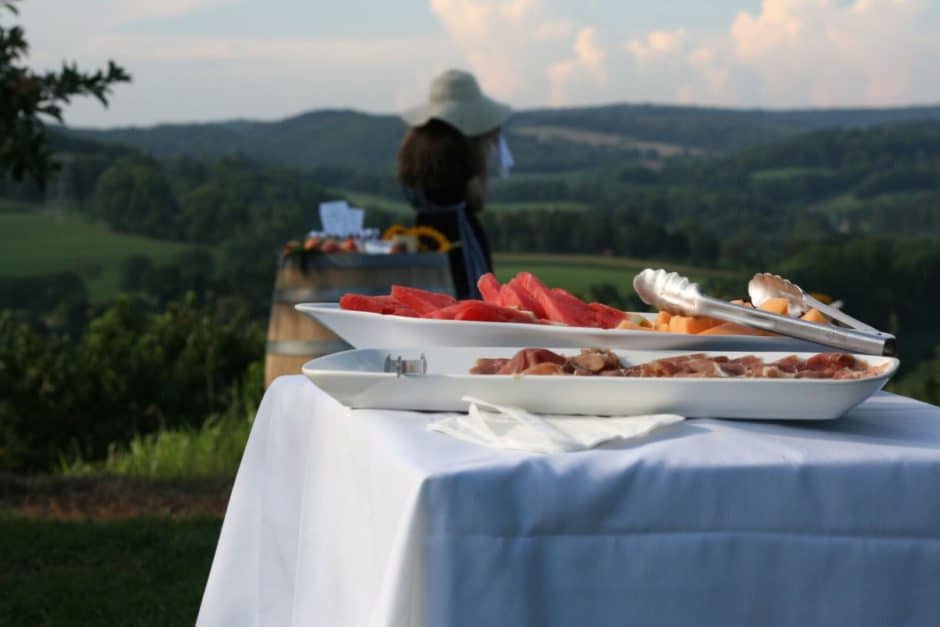 Steve also told us about the special cider that will be debuting at the event. "Scrumpy is an English style cider. . . . Our scrumpy is a blend of Razor Russet, Adams Pearmain and Golden Russet," he relates. "It's very smooth and buttery. It's a dry cider but there's a deep richness in the flavor that really comes from those apple varieties." Lucky diners the night of the Table in the Orchard dinner will be among the first public patrons to try this special new cider, in addition to the fabulous menu prepared by Chef Skiadis. "If you've ever been to Gracie's and had the experience of dining at her establishment, it's one of a kind," says Steve. "The food is unique to Gracie and her style of cooking. When we were thinking about who to work with for this event, her name was the first one that came up. Before it was ever in fashion to work with local ingredients or a restaurant's own personal garden, Gracie's had just always done that because it's the right thing to do."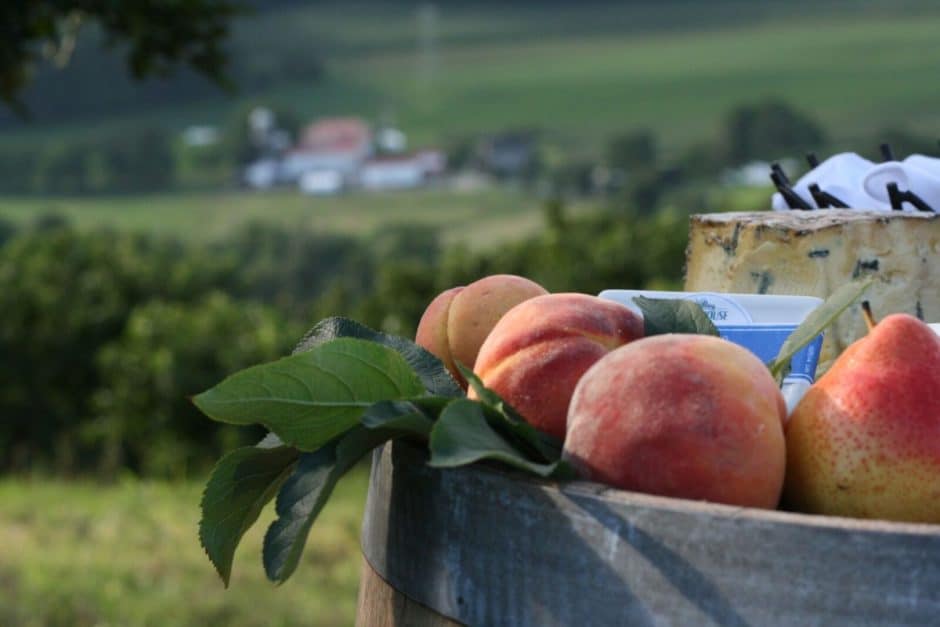 Visit the Frecon Farms events page to find out more about this amazing night of food, farm tours and local hand-crafted cider! For tickets, call Frecon at (610) 367-6200.