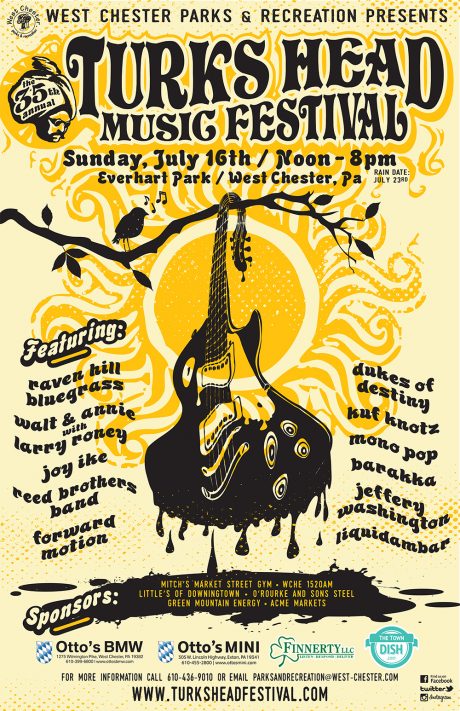 The Turks Head Music Festival is right around the corner on Sunday, July 16. Now in its 35th year, this summer staple takes place in West Chester's beautiful Everhart Park.
The festival is a free, all-day event that hosts 11 musical acts of all styles and genres. The bands and artists perform on two stages, so the show is always rolling. Bring along a blanket or lawn chairs and spend the day listening to these incredible bands, ranging from funk to folk with lots in between.
Festivalgoers are invited to kick off the morning with a free yoga class in the park by Local Yoga Cafe as a prelude to the music festival from 10–11 a.m., before shifting into party mode at noon.
Tunes will fill the air as you peruse the walkways lined with 70 artisan, informational and food vendors whose beautiful handmade items and tasty, refreshing treats are available all day long. Kids big and small will love the play area with a moon bounce and zip line, while a misting tent keeps the crowds cool.
We spoke with the MCs and bands performing this year to bring you a backstage preview of the festival.
MCs Extraordinaire
Tom Wang and Rob Dickenson are well-known performers and personalities in and around West Chester. The duo is set to MC the festival, an event that has deep roots for both of them personally.
Tom Wang, 12–4 p.m.
Wang, MC for the first half of the day, is no stranger to the stage. He's an actor with Resident Theater Company in West Chester, and recently performed in a sold-out run of Spamalot at Knauer Performing Arts Center.  
An outspoken supporter of both RTC and the Uptown! Entertainment Alliance, Wang has been part of a movement that's brought New York theater, music, dance, speakers and film to the West Chester borough. He participated in the Alliance's early concert series held around town and admits he once had a "Kanye West moment" when he took over the mic at a Thursday jazz event to appeal for support. "Let's spread the word!" Wang recalls saying. "There was only slight grandstanding involved," he adds.
Wang went on to MC the blockbuster Uptown! New Year's Eve Opening Gala, which drew rave reviews and set the tone for the Alliance's future endeavors.
Wang recalls early Turks Head Music Festivals with fondness. "As Rob (Dickenson) can attest, it used to be just guys from the neighborhood who brought their own guitars and amps and walked there." And although the festival has changed significantly in scope and technology, "it's still got that local flavor," Wang says.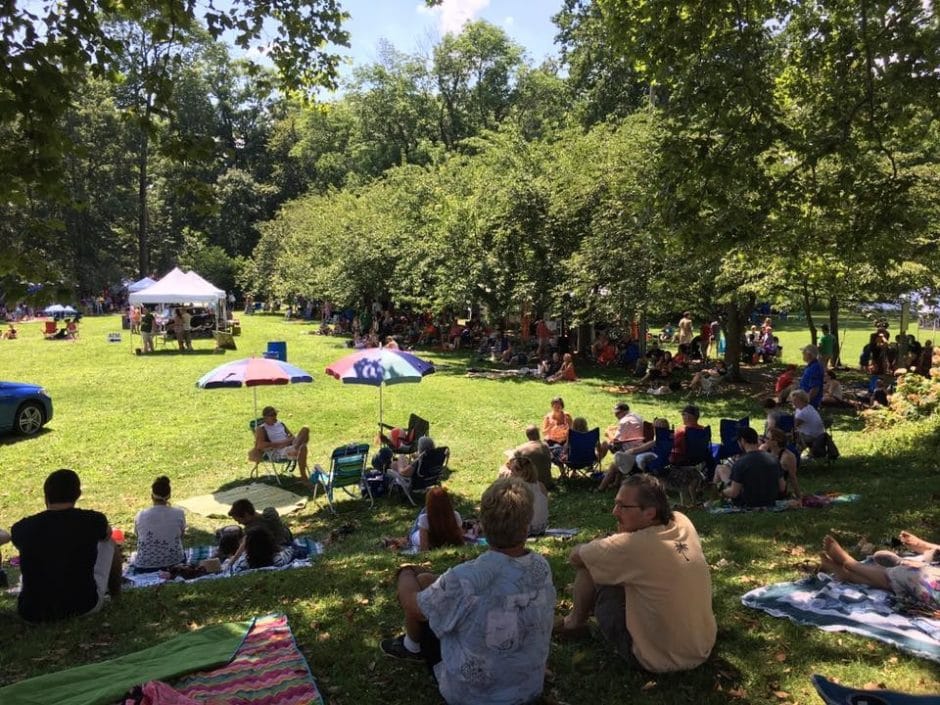 Wang loves seeing acts he's introduced at Turks Head go on to national stages and calls the event "a touchstone to young artists." This year, he looks forward to hearing the Turkish folk-rock band Barakka, whom he once interviewed at the festival while on the air with WCHE 1520 AM. He describes them as 'bohemian to the core, no pretense, genuinely happy to be there and really talented."
He's also excited to catch the performances of his local friends John Blake (Monopop) and Brad Mastrangelo and Guy Russell (Forward Motion).
Catch Wang's MC stylings at the festival, tune in to his weekly radio show Wang's World on WCHE Sundays from 1-3 p.m., and look for his show The Big Wang Theory: A W.A.S.P. Odyssey later this summer.
Rob Dickenson, 4–8 p.m.
Rob Dickenson takes over the mic as MC for the second half of the festival. He says, "Turks Head is a wonderful event that allows people of all ages to interact while listening to a wide variety of music," and credits West Chester Parks and Recreation for its successful operation year after year. "It is a template for how a local, all-day event should be run."
Dickenson originally got involved with Turks Head as a performer. "It was the first year of the Turks Head Music Festival. with Kathy McBratnie heading up the committee.The name of my band was Get Right," he says. "We played full time and the (Turks Head) festival seemed like the perfect venue to do our act in front of local supporters of all ages. I have been involved with Turks Head ever since in some capacity."
Dickenson is a musician and songwriter by trade. He plays in venues across the tri-state area and likes connecting and reconnecting with people at Turks Head every summer.
This year, Dickenson looks forward to the performance of his friend, Annie Lynn. "It will be a great pleasure to see her and watch her play," he says. Lynn is a returning favorite who shares many memories of past Turks Head Festivals with Dickenson.
Dickenson also loves the opportunity to hear new music. "Turks Head provides a change for me to see some of the newer bands that I am unfamiliar with," he says.
To those in and around West Chester, Dickenson says, "Come on out and enjoy a yearly event right in your own hometown."
Look for a weekly blog, new musical creations and Dickenson's songwriting catalogue coming soon on a website he plans to unveil in the coming months.
Musical Lineup: Your Backstage Pass
12 p.m.: Raven Hill Bluegrass, bluegrass
Singer and guitarist Pete Smith of Raven Hill Bluegrass attended his first Turks Head Music Festival in the mid-1980s. "West Chester has always had a diversified music scene," he says, adding, "It's a great area in which to live and watch a family grow." Two of his children graduated from West Chester University in recent years.
Raven Hill played Turks Head a few years ago, and Smith says, "We're excited to be invited back. There's something about the name 'Turks Head' that is special."
Smith also says that this year, "Raven Hill will play some of the traditional, mountain-style country songs by Bill Monroe and the Stanley Brothers. Some songs are obscure, but we also try and keep younger audiences attuned with covers of the likes of Zac Brown and Old Crow Medicine Show. I expect our set on July 16 will be very lively."
Raven Hill will return to West Chester for Swingin' Summer Thursday on August 3.
12:44 p.m.: Walt & Annie (and Alex!) with Larry Roney, folk
Annie Lynn still remembers her first performance at Turks Head Music Festival in 1986. "The stage was in a different part of Everhart Park, and went until 10 p.m. that night," she recalls. "I remember looking out into the audience, darkness all around, and the crowd was holding up flickering lighters in appreciation—remember, before cell phones?" She pauses. "It was awe-inspiring."
Annie—who attended West Chester University—and her husband Walt, a West Chester native, have been performing together for 32 years. "West Chester will always be home to us," she says. The two also share deep roots in the Turks Head Music Festival, having worked on its committee for ten years.
Annie and Walt return this year to the festival stage with their 21-year-old son, Alex. They're also thrilled to perform once again with Larry Roney. "[He's] one of the voices that has defined West Chester for 40 years, and it's heart-swelling for us to be harmonizing together again," Annie says.
The group will perform a mix of originals and some folk/country covers, which Annie is keeping secret until the festival. She says, "Our vibe with Larry is one of a blanket of harmony; three people clearly loving what they do. Our vibe as Annie, Walt and Alex is singer-songwriter with great lyrics and interesting arrangements that are full and lush."
Annie calls the festival's technical crew "phenomenal," and describes West Chester Parks & Recreation as: "big hearts, great planners and champions of local music."
To see more of Walt and Annie's work, check out AnnieBirdd Music, her educational music publishing company. Parents and teachers, take note: Annie will be giving away two free environmental conservation songs following their performance, and their CD, No Time for Hate and Other Songs for Schools, will be available for purchase.
Roney, meanwhile, will continue to delight audiences and his devoted following with a schedule of near-constant performances at some of the area's best hangouts and venues.
Annie dedicates this year's performance to "friends and family who have supported us all these years and the memory of those no longer with us," specifically former West Chester Parks & Recreation director Kathy McBratnie, who started the festival 35 years ago and passed away in 2003.
Annie says, "She is greatly missed, and I know she'll be watching."
1:28 p.m.: Joy Ike, soulful funk
Joy Ike brings her show-stopping and alluring sounds to Turks Head this year after first playing the festival three years ago. "I was very excited to be asked back," she says. "I have a great memory of a vibrant crowd and a festival staff that was really enjoyable to work with. It's often hard to find both at the same event. Not to mention the fact that outdoor festivals are really and truly my favorite part of the summer, whether I'm in the crowd or on the stage."
Look for Ike to play her beautiful original tunes with upbeat percussive piano and pop/soul/world music sensibility. Listeners might be in for a treat, as Ike hopes to share new music from her upcoming studio album at the festival.
Fans can glimpse a sneak peak of this new album on Ike's website, and can expect to see her playing on the music festival circuits all summer long.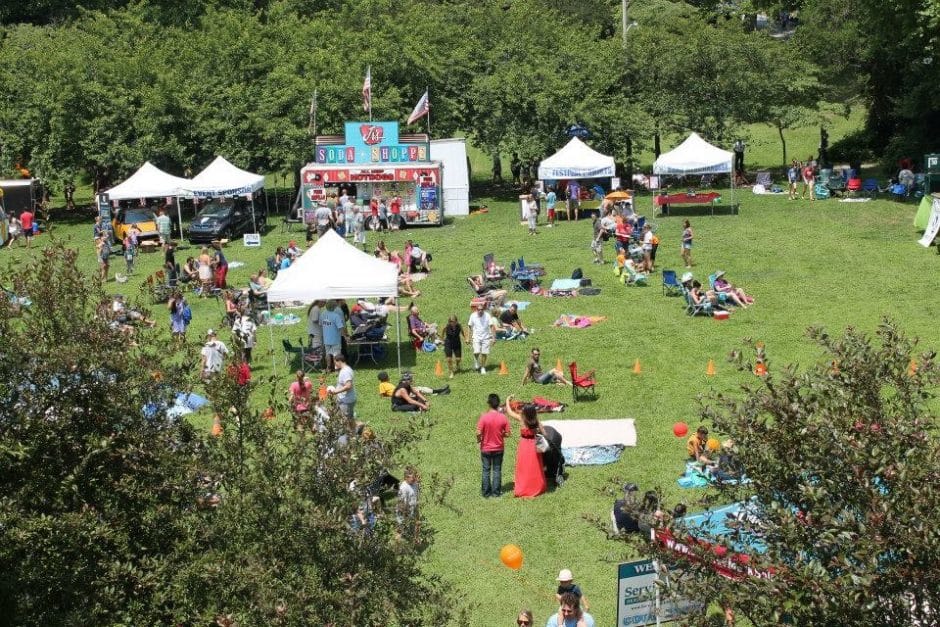 2:12 p.m.: Reed Brothers Band, rock
The Reed Brothers Band returns this year to play a festival they know well. Songwriter and multi-instrumentalist Jason Reed says, "This is our third time playing the Turks Head Music Festival. We love daytime, family-friendly shows, and the Turks Head Music Festival has become known as a great place to showcase original, independent acts. We love the fact that a wide range of styles and genres are represented."
West Chester is home turf for this group, who can frequently be seen playing out in the area, including a recent performance at Super Sunday in June.
This group brings high energy, original rock tunes and recognizable covers with funk and blues influences to the stage. Reed says, "We have fun with our audiences and with each other."
When not practicing or performing, the group participates in WXPN's Musicians On Call program, bringing live performances to the bedside of patients undergoing hospital treatments. "This is something near to our hearts," says Reed.
Enjoy the talent of the Reed Brothers Band at the festival and look for their forthcoming CD, 17 South, due out later this summer. If you like what you hear (and you will), you can catch their next local performance at Pietro's Prime on Saturday, July 22.
2:56 p.m.: Forward Motion, jazz fusion
Steeped in the traditions of funk and soul, Forward Motion's sound is instantly recognizable, yet entirely new
The band brings to the festival music that casual listeners and jazz connoisseurs alike can enjoy in equal measure, with Latin rhythms, jazz harmonies and a healthy dose of improv. Get ready to move, as the stylings of Forward Motion have an undeniable groove and swing.
The band loves playing in the West Chester area and recently headlined Super Sunday on June 4.
Keyboardist Brad Mastrangelo says, "West Chester has become so popular and full of energy, so there is always a crowd of some sort that is interested in what is being performed." He adds, "We believe people who like any time of music will find something to latch onto during our performances and really enjoy themselves."
3:40 p.m.: The Dukes of Destiny, blues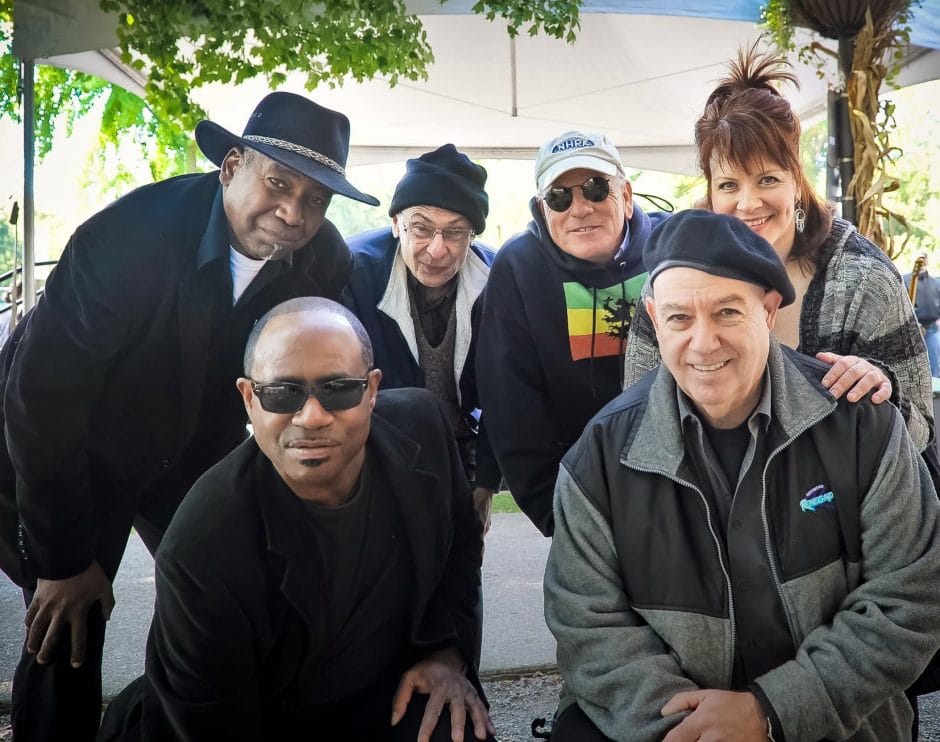 Blues fans, rejoice: The Dukes of Destiny are bringing their red-hot blues and smoking old-school soul to town.
This 6-piece band is one of Philadelphia's most beloved blues acts and loves gigging in the Chester County 'burbs, which they've done for roughly 25 years. Singer and harmonica player John Colgan-Davis says, "If you give a Chester County crowd good energy and good sounds, they will give you back plenty of energy in return. That has been our experience, and we are looking forward to it continuing at Turks Head."
Expect to hear hits by James Brown, Junior Wells and Wilson Pickett arranged by the band with their own signature kick. "We 'Dukeify' them," Colgan-Davis says. The band has also written an array of straight blues tunes and soul ballad originals.
"We have five outstanding instrumentalists and vocalists so we can vary the vocals, add harmonies and switch soloists. As we have only one set at Turks Head, we will concentrate on things to get folks dancing, hand-clapping and involved."
Keep your dancing shoes on after the festival to catch the Dukes of Destiny at other upcoming shows and bring their sound home on CD by contacting Colgan-Davis.
4:24 p.m.: Kuf Knotz, hip hop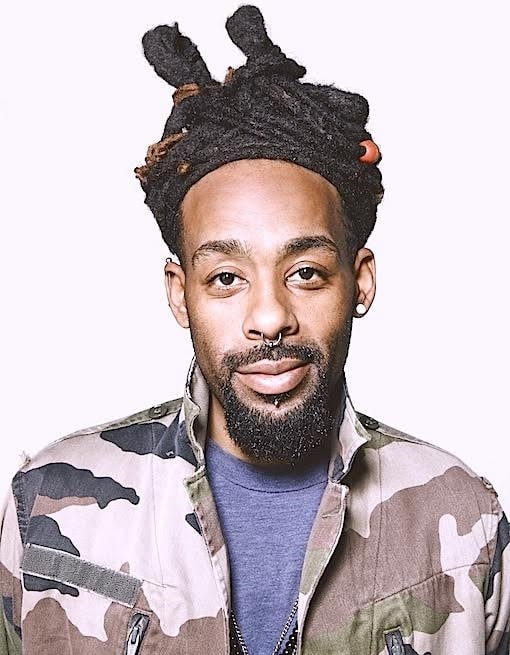 Kuf Knotz returns to Turks Head for the third time this year, bringing live hip-hop, soul and reggae to the scene.
Knotz says he's loved playing the festival in the past in a town he fell in love with during his college days at West Chester University. "I am drawn to the fact that it is so community based and driven. Thirty-five years and counting—it has become a staple and tradition for the community!"
Knotz digs the festival's low-key nature. "It's a nice, intimate festival as opposed to the huge festivals. It's a different energy and different exchange with the audience." He adds, "The audience is such a beautiful mix of ages and races and allows the artist to share with folks who they might not have had a chance to reach at their own shows.
Knotz is also involved with WXPN's Musicians on Call, and his mission as a musician carries great depth. He says the vibe on July 16 will be "a very positive, uplifting message, great interaction with the crowd and pure, raw, good energy!"
Stay connected with the excitement as Knotz finishes his new album and brings his positive vibes to the festival circuits this summer season.
5:08 p.m.: Monopop, electronic '80s and covers
Monopop has always wanted to perform at Turks Head Music Festival, but schedules wouldn't allow—until this year, that is.
Duo John Blake of West Chester and Elise Mendelsohn will hit the stage with a fabulous mix of urban love songs and trip hop.
Mendelsohn says she really looks forward to "just being in West Chester, where John is known as a kind of whiz kid when it comes to sound, engineering and writing." Blake now has his own studio in town and used to do sound at 15 North. The duo also previously worked with local drummer and TribeSound founder Chris Cotter.
Other upcoming outdoor gigs for Monopop include stops at Philadelphia's Riverdeck and Final Friday in Parkesburg.
Mendelsohn says, "Monopop is busily working on new original material for the studio," so keep your ears peeled for one of these new tunes at the festival.
5:52 p.m.: Barakka, Turkish rock
It's fitting for the Turks Head Music Festival to include a Turkish band and, lucky for festivalgoers, returning act Barakka is truly phenomenal.  
Singer and guitarist Bariş Kaya says the band will play "mostly uptempo, dance-friendly" songs from their forthcoming album, set for a fall release. The band marries traditional instruments such as the oud and djembe with Western classic rock sounds reminiscent of Pink Floyd.
Kaya adds, "We have a surprise song for this show, which most American people know in a different version," he says.
Follow the group on Facebook and Instagram for their latest happenings and clips of live performances.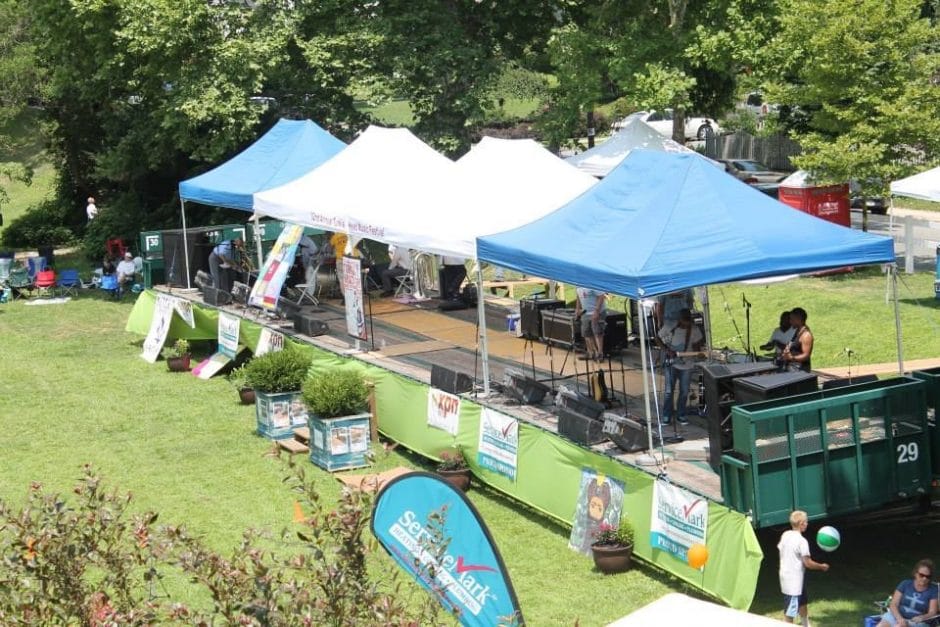 6:36 p.m.: Jeffery Washington, funk/blues
You'd be hard-pressed to find a more skillful funk, blues and rock guitarist than dynamic singer and performer Jeffery Washington. His mix of classic covers and originals are always met with adulation from those in the audience.
Washington says, "This is my second Turks Head. I loved it the first time." His favorite element is simply "the people," who will surely be roused from their lawn chairs and blankets by his danceable tunes.
Washington has been performing in West Chester for over 15 years and can regularly be found at venues like The Social. He'll also headline the Ardmore Music Hall on August 6.
Come and check out the ever-funky and always-fantastic Jeffery Washington.
7 p.m.: LiquidAmbar, funk, jam
What better way to close a summer festival than with a jam session? LiquidAmbar returns to Turks Head Music Festival after several past performances.
Guitarist Josiah Woods says, "We really like the eclectic spirit of the fest with all the different types of bands. We think the Parks & Rec folks are really listening when picking the bands."
The band shares deep musical roots in Chester County and loves West Chester for its "great little musical scene.
The band has a lot of fun together, recently gearing up to record originals, and hopes to convey that from the stage. "Being out in the open air to a big audience is always fun," Woods says. "We get to showcase our favorite material." He describes their material as "an infectious fusion of dance grooves, jazz improv and thick stank FUNK."
Woods adds, "We try to keep a dance groove and take jams to places we haven't gone before."
The band will hit the festival fresh off the July 6 Swingin' Summer Thursday. Woods says, "we are honored to be a part and we hope everyone has a great time with us," adding, "Come on up and say hi!"
Turks Head Music Festival takes place on Sunday, July 16 (rain date: Sunday, July 23), from 12–8 p.m. at Everhart Park, 100 S. Brandywine St., in West Chester.
Festival photos & poster:

West Chester Parks & Recreations

Kuf Knotz photo:

Joseph Balestra

Dukes of Destiny photo:

Dukes of Destiny