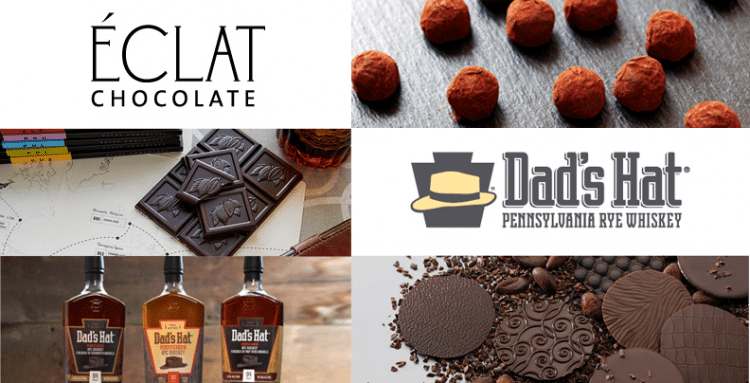 If you're a chocolate lover, and also have an affinity for whiskey, have we got an event for you! Éclat Chocolate is hosting a chocolate and whiskey tasting with Dad's Hat Rye Whiskey at its storefront in West Chester on Friday, September 15.
The tasting features a variety of award-winning Dad's Hat-selected rye whiskey cocktails paired with a selection of specially created Éclat Chocolate confections. You'll even get to taste the "Best Truffle in America," recently awarded by Bon Appétit! In addition to the sweets, a selection of small appetizers will be served throughout the evening.
This is a fun event with the hors d'oeuvres served butler-style to promote a more relaxed and intimate evening. The cost per person is $55. Space is limited, but there is still seating available from 6:30–8 p.m.
The hosts for the evening are John Cooper, owner of Dad's Hat, and Christopher Curtin, owner and chef of Éclat Chocolate. Make your reservation now by emailing [email protected] to join this delicious, unforgettable pairing!
You can find Éclat Chocolate at 24 S. High St. in West Chester; phone: (610) 692-5206.