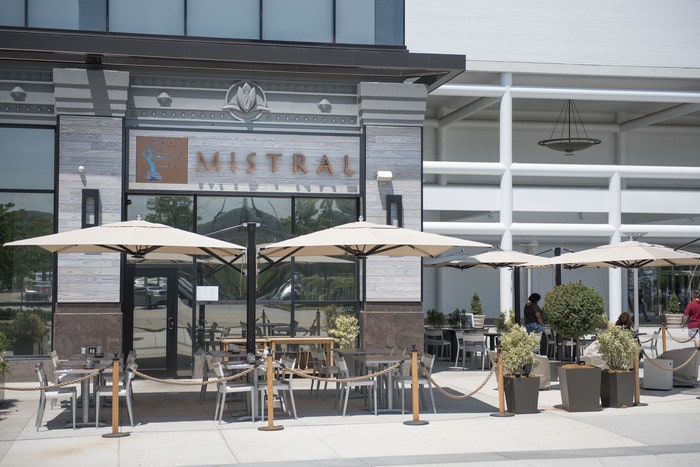 This past March, Mistral King of Prussia joined the expanding enclave of upscale, but approachable dining options within the mall. Ushering in a more independent (privately owned) chef-driven philosophy (no corporate menu mandates), Mistral bathes itself in a well-lit, mid-century modern-inspired motif that combines clean whites, blond woods and bold geometrics with scattered greenery among mint and ocean blue patterns.
Architecturally nudged underneath Grand Lux Cafe—between Lord and Taylor and Neiman Marcus—James Beard semifinalist and executive chef/co-owner Scott Anderson has designated chef de cuisine Craig Polignano to orchestrate the kitchen at the new location. The innovative menu is local, short, sweet and sustainable with snacks ($7–$12), small bites ($10–$23), larger bites ($25–$30) and a bevy of salads and sandwiches ($15–$17).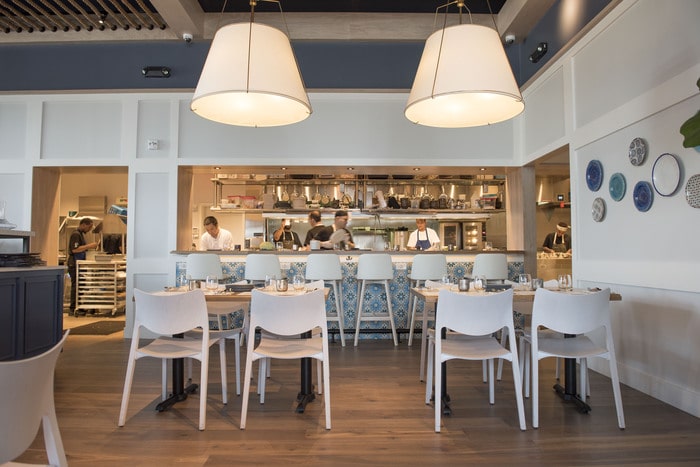 But it's the 20-seat (thank you for the soft seating!) rectangular bar that commands center stage in the middle of the open space, with a 360-degree view that provides us with enough sensory stimulation—including a view into the bustling kitchen—and a killer cocktail list that is our pick for the hippest and most original happy hour (or any hour, actually) at one of the largest shopping meccas in the country.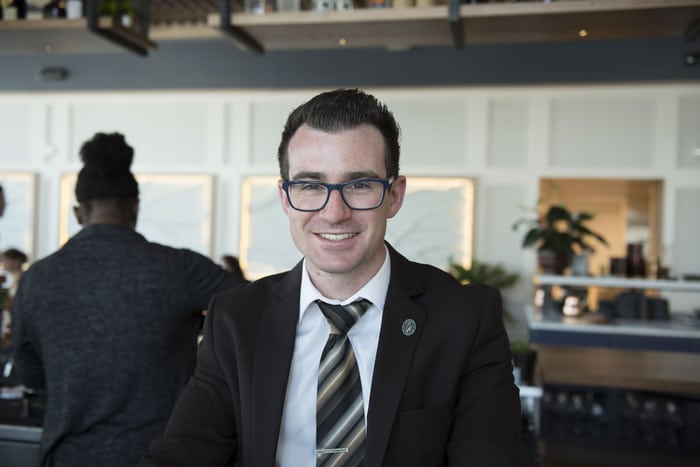 We sat down with Steven Gullo, advanced sommelier and beverage director (who splits his time between this location and the original Mistral in Princeton, New Jersey), and asked him to highlight some of the most popular signature cocktails (and a brew, too!) that are must-sips when you visit.
Pina la Plancha has a perfect kick of jalapeno to tackle the sweetness of grilled pineapple, agave nectar and a spritz of fresh lime in this Del Maguey Vida Mezcal-based, light-colored concoction. Steven recommends pairing the drink, which is accented with a slice of lime and a pineapple leaf, with the sweet and bitey wings dish on Mistral's snacks menu.
The Kubrick-inspired beverage The Clockwork Orange gets us to pucker up a bit with its Vin d'Orange Citrus Vermouth and orange bitters that mix well with tart cucumber-lemongrass gin and tickle-your-nose club soda. Garnished with orange peel and a cucumber, it's the perfect partner to the small-bite grilled calamari to enhance the intensity of this textured dish.
Sip your way into the Devil's Garden, with its vivid color and layered taste that make us want to be just a tiny bit evil. Its deep ruby blend of Del Maguey Vida Mezcal, Banyuls, raspberry, agave and rhubarb bitters seems to slip down the throat with ease. Pairing this cocktail with the restaurant's slow-roasted pork belly is a truly devilish experience.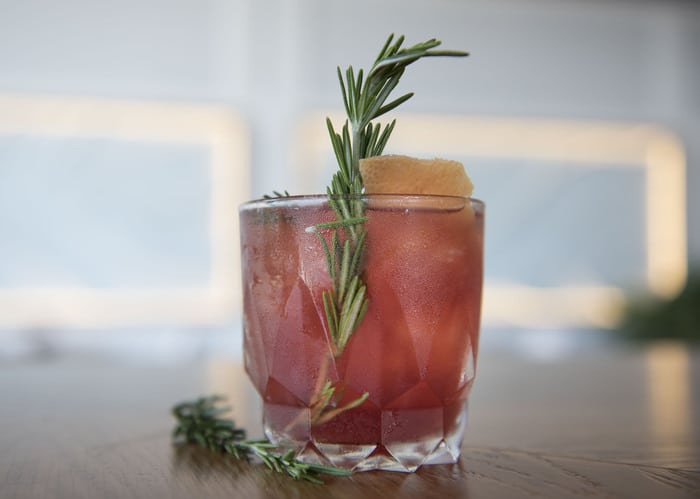 We're all about collaborations, and Mistral doesn't disappoint with a 5.1% ABV pilsner on tap that's been rebranded specifically for the restaurant by River Horse Brewing Co. in Ewing, New Jersey. The Brewers Reserve Pilsner with German hops and a clean touch of citrus is just waiting to be poured and paired with the gooey/crispy Halloumi cheese sandwich.
A comprehensive list of classic cocktails, including Champs-Élysées, Cable Car and a hard-to-find Aviation are on our list of must-haves. Eight rotating taps poured stouts, lagers and a favorite Sly Fox saison during our visit. A stimulating batch of spirits includes top-notch bourbons, scotches (single malt and blended) and just about everything in between.
Having an advanced sommelier behind the bar makes the wine list here undoubtedly tasteworthy, with Steven's top picks for wines that he claims are hard to find but so worth the sip:
The Nielluccio Rose, Domaine Poli, Corsica, 2016 ($11/glass), a rosé made from 100% Sangiovese grapes, is clean-tasting with mineral and red cherry notes.
Old-world Roussanne/Grenache Blanc Château Mas Neuf, Rhône Valley, 2015 ($12/glass) brings along full-body and round texture with notes of dried apricot and peach preserves. Developed along the French coast and famous for the kiss of the Mistral Wind (hence the name of the restaurant).
Grillo, Villa Pozzi, Sicily, 2015 ($12/glass) tastes like a glass of summertime with this indigenous grape from Sicily. The similarity to Pinot Grigio makes this one popular and easy to drink.
Pinot Noir, Illahe Estate, Willamette Valley, Oregon, 2015 ($17/glass) is organically farmed and notes include ripe red fruits and a bite of cinnamon.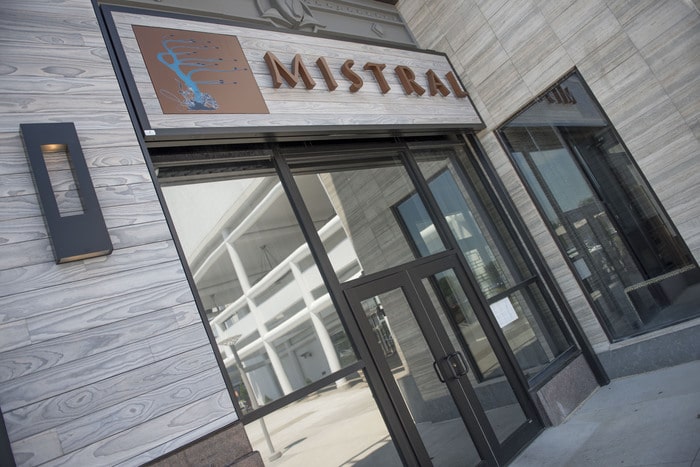 We were so in in awe of Steven's expertise that we asked him to share the most important ingredients every professional mixologist must have in his or her bag of tricks to take cocktails to the ultimate level. His recommendations?
Good (read: expensive) bitters. Don't skimp on the quality of this essential additive.
Housemade fresh infusions are crucial to signature cocktails. Incorporate fruits, peppers and fresh herbs to add real depth to the beverage.
"Local spirits are a great addition to today's cocktails," according to Steven. "We mix it up with Bluebird Distilling in Phoenixville as well as with the Brandywine Branch of small-batch Revivalist gin."
Using jiggers to measure spirits is important when creating authentic cocktail recipes. Measuring precise ingredients will allow the cocktail to be more enjoyable.
As with any recipe, we believe the presentation must have some of that "wow factor" to make it memorable. Steven's advice is to "use ingredients in the garnish presentation to not only tie the cocktail together, but to give the guest a hint of the surprise in the glass." Colors and shapes must be fresh-looking (no dried-up limes, please), eye-catching and also easy to navigate for the sipper.
Visit this newest hit in the King of Prussia Mall and take advantage of the new crafted happy hour menu, before or after shopping, and let us know what you think.
Find Mistral at 160 N. Gulph Rd., King of Prussia, phone: (610) 768-1630.