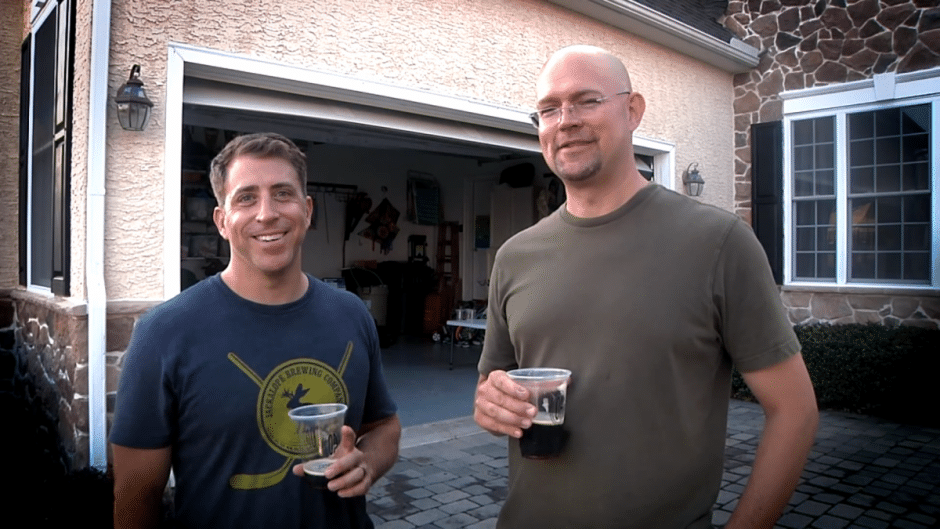 Phoenixville home brewers Rich Carroll and Corey Smith recently decided to share their knowledge about brewing and beer with friends—and the world—via a new YouTube video series. The two home brewers, together with producer Brian Carroll (Rich's cousin), call themselves Ornery Ales Productions.
So far, they have produced two videos. In the first video, Rich and Corey take viewers through the process of brewing with extract versus the process of brewing an all-grain beer. In the second video, Rich and Corey challenge their friends to blind taste test both beers and vote for their favorite. We spoke with Rich about his background in beer and the future plans for Ornery Ales Productions. Read on for the full scoop:
PA Eats: How long have you been home brewing, and why did you start?
Rich Carroll: I've been home brewing for a little over six years. I started getting interested in craft beer when I was in college in the late '90s when a small brewery called Red Oak started distributing to our local bar in North Carolina. The beer was amazing and completely different than Busch Lite, which we normally drank, and it really caught my interest. My wife, Kristine, bought me a brew kit called Mr. Beer after we graduated and it was a disaster, completely undrinkable, so I kind of gave up on the idea of making beer. Then in 2010, a show came out called Brew Masters with Sam Calagione, the founder of Dogfish Head Brewery, and I was hooked again. I found a local home brew shop up in Pottstown called Weak Knee, bought a kit and took a class. A month later, I joined a beer club called Bruclear. I'm no longer in that club because the commute is just too far, but brew clubs are the way to go—you meet people that are just as passionate as you are about making beer. Last year, I joined a new club called Stoney Creek Homebrewers that meets in Phoenixville where we live.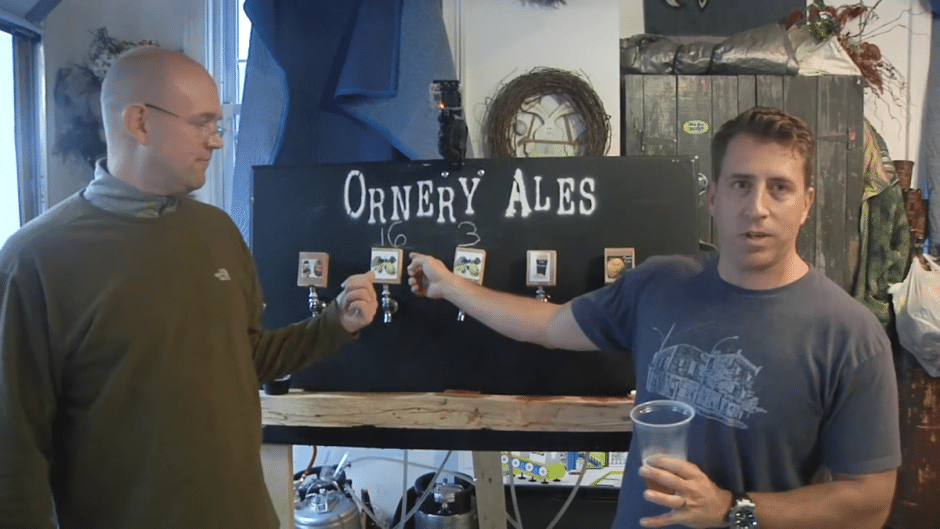 How did you decide to form Ornery Ales?
I started making a lot of beer and was generally serving it at our parties or friends' parties. Everyone would ask the name and I would say I don't have one. To someone three beers in, that was an unacceptable answer. I started just saying "Ornery Ales." My mom used to always say I was "ornery as hell" when I was a kid, so it's always been a fun word for me and my family. It quickly stuck and Kristine started buying me little gifts that had the name Ornery Ales on it.
You have partners in Ornery Ales Productions. How did you meet and decide to brew together?
My cousin Brian called me and said he wanted to make a video of people brewing beer and asked if I was interested. Brian is a professional video producer, so of course I said yes. We started brainstorming ideas. I also needed an on-camera partner and Corey was the natural choice. Every home brewer has one good friend who loves drinking their beer and appreciates good craft beer. For me, that person is Corey.  I could always rely on him to tell me if my beer was good or just flat-out sucked. As I got better at brewing, Corey became more and more interested in the brewing process, and just over two years ago he decided to jump right in and bought all of his own equipment. To be honest, I'm much more of a process guy and lean more toward malty beers. Corey balances me out nicely with his creativity and love for hops.
We recently decided on the name Ornery Ales Productions and thought it would be fun to make home brew videos. What we are doing at Ornery Ales Productions is creating entertaining and educational videos that explore the world of home brewing with the hope of inspiring those interested in the craft. This coming year, we are going to focus on promoting local businesses while making the videos. It is a great opportunity for us to home brew, promote our hometown and throw a party for friends and family.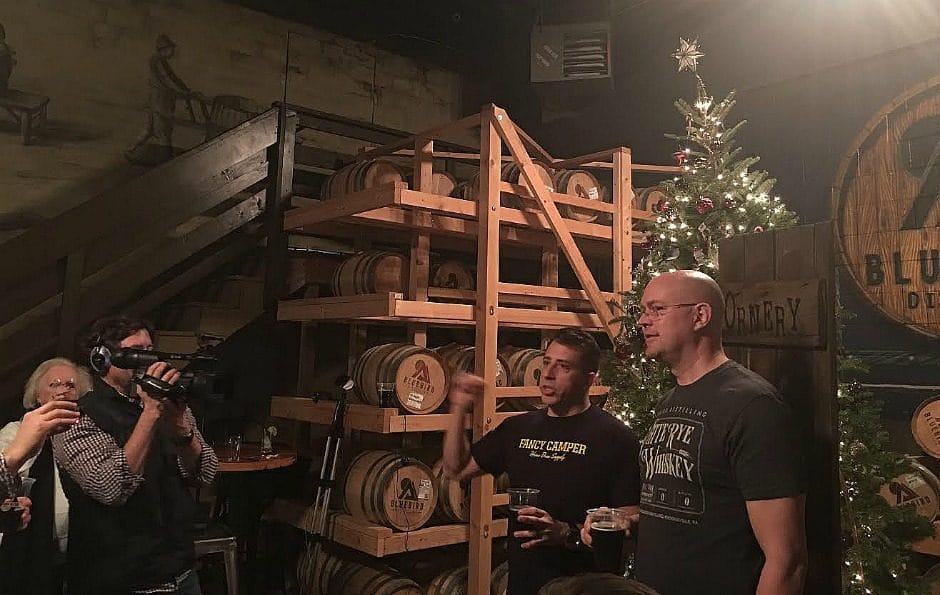 How did you decide on the idea of pitting all-grain brewed beer against extract? Should we expect more videos?
We brainstormed on fun concepts and the all-grain versus extract was a natural fit. Corey had been brewing extract and wanted to make the leap to all-grain, so it was the perfect opportunity for us to brew side-by-side using the same exact recipe. I think it was even better for him to taste the difference in the two processes and see the reaction of those tasting it. And yes, we are going to keep making videos! We are in talks with local businesses exploring how they can participate and mapping out which videos we will do when.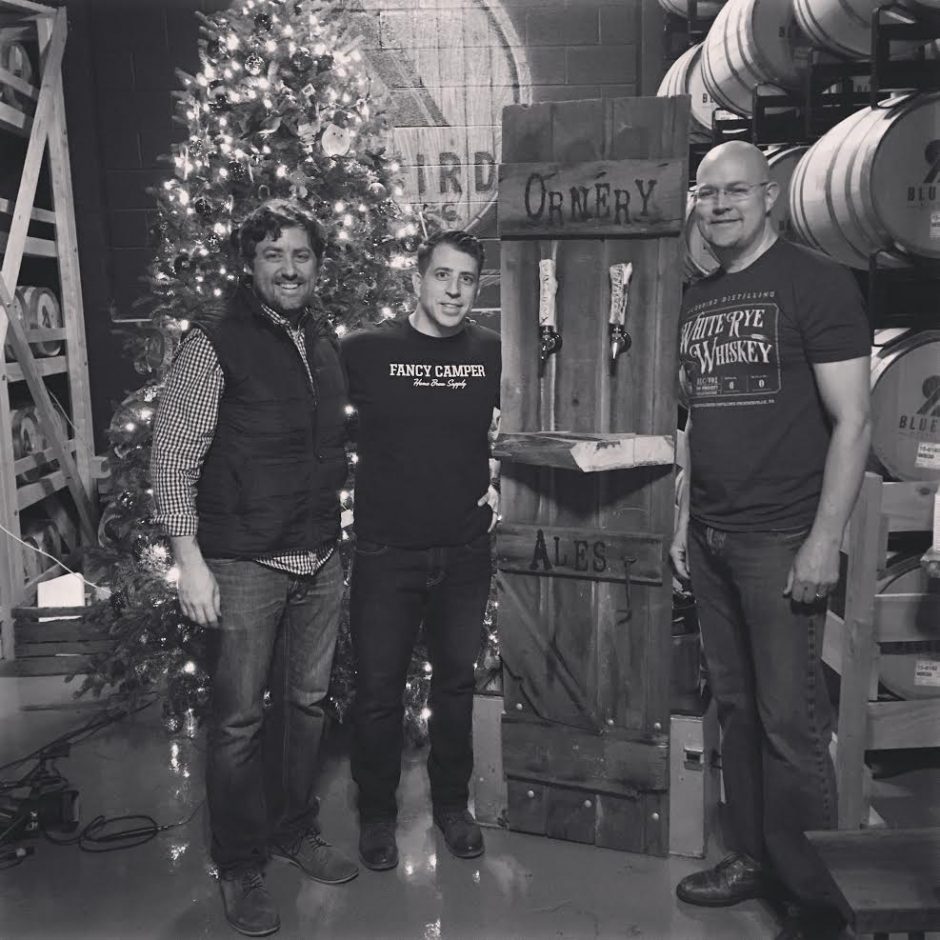 You recently held an event at Bluebird Distilling in Phoenixville. What prompted the collaboration?
The event we had at Bluebird was amazing. The lead-up was even better. We made a short video that we showed to the group showing Corey, Brian and me with some of the kids traveling down to Bluebird to meet founder Jared Adkins to buy a bourbon barrel. Jared and I know each other from Bruclear Home Brew Club. He hooked us up with a little tasting and tour of the facility. He also offered to let us host the tasting at Bluebird when the beer was ready. At the event, we asked people to try both the brown ale and the same exact beer aged in a Bluebird bourbon barrel for five weeks. Just five weeks of aging made the beer scream bourbon, which was really cool. Feedback was fantastic and, spoiler alert, the bourbon barrel version kicked first.
Have you entered any home brew competitions?
I have and still do frequently. Competitions are a great way to get feedback from experienced beer judges. I have had a couple of my beers finish as high as second place in their categories, but, in my opinion, that doesn't mean they are my best beers. The reality of the competitions is it really comes down to who you are up against. For instance, some beers that haven't even placed have scored higher than those that have.
What is your favorite style of beer to brew? To drink?
My favorite style is a brown ale. Although I love IPAs like everyone else, I really, really love a good brown ale. I like that it's maltier than a pale ale and with that comes more nut, chocolate and caramel flavors. The reason I like to brew it is there aren't that many on tap when you go to a local bar. I have been making the recipe for several years, so I've had a chance to tweak into a beer I really enjoy.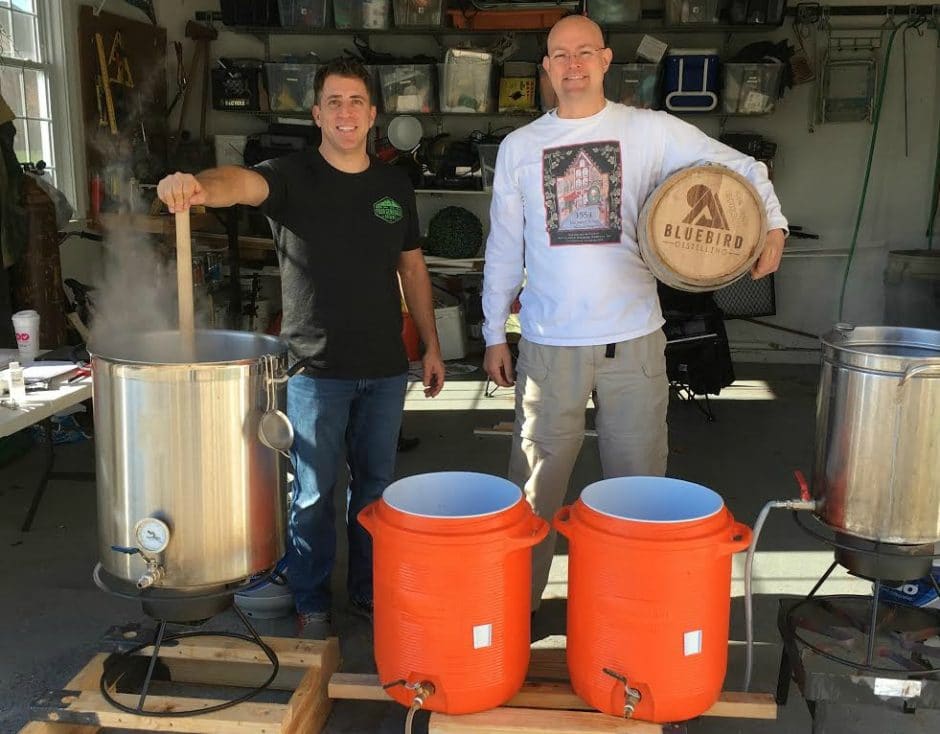 Recently you became a certified beer judge. What was that process like?
I just finished a class in November offered by Stoney Creek Homebrew club. It was an amazing class, extremely thorough and well put together. As part of the class, we had to pass the online exam to then be able to sit for the tasting exam. Once you pass the online exam, you are considered a provisional judge, but you must wait to see how you do on the tasting exam to see what level you qualify for. I'm still waiting to hear how the tasting exam went. I should hear in about a month or so. In the interim, I did judge at my first competition in November and it was a fantastic experience. The main reason I decided to take the class and prepare for the exam was so I could provide myself with critical feedback on the beers I make. Whatever I actually score on the tasting exam, I feel like I walked away with exactly what I wanted to achieve.
What are the plans for Ornery Ales? Keep brewing for personal enjoyment and friends or go pro?
I plan to keep brewing for fun and keep making awesome videos. We love sharing our beer with our friends for free and getting their feedback. The videos are giving us a reason to have more tastings. We are excited to get the local Phoenixville businesses involved, too.
Check out Ornery Ales Productions' all-grain versus extract brewing video below:
Keep tabs on what Ornery Ales Productions is brewing and filming by following them on Instagram and YouTube or visiting their website.
Photos:

Ornery Ales Productions