Eight miles south of downtown Pittsburgh in Bethel Park, where a bridge once transported Montour Railroad traffic over Baptist Road, the two-year-old Spoonwood Brewing Company now stands. The bridge came down in the mid-'80s, but a piece of history remains to tie the old to the new.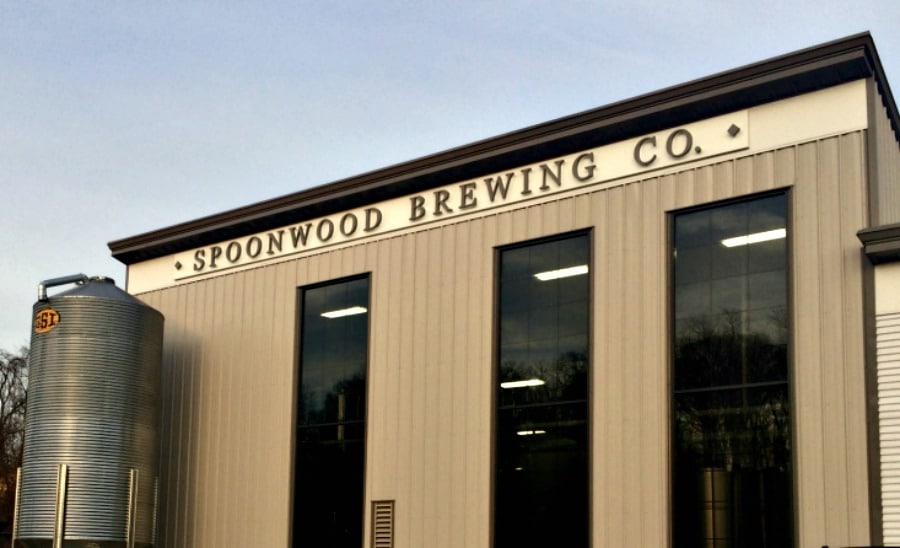 Spoonwood opened on January 31, 2015, with co-owner Steve Ilnicki heading the brewing operations. Ilnicki came to the Southern Allegheny County project after a few years brewing at the well-regarded Homestead location of the Rock Bottom chain of brewpubs. The Spoonwood name traces its etymology back a few hundred years as another name for the official state flower—Mountain Laurel.
Visitors to Spoonwood will find a building and brewery built from the ground up with ample space for both guests and brewing staff. On the brewery side of the business, high ceilings contain a 15-barrel brewhouse (along with 15 barrel fermenters and serving tanks) with ample space to grow.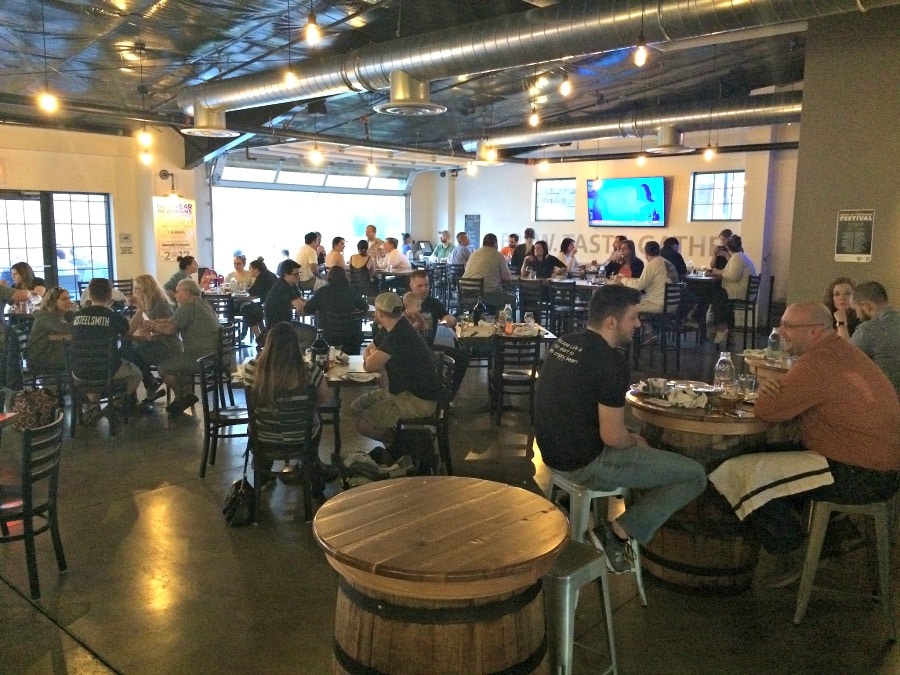 For customers, there's a similarly spacious feel to the bar and dining room as well as. Weather permitting, the outdoor seating area is bounded along the back side by a concrete wall that once held up the previously mentioned railroad bridge. It's a strikingly unique, not to mention historically courteous, component of the outdoor experience at Spoonwood. Adjacent to the wall is an area that Ilnicki said is occasionally referred to as "free-range daycare." It's a fenced-off area that is actually used for multiple purposes; although the brewpub is quite family-friendly (though, not canine friendly), the grassy area is, in fact, not a children's play area.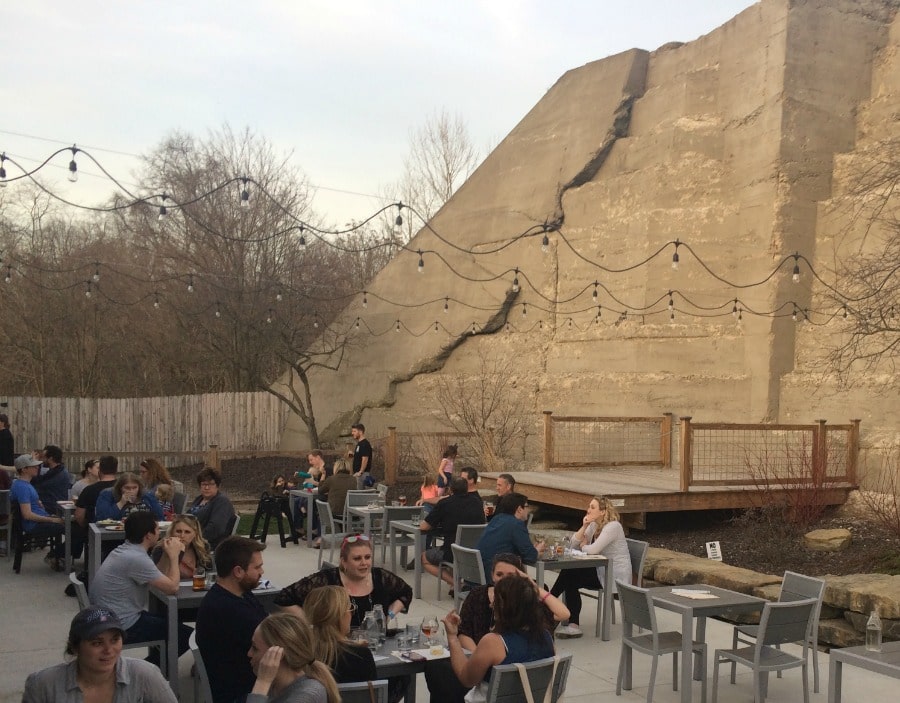 The space has been used in the past for everything from a turtle exhibit during the Turtle Eclipse Tropical Stout fundraiser event (collaboration with nearby Hitchhiker Brewing Company) that benefited the Turtle Survival Alliance to a Wiffle Ball Home Run Derby. Coming up on April 22, during Pittsburgh Craft Beer Week, the brewery will release its Beard of Bees Imperial Honey Porter (in collaboration with Apis Mead & Winery in nearby Carnegie) while simultaneously, and appropriately, playing host to Bedillion Honey Farm conducting a honey bee exhibit in the yard.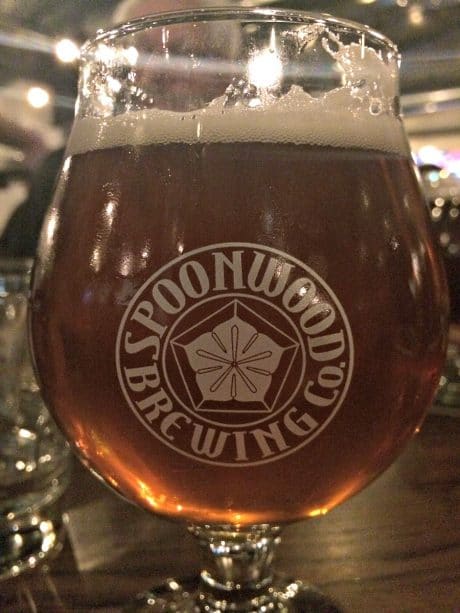 A recent visit to Spoonwood saw an equal amount of care and quality to both the food and the beer. The draft list featured a well-rounded lineup of styles covering hops, malt, smoke, coffee and yeast driven beers with alcohol levels from 4% to 9% nicely represented to please most tastes. The Working Class Hero made for a very nice welcome beer to the brewery after a long cross-state drive. This solidly American style is a well-made Cream Ale that provides easy drinking refreshment to prime the palate before diving into dinner and bigger beers.
The food menu got off to an equally good start with appetizers that included a sausage board and a cheese & charcuterie board. Both provide a beautiful and tasty arrangement of house-made meats and a variety of changing cheeses and accompaniments. Here, the Astrid Belgian Pale Ale and the Screamin' Danger IPA worked quite nicely together with these first plates of food.
For the main course it was difficult to avoid the slow-roasted pulled pork sandwich, which proved an easy winner by itself but also alongside the Earthside Oatmeal Stout, Begbie Scotch Ale and Hydra Slayer Imperial Red. This was a great example of big flavors complementing each other. Adult mac & cheese (with smoked Gouda, prosciutto and peas), old-fashioned meatloaf and fish tacos also graced my dining party's table to the delight of all.
Finally, to close out the meal and beer sampling, it was worth trying Ilnicki's beers with other enticing flavors. Peachy Kennan Pale Ale brought a lightly balanced flavor of ripe peaches, and the Cold Drip City was an eye opener. The end-of-meal coffee could easily risk overwhelming a small beer such as this Blonde Ale (5.8%), but in this case did not.
As suggested earlier, in its work with both area breweries and meadmakers, the brewery enjoys and makes the most of collaborations. Earlier this year, Spoonwood worked two different collaborators into one brew. Not only did Cold Drip City incorporate Sulawesi cold brew from Allegheny Coffee & Tea, Ilnicki and his brewing team took the coffee-infused blonde ale and aged it in Wigle straight wheat barrels for six months, making Cold Drip Doppio. Wigle is the award-winning and wildly popular distillery in downtown Pittsburgh's Strip District neighborhood. Also in 2017, the brewery began an annual collaboration with rock band Coheed and Cambria. The series began with the aforementioned Screamin' Danger IPA.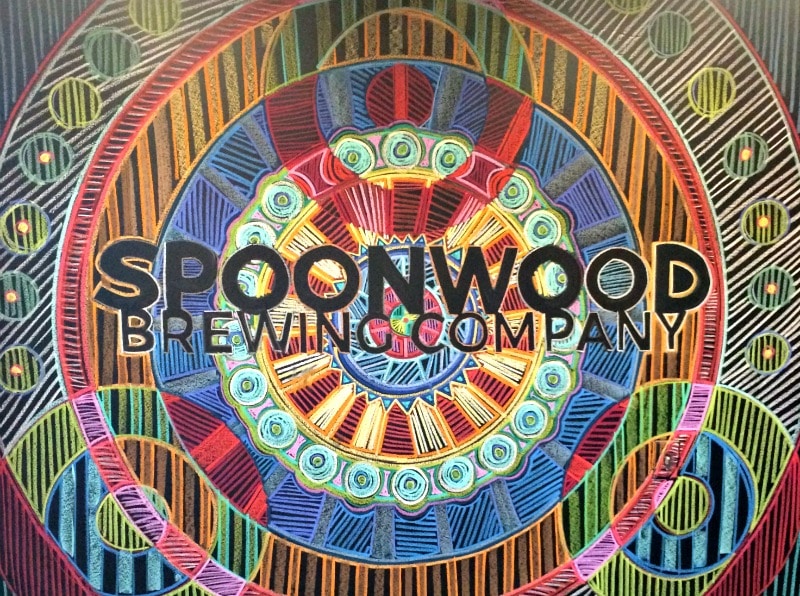 Spoonwood has also taken advantage of recent legislation that permits them to also sell spirits, meads and ciders produced in the state. So expect to also find local mead from Apis, cider from Arsenal, rum from Maggie's Farm, potato vodka from Boyd & Blair and whiskey from Wigle in addition to the house-made beers.
Variety is the spice of life, as they say, at many breweries—and not much is different at Spoonwood. Although subsequent visits may find a few of these beers, more than half of the draft list can be expected to show new beers, twists on previous ones, experimentations and collaborations. That, plus the inviting and comfortable atmosphere, is what keeps the capacity crowds on most nights coming back.
Pittsburgh's most interesting beers were once mostly confined to the city proper. Spoonwood can be counted among the few handfuls of brewing establishments across the greater Pittsburgh region that are now bringing high-quality beer options to the suburbs.
Find Spoonwood Brewing Company at 5981 Baptist Rd., Pittsburgh; phone: (412) 833-0333.