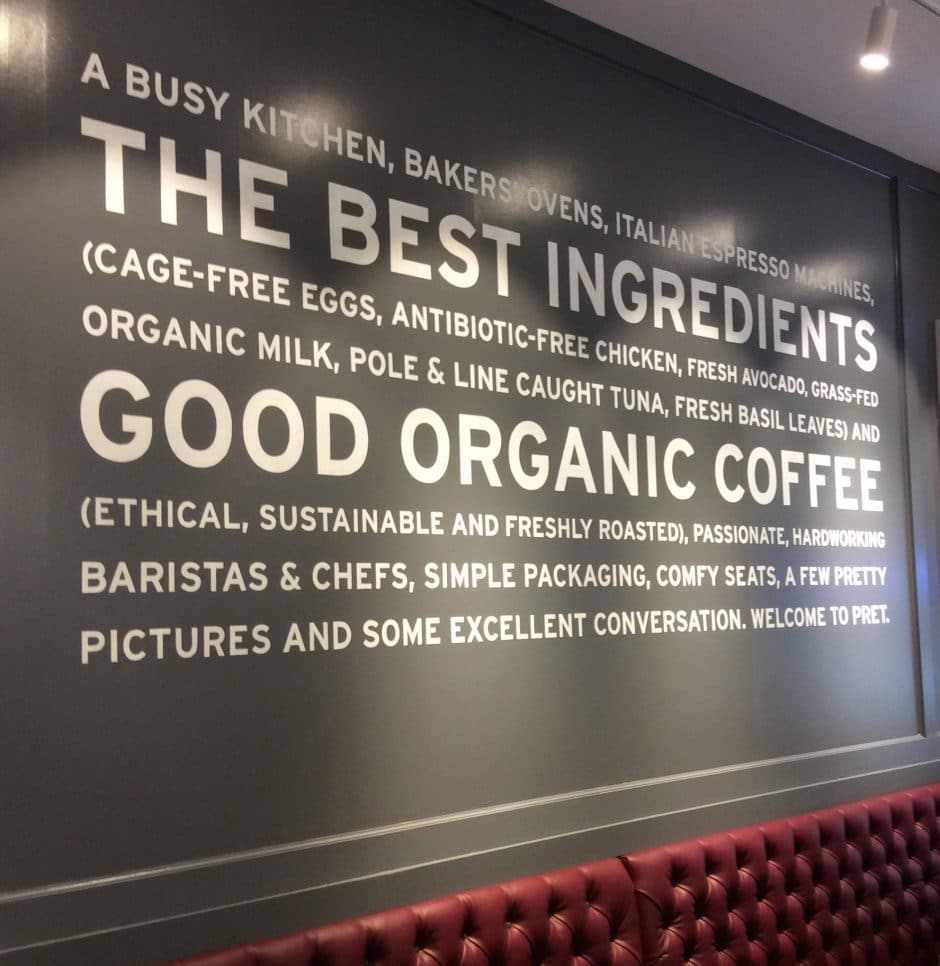 "Pret," as Pret A Manger is called among those in the know, has landed at the Wharton School at UPenn on the first floor of Huntsman Hall. This fast casual eatery is best described as a sandwich and coffee shop that features responsibly sourced ingredients for making sandwiches, salads, breads and breakfast items. The restaurant, with a crew of 27, is open to students, faculty, staff and guests. 
The first floor eatery has a wall filled with "grab-and-go" coolers, with all sorts of food items to select. Pret bakes its own baguettes, bagels, pastries and croissants throughout the day, and the baking aromas will tantalize your taste buds. On the second floor, there is also an outpost intended for Wharton grad students where select food offerings are present.


Vegan options are ever-present on the menu and include fresh garden salads, fruit salads, hummus and more. The animal product-free options are anything but standard; try the turmeric tofu balance box, falafel and beet hummus power pot, miso sweet potato bahn mi baguette and the avocado and roasted corn salsa flatbread. Breakfast items include freshly made steel-cut oats and fresh fruit. Freshly made juices are also available.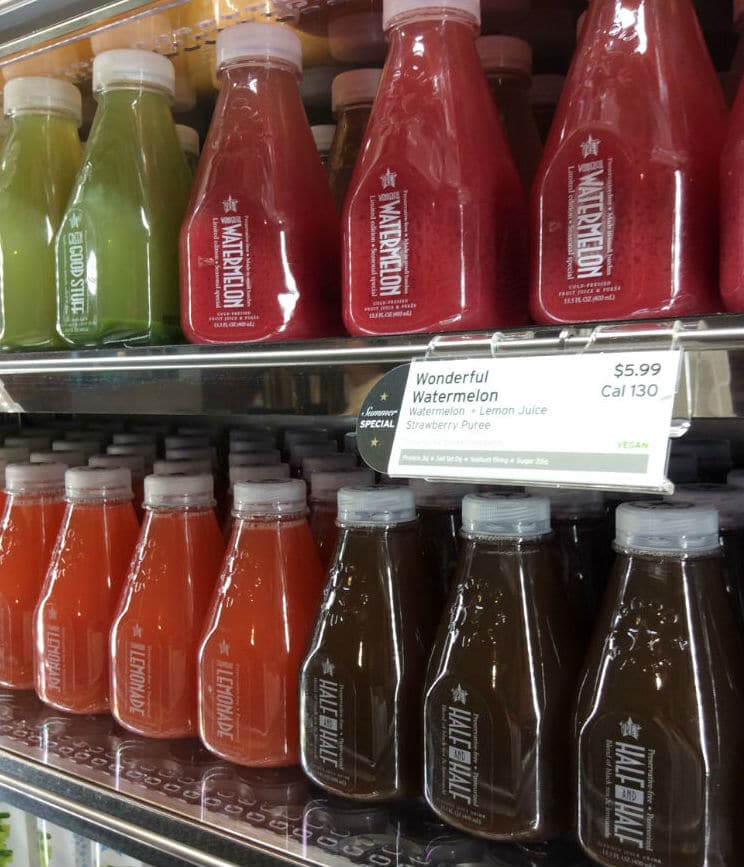 All food items are labeled with ingredients and calorie count. Vegetarian and vegan items are displayed with a green "V." Eating at Pret becomes an educational experience and makes consumers very aware of what they are eating, even that 370-calorie buttery croissant (not vegan).
Pret A Manger roasts its own organic coffee available at the self-serve coffee bar, which features light and dark roast brews. The coffee is robust and earthy-tasting, and bonus—refills are free. There is also a barista bar that features espresso-based drinks.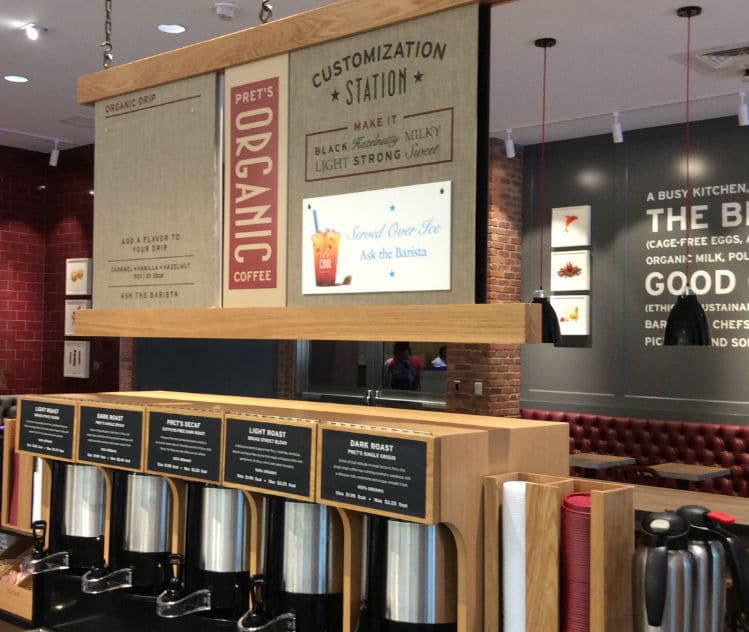 Every night, Pret donates its unsold fresh food to local charities. It does not sell day old food, and its support to the community is exactly a reflection of "Planet Pret," its core values.
Pret A Manger is a food concept that began in London in 1986 and can be found in U.S. cities like New York, Boston, D.C. and now Philly! This global company also has sites in France, China, Hong Kong, Dubai and Singapore. According to manager Nancy Lowell, "Bon Appetit Management Company, Penn's food service provider, is very proud to launch the first university-based Pret in the U.S." Lowell carries a fine food pedigree and is a graduate of the Culinary Institute of America in Hyde Park, N.Y. She's in her element and very excited about Philly's new spot.
We stopped by to check out the scene on opening day (in the mid-morning), and the place was packed with hungry guests and students looking for delicious, fresh and nutrient-dense food. Students were clustered at tables, both indoors and outdoors, all appearing very excited about the bounty of foods available. One coed exclaimed, "I cannot believe that Pret is here on campus!"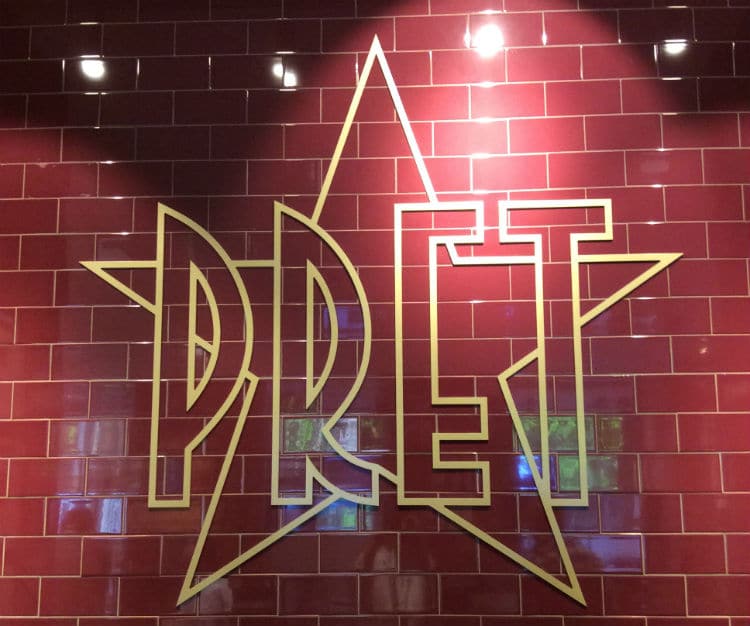 Let's give the University of Pennsylvania an A+ for bringing this fun eatery to Philly. There aren't too many places where you can grab sugar-free steel cut oats and have the opportunity to cover them with a freshly made fruit salad. With breakfast touted as the most important meal of the day, Pret will be taking care of many hungry Penn students, staff and faculty, as well as members of the surrounding community. And for those who don't eat oatmeal, one of Pret's warm chocolate chunk cookies might just hit the spot!
Pret A Manger is open from 7:30 a.m.–9 p.m. Monday through Thursday and 8 a.m.–4 p.m. Friday through Sunday.
Find Pret A Manger downstairs at Huntsman Hall at Wharton, 3730 Walnut St. in Philadelphia (at the foot of the 38th Street Bridge on Locust Walk, east side); no phone.