Long before the advent of big box stores and 24-hour access to grocery shopping, the corner store was the community's hub of activity. It was where you went to get a loaf of bread and some potatoes for dinner. And, it's also where you caught up on the news of the day in your neighborhood, as the shopkeeper was often the town crier.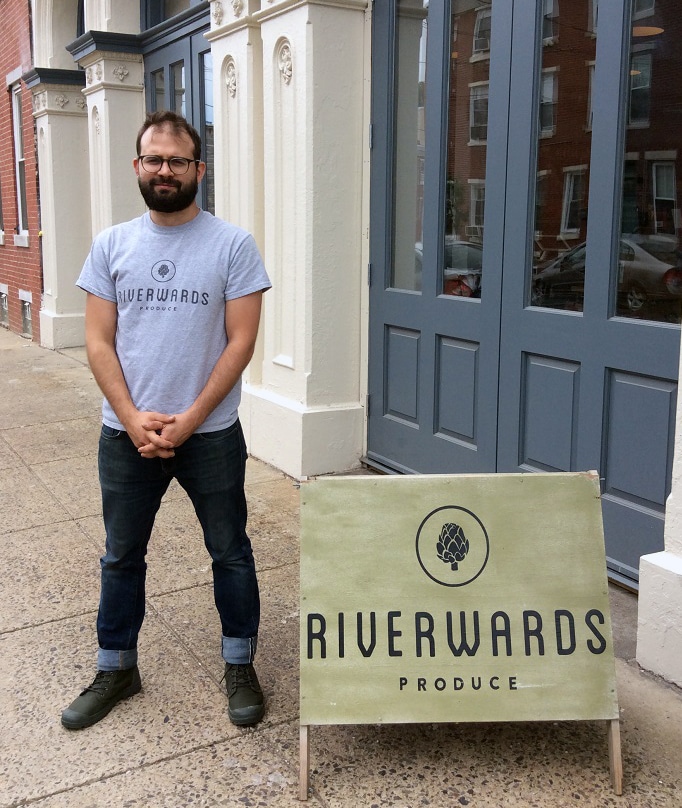 Vincent Finazzo, Riverwards Produce's owner and shopkeeper, has a rich history in the produce world. Vincent's time working at area Whole Food Market stores and a lifelong interest in gardening and food origins generated the tools he needed to create his own retail format: a modern update of the corner store.
Riverwards is a wholesale produce purveyor that supplies produce to restaurants, events and local markets. But, step one foot inside and you realize that Riverwards is becoming the new norm in shopping—smaller footprint, local produce and the friendliest neighborhood vibe.
Located at 2200 Norris Street in Philadelphia's bustling Fishtown neighborhood, this 1,700-square foot food emporium is brilliant. Each piece of fresh and local produce is artfully displayed, and handwritten signs explain food origins and prices. An efficient bulk department offers a great selection of grains, dried beans and legumes and more.
The newly painted facade of the building is a two-tone beige mix, accented with dramatic navy blue, that once housed the second-oldest firehouse in Philadelphia. Tall windows allow for beautiful natural light to shine brightly on each corner of the store. As a shopper, it is a dream. Every aspect beckons you to learn about the many fabulous local farmers, bakers and food enthusiasts in the area. Even the restrooms are beautifully appointed and comfortable.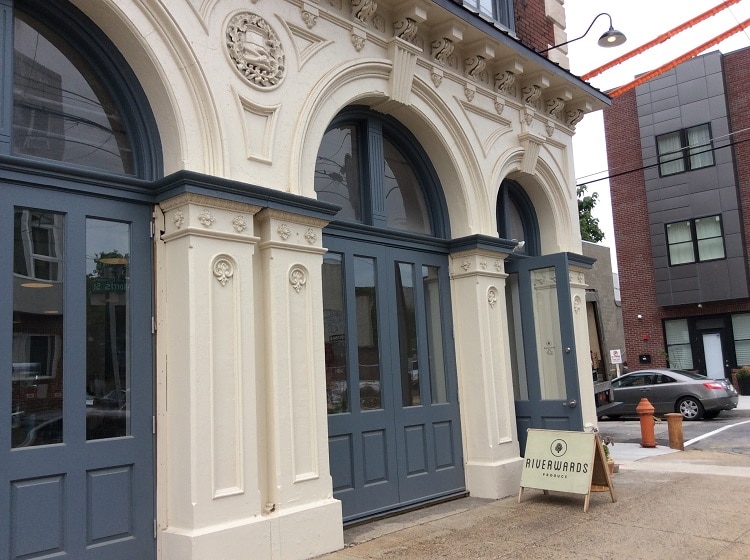 After four visits to Riverwards, I still can't get enough of this magnificent store. During each visit, I learned more, bought more and felt great seeing so many others enjoying their shopping experiences. Vincent added, "We see many of the elderly in the neighborhood who come in and buy a few potatoes and a piece of broccoli, and I know they will eat well that night." There is even an extensive selection of vegan foods, including a full line of Miyoko's Vegan Cheeses.


Aside from Riverwards' commitment to the neighborhood and its residents, it also provides fresh produce to more than 20 restaurants in the area. If you've enjoyed the kale salad or cauliflower wings at Front Street Cafe, you have Vincent to thank for that! Other restaurants serviced include Pizza Brain, Cake Life and Good Spoon, to name a few. This very active wholesale business creates lower retail prices for local and mostly organic produce in the store. A new computer system now provides those with EBT the opportunity to shop and eat well.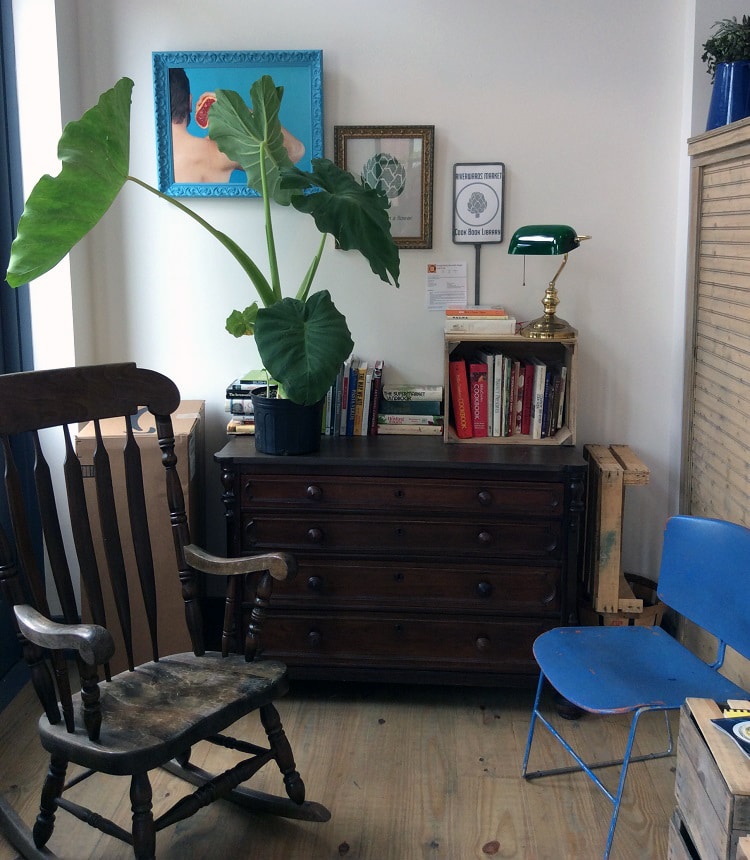 Some community events are in the works; aside from demos from local food companies, Vincent said that there are plans for a farm-to-table dinner held directly in the store. You can bet that the ingredients will be local, delicious and very fresh.
The book nook at the store is a comfortable place to peruse recipes from one of the many cookbooks situated on the shelves. Vincent said that he wanted to create a resource for his shoppers so that they could grab a book, and hunt the ingredients needed for a new recipe. A super-comfy rocking chair is most inviting.
In the retail business, they say that the "shopping experience begins in the parking lot." This is indeed true, but in the case of Riverwards Produce, the unique and fulfilling shopping experience actually begins curbside. Vincent and his team have every retail element perfected.
I sat down with Vincent to learn about his food interest, his position in the neighborhood and why he loves what he does.
PA Eats: Your location is amazing! How did you find it, and what spoke to you and said, 'This is the spot!'?
Vincent Finazzo: Our current space is right around the corner from the pop-up I launched last summer. A real estate friend connected me with the building owners who had heard about the pop-up and the buzz that was stirring in the neighborhood. When I first saw the space it was still very raw, but I saw beyond that and knew what it could become. The rich history of the building was just begging for a traditional business to occupy it. Not something like offices or a bar, but a market. Something the neighborhood truly needs.
What kind of shopping experience do you and your team members hope to create for your guests?
I hope to blend the necessity of food shopping with the enjoyment and environment of a local farmers market. We try to source the most local products around and blend that with items that are necessary for cooking. For example, we offer amazing items for baking with local flour from Daisy, but we also have lemons and vanilla, both items not typically found around here. Our focus is about cooking. We want people to cook and we want to give them the supplies to do so.
What's your favorite vegetable (in season), and how do you prepare it?
Tomatoes, even though they're fruit. Right now, I'm eating raw local tomatoes on High Street potato bread with homemade mayo, lettuce and onion. This cold, fresh sandwich helps me power through my often 14-hour work day.
How would you express the value that Riverwards provides to consumers?
Well, to put it simply I believe that you are what you eat. I aim to give to community resources for everyone to eat better and cleaner. I think at its core, it is one of the keys to a better community.
You seem so connected to food. What are some of your first food memories?
Spending time in my grandfather's large vegetable garden. My grandfather, son of Polish immigrants, was one tough man. A retired engineer for Detroit public schools, his gardens were more than just gardens. Six or seven in total, they were all diverse with a custom mix of flowers and plants.

All the fun stuff was reserved for him, so I was left to spread compost, dig paths, tie-up tomato plants and harvest. One thing I will never forget was having to comb the property for sticks. He had lots of trees and would make me pick up all the sticks, wheelbarrows full all the time and I hated it. Although it did make nice fuel for night time bonfires.
***
When You Go:
Street parking is a breeze. No quarters needed.

Taking public transportation? Riverwards Produce is located one block from Frankford Avenue. Take the #25 or #89 SEPTA buses.

Take your own shopping bags, just to be a good steward.

There are no grocery carts here; your shopping is done using a basket.

Credit, debit, EBT and cash accepted.
Find Riverwards Produce at 2200 Norris St. in Philadelphia; phone (215) 678-4304.