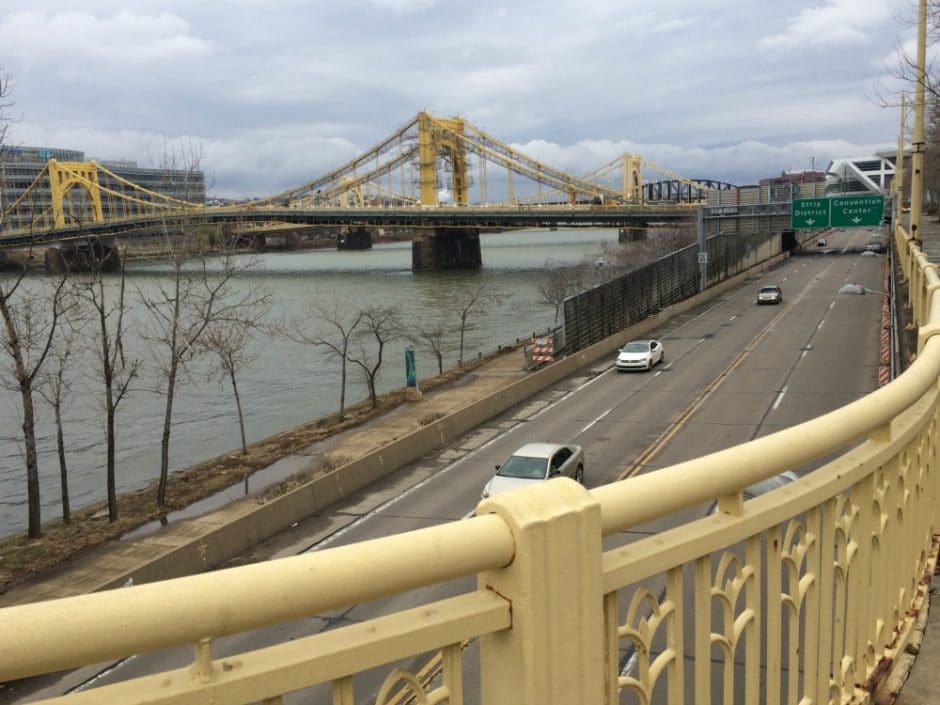 Pittsburgh has long been known as a hard drinking city, and a recent visit to a handful of its varied neighborhoods found plenty of the veterans still holding their own with an ever-increasing insurgence of the new. From the North Shore to downtown, here's our look at the places you need to visit for a drink while in Pittsburgh:
North Shore
Short on great beer options until only recently, the North Shore is generally a broad stretch of neighborhoods along the Allegheny River's north side across from downtown. Fueled by the stadiums, museums and a growth in residential options, the North Shore now has more great beer to choose from than ever before.
VETERAN: The North Shore is where 31-year-old Penn Brewery can still be found representing German-style beers, food and plenty of beer garden gemütlichkeit. Regularly scheduled special events, beer releases and traditional Oktoberfests each fall at the brewery's historic nineteenth-century building keep the party going year-round. The Kaiser Pils is a reliable favorite on the table with a platter of assorted cheeses and cured meats.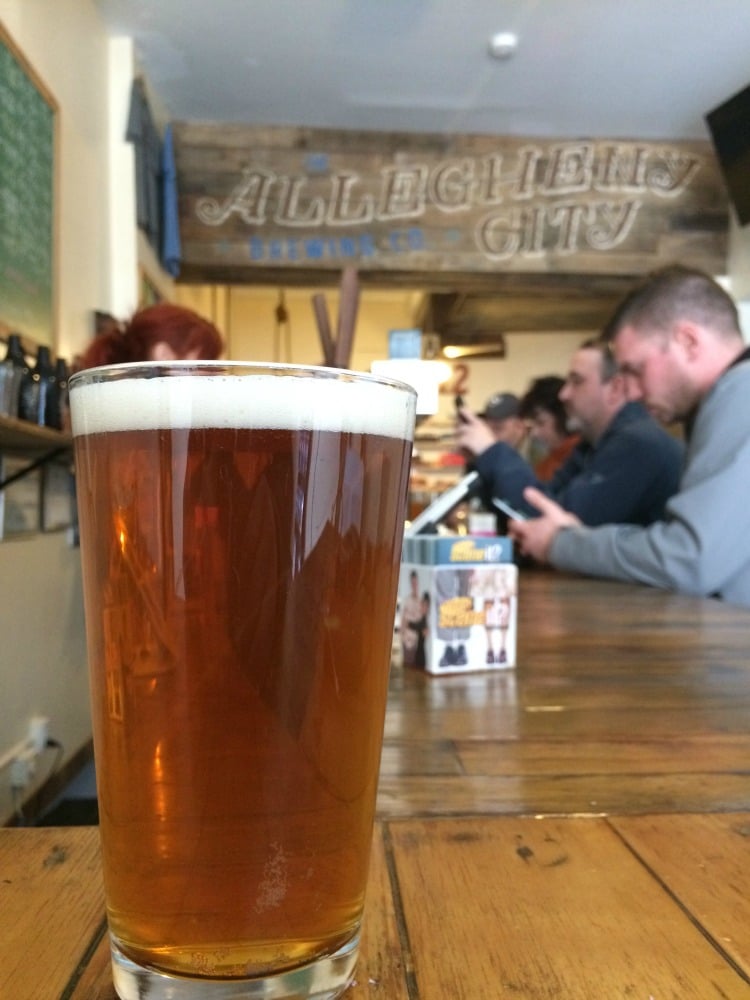 NEW: Allegheny City Brewing opened in the Deutschtown neighborhood last October and keeps a variety of solid beers on tap from Basic (4.4% light ale) to Deutschtown Brown (6.6% brown ale) to Tripel Lindy (7.6% Belgian tripel). Live music, trivia nights and beer releases dot the events calendar and keep the young brewery hopping and attracting loyal neighborhood guests and curious new beer tourists alike.
NEWER: Over by the home stadiums of the Pirates and Steelers is where the outpost for Southern Tier Brewing (Lakewood, NY) was opened earlier this year. A spacious facility, with an outdoor patio coming this spring/summer, the bar and restaurant are a showcase for everything Southern Tier, plus a bit of its sister brewery Victory, including 30 taps covering the gamut of offerings from the New York and Pennsylvania breweries. Creative offerings a step above typical pub grub can be found on the menu.
ON THE HORIZON: High atop the Allegheny River a mile north of Penn Brewery, Spring Hill Brewing is a project under development and slated to open this year. The new brewery is looking to evoke a farmhouse brewery and will be yet another addition to the beer/brewing scene finally growing on the North Shore.
Lawrenceville
This post-industrial riverfront neighborhood between downtown and the Pittsburgh Zoo and Aquarium has seen tremendous growth like none other in just the last five years. Not surprisingly, with people come great beverage options.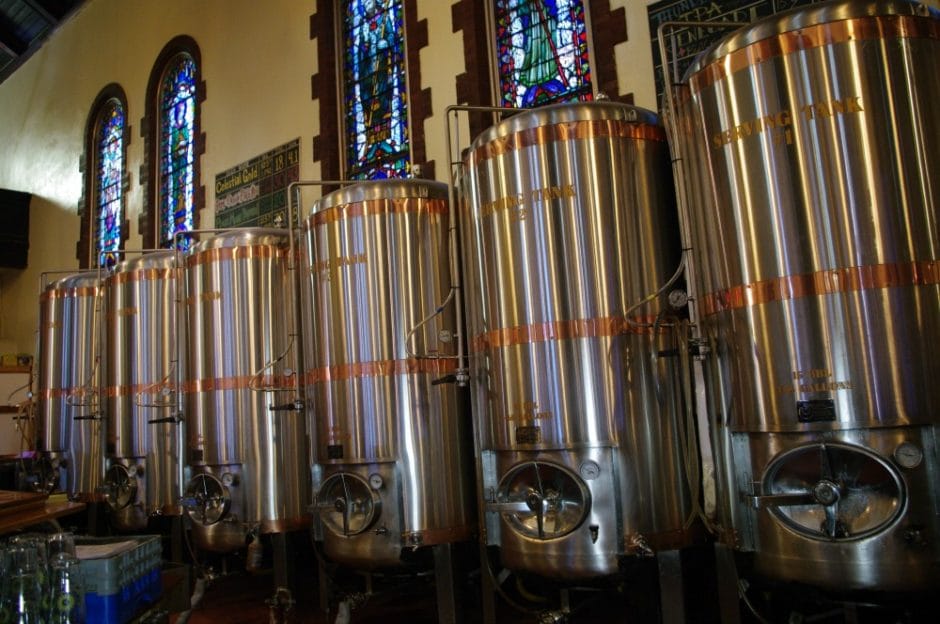 VETERAN: Church Brew Works may only be 21 years old, but in terms of name recognition, it probably ranks up there with the former neighborhood icon, Iron City. The majestic brewery home sits at the edge of the Lawrenceville and Bloomfield neighborhoods in a converted Baptist church. The location brews Celestial Gold, Pipe Organ Pale Ale and Pious Monk Dunkel and serves up hearty dishes such as Buffalo Meatloaf, Pierogi Pizza and Seafood Pasta.
NEW: Caliente is just across the Lawrenceville neighborhood line in Bloomfield up the hill 10 blocks from Church Brew and is serving up some of the most sought-after local beers alongside creative pizzas such as Thai Chicken and The Luau. A classic cheese pan pizza on their award-winning dough sets a great baseline and should be tried too.
Arsenal Cider House has taken the city and region by storm serving up excellent dry cider plus a wide spectrum of variations incorporating other fruits such as blueberry, rhubarb and plum. The Picket Bone Dry is the best place to start for newcomers. Grab a glass and head to the outdoor Cider Garden for maximum enjoyment.
Down in the heart of Lawrenceville's boom section—along Butler Street from 34th Street for approximately 20 blocks—is where Hop Farm and Roundabout breweries can be found. Roundabout is at 49th Street, where owner Steve Sloan brews a constantly changing lineup of beers including fan favorites Après-Soleil Saison, Heini's Good Cheer Old Ale and the seasonally popular Irish Coffee Stout. Food is limited to occasional food trucks and savory hand pies from The Pub Chip Shop.
Hop Farm at 56th Street serves up a growing menu of enticing food, much of which is prepared with beer or intended to be served alongside it. The IPA, One Nut Brown Ale, and Kulak Russian Imperial Stout show the brewing team's talent, while stout-glazed lamb belly, house-made pretzels and the Vurger (vegan burger) from Chef Jason Seiple's kitchen satisfy appetites.
NEWER: The newest beer entry in the neighborhood comes from suburban Full Pint Brewing Company (North Versailles). Its Wild Side Pub at 53rd Street and Butler recently celebrated its second anniversary. For locals, being able to toss back a few glasses of brewery staples such as Chinookie IPA and White Lightening Belgian White in addition to some pub exclusives saves a trip out to the brewery.
The Strip
There's nothing salacious about The Strip district, as the name might suggest. What can be found is as wide a variety of buzz-worthy beverages as can be found in the 'Burgh.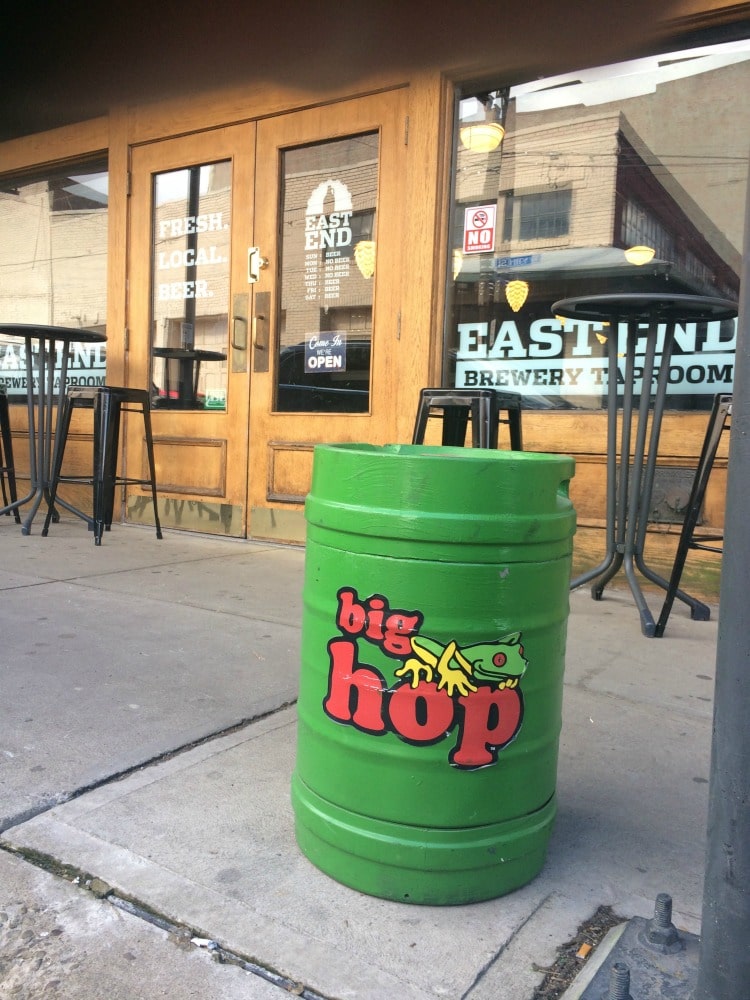 VETERAN: East End Brewing Company is a veteran on the Pittsburgh brewing scene. The 13-year-old brewery is located in the East End neighborhood of Larimer. In The Strip, East End just moved into the third location of its off-site taproom, on 19th Street between Penn and Smallman. A full-size bar has room for plenty of guests, and pints, cans, bottles, growlers and crowlers of Big Hop, Fat Gary Nut Brown, Monkey Boy and many more are all available and easy to snag while shopping and strolling The Strip.
NEW: There's beer and whiskey in The Strip. To the surprise of some, there's also wine and rum. R Wine Cellar has been pouring samples and selling bottles of its on-premise made wine since 2012. For a white, give the Sauvignon Blanc a try; from the red side of the menu, Carménère is a clear winner.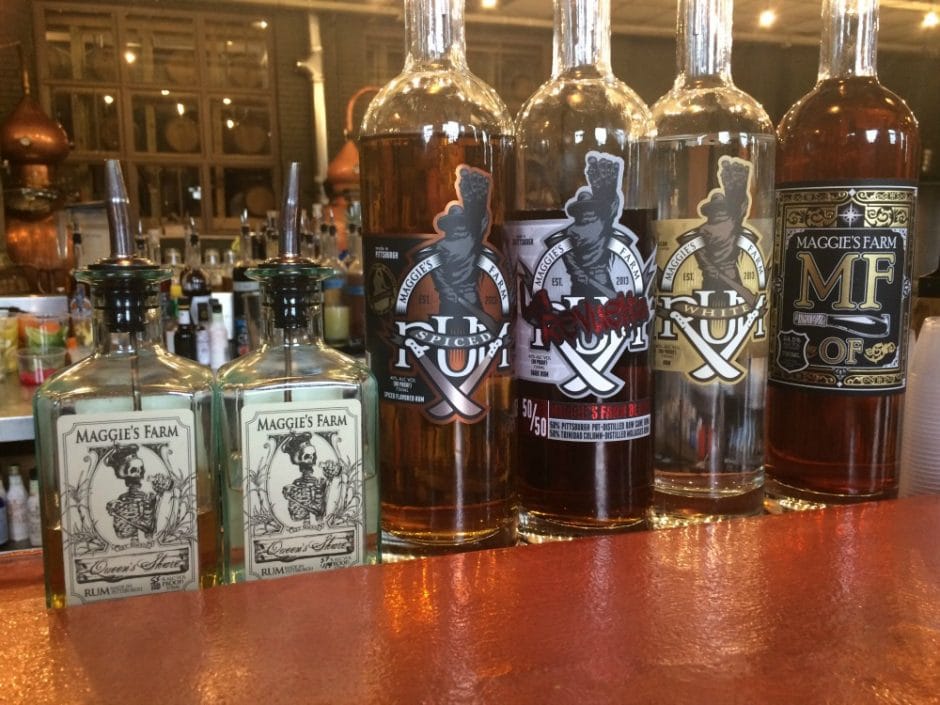 Outside the core of The Strip between 32nd and 33rd Streets on Smallman Avenue, Maggie's Farm Rum Distillery sits in a bit of a no-man's land. Parking comes much easier than at East End's and Wigle's (see below) end of the street. And the drinks go down just as easy. Rums from Maggie's Farm are showing up on more drink menus around town, but go to the source for a chill atmosphere and cool drinks like the Rum Old Fashioned and The Commonplace, made with Maggie's Farm rum and local cold-brewed coffee.
NEWER: Wigle is as synonymous with Pittsburgh as Heinz Ketchup. Well, perhaps that's just a bit of a stretch, but asking about places to find the best drinks in town will frequently elicit the name Wigle. On site, the distillery conducts tutored tastings and sells a full array of distilled products (vodka, ginever and whiskey a variety of ways) and related accessories. Around town, Wigle's name can easily be found on its previously used wood barrels, which get a second life for producers aging wine, beer and even coffee beans.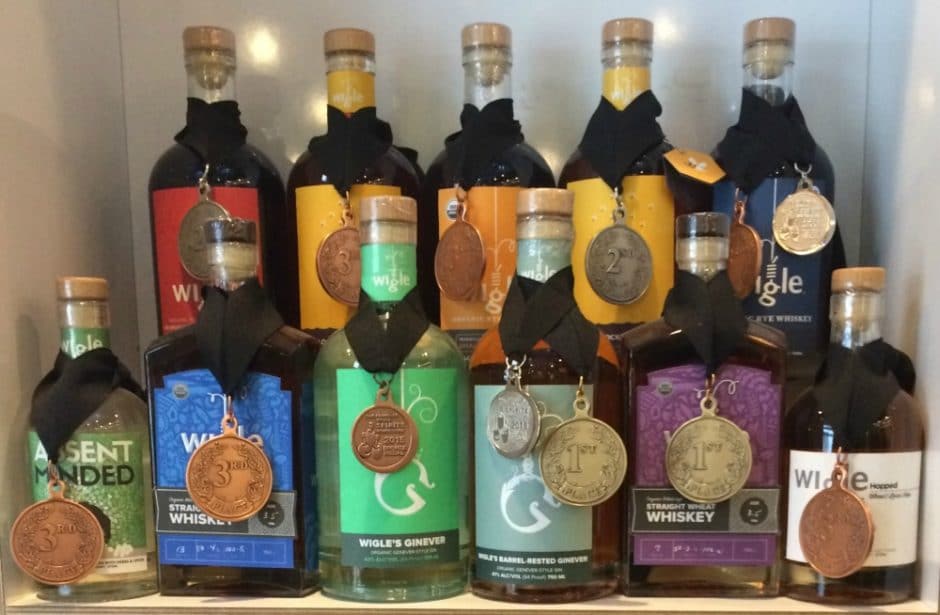 Downtown
The Golden Triangle, as the downtown between the rivers is often referred, has been on an uptick with hotels, theaters, offices, a new train system and a growing residential scene. Quality food and beverages options have not been far behind.
VETERAN: Sharp Edge has been a must-stop for great beer around the Pittsburgh area since 1990, with its first location called the Beer Emporium located in the East Liberty neighborhood. In 2010, Sharp Edge wandered downtown with its fifth location—called Bistro on Penn—and has been serving locals and conventioneers alike its wide-ranging menu of 35 drafts that spans the world with a heavy emphasis on Belgium.
NEW: Looking for a proper beer and proper pizza in the Golden Triangle? Look no further than Proper Brick Oven & Tap Room. With 30 taps and a variety of pizzas with toppings ranging from seafood to salumi to burrata, it's the perfect stop before a visit to nearby theaters and galleries. Proper has a strong focus on beers from local/regional breweries.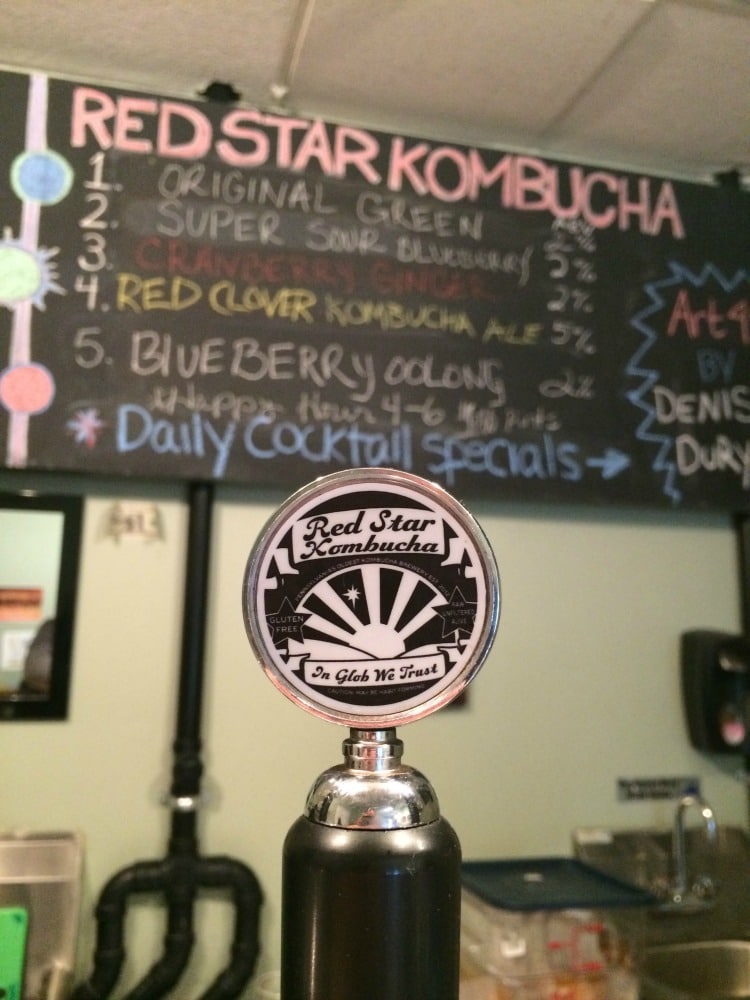 NEWER: Need a low-alcohol fermented beverage? Kombucha has been creeping up on consumers' radar with its unique flavor and suggested health benefits. Red Star Kombucha opened in its popular downtown Market Square location between tall office buildings in 2016 and describes itself as the state's oldest kombucha producer (since 2012). Give the Original Green a try, but also venture outside the lines to try others on the menu, which may include ones that incorporate blueberry, cranberry or red clover.