"Let food be thy medicine and medicine be thy food." —Hippocrates
Lankenau Hospital, part of the Main Line Health system, has a rich history in Philadelphia that dates back as far as 1860, with its original site on Morris Street in North Philly. The present Wynnewood facility became a reality in December 1953, occupying the grounds of what was once the Overbrook Country Club. The hospital grounds, over 93 acres in size, now includes the half-acre Deaver Wellness Farm, which provides organically grown produce, fresh flowers, herbs and spices to local patients. The project is a collaborative partnership with Norristown-based Greener Partners.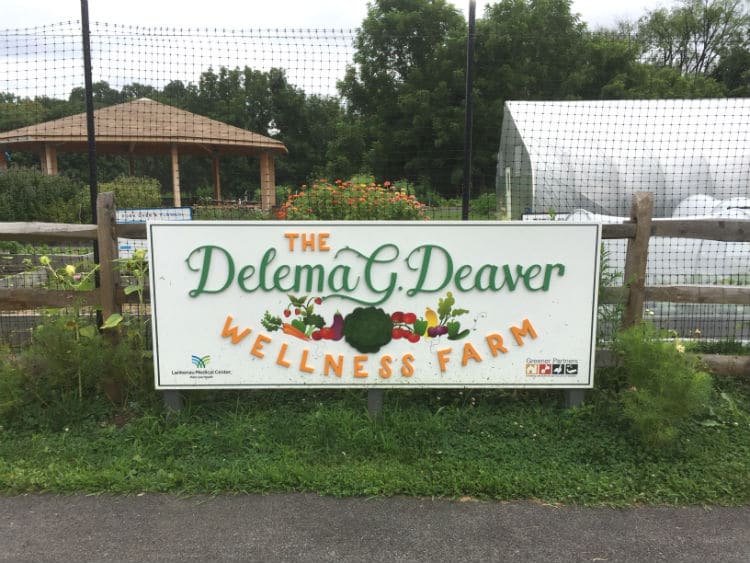 According to Jen Malkoun, head farmer at Deaver, "This is the first farm I have totally designed with raised crops, and it has been extremely rewarding." Malkoun understands food origins and has a sincere interest in food justice and food sourcing. Her passion is deeply rooted at the farm.
The Wellness Farm opened on Earth Day in 2016, and has since generated more than 4,200 pounds of produce. Each harvest is weighed before its delivery to three area physician offices, where food is distributed. When patients are given a week's worth of fresh vegetables, a representative from Lankenau's health education team is present to talk about nutrition and to provide a food demo. Education is a key component to introducing patients to foods they may have never tried before.
According to hospital administrator and farm enthusiast Chinwe Onyekere, "We saw a need to address food insecurity within the community." Onyekere also spoke about the evidence that patients with lifestyle-related diseases (like diabetes and heart disease) were getting less than two servings of fresh foods a day, where the norm is five servings per day.
Onyekere explained her own joy when she got to pull her first carrot from the farm's raised bed. "I gently pulled the carrot, heard a little pop and the next thing I knew, I had a carrot in my hand." Her experience created that "a-ha" moment that the farm would also serve as an outdoor classroom for children from local schools. She added, "Understanding food origins is a key element in working with children and teaching them about good and healthy food choices."
After a visit to the White House farm last year, Onyekere added that she would take Michelle Obama's lead and work toward adding an apiary to the farm. "We received a special shout-out from Mrs. Obama, who addressed the importance of having a hospital-based educational farm that provides food to the underserved." She received a jar of White House honey as a gift for attending this important meeting, and the "honey seed" was planted.


Located next to the hospital's heliport, the Wellness Farm at Lankenau boasts three dozen raised-bed gardens, a greenhouse and a composting station. Some of the crops include tomatoes, peppers, carrots, squash, kale and chard. Calm, quiet and bucolic, it's rather hard to believe that the farm is located just off bustling City Line Avenue. Magnificent floral gardens abound along with several pollinator gardens, which are helping to revive the health of butterflies, birds, bats, bees and other pollinators. Hand-painted signs, which were created by area students, add an artful and whimsical sense to the farm and help to identify crops.


After several visits to the farm, it's clear that farmer Jen Malkoun loves what she does. She is not one for sitting still; she weeds, manually removes pests from plant leaves, makes gorgeous floral arrangements and creates lesson plans for the visiting students who come and work at the farm.
In the middle of the farm there is a gigantic gazebo, which not only creates shelter, but lends itself as a work area and classroom.
With so much work to do, the farm always needs extra hands to help keep things running smoothly. "We get farmhands from schools and community groups, and they are a huge help in tending to the farm," added Malkoun.
With Lankenau's clear understanding of food as medicine and its rich history in patient education, it appears that the hospital has all the tools to create a truly healthy and well-nourished community.
Find the Deaver Wellness Farm at Lankenau Hospital, 100 E. Lancaster Avenue, Wynnewood; phone: (484) 476-3434.
Photo of Chimwe Onyekere:

Lankenau Farm, courtesy of Chimwe Onyekere

All other photos:

Char Nolan