Sorry, alpaca competitions and talent shows — our favorite part of the Pennsylvania Farm Show every year is the Food Court, a truly overwhelming experience, with more local culinary delights than any one person could tackle. Now in its 104th year, the Farm Show (running from Jan. 4 through Jan. 11, 2020) draws over half a million people to its complex in Harrisburg, PA. Between the hundreds of mouthwatering food and beverage options across dozens of vendor stalls and the thousands of people in attendance, you can imagine that a trip to the Food Court can cause a bit of sensory overload.
Not to fear! We've got a special sneak peek for you of the tastiest treats on deck, so you can get a jump on planning which foods you'll try during your visit to this year's Farm Show. To truly win the 2020 PA Farm Show Food Court, here is your road map:
Pennsylvania Dairymen's Association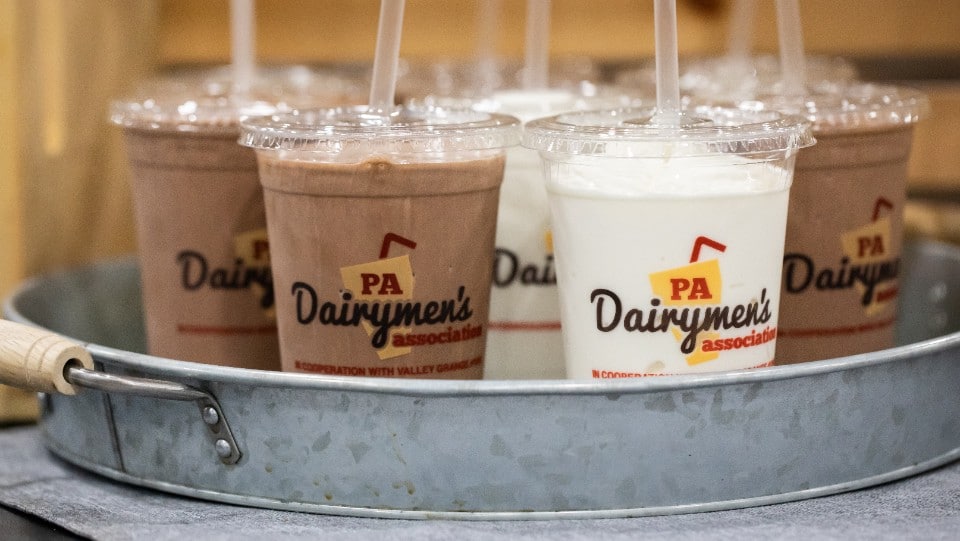 If you love PA dairy — and we do — a stop at the Pennsylvania Dairymen's Association should be at the top of your list. The famous milkshakes truly are something special (there are ice cream cones and sundaes, if that's more your thing), plus deep-fried cheese cubes and, new this year, Grilled Cheese Stix with marinara sauce!


PA Mushroom Farmers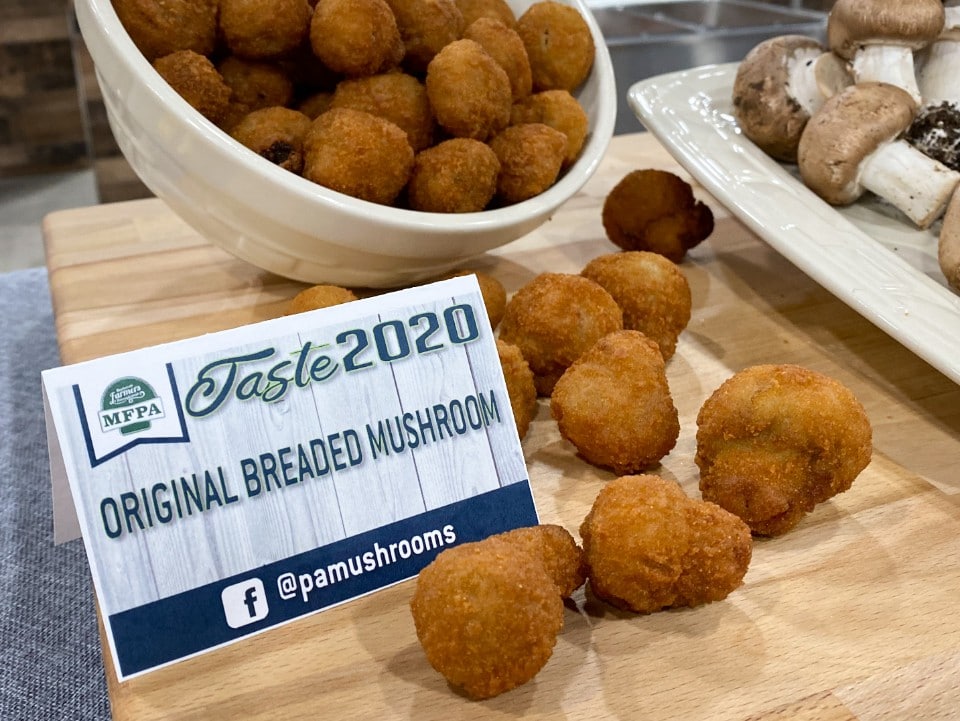 Did you know that the 68 mushroom farms in Pennsylvania produce 63% of all the white mushrooms in the entire county? Stop by the PA Mushroom Farmers stall for a taste of the state's finest. We love everything here: the mushroom/beef blend burger, the deep-fried breaded mushrooms, mushroom salad, and cream of mushroom soup. But our pick of the pack is the Philly Port Sandwich, one of the most delicious takes on a vegetarian cheesesteak out there! It's 100% Pennsylvania portabella mushrooms seasoned with garlic, onions, salt, pepper and cheese, also available in vegan and gluten-free versions.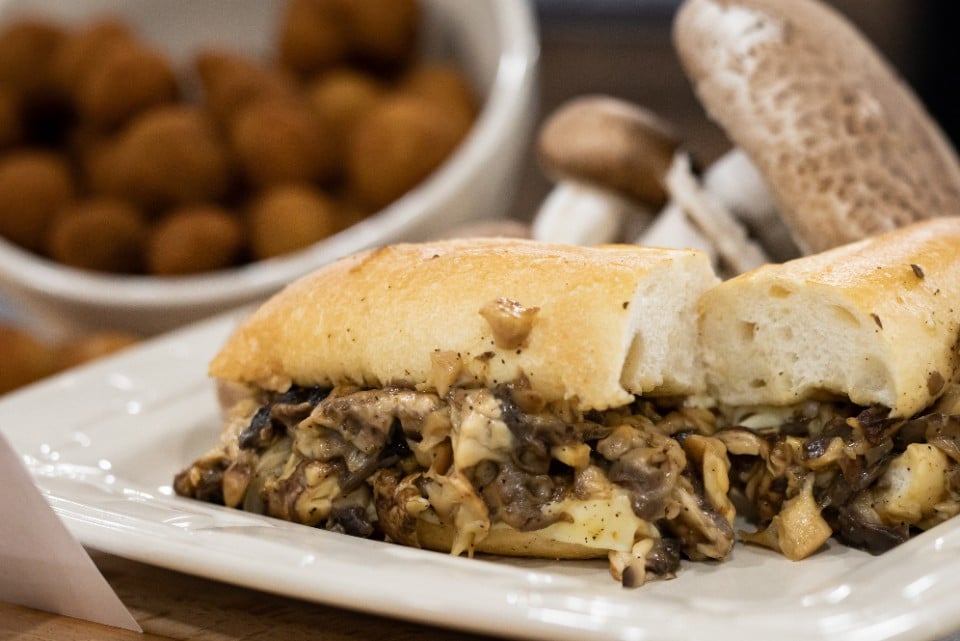 PennAg
The PennAg stall is bringing in a few new things this this year, including hemp iced tea from Chiques Creek, a nod to the rapidly growing sector of hemp farmers in Pennsylvania. There will be three unique flavors to try: Original, Passionfruit-Mint and Peach-Lemon-Dandelion, all of which are bottled in Lancaster, PA, and are made with hemp seed oil, not CBD. The teas, which have a nice, earthy flavor from the hemp seed oil, contain no artificial colors, flavors or sweeteners.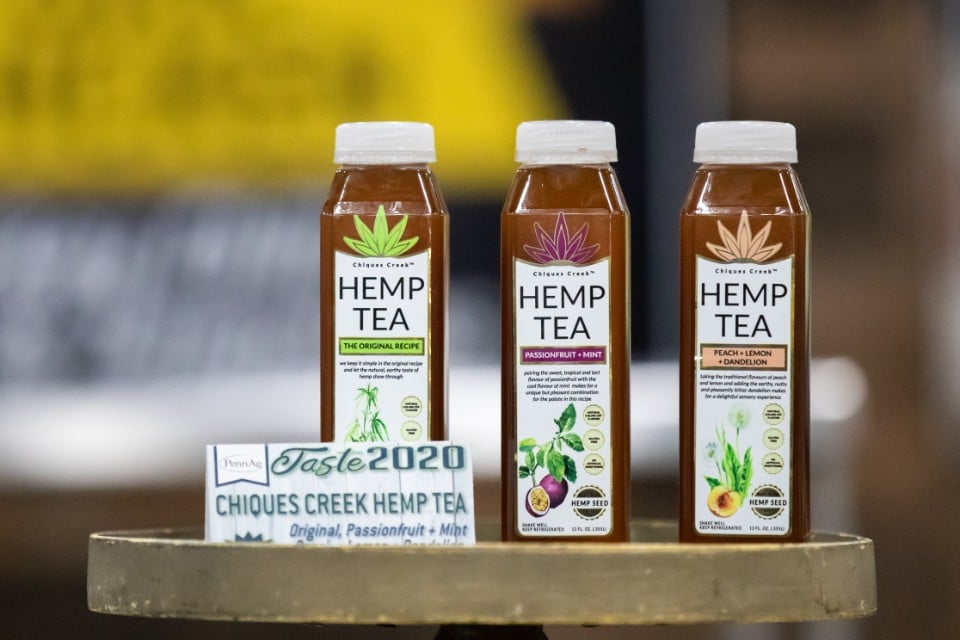 Bell & Evans
Bell & Evans, a leader in responsibly-raised organic chicken, and its products present a great option if you're with kids (you'll find Bell & Evans at the PennAg stand). The gluten-free chicken tenders are total crowd-pleasers, and they're easy to eat while walking around. This year, they've added a family value-pack, so no one has to fight over the chicken tenders! The Parmesan breaded chicken meatballs are also worth a try.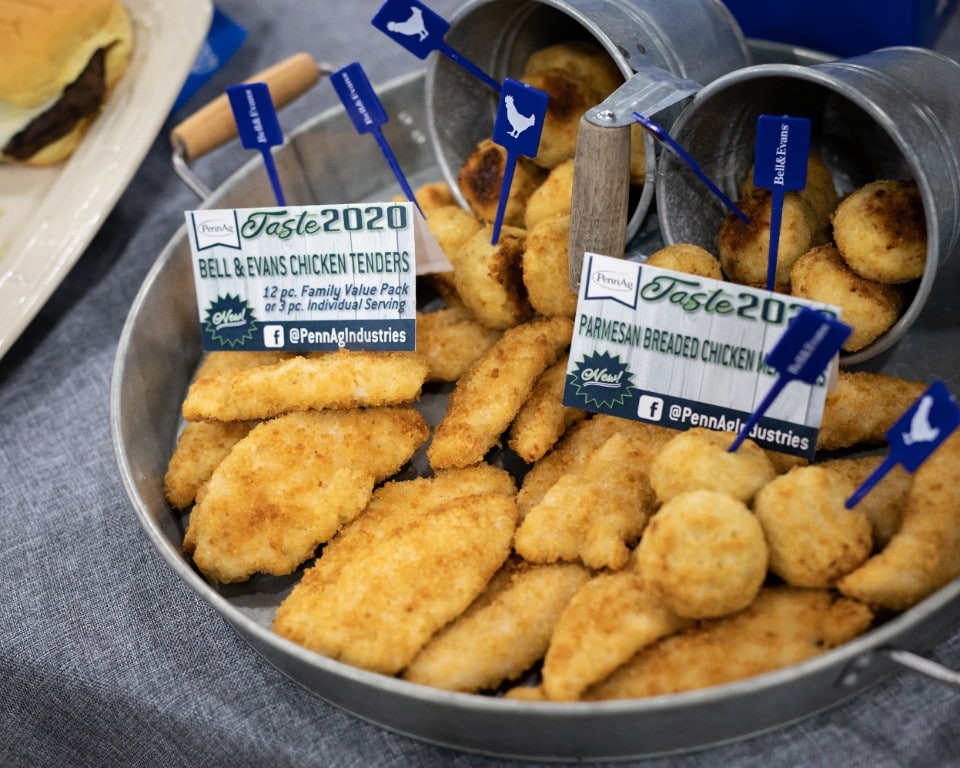 PA Livestock Association
If you decided that your New Year's resolutions can wait until after the Farm Show, the Flying Porker, an over-loaded meaty sandwich at the PA Livestock Association stall, might just be for you! New for 2020, this is a carnivore's dream: half brisket and half pork on a long roll, smothered with BBQ sauce.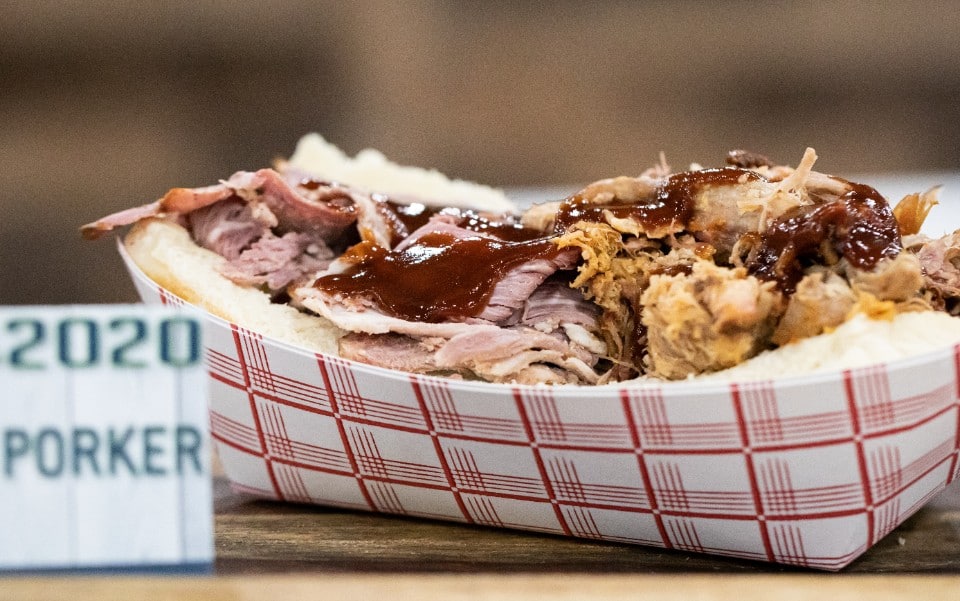 If you're not quite ready to take flight with the Porker, other tasty options here include ham and cheese sandwiches, steak salad, hot dogs and grilled sausage sandwiches.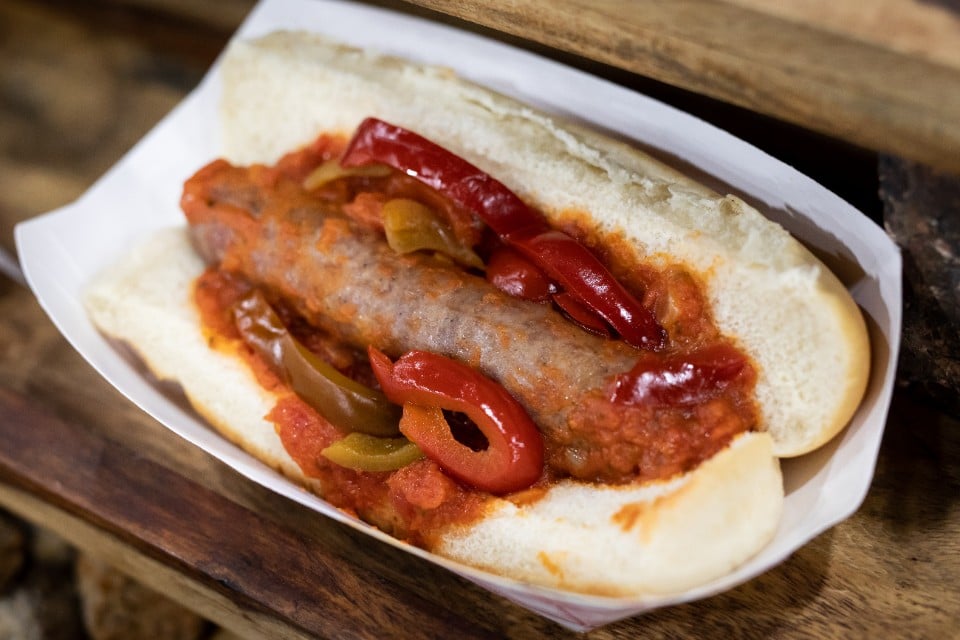 Savor
The Farm Show Complex's own catering company, Savor, makes two satisfying dishes that are new classics: the Smokey Cyclone and The Layer. They both debuted in 2019 and emerged as big favorites, with a good mix of meat and veggies, and handy packaging, perfect for walking around while eating.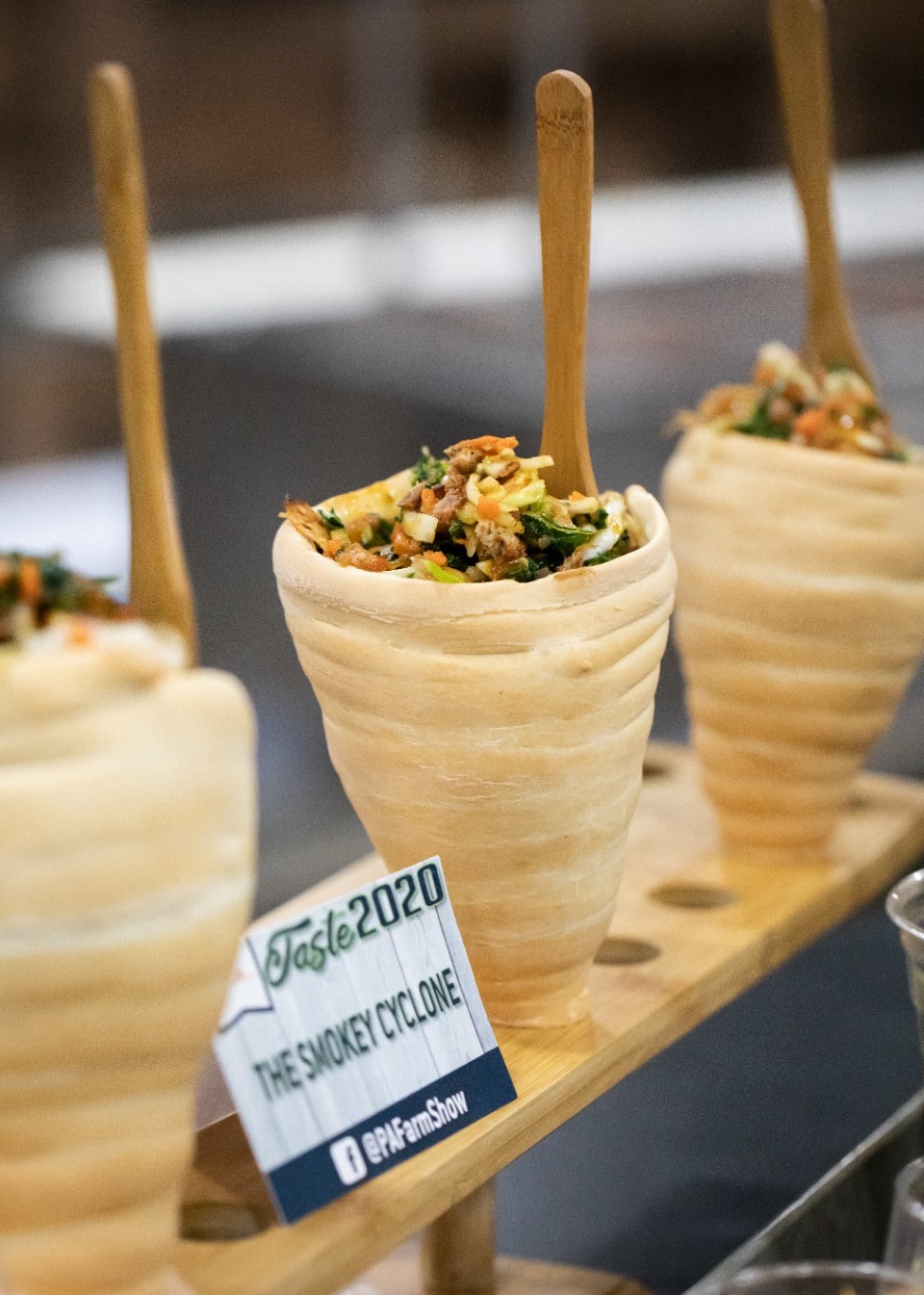 The Smokey Cyclone is a brioche cone stuffed with your choice of organic chicken or pork, chow-chow slaw, and Carolina Gold barbecue sauce. All of the components come from PA producers and makers: The cones are made by Pennsylvania Bakery, the chicken is from Bell & Evans, and the free-range pork is from Rodale Institute. The Layer is five-cheese mac-and-cheese, smothered with corn pudding, organic chicken or pork, chow chow and barbecue sauce. Both earn blue ribbons in our book!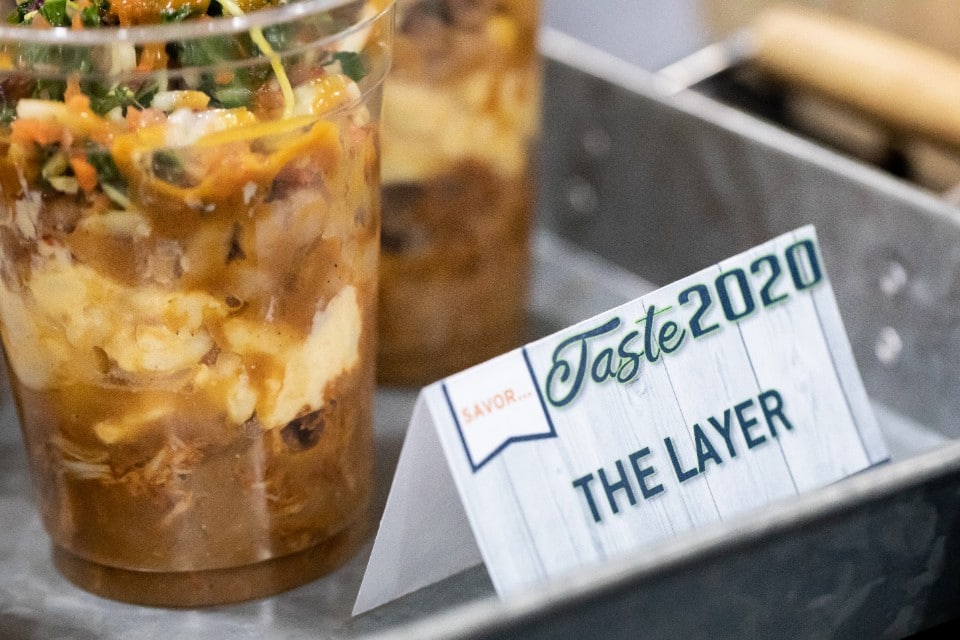 What are your favorite things to eat at the PA Farm Show? Are you going to stick to your favorites, or branch out and try new things this year? Let us know in the comments here or on the PA Eats Facebook page!
Photos:

Alan Johnson for PA Eats