2020 was a rough year for restaurants and food businesses, especially caterers and those who depend on events for revenue. One silver lining are all of the inspiring pivots and collaborations we saw in the hospitality industry. One such story was the debut of French Toast Bites Ale, a collaboration between Lokal Artisan Foods (makers of French Toast Bites) and Doylestown Brewing Company. (It is still on the market, but is now made by Yard's Brewing Co.) This exciting new beer not only provided Lokal Artisan Foods' owner Charisse McGill with a new marketing opportunity, but it also makes her the first black female in the state of Pennsylvania with her own signature beer.
French Toast Bites is a Philly-based mobile food vendor that sells perfectly crunchy, sweet French toast nuggets, as well as bacon on a stick, hot cider, tea and coffee at outdoor venues around the city, like Spruce Street Harbor Park, Cherry Street Pier and Christmas Village. The brand also makes a packaged French Toast Spice blend.
In 2018, McGill, a Temple alum, started this business with money from her first investor, her daughter Madison, who hosted lemonade stands to raise money for her mom's venture. After a successful launch of French Toast Bites at the Made in Philadelphia Market, McGill was able to invest back into her business, which enjoyed a lot of growth in 2019, and was working on big plans for 2020. These included more and larger festivals and events, more short-and long-term pop-ups, and exploration of a brick-and-mortar space, which all hit pause due to the COVID-19 pandemic. McGill poured her efforts into pivoting and keeping the brand alive in the midst of all the event cancelations this year, including becoming the first paid vendor on the black-owned and operated Black and Mobile delivery service, and securing a number of community- and small business-oriented grants. The French Toast Bites Ale was a major component of the battle to keep her business going.
"I am so excited to share news of my new French Toast Bites Ale in partnership with Doylestown Brewing Company," said McGill. "I am a fighter, a dreamer and a doer. Getting out of the box and getting creative is what gets me up in the morning. I have long been curious about the beer business, as I work with so many talented brewers and bars in my hospitality day-to-day life."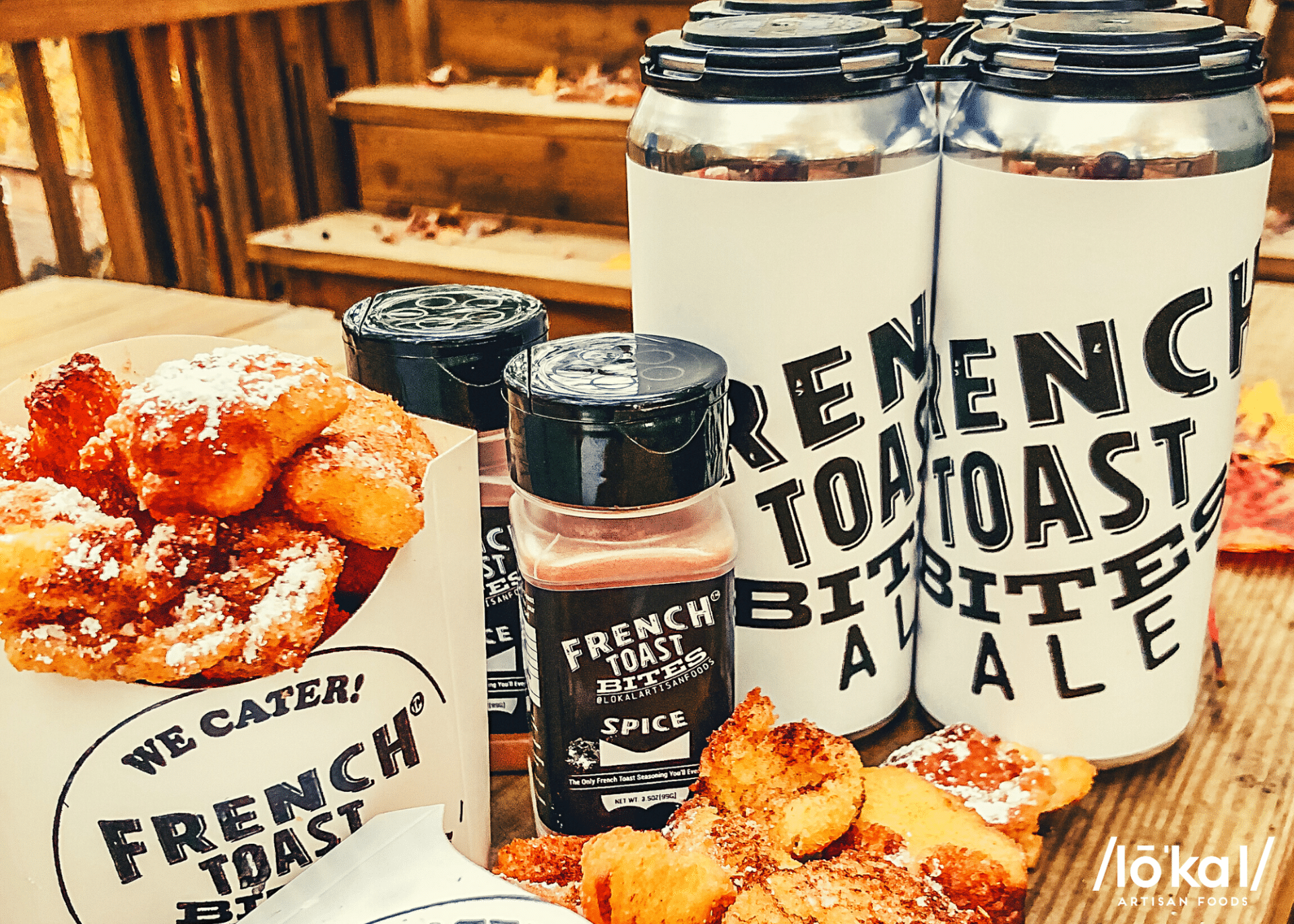 "Doing my own French Toast Bites Ale is a dream come true, and one of several big things happening this fall and into the winter," she continued. "We all can't sit around and hope to ride out the pandemic without investing the time, work, energy and passion. This is one of the largest pivots for me and will shape the future direction of my company. I am excited and honored, and I can't wait for everyone to try this special beer we have created!"
The "anytime ale," which is made with French toast ingredients (cinnamon, brown sugar and vanilla), weighs in at 5.5% ABV and is a sweet, smooth and toasted brew that is a perfect pairing for breakfast, brunch, dinner or dessert. The ale is released in 4-packs of 16-ounce cans, as well as in a limited run of kegs. As a huge show of support, the alcohol and snack delivery service goPuff acquired more than half of the initial shipment of French Toast Bites Ale and made it available throughout the Philadelphia market through its app.
"At goPuff, we are committed to working with and supporting local businesses in each of our communities, and this is especially true in Philadelphia, our home city," said Rafael Ilishayev, goPuff co-founder and co-CEO. "Because of this, partnering with Lokal Artisan Foods, a black- and female-founded business in Philadelphia, aligns with our mission and we are so excited to work with Charisse to bring her new French Toast Beer to customers for the very first time."
French Toast Bites Ale is also be distributed to local restaurants, bars and bottle shops in cans and kegs. To try Lokal Artisan Foods' actual French Toast Bites, find them at various pop-ups throughout Philadelphia or order delivery through DoorDash. Keep up with Lokal Artisan Foods on Instagram and Facebook for more info and updates!
Photos:

Lokal Food Artisans