Many Americans believe that the institution of slavery ended January 1, 1863, the date set forth in President Abraham Lincoln's Emancipation Declaration on September 22, 1862, or when the 13th Amendment to the Constitution was ratified. While this did signify emancipation in some states, deep in the Confederacy, years passed before all enslaved people were truly free. Juneteenth, celebrated each year on June 19, is widely recognized in the Black community as the true end of slavery. It's sometimes called Liberation Day, Emancipation Day or Freedom Day, and it is the day in 1866 when General Order No. 3 was issued by Major Gen. Gordon Granger in Galveston, Texas. His announcement stated that, in accordance with the Emancipation Proclamation, "all slaves are free."
Many Black communities plan Juneteenth gatherings and parties, often centered around food and music. In 2021, President Joe Biden signed a law declaring Juneteenth a Federal holiday, and since 2019, it's been a state holiday in PA! Here are 12 ways to honor and celebrate Juneteenth in Pennsylvania this year: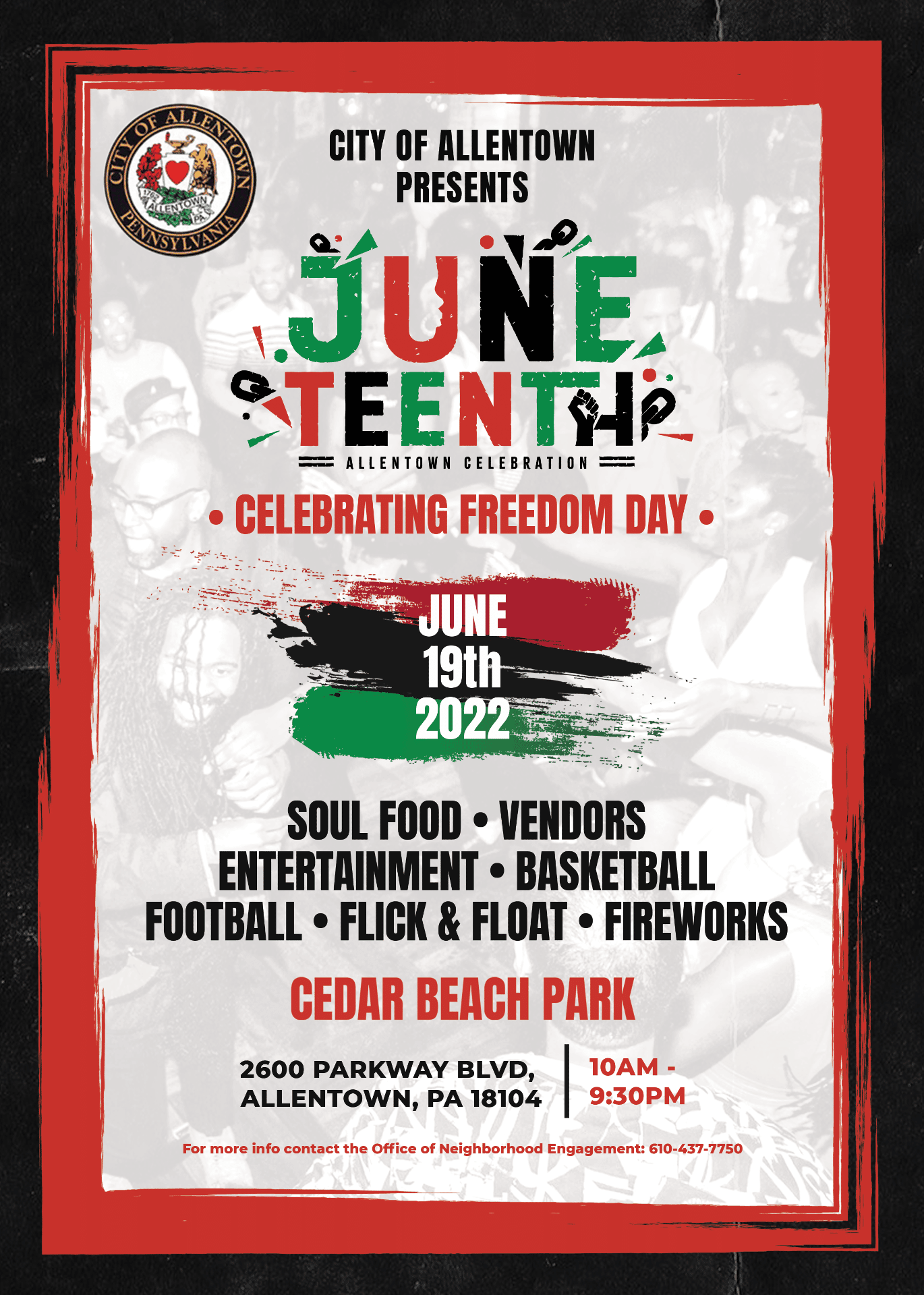 Allentown's Juneteenth Celebration: Kicking off with a flag raising at City Hall at 4 p.m. on Saturday, June 12, Allentown's Juneteenth celebration will take place on Sunday, June 19 at 10 a.m. at Cedar Park Beach, including soul food, vendors, pick-up sports games, a fireworks show after the sun goes down, and much more. 2600 Parkway Blvd., Allentown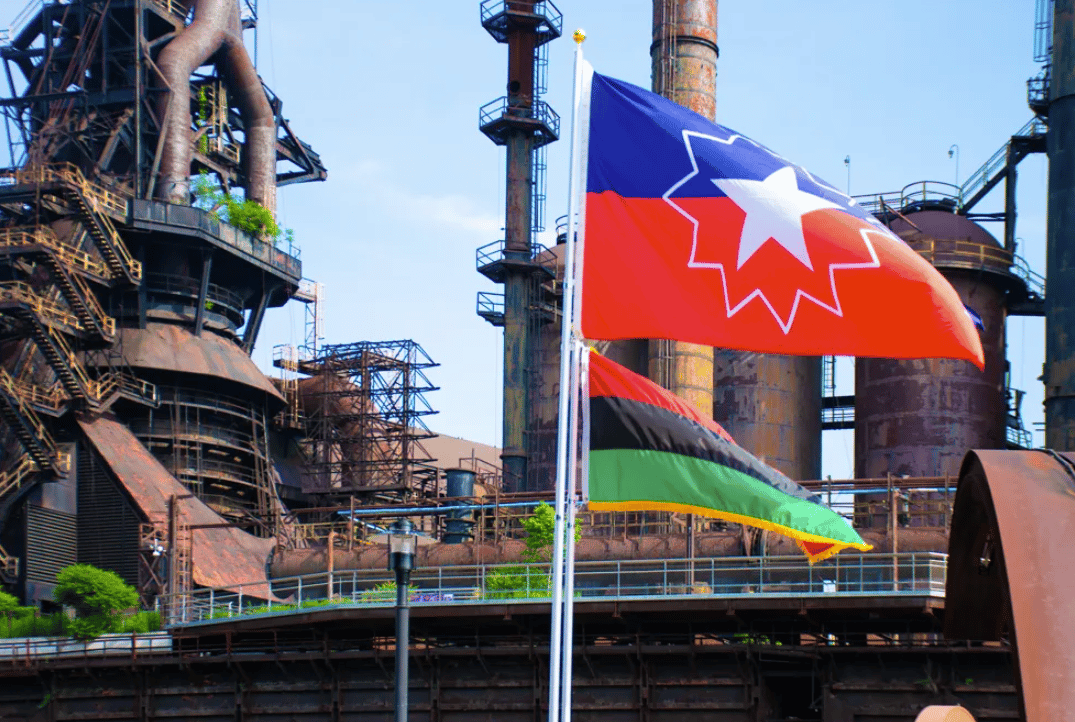 Juneteenth Celebration at the SteelStacks in Bethlehem: This dynamic venue will host a family-friendly celebration starting at 11 a.m. on Saturday, June 18, featuring performing artists and live music, storytelling, arts and crafts, relevant cinema viewing with a panel discussion, a historical menu tasting, a fine arts display, ethnic food trucks and booths from small businesses. There will also be a flag-raising on Sunday, June 12, at 11 a.m. at the Bethlehem City Hall Plaza. 101 Founders Way, Bethlehem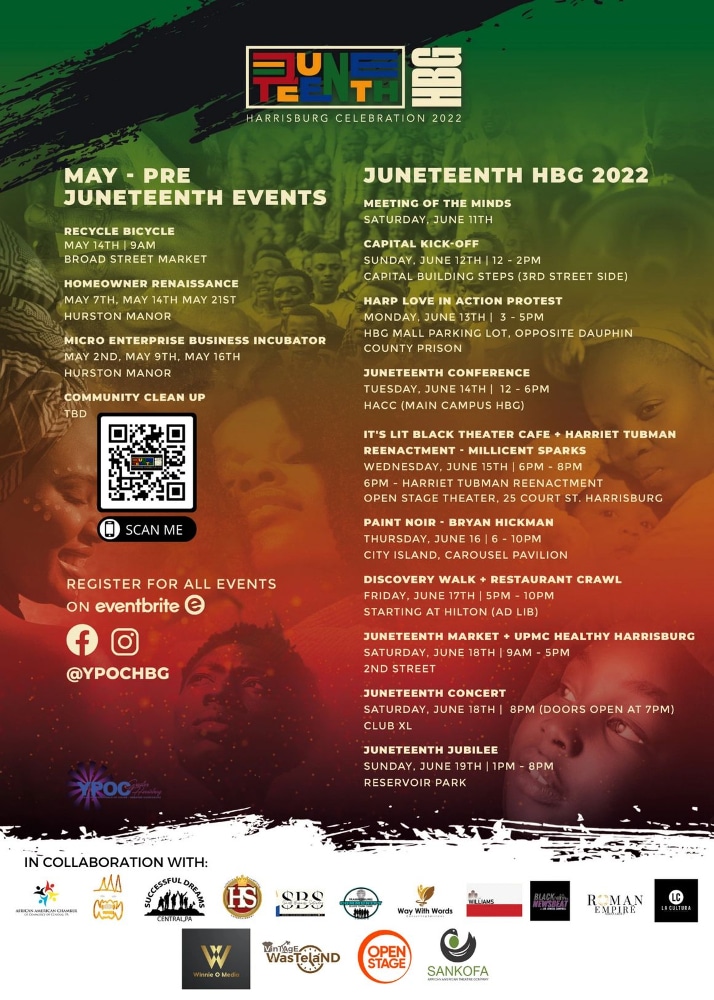 Juneteenth HBG 2022: Our state capitol has a lot planned for Juneteenth this year! These include a kick off on the capitol steps on Friday, June 12, at noon; a Juneteenth Conference at the HACC Cooper Student Center and Theatre on Tuesday, June 14; and a Discover Walk and Restaurant Crawl (a pub crawl meets a scavenger hunt) on Friday, June 17. The festivities culminate on the weekend of June 18 and 19, with a free community concert at XL Live on the 18th, and the Juneteenth Jubilee at Reservoir Park at 2 p.m. on the 19th. various locations
Indigenous Glow Juneteenth Parade: This is the 2nd annual Juneteenth parade in Gettysburg organized by Indigenous Glow! It will begin on Sunday, June 19, at noon in Lincoln Square; participants are encouraged to bring flags and signs that promote uplifting Black lives. Following the parade, there will be a Jamboree party at 1:30 p.m. at Gettysburg Rec Park, with live music, children's activities, a Black marketplace and more! Lincoln Square, Gettysburg
Franklin County Juneteenth Freedom Day Celebration: Organized by Racial Reconciliation, a social and racial justice nonprofit, this Juneteenth celebration kicks off on Saturday, June 18, at 8 a.m. with local service projects, and continues with a children's book giveaway at Mike Waters Park at 10:30 a.m., and a party from 11 a.m. to 2 p.m. at Wilson College, with free food, entertainment, dancing, face painting and more. 1015 Philadelphia Ave., Chambersburg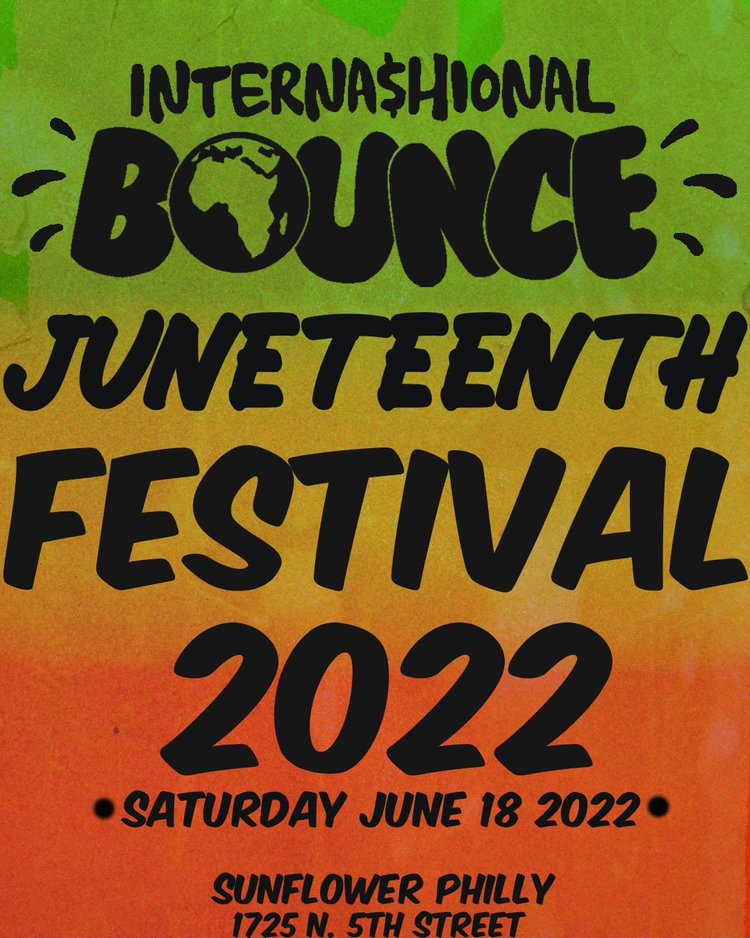 Black Soul Summer Juneteenth Fest: Presented by Interna$hional Bounce (@internashionalbounce on Instagram), the 2022 Juneneeth Fest will be held on Saturday, June 18, at Sunflower Philly, a community-focused garden and outdoor event space. It's slated as a celebration of the African diaspora, featuring live DJ sets, black-owned vendors, great food, music, dancing and more! 1725 N 5th St., Philadelphia
Everybody Eats Juneteenth Cookout: This mutual aid group is celebrating Juneteenth with a block party-style cookout, with a produce and essentials give-back in Malcolm X Park in West Philadelphia. The goal of the event is to "create a safe space for the black community to gather and be celebrated." 5100 Pine St., Philadelphia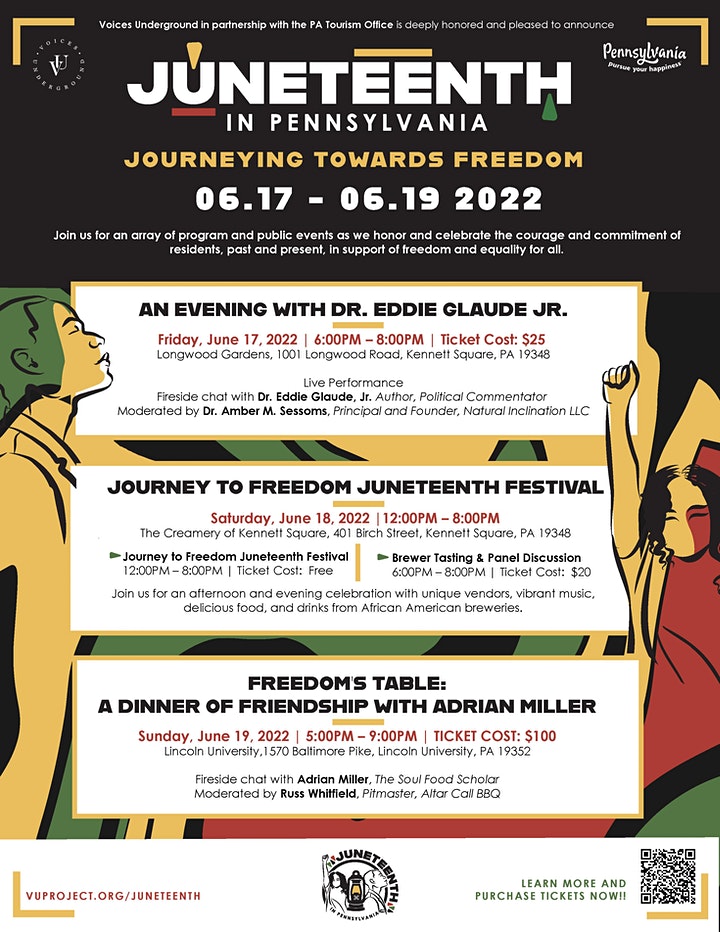 Journeying Towards Freedom: Voices Underground, a local organization that seeks to increase exposure to the story of the Underground Railroad, has partnered up with the PA Tourism Office, to present a state-wide Juneteenth commemoration, including a variety of programs and public events. This includes a Juneteenth festival planned for Saturday, June 18, from noon to 8 p.m. in Kennett Square, featuring vendors, live music, food and drinks from African-American breweries. 401 Birch St., Kennett Square
Juneteenth in Montgomery County: There are tons of county-sponsored and community Juneteenth events in MontCo in 2022! On Friday, June 17, at 10 a.m., there will be a Juneteenth Flag-Raising & Emancipation Proclamation Reading at the Montgomery County Courthouse in Norristown; other events include two Juneteenth Celebrations on the Main Line in Wayne (June 11) and Ardmore (June 18); the Norristown Jubilee Street Festival on Sunday, June 19; and the 2022 Phoenixville Juneteenth Celebration also on Sunday, June 19. For more info, see here. Various locations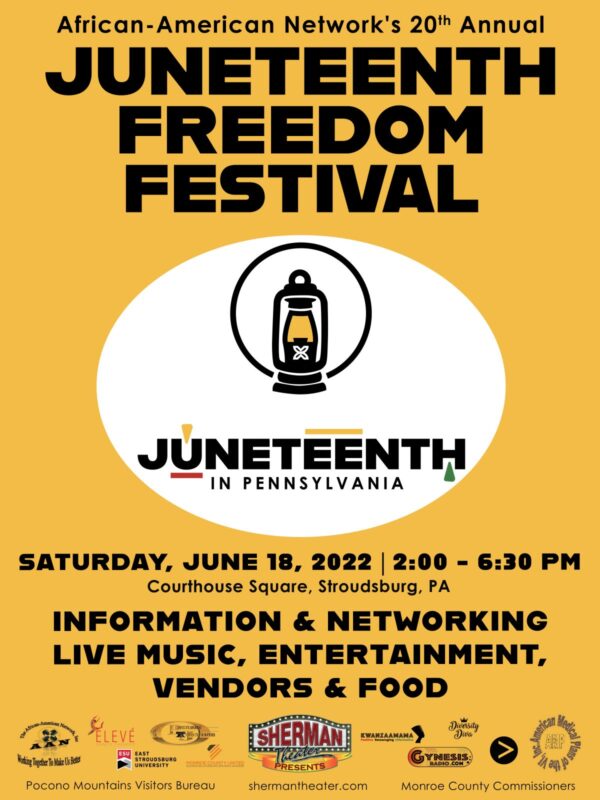 Sherman Theater Juneteenth Freedom Festival: On Saturday, June 18, from 2 to 6:30 p.m., join The Sherman Theater and the African American Network of the Poconos for the 20th Annual Juneteenth Freedom Festival. This free community event will be held in Courthouse Square, in Stroudsburg featuring live music all day, food, vendors, educational fun, and networking opportunities. 600 Main St., Stroudsburg
Black Scranton Project Juneteenth Jubilee Block Party: This block party will simultaneously celebrate Juneteenth and the establishment of the Black Scranton Project Center for Arts & Culture. The community is invited to come together for a day of celebrating the freedom and perseverance of Black people, joy and solidarity with music, games, food, giveaways and more. It's all going down on Sunday, June 19, from noon to 5 p.m., and registration is required. 1902 North Main Ave., Scranton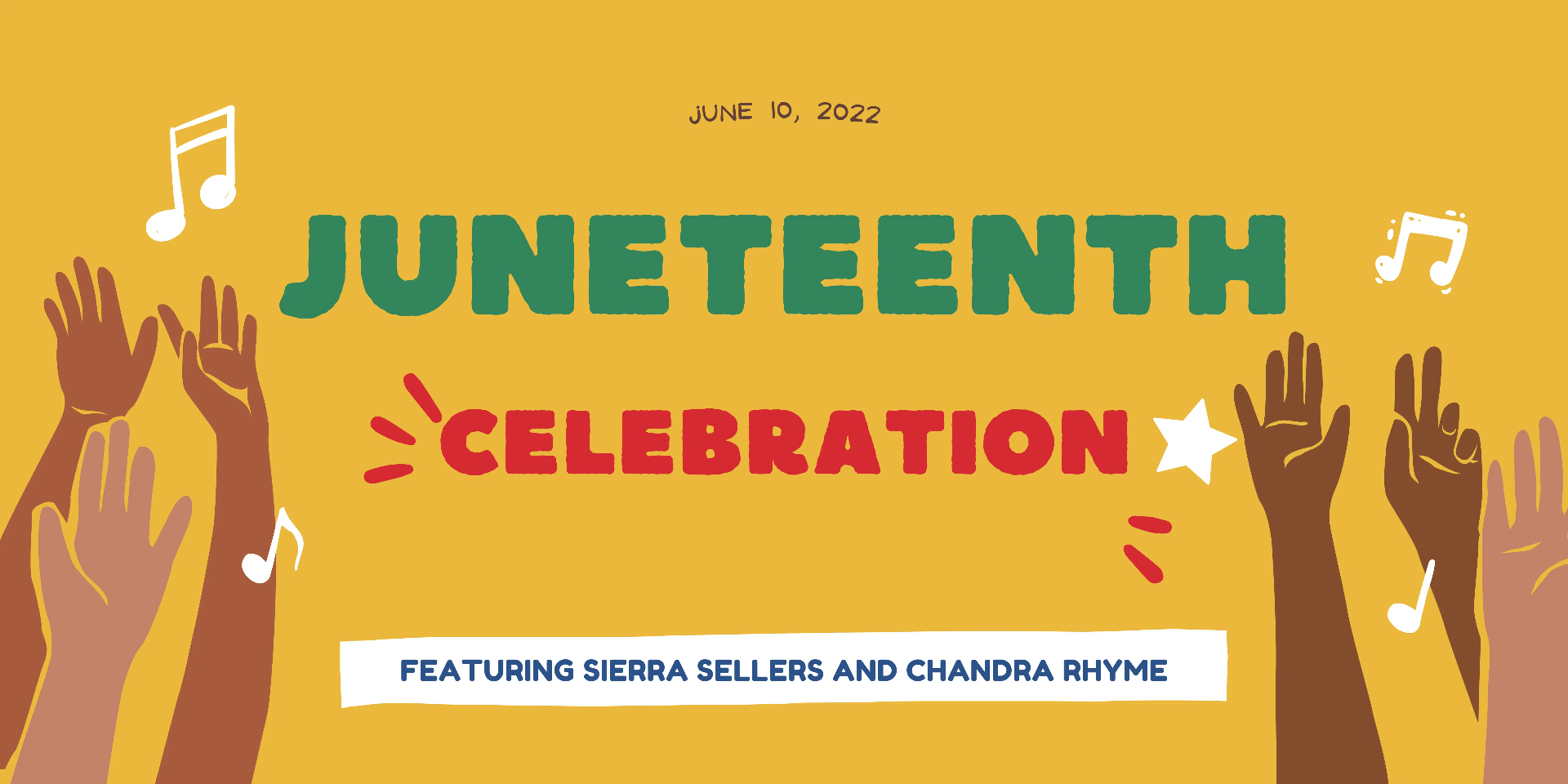 Pittsburgh Parks Juneteenth Events: As part of an ongoing effort to "create an organization and park spaces that truthfully reflect diversity, highlighting the characteristics of neighborhoods and communities," Pittsburgh Parks has a number of Juneteenth events planned. These include Slavery to Freedom Garden Tours, yoga in the park, and a big Juneteenth concert on Friday, June 10. The concert will be held from 6 to 8 p.m. in Frick Park, with sets from local artists Sierra Sellers and Chandra Rhyme. Register here! 2005 Beechwood Blvd., Pittsburgh
How are you celebrating Juneteenth this year? Let us know!
Feature photo:

Bigstock

Flyers:

Courtesy of respective events