New Year's Eve is firmly not the time to be stingy or traditional when it comes to the food offerings. Of all the holidays throughout the year, this is the one where anything and everything goes, so the standard crudités platter and cheese and crackers just aren't going to cut it. We don't like to lean on cliches too often, but when it comes to the last night of the year, the phrase "go big or go home" seems appropriate, right?
We love culinary inspiration and recipes that let you "go big" in unexpected and clever ways, all while staying on budget and not spending hours in the kitchen. This New Year's Eve, look to some of your favorite Pennsylvania brands for fancy snacks that go one step further than necessary, with results that are equally stunning and crowd-pleasing. Here are three that we'll be whipping up for our holiday gatherings:
Hershey's Chocolate-Dipped Potato Chips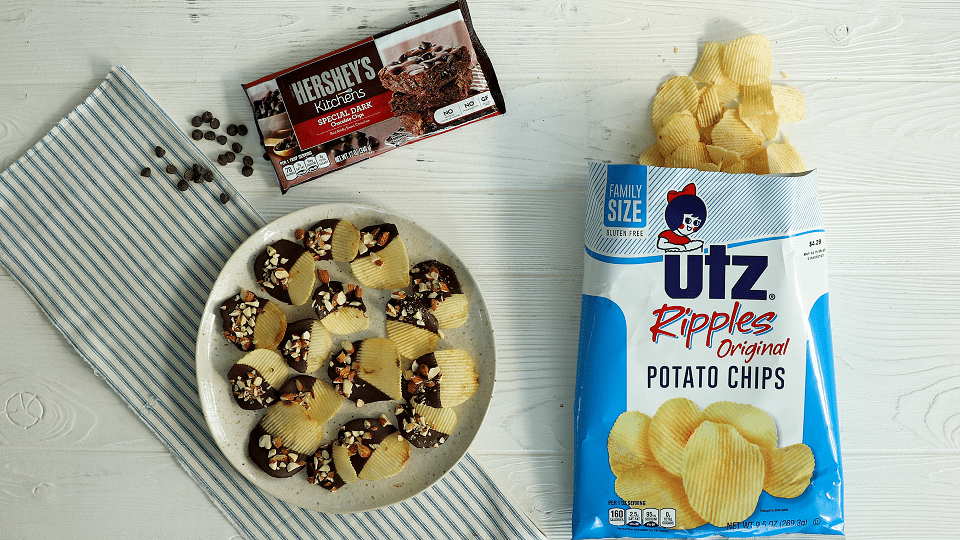 Anyone can serve potato chips at a party, but it takes a little imagination to serve them in style! Dress up your Utz Ripples in a little chocolate tuxedo, using Hershey's Special Dark chips and a wee sprinkling of chopped nuts for a fancy garnish. To take it to the next level, let your imagination guide you to even more impressive presentations. Try a sprinkle of dried lavender, dried hot peppers, some chopped up bacon … heck, even edible glitter is an option if you're feeling extra creative! Pro tip: The same combo would work beautifully on your favorite local brand of potato chips.
Martin's Cucumber and Caviar Crostini
Caviar on anything basically turns it into a fancy hors d'oeuvre. A jar of the stuff can be pricey, but a little goes a long way, and caviar is one of those little extras that just makes a holiday spread feel so much more luxe. We've got to give it up to Martin's for reimagining its whole wheat sandwich bread as the base for a fabulous show-stopping crostini, with a ribbon-thin slice of cucumber, goat cheese and trout or salmon roe.
Turkey Hill Mimosa Milkshake
Champagne and ice cream? Why not? We can't think of two things more synonymous with decadence and frivolity, and together, they are unstoppable! We often see boozy milkshakes with bourbon or rum added, but a splash of bubbly in this recipe developed by Turkey Hill is pure party genius. The original concoction may call for vanilla, but we'd bet that the brand's Strawberries and Cream, Blackberry Swirl or Salted Caramel flavors would also be incredible!
What are your favorite over-the-top party snacks made with Pennsylvania products? Let us know in the comments here or on the PA Eats Facebook page!