In the fall of 2020, with the Covid-19 pandemic still very much affecting daily life, Tracey Selingo was watching the numbers of food-insecure neighbors rapidly rising in her community of Luzerne County, and, simultaneously, independent mom-and-pop style restaurants struggling to stay afloat. She couldn't shake the nagging feeling that perhaps there was some way to create a bridge between the two.
"I saw so many restaurants were going out of business, and so many people were going hungry … I thought something could be done about the the gap between these groups, but what would that look like?" she remembers.
Selingo, who has worked in marketing as well as spiritual healing practices, began to talk to anyone who would listen about her idea to start something that could help restaurants and food-insecure people in one fell swoop. Despite not having a background in nonprofits, that December, she recruited a friend to help, and soon after, a board organically formed, made up of women who are leaders in different segments of Northeast Pennsylvania, to create a board. Thus, Fork Over Love was created. The founding philosophy of organization is; "By feeding our neighbors hot, nutritious, chef-made dinners from small, independent restaurant partners, we are creating a socially innovative and responsible solution to nourish our entire community with dignity, grace, and power — physically, mentally, emotionally, socially, culturally, and economically."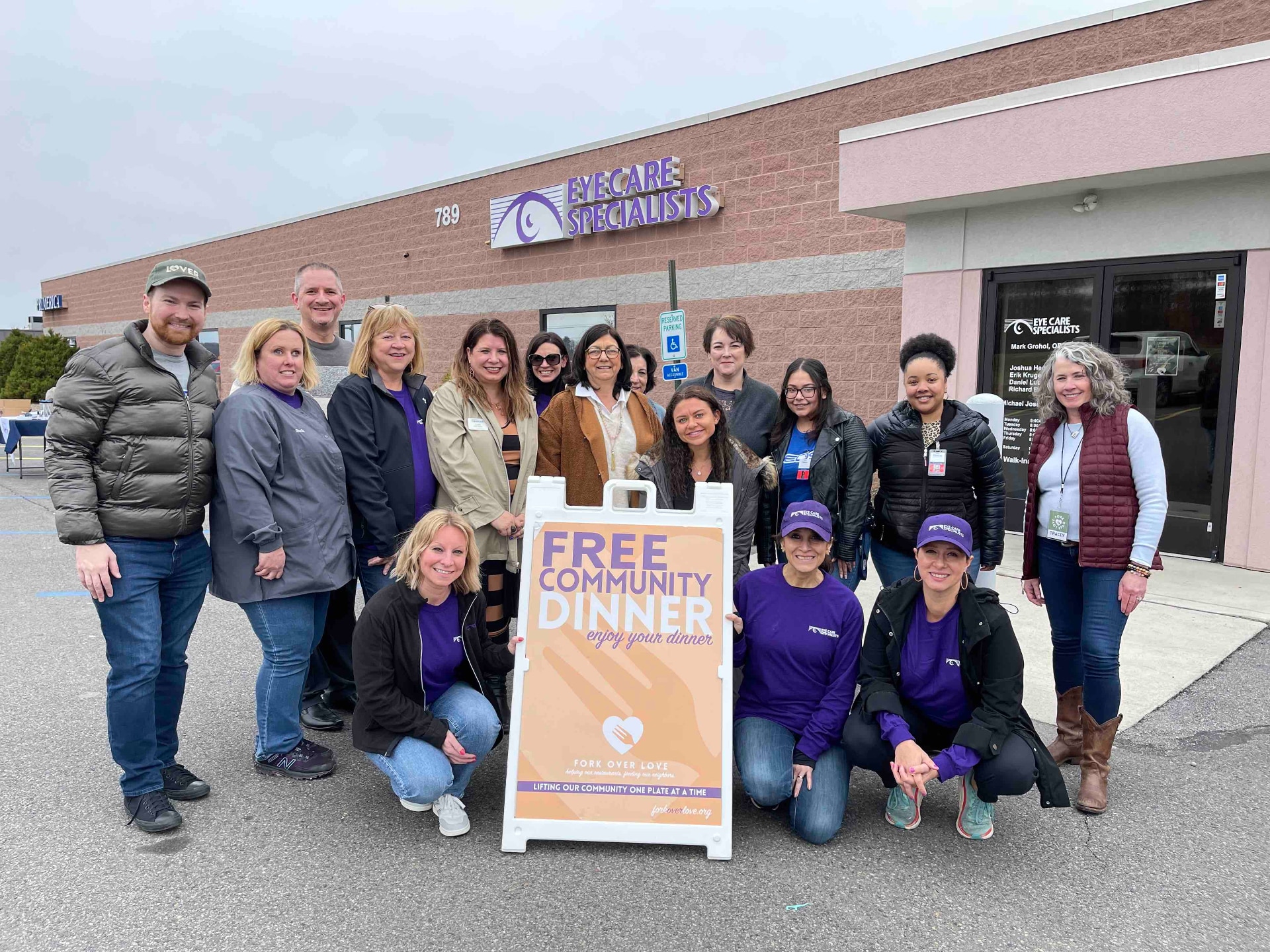 Just one month later, in January 2021, Fork Over Love organized its first drive-through food distribution, which took place in a church parking lot in Pittston, PA.
"We found three restaurants willing to cook, advertised, got the website up … it was literally done in a month!" Selingo says. "We were blown away by the community response. After that, we didn't look back."
Right away, more local restaurants and volunteers began reaching out, hoping to help out. In the two years since then, Fork Over Love has served 35,000 dinners cooked by 82 independent restaurants, and reinvested over $350,000 into the region's independent restaurant community.
Here's how it works:
Thanks to grant funding, corporate sponsorships and individual donations, Fork Over Love is able to pay local restaurants $10 per meal, and requests 50 to 100 meals prepared at a time. The only requirements of the meals is that they include some kind of protein and vegetables, and that they're something that the restaurant would serve to its guests. There are currently 58 restaurant partners working in a rotation, and Fork Over Love invests between $3,000-$4,000 into the restaurant community each week.
"Some restaurants we work with were really on the brink of closure on 2021," Selingo says. "Our restaurant partners are proud to be part of a community service, and they're glad to get paid."
Fork Over Love organizes one distribution of between 250 and 400 meals each week; every other week is an on-site pick-up, and the alternate weeks are home deliveries, made possible through a partnership with DoorDash that began in 2022. The locations of the pick-ups change to provide access to different areas — they've been to 97 locations so far — and the deliveries are a way to accommodate those with mobility issues, challenges with transportation or working hours which might not align with the pick-up window.
As far as who can sign up for meal pick-ups and delivery, Fork Over Love has no eligibility requirements.
"We know there are so many different reasons why people struggle to put food on the table, ranging from being food insecure, to caring for family members, to dealing with mental health issues," Selingo says.
The dinners, both pick-up and delivery, are first come, first served. And although many things have changed since 2020, Selingo says the need for food has not.
"When we have the drive-through pick-ups, people show up hours before we open to make sure they get a meal, and when I open the website for home delivery, it sells out in 10 minutes," she notes. "There are over 40,000 food-insecure people in our county who are food insecure, and I'd love to be able to feed everyone every week. My heart breaks when we sell out so quickly."
After two years of running Fork Over Love, Selingo says there are no plans to stop. She hopes to continue strengthening relationships with restaurants, to secure more funding through grant opportunities and sponsors, and to slowly build out the organization more fully (in fact, Fork Over Love just hired its first paid employee!). All of this she sees as helping to create a system of care in her community, one where people who are struggling for any reason can find support in the form of a hot meal.
"We are not solving the problem of food insecurity, but we are shining a light on the depth of it," Selingo says. "When we pass a hot meal to someone and give someone the space to receive that meal and the comfort of it, it's that connection, it's a way to say, You're going to be okay, we see you, we can help you to where you need to go."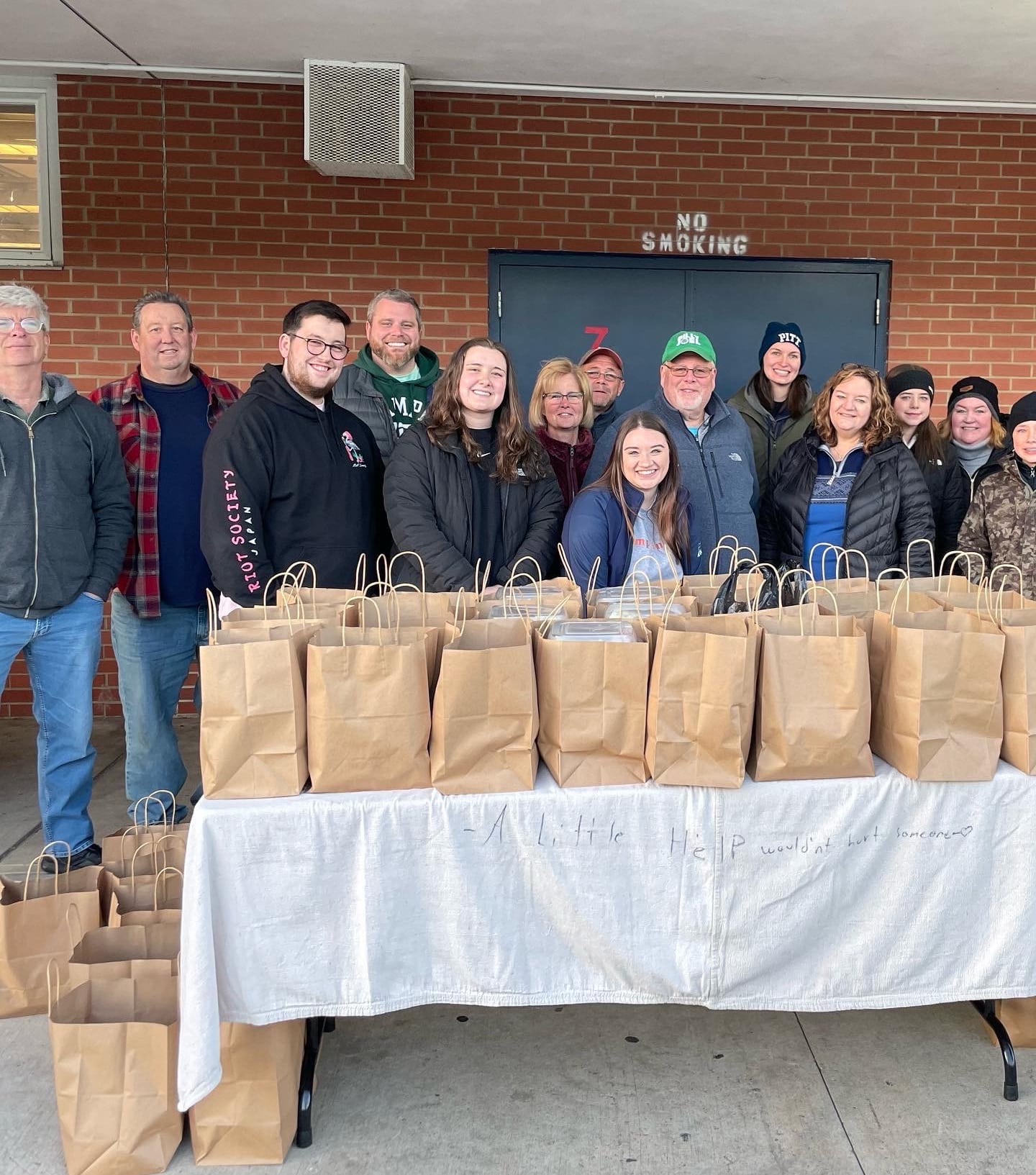 For more information on Fork Over Love, including where and how to find dinner and how to get involved, visit its website, and follow along on Facebook and Instagram.