Many Americans believe that the institution of slavery ended January 1, 1863, the date set forth in President Abraham Lincoln's Emancipation Declaration on September 22, 1862, or when the 13th Amendment to the Constitution was ratified. While this did signify emancipation in some states, deep in the Confederacy, years passed before all enslaved people were truly free. Juneteenth, celebrated each year on June 19, is widely recognized in the Black community as the true end of slavery. It's sometimes called Liberation Day, Emancipation Day or Freedom Day, and it is the day in 1866 when General Order No. 3 was issued by Major Gen. Gordon Granger in Galveston, Texas. His announcement stated that, in accordance with the Emancipation Proclamation, "all slaves are free."
Many Black communities plan Juneteenth gatherings and parties, often centered around food and music. In 2021, President Joe Biden signed a law declaring Juneteenth a Federal holiday, and since 2019, it's been a state holiday in PA! Here are 23 ways to honor and celebrate Juneteenth in Pennsylvania this year:
NEPA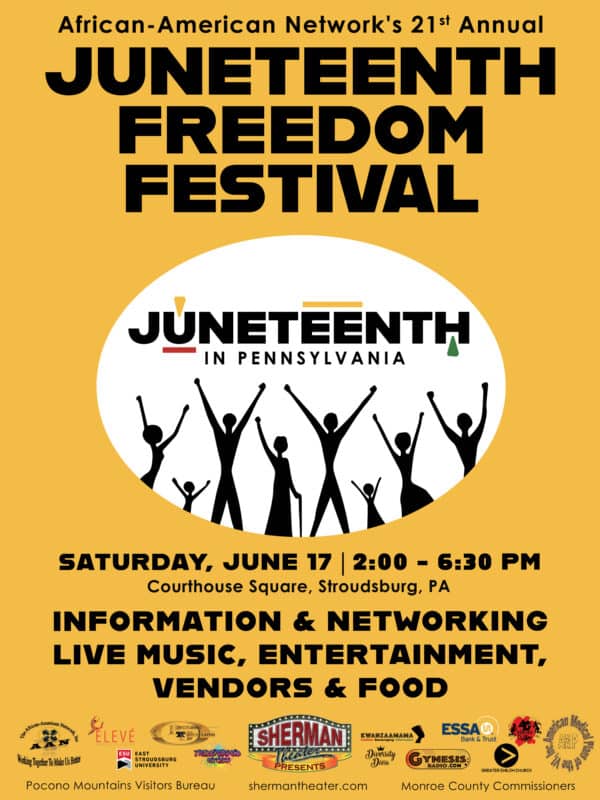 Sherman Theater Juneteenth Freedom Festival: On Saturday, June 17, from 2 to 6:30 p.m., join The Sherman Theater and the African American Network of the Poconos for the 21st Annual Juneteenth Freedom Festival. This free community event will be held in Courthouse Square, in Stroudsburg featuring live music all day, food, vendors, educational fun and networking opportunities. 600 Main St., Stroudsburg.
Black Scranton Project Juneteenth Skate Party: This rollerskating party invites the community to celebrate Juneteenth on wheels! The Black Scranton Project Center for Arts & Culture will set up a temporary skating rink in its parking lot and offer free skate rentals, refreshments and great vibes. Guests can bring their own skates, and both roller skates and roller blades are welcome. It's all going down on Saturday, June 17, from noon to 5 p.m. 1902 North Main Ave., Scranton.
2nd Annual Juneteenth Cookout: On Saturday, June 17, at noon at Coal Street Park (MLK Memorial Park), the community is invited for a Juneteenth cookout, organized by the NAACP Wilkes-Barre Branch #2306. This free event includes free food, music, vendors, entertainment and more. Coal St., Wilkes-Barre.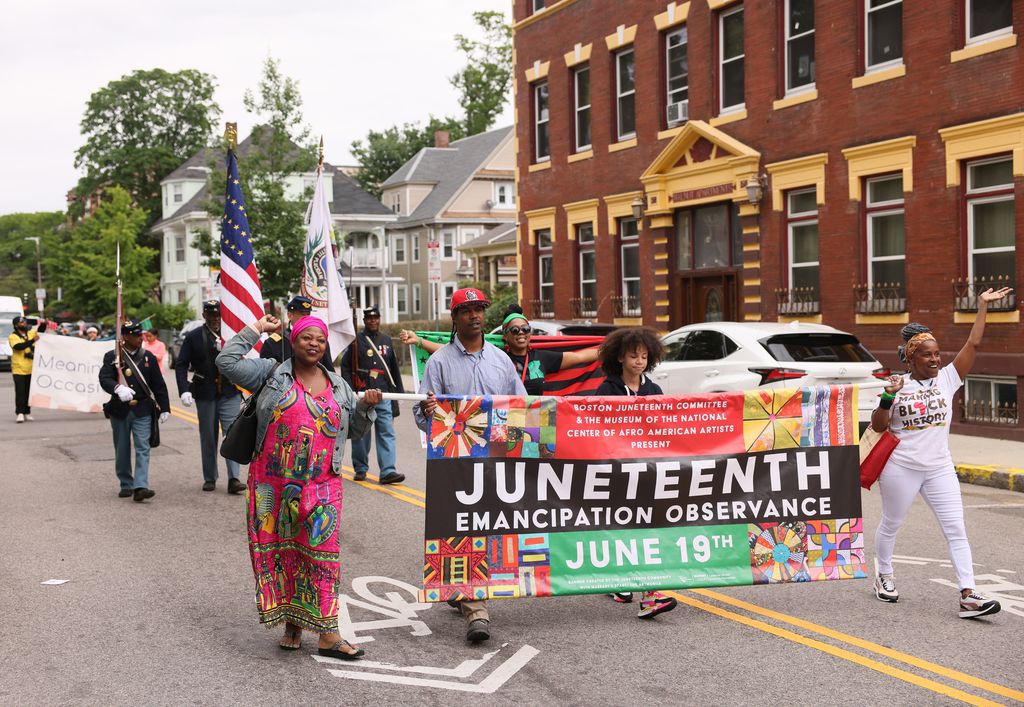 Easton Juneteenth Parade: On Sunday, June 19, the Lehigh Valley will host its first ever Juneteenth, which will bring together agencies and leaders from the African American communities in Allentown, Bethlehem and Easton. Steppers, drum lines, fraternities and sororities, children's groups and dance troupes will also be included in the parade. The parade will assemble on Northampton St. at noon and proceed along the route until 3 p.m.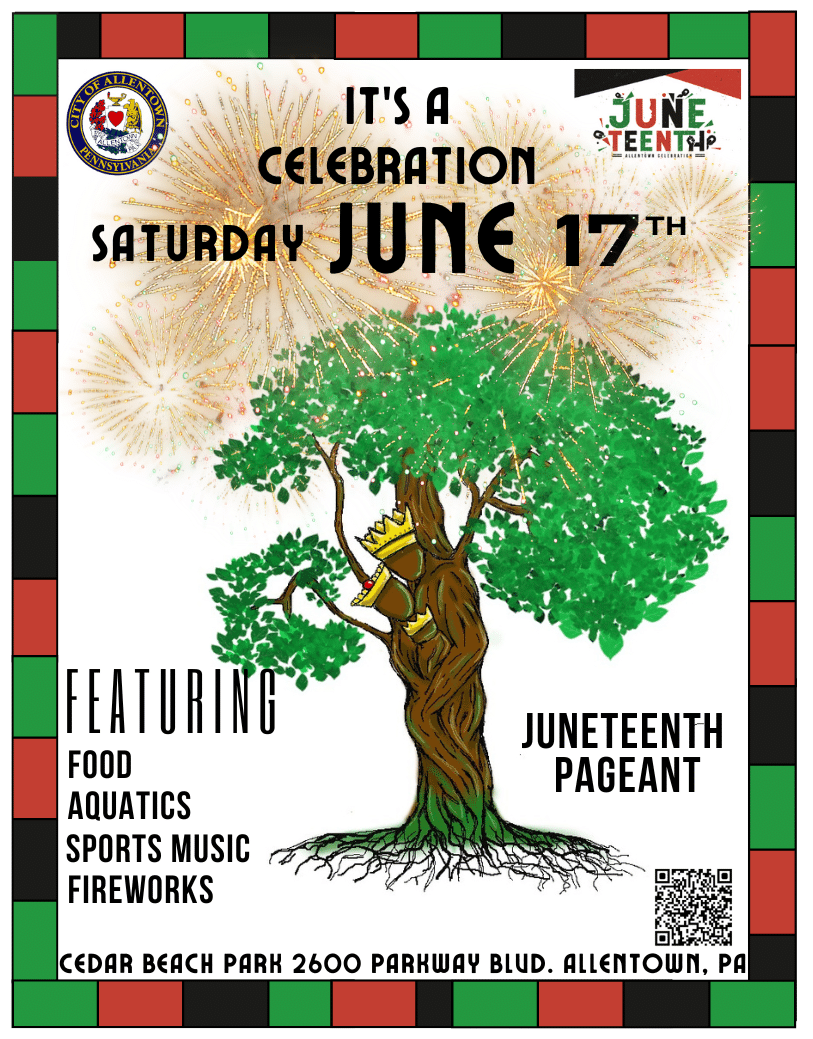 Allentown's Juneteenth Celebration: Kicking off with a flag raising at City Hall at 4 p.m. on Sunday, June 11, Allentown's Juneteenth celebration will take place on Saturday, June 17 at 10 a.m. at Cedar Park Beach, including soul food, vendors, yoga, a basketball tournament, free swimming lessons, DJs, a pageant, a fireworks show after the sun goes down and more. The festivities continue into Sunday, June 18 (which is also the rain date for Saturday), with basketball, vendors and free yoga. 2600 Parkway Blvd., Allentown.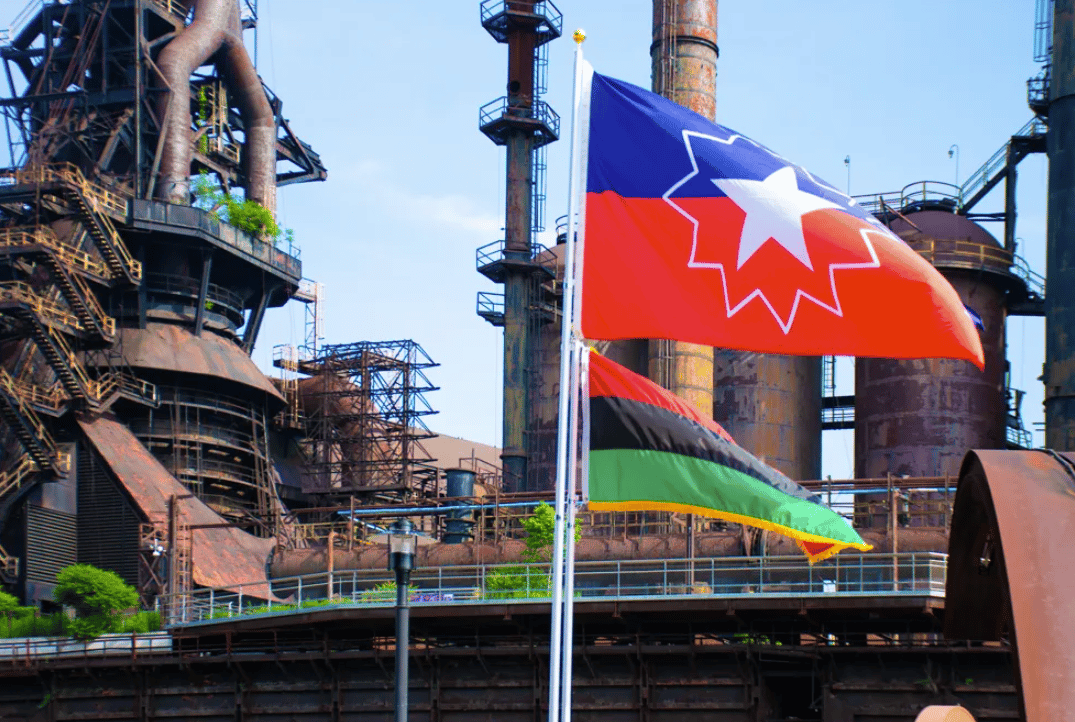 Juneteenth Music Fesival at the SteelStacks in Bethlehem: There are Juneteenth events happening all week long, between June 11 and 18, throughout Bethlehem, culminating in a family-friendly music festival celebration starting at noon on Saturday, June 17, featuring performing a packed schedule of performers and live music representing a variety of genres, including R&B, soul, jazz, reggae and a special tribute to 50 years of hip-hop. The children's stage features lots of fun activities, like cupcake decorating and face painting, and everyone is welcome to peruse and purchase the offerings of the ethnic food and goods from over 40 Black-owned businesses. 101 Founders Way, Bethlehem.
Southeastern PA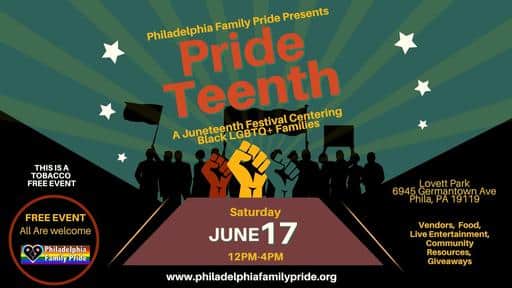 Philadelphia Family Pride Pride Teenth: On Saturday, June 17, from noon to 4 p.m., this LGBT+ non-profit will host a festival centering Black LGBTQ+ families at Lovett Park in the Mt. Airy section of Philadelphia. There will be free food, entertainment, resource tables, vendors, free raffle prizes and more. 6945 Germantown Ave., Philadelphia.
Everybody Eats Juneteenth Soul Food BBQ + Food Drive: This mutual aid group is celebrating Juneteenth with a block party-style cookout, with a produce and essentials give-back in Malcolm X Park in West Philadelphia on Sunday, June 18, at noon. In addition to the soul food barbecue, there will also be live music, DJ and raffle prizes. Everybody Eats is hoping to gather and feed over 5,000 people this year! 5100 Pine St., Philadelphia.
Philadelphia Juneteenth Parade and Festival: Organized by the Pennsylvania Juneteenth Initiative, this will be the seventh annual Philadelphia Juneteenth Parade and Festival to take place. The schedule features a number of exciting events, including the parade on Sunday, June 18, from noon to 2 p.m. on 52nd Street in West Philadelphia, the Juneteenth Marketplace and Art in the Park in Malcom X park on the same day from 10 a.m. to 8 p.m. and the Juneteenth Music Festival, also on Sunday, June 18, from 3 to 7 p.m. at 52nd and Larchwood Streets.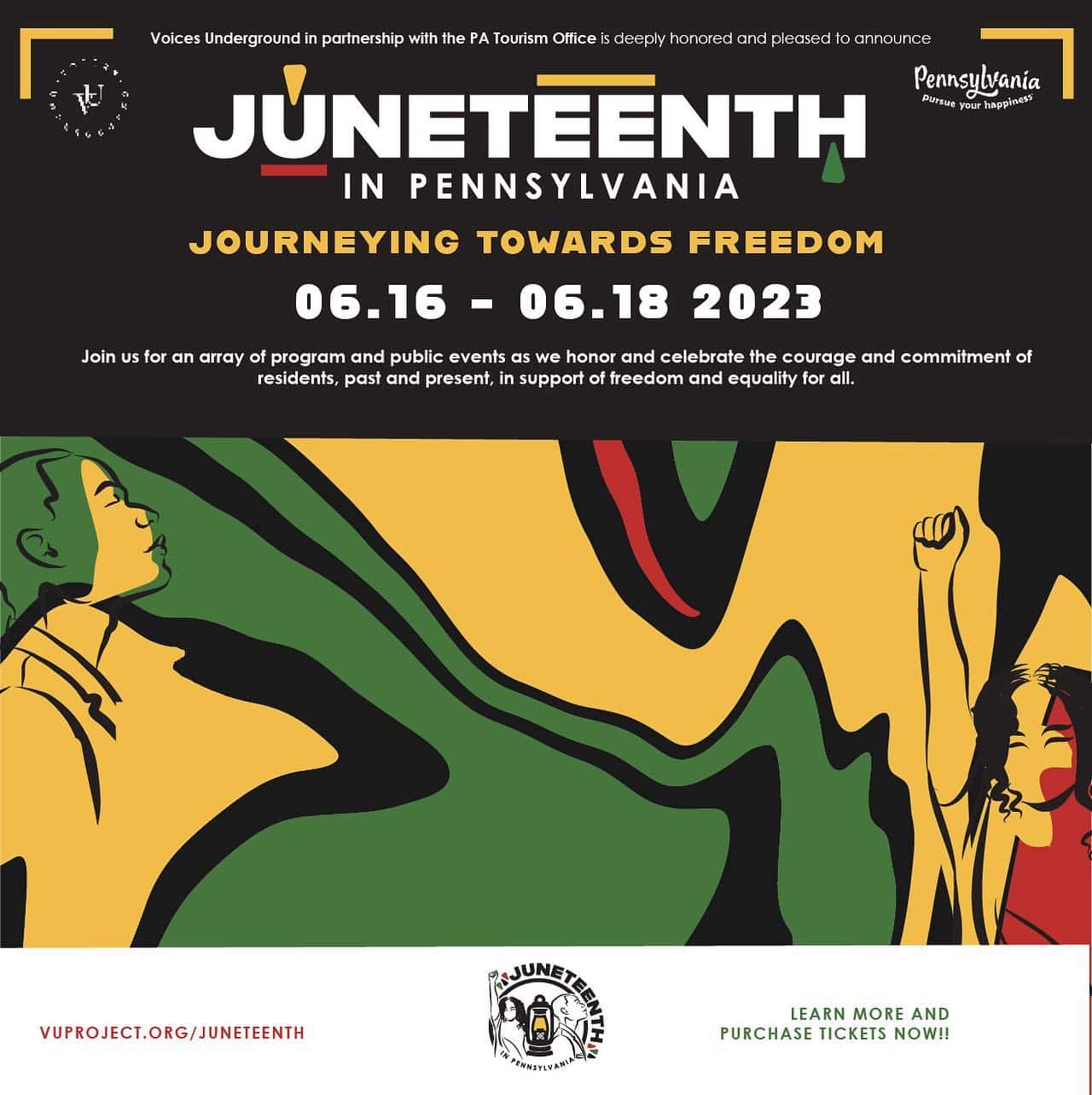 Journeying Towards Freedom: Voices Underground, a local organization that seeks to increase exposure to the story of the Underground Railroad, has partnered up with the PA Tourism Office, to present a statewide Juneteenth commemoration, including a variety of programs and public events. This includes a celebration of African-American fashion at Longwood Gardens on Friday, June 16, a free Juneteenth festival at the Creamery on Saturday, June 17, and a Freedom's Table Dinner on Sunday, June 18. Various locations in Kennett Square.
Juneteenth in Montgomery County: There are tons of county-sponsored and community Juneteenth events in MontCo in 2023! On Thursday, June 15, at 1 p.m., there will be a Juneteenth Flag-Raising at the Montgomery County Courthouse in Norristown; other events include a Juneteenth Celebrations on the Main Line in Ardmore, the Ambler Borough/Lower Gwynedd Juneteenth Fest and a Juneteenth Celebration in Pottstown, all on Saturday, June 17; and the Norristown Jubilee Street Festival on Monday, June 19. For more info, see here. Various locations.
2023 Phoenixville Juneteenth Celebration: Another chance to enjoy community and fun for Juneteenth in Montco is at the annual Freedom Day celebration in downtown Phoenixville. On Sunday, June 18, between  2 and 6 pm, Diversity In Action, Black Light Projects, Orion Communities, Forever Changes, The Colonial Theatre, the Phoenixville Community Health Foundation and Trellis for Tomorrow have organized a number of activities, like historical reenactors, music, art, dance, drummers, street theater, magic, soul food and storytelling. 200 Bridge St., Phoenixville.
West Chester Juneteenth: There's a whole week's worth of events happening for West Chester's Juneteenth celebrations this year. In addition to art shows, tours and discussions, the Freedom Festival will take place at the Charles A. Melton Arts & Education Center on Monday, June 19, starting at 3 p.m. Activities include performances by the Freedom Festival Choir and the West Chester Dance Works' Group, a freedom festival scavenger hunt, games, vendors, soul food and more. 501 E. Miner St., West Chester.
Central PA
Community Action Partnership Juneteenth Cultural Mixer: On Sunday, June 18, the Community Action Partnership in Lancaster will host its second annual Cultural Mixer at the Crispus Attucks Community Center. This free event will include food and beverages, performances, community connection, a special Juneteenth trivia game with prizes and a 50/50 raffle benefit. 407 Howard Ave., Lancaster; (717) 394-6604.
York Juneteenth Block Party Celebration: This free community event, which will be held on Monday, June 19 between 6 and 8 p.m. at the Union Lutheran Church, will offer a festive space for the greater York community to gather and celebrate, with free food, music, free clothing, a bounce house, games and more! 408 W Market St, York.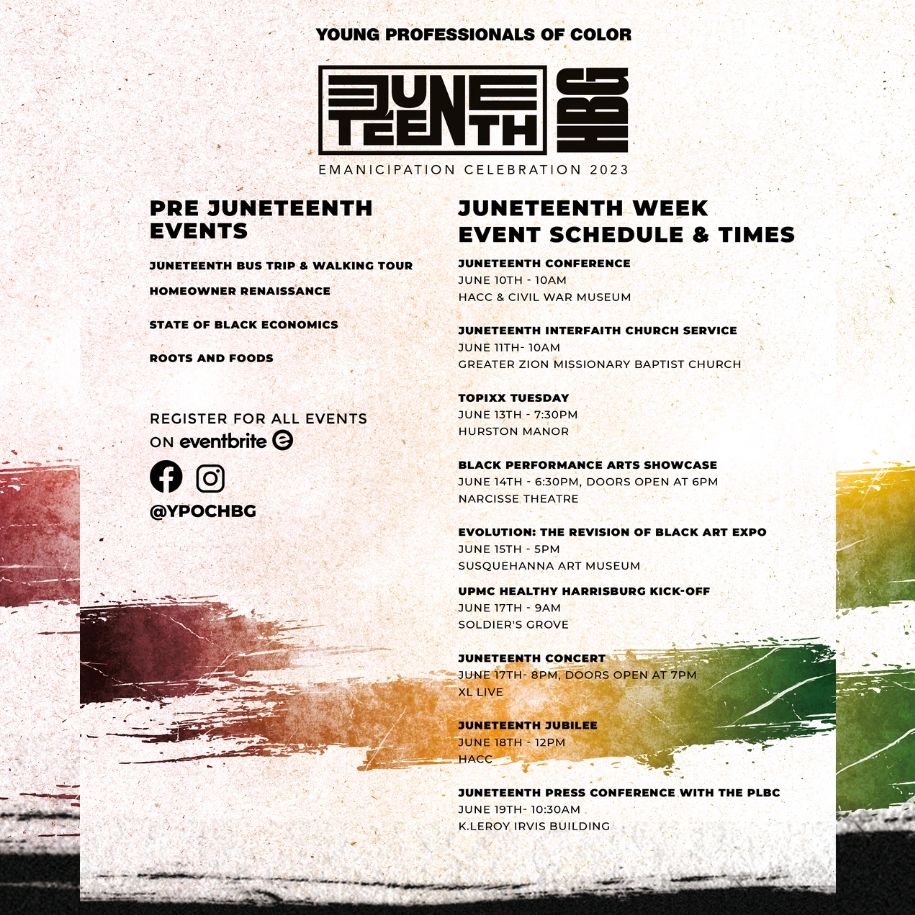 Juneteenth HBG 2023: Our state capitol has a lot planned for Juneteenth this year! These include a Juneteenth Conference at the HACC Cooper Student Center and the National Civil War Museum on Saturday, June 10, featuring author, activist and TV personality Marc Lamont Hill as the keynote speaker, and a Juneteenth concert stacked with amazing artists on Saturday, June 17. The festivities culminate on Sunday, June 18 with a free Juneteenth Jubilee at HACC noon, with Black-owned businesses, kid-friendly activities, numerous local resources and organizations and food trucks. Various locations.
Gettysburg Juneteenth Parade and Jamboree: This is the 4th annual Juneteenth parade in Gettysburg. It will begin on Monday, June 19, at noon in Lincoln Square; participants are encouraged to bring flags and signs that promote uplifting Black lives. Following the parade, there will be a Jamboree party at 1:30 p.m. at Gettysburg Rec Park, with live music, children's activities, a Black marketplace and more! 545 Long Lane, Gettysburg.
Franklin County Juneteenth Celebration: Organized by Racial Reconciliation, a social and racial justice nonprofit, this Juneteenth celebration kicks off on Saturday, June 17, at 11 a.m. at the Network Ministries Garden with a party including a kids' book giveaway, entertainment, dancing, face painting, vendors, games, food and more. 10 Redwood St., Chambersburg.
State College Juneteenth Celebration Weekend: Hosted by the State College NAACP, in partnership with the Borough of State College, the Center for the Performing Arts at Penn State and The Happy Valley Adventure Bureau, this two-day celebration includes an art show on Friday, June 16, at the Woskob Family Gallery, and a free Juneteenth Block Party on Saturday, June 17, on the 100 block of Fraser Street.
Williamsport Juneteenth: For the past few years, the CommUnity Zone and Lycoming Tri-County NAACP partner up to organize a Juneteenth celebration in downtown Williamsport. This year, the event is scheduled for Saturday, June 17, at Brandon Park, and is shaping up to be a truly great celebration. The theme is: "STRENGTHENING Our Roots to EMPOWER Future Genera8ons," with a special focus on the youth, including presentations of scholarships to a group of young people. The event will kick off at 11 a.m. with a Prayer Vigil and Walk starting at Freedom Road heading to Brandon Park. There will be entertainment, live music, drumming, yoga, meditation, vendors, food trucks, and more.
Western PA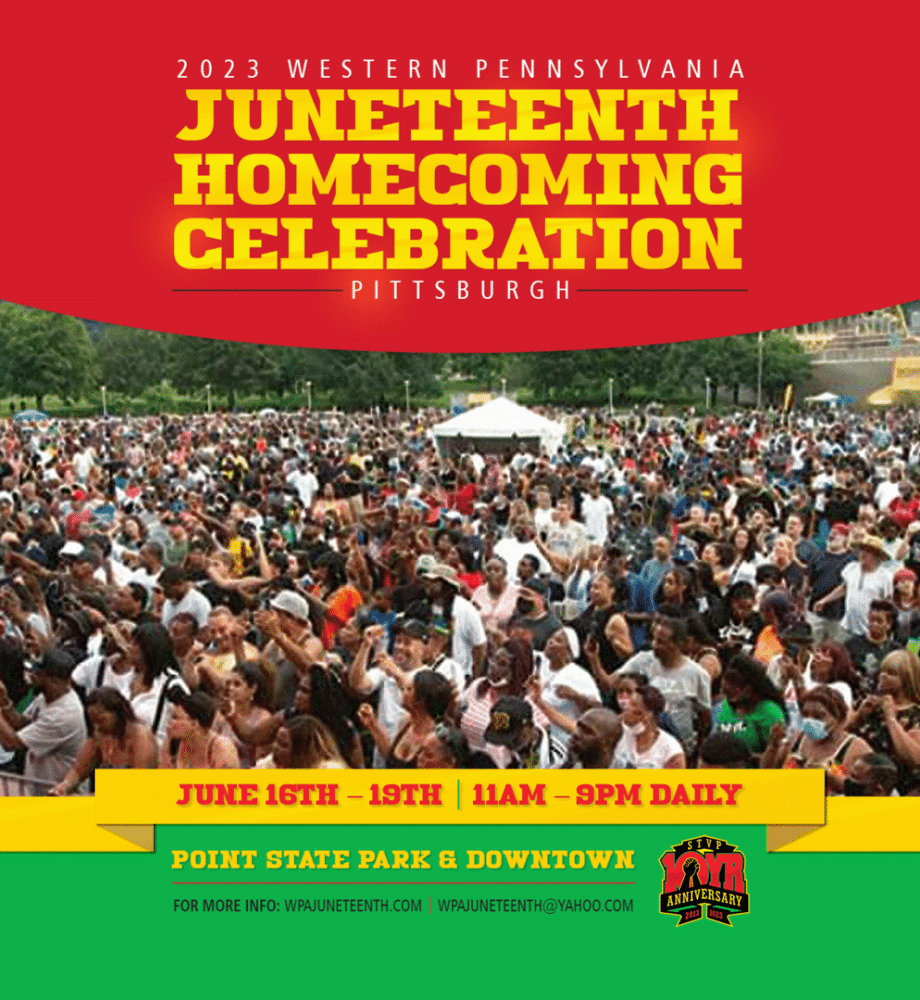 Western Pennsylvania Juneteenth Homecoming Celebration: From June 16 through 19, there's lots going on at the Western Pennsylvania Juneteenth Homecoming Celebration in Point State Park and Market Square in Pittsburgh. Each day features live musical performances, including The Jazz Ambassadors of The US Army Field Band, the Sammie Deleon Afro-Cuban Band and more. After the live music concludes on Monday, June 19, there will be special Juneteenth Fireworks at 9:35 p.m. On Saturday, June 17, the Juneteenth-Voting Rights Parade, a reenactment of the 1870 Jubilee of Freemen Parade and Pittsburgh's 1914 Women's Suffrage Parade, will take place, along with the Grand Jubilee Juneteenth Parade, followed by a voting rights forum. Also, the Juneteenth Freedom Festival is back, featuring dozens of minority-owned small businesses, artisans and other vendors at a Juneteenth Minority Vendor Plaza along Liberty and Penn Avenues, just outside of Point State Park. Various locations.
Black History: Closer Than You Think — Juneteenth Celebration: On Friday, June 16, the community is invited to Hazelwood Green for a free outdoor concert, featuring live jazz, soul, funk and hip-hop, with food trucks and kids games. BYO blanket or lawn chair! 4501 Lytle St., Pittsburgh.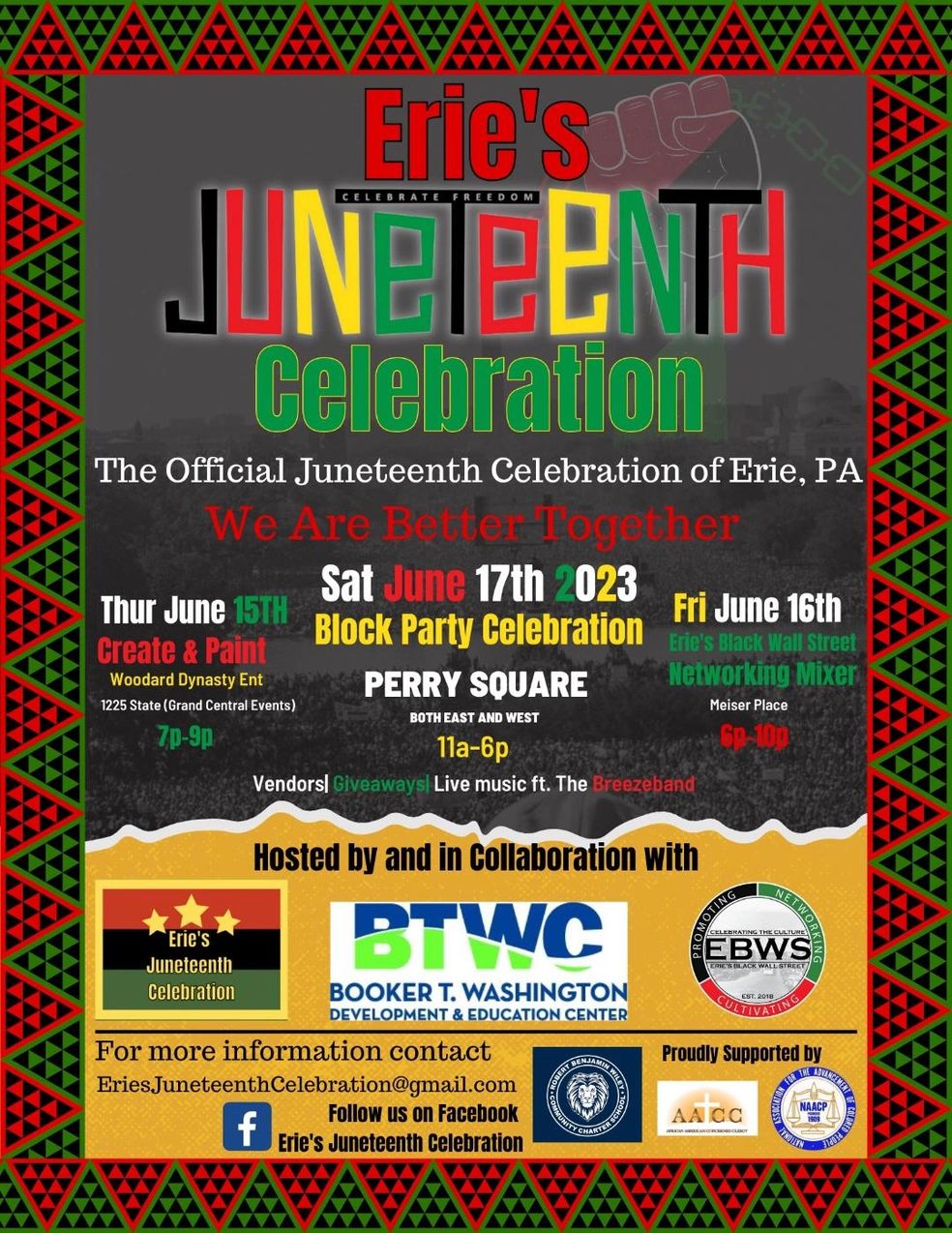 Erie & Northwestern PA Juneteenth Celebration: In addition to more low-key events, like a Create and Paint event on Thursday, June 15, and a networking mixer on Friday, June 16, the main event of Erie's Juneteenth is the Block Party Celebration on Saturday, June 17, from 11 a.m. to 6 p.m. at Perry Square. There will be live music, giveaways and plenty of vendors representing Black-owned businesses. Various locations.
How are you celebrating Juneteenth this year? Let us know!
Feature photo:

Bigstock

Flyers:

Courtesy of respective events