Fresh potatoes are a versatile, tasty pantry item that you can use in so many ways. Like many root veggies, potatoes keep well in a cool, dark place, but learning how to batch-cook them means you can use them in multiple dishes throughout the week.
There are many varieties of the humble spud, from small kiwi and redskin potatoes, which are great for halving and roasting, to larger Idaho russet potatoes which lend themselves to many applications and can be cut into fries, added to stews, used as a taco filling, and sliced into chips. Yukon potatoes, which are firm and waxy on the inside, make wonderfully smooth soups and mashed potatoes.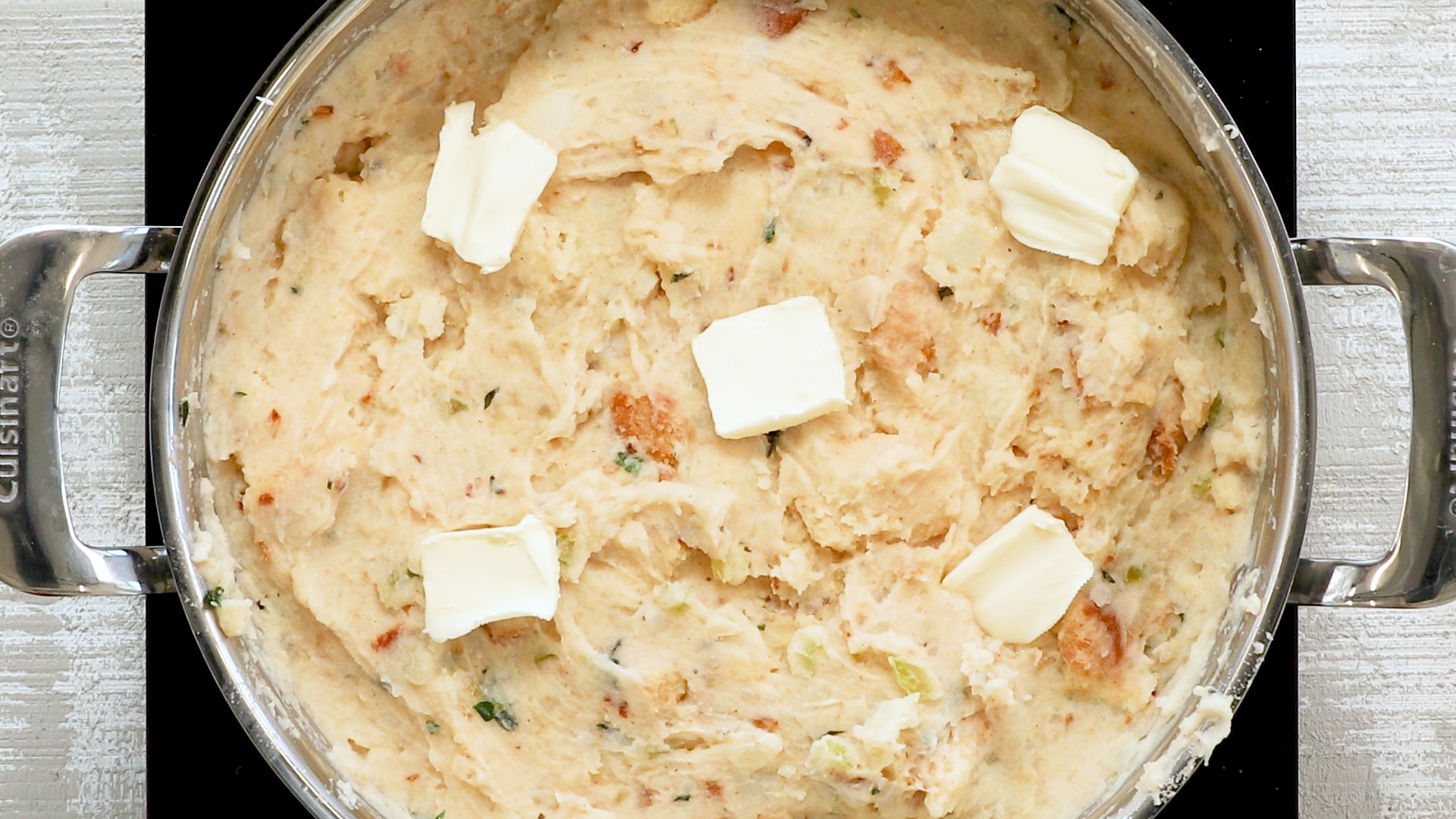 Examples of how to use potatoes throughout the week:
On Sunday, prepare the potatoes (recipe below) in a large batch. Store in a lidded container in the refrigerator until ready to use.
Monday Dinner: Pork chops with sautéed spinach, and paprika-spiced potatoes with caramelized onions. For this application, warm up the pre-cooked potatoes in some olive oil, top with caramelized onions, and seasoned with paprika.
Tuesday Lunch: Pantry salad with tomatoes (fresh or sun-dried), cucumbers, canned tuna, olives and cooked potato.
Wednesday Dinner: Barbecue chicken with potato salad and baked beans. For this application, start with cooked potatoes, add your favorite seasonings, then dress with mayonnaise and Dijon mustard.
Thursday Morning: Scrambled eggs with breakfast potatoes. Take pre-diced and cooked potatoes and cut them down further into small cubes. Sauté them gently in a pan with oil, garlic and diced onion.
Friday lunch and beyond: Navy bean soup. Sauté some diced ham with onion, carrots, and celery, then add chicken stock and canned or cooked navy beans. Use up the last of your potatoes by adding them to the soup a few minutes before eating. If you make a large batch of soup, freeze a few quarts and thaw within the coming weeks.
How to Batch-Cook Potatoes
| Prep Time | Cook Time | Total Time |
| --- | --- | --- |
| 5 min | 35 min | 40 min |
Ingredients
A few pounds of potatoes, any kind
Salt, pepper and dried or fresh herbs, to taste
Olive oil
Method
Preheat the oven to 350°F.
To prepare each potato for cooking, simply rinse it under cold water, scrub any dirt from the skin, and remove any sprouts present. You can peel the skin completely if you'd like, but it is not necessary.
Dice the potatoes into large cubes, and put them in a bowl. Add enough oil to coat them. Add salt, pepper, and herbs, fresh or dry. Toss with your hands or a large spoon so that the potatoes are evenly coated.
Spread the potatoes out on a baking sheet, trying not to overcrowd the pan. Roast for 30 to 35 minutes, giving the pan a shake every 10 minutes or so.
The cook time may take longer or shorter, depending on the size they are cut. The potatoes are done when they are fork-tender all the way through.
Allow to cool, then store in an airtight container in the refrigerator to add to dishes throughout the week.
Another option for batch-cooking potatoes is to boil them in salted water for about 10 minutes, or until they are tender but not falling apart. Strain and cool them, then store in the fridge. These will be less flavorful than roasted potatoes, but they work well for mashed potatoes.
Technique and recipe:

Andrew Cini

Photos:

Dish Works