We love the transitional time of year when it's crisp and breezy in the morning and sunny and warm by lunchtime. This is the perfect breakfast (or brunch) dish to celebrate the changing of the seasons from summer to autumn: hearty and satisfying, while still highlighting the beauty of local produce.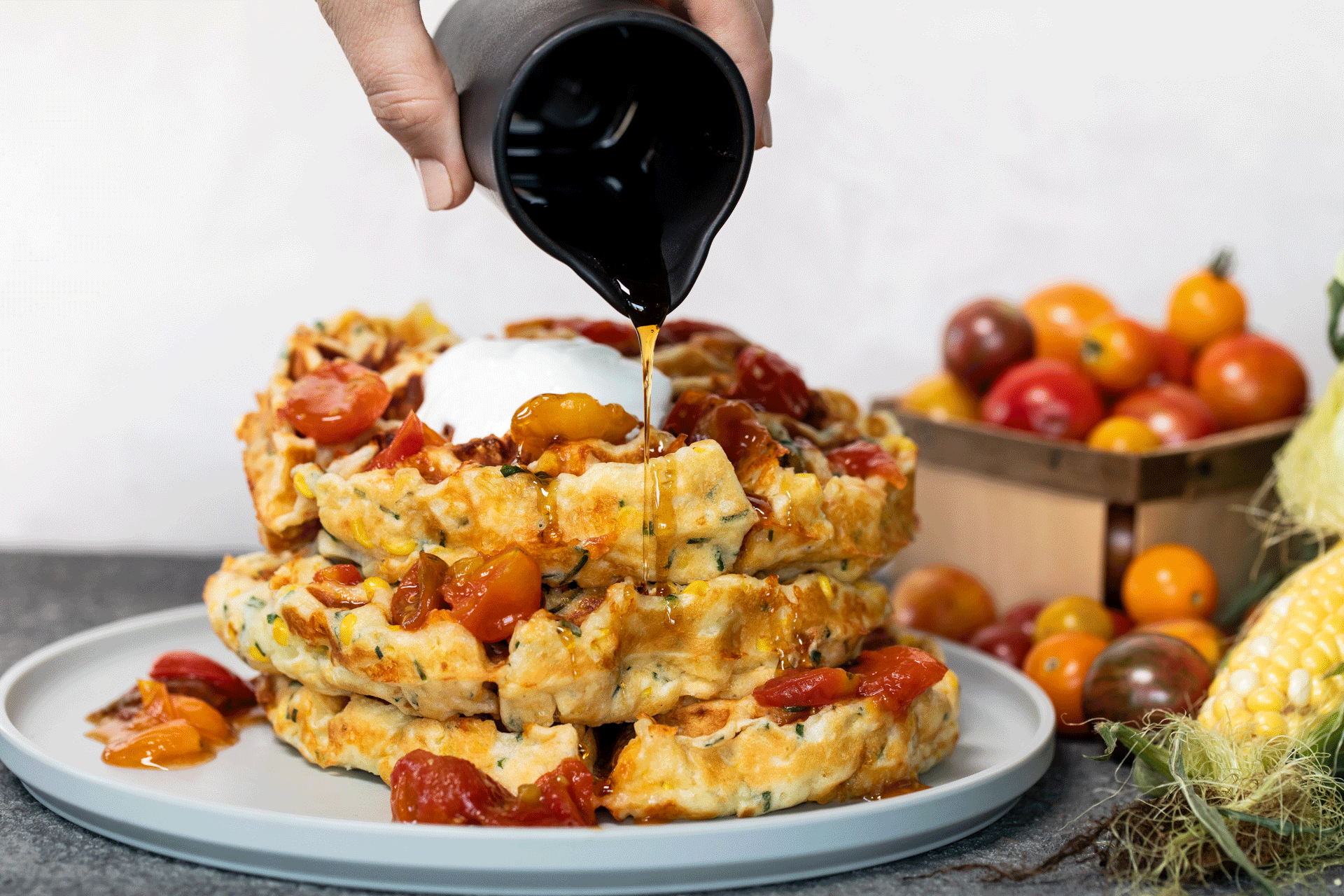 Fresh PA sweet corn, local cheddar cheese, herbs and a special tomato-infused maple syrup create a savory twist on waffles that we are smitten with! Sauteing cherry tomaotes, and letting their juicy flavors meld with maple syrup and basil, is a genius way to make the most of that quart on the counter that's nearing that "use them or lose them" state of ripeness. For best results, try maple syrup from a local producer, like Whiskey Hollow Maple in Kennett Square, Loch's Maple in Springville, Yeany's Maple in Marienville, or Sechler Sugar Shack in Confluence. The tomato syrup is also fabulous stirred into yogurt with granola, drizzled on fresh fruit and ice cream, or added sparingly to pepperoni pizza!
Corn, Cheddar and Chive Waffles with Tomato Maple Syrup
| Prep Time | Cook Time | Total Time |
| --- | --- | --- |
| 15 min | 15 min | 30 min |
Ingredients
1 1/2 cups all-purpose flour
1 cup shredded Pennsylvania white cheddar cheese
3 1/2 teaspoons baking powder
1 teaspoon salt
1 tablespoon granulated sugar
1 1/4 cups milk
1 large egg
3 tablespoons unsalted butter, melted
3 ears of fresh Pennsylvania sweet corn, cut off the cob
1/4 cup fresh chives, finely chopped
1 cup cherry tomatoes, halved
1/2 cup PA maple syrup
2 tablespoons fresh basil, finely chopped
Greek yogurt for topping
Method
In large bowl, sift together flour, cheese, baking powder, salt and sugar. Make a well in center and pour in milk, egg and melted butter; mix until smooth. Sauté or blanch corn for a few minutes to remove starchiness. Pat dry. Fold in corn and chives to batter.
Heat a lightly oiled waffle iron. Scoop 1/2 cup batter onto waffle iron and cook according to manufacturer's instructions, until golden brown and crisp.
While waffles cook, make syrup: Add tomatoes to medium saucepan over medium heat, and cook, stirring frequently until they start to break down, about 10 minutes. Once liquids start to release from the tomatoes, stir in maple syrup. Add fresh basil and remove from heat. Serve waffles hot with warm tomato syrup. Garnish with Greek yogurt and fresh basil.
Pro tip: Freeze a few ears of local corn (here's a quick tutorial) if you're craving these waffles once fall and winter are in full swing!