Fresh apricots might just be the most underrated stone fruit; perhaps its their diminutive size, delicate, easily bruised texture, or the fact that they're just not as familiar as plums, peaches and nectarines, but we just don't seem to see as much apricot love out there as we think these delightful fruits deserve! With a gorgeous floral aroma and a subtle sweetness, sometimes veering into sweet/tart territory, apricots have a sort of musky flavor, a bit more serious and – we dare say – sophisticated than peaches. They're a bit less juicy than other stone fruits, too, which makes them perfect for grilling; the texture can hold up to heat, and the little fruits can hold the integrity of their shapes, making them like little cups which can be filled with cheeses and other savory bits.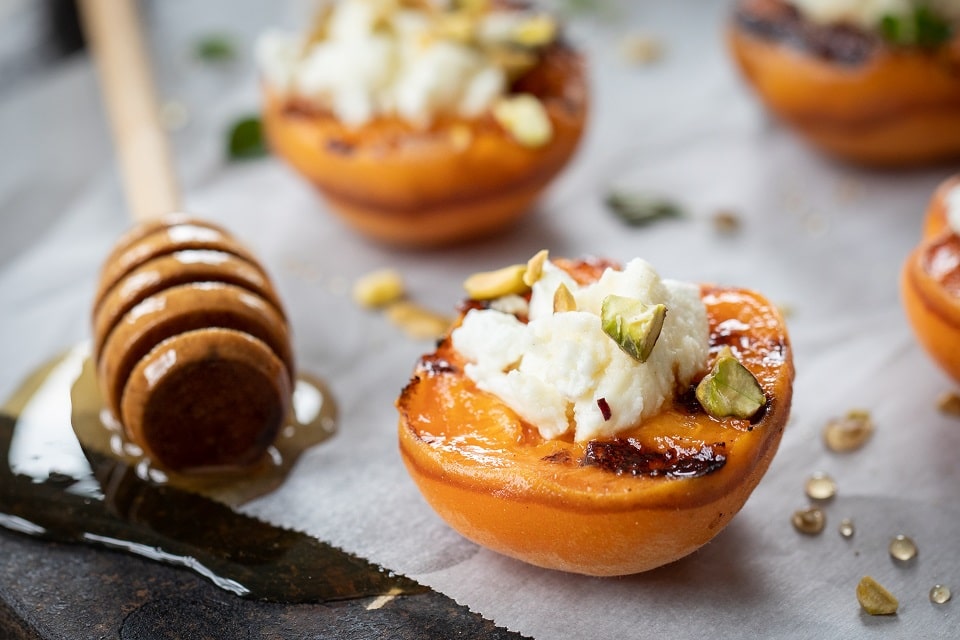 Try this elegant combo of local goat cheese, PA honey and salty pistachios for an appetizer that will knock it out of the park at your next BBQ or dinner party. To keep it Pennsylvania proud, try apricots from Maple Lawn Farms in York County, Weaver's Orchard in Berks County or Toigo Orchards in Cumberland County. We love the fresh chèvre from Goat Rodeo (Allegheny County) and Amazing Acres (Chester County) and honey from Swarmbustin' Honey, also in Chester County. In the height of the season, you can probably find everything you need to make these delectable bites at your local farmers market!
Goat-Cheese-Stuffed Grilled Apricots
| Prep Time | Cook Time | Total Time |
| --- | --- | --- |
| 5 min | 5 min | 10 min |
Ingredients
12 firm ripe PA apricots
Olive oil, for grilling
8 ounces PA goat cheese, room temperature
3 tablespoons raw PA honey
1/4 cup chopped salted pistachios
1 tablespoons fresh thyme leaves
Method
Preheat grill or grill pan over medium heat. Cut apricots in half and remove pits. Brush cut side with oil and arrange on grill, cut-side-down. Cook 4 to 5 minutes, until tender and grill marks appear. Remove from grill and arrange on platter cut-side-up.
When cool enough to handle, spoon a heaping teaspoon of goat cheese into the center of each apricot. Drizzle honey over apricots and garnish with pistachios and thyme.