No matter how many times we encounter statistics about food waste in the US, every time we're reminded that 40% of food that is produced is wasted, it's upsetting. It's especially hard to process because one in nine Pennsylvanians (and one in seven kids) is facing food insecurity. So, on the one hand, so much food is literally going into the trash, while on the other, there are members of our communities going hungry every day. One organization in PA that is working to tackle this problem head-on and hands-on is 412 Food Rescue, based in Pittsburgh. Leveraging a powerful combination of volunteer dedication and technological innovation, this non-profit connects volunteers with surplus food from restaurants, food distributors, grocers and more, and then disperses that food to people who need it.
Founded in 2015, 412 Food Rescue has grown its volunteer base to thousands of people who, with the help of 2 trucks and 1 van, "rescue" surplus food, keeping it out of landfills and instead redirecting it to its nonprofit partners, which include housing authorities, daycare centers, churches, community centers and more. In total, it's helped to rescue over 21 million pounds of surplus food, and has provided nearly 18 million meals! We are so excited to share more about the incredible work 412 Food Rescue is doing through this Q&A with Leah Lizarondo, 412 Food Rescue's co-founder and CEO.
PA Eats: Bring us back to the beginning: When and how did 412 Food Rescue start up? What inspired you to found this project?
Leah Lizarondo: We founded 412 Food Rescue in 2015 in response to an alarming fact: In the U.S., about 40% of the food we produce goes to waste, while more than 10% of the people who live here are food-insecure. 

A large portion of food waste occurs at the retail level, where businesses encounter many logistical challenges to donating surplus food. Once we saw the problem and started talking to other people about it, we couldn't look away. Our vision was to create a platform that could mobilize a distributed, flexible network of volunteer drivers, who could transport fresh, surplus food to organizations serving food-insecure populations. 

In 2016, we launched our technology platform, Food Rescue Hero, to scale our work in Pittsburgh and help other organizations launch and scale food rescue across the country and beyond.
What were some pivotal turning points in the life of the organization?
Our goal has always been to bring our solution to communities around the world, and in 2018 we started expanding to other cities, including Philadelphia, Cleveland and San Francisco. Now, 14 nonprofit food rescue groups use Food Rescue Hero, serving 27 cities across the US and Canada!

In 2020, as public health measures called for isolation and many organizations had to cease operations, we realized that our food rescues would become the only source of food for some of the most vulnerable members of our community. We quickly worked to pilot a home delivery service to bring food directly to the homes of people in need. Prior to this, we delivered only to nonprofits, churches, housing sites and other community resources. Between pilot programs in Pittsburgh and Prince William, Virginia, we were able to safely bring 550,000 pounds of food to people who found themselves home bound. Now, home delivery is a core part of what we do.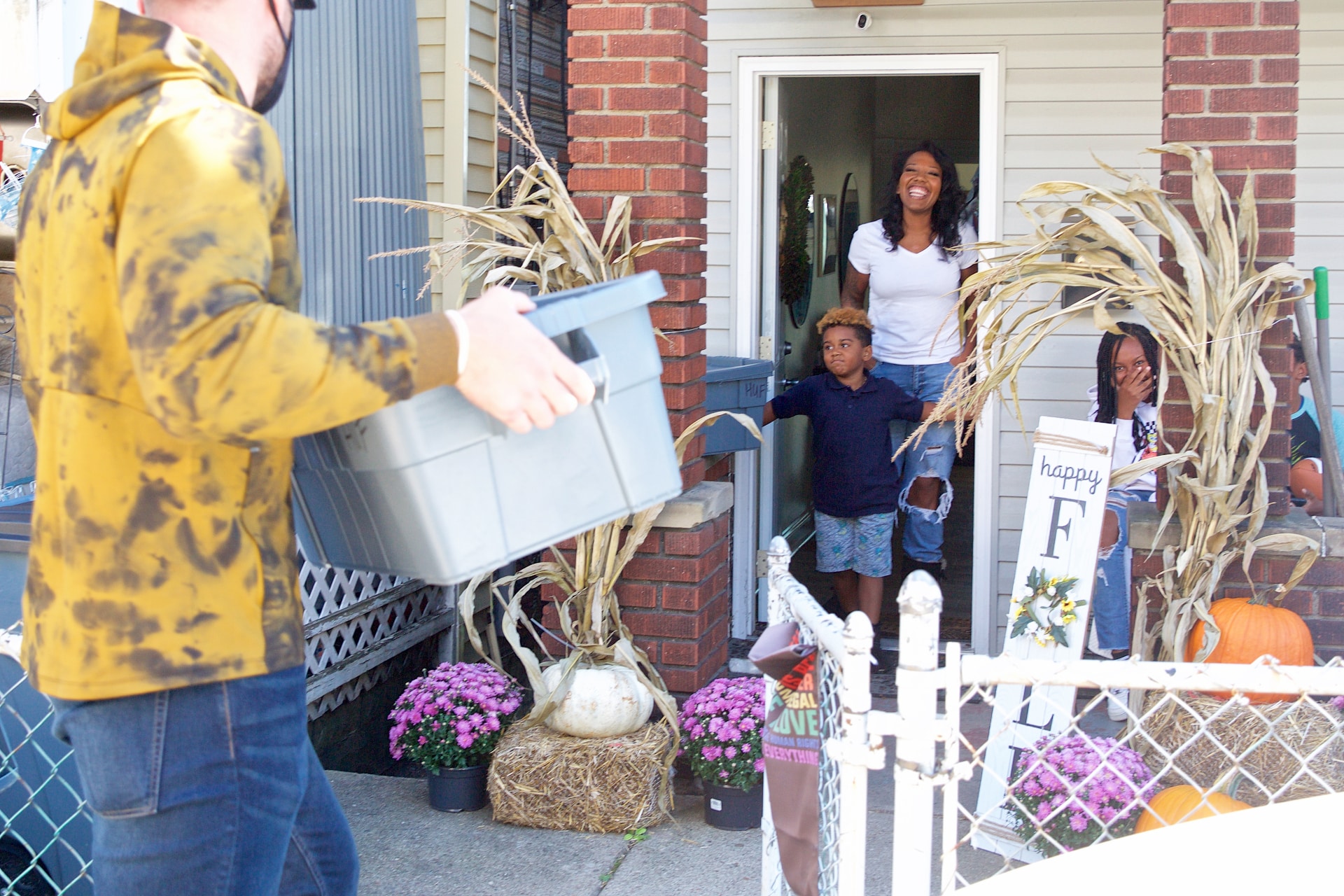 Using technology to combat food waste and fight food insecurity is such a cool idea. How did you come upon this concept?
First, we identified a major source of food waste: Every year, consumer-facing businesses, like grocery stores and restaurants, end up with millions of tons of surplus food, and most of it is thrown away. Much of that surplus food is still perfectly good to eat, but only a small percentage is ever donated. 

Next, we identified the logistical challenges behind redirecting that surplus: Pick-up locations are dispersed; amounts and types of food are variable and unpredictable; and most surplus food is highly perishable — like fresh produce and dairy products — and therefore needs to be consumed quickly. In the traditional spoke-and-hub model of logistics, based on trucks making regular pick-ups and delivering to a central food bank, most of this available surplus food falls through the cracks.

Finally, we recognized there was already an existing model for efficient transport from a broad array of pick-up locations to a broad array of drop-off locations: ridesharing and food delivery apps, like Uber and DoorDash. While those platforms are based on the work of paid drivers, we made Food Rescue Hero for volunteers. 

We have recruited the world's largest network of on-demand volunteer drivers, and they deliver on 99% of all available rescues from our thousands of donor businesses. They are not only reliable but also, often, prolific. Many have performed hundreds of rescues. One particular volunteer in Pittsburgh has completed over 1,500 rescues! We are incredibly sincere when we call our drivers Food Rescue Heroes.
How do food suppliers find you? What is their general reaction to getting involved?
We reach out to some food suppliers, and others find out about us via word of mouth. We meet with food suppliers regularly to educate them about the Bill Emerson Act, which protects them from any liability on donated food, and provide reassurance that we have had zero food safety incidents in eight years of operation.

Ultimately, our donor businesses are excited to work with us, because we're solving a problem for them. Nobody wants to waste food, but there are logistics barriers to donating it. We help our partners overcome those barriers by providing free, on-demand pick-up of their good surplus food. Everybody wins.

What about volunteers? The network of volunteers you've organized seems incredible.
Across all the cities Food Rescue Hero is active in, our community of volunteers is currently 34,000-strong and growing!

As I mentioned above, our volunteers are incredibly reliable, which speaks to how fulfilling it is to do this work. Picking up boxes of fresh food that would have otherwise ended up in a dumpster, and then bringing that food to people who really need it, does two things simultaneously: It makes the challenges of food waste and hunger viscerally real for volunteers, and instills a deep feeling of empowerment.
Who are some of the local organizations that you work with where food is donated?
We work with any community organization that is able to distribute food to the people they serve. Not only food pantries, but public housing, senior centers, schools, libraries, houses of worship and more become food access sites. By thinking outside of the traditional food bank system, we create new food access sites that have put healthy food within walking distance of 90,000 people in our region alone.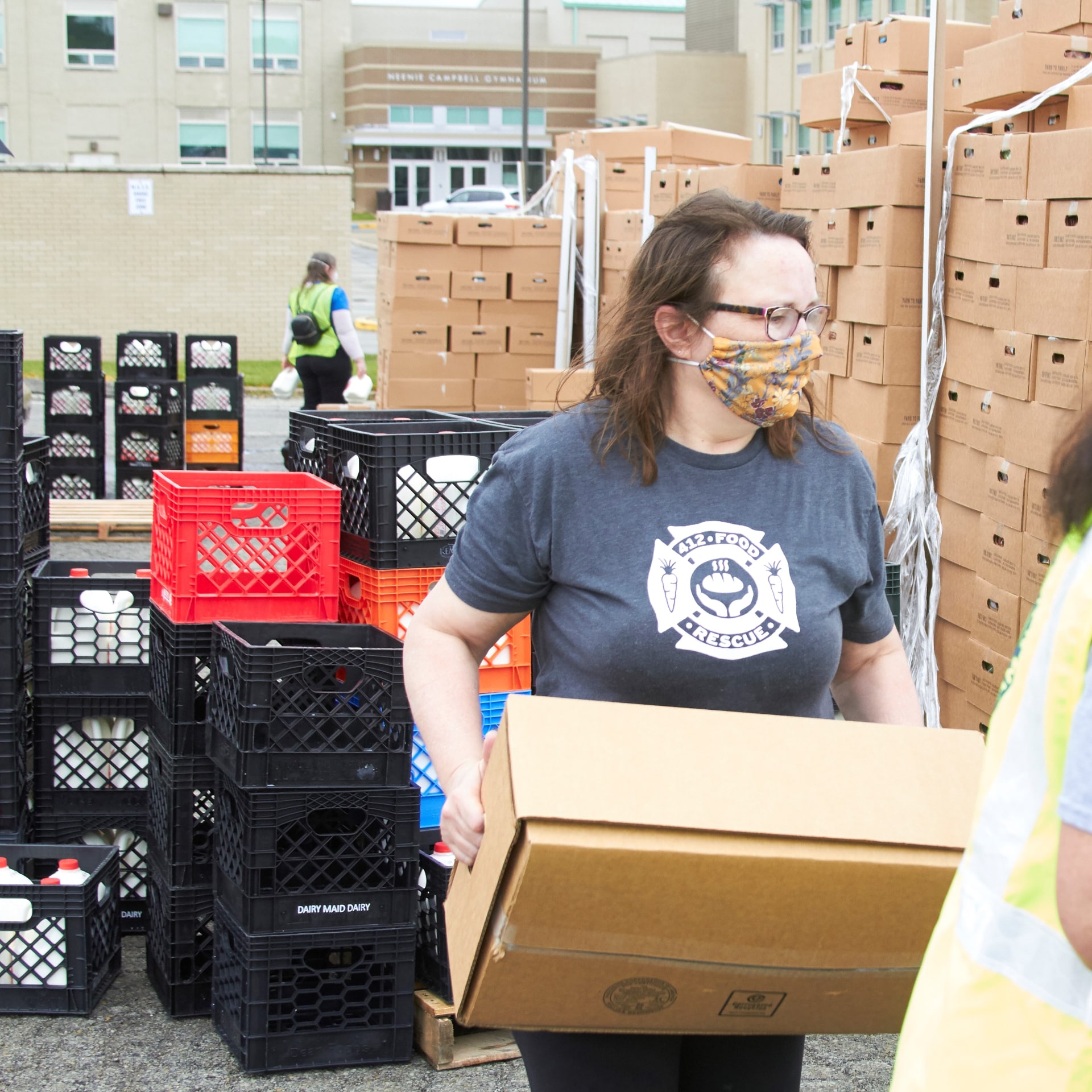 How did things grow or change during the height of the pandemic?
It was a whirlwind. In March 2020, the Food Rescue Hero app was being downloaded at the fastest rate we'd ever seen. Across multiple cities using our platform, almost 5,000 people downloaded our app – a wave of people who knew they would be needed and stepped up.

And we did need them. The pandemic disrupted access to transportation and traditional sources of food assistance, confined medically vulnerable people to their homes, and as unemployment skyrocketed, drove the number of people going hungry in the U.S. from 35 million to 50 million.

We had to be very responsive, and that propelled innovation. We created programs, like our school bus stop distributions, which brought food within reach of families whose children were missing out on meals while the schools were closed. We also piloted a home delivery service to bring food directly to the doors of homebound recipients.
The Good Food Project actually solves one of our own logistical challenges: What do you do when you rescue so much food that none of the hunger-relief organizations you work with can process it? We created a solution by opening our own zero-waste kitchen in Millvale, where we transform large quantities of good-quality surplus food into healthy, heat-and-eat meals and shelf-stable items. So far, the project has produced well over 17,000 meals for 22 nonprofit partners. We're currently creating upwards of 600 meals per week!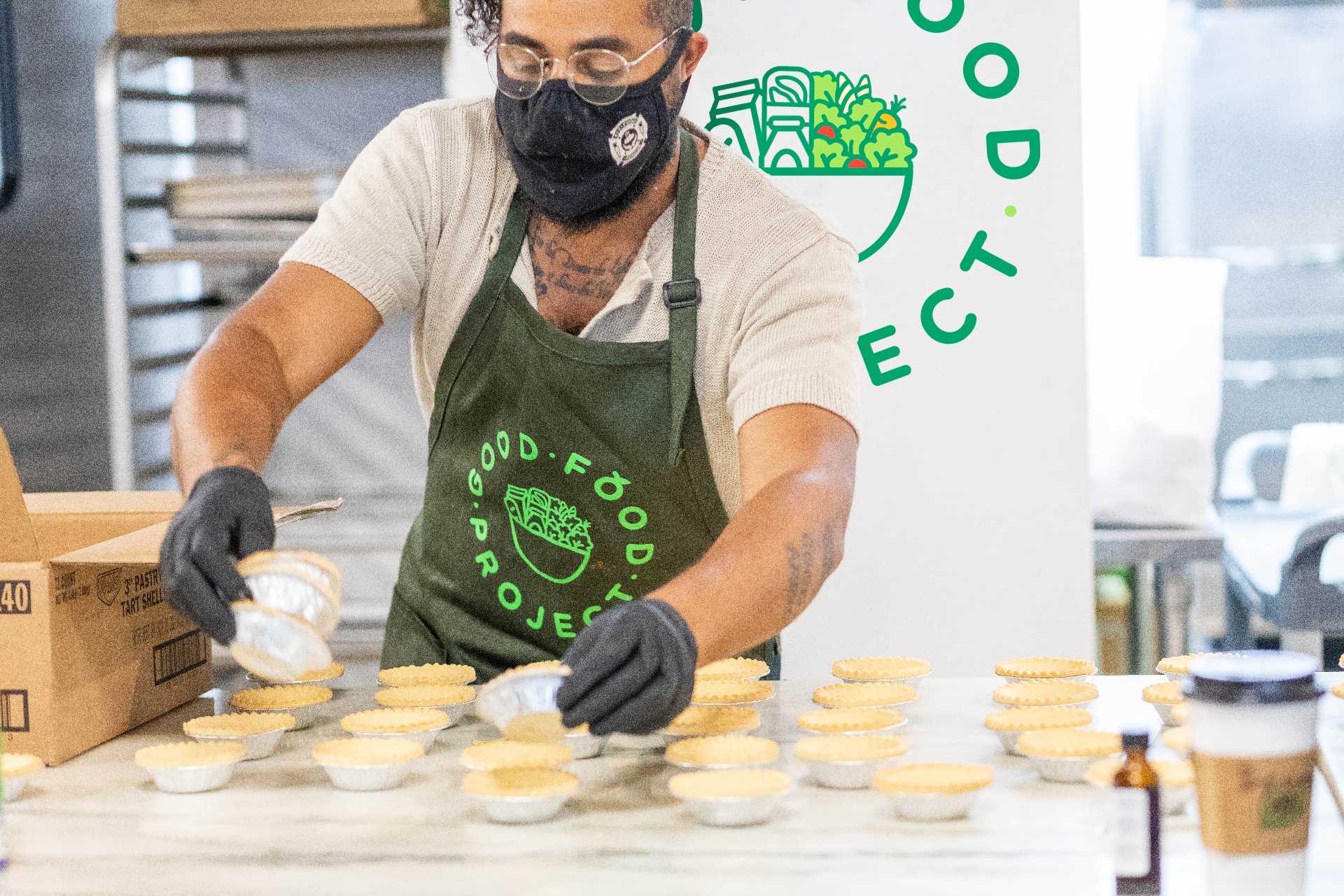 Additionally, the kitchen is home to a program that distributes over 500 grocery bags of food per week to Allegheny County Housing Authority locations.

With UglyCSA, we're tackling another source of waste: perfectly good produce that never makes it to shelves because of aesthetic standards. We've created a new market for that food through a CSA that supplies weekly bags of locally sourced produce to subscribers over the 12-week peak growing season. Purchasing just one share saves approximately 180 pounds of good food and 2,450 gallons of water, which is about as much drinking water as 13 people use in an entire year.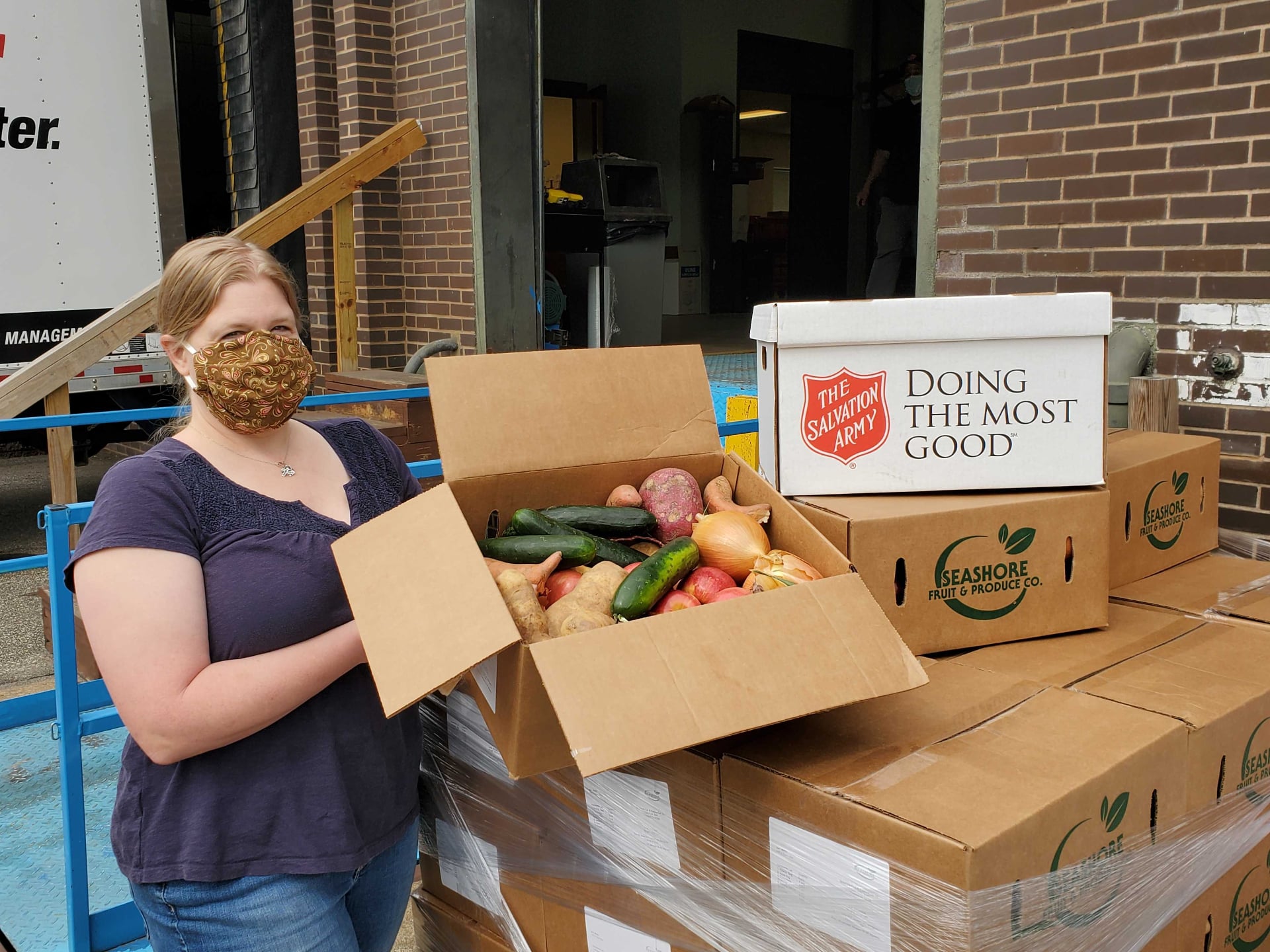 Where is the space you work out of?
Our offices are co-located in the East End Cooperative Ministries building in East Liberty. They are also a partner of ours, so it's great to share resources with them.

The Good Food Project works out of a zero-waste kitchen, shared with a local restaurant, in the Millvale Food & Energy Hub in Pittsburgh. It's a solar-powered Moose Lodge that now houses our kitchen, a cafe, and other nonprofits. In June 2021, we received funding to double our prep space and add a walk-in cooler and freezer. Any food scraps we're not able to use are composted, so no food goes to landfills. Our partnership with LeanPath helps us stay on top of our own food waste reduction practices.
Are there any future plans we should be aware of?
One of our big plans is that we're aiming to bring the Food Rescue Hero platform to 100 cities across the world by 2030, in line with the UN's Sustainable Development Goals!
Thanks to Leah for sharing so much of 412 Rescue's story with us! For more info on the profoundly awesome work that these folks are doing, or to sign up to volunteer, head to its website, and follow on Instagram and Facebook.