For so many of us, food holds a deeply nostalgic place in our hearts. Perhaps those memories are about the crunchy frosting flowers on a birthday cake, the dizzying aroma of a hot cheese pizza, or something more culturally specific, like foods served at holidays, or a grandparent's favorite sandwich. Even if you don't like cooking, there's likely an ingredient or dish that tugs at something deep inside and conjures up emotion.
For blogger Lori Fogg, there are strong emotions and memories surrounding the food she enjoyed growing up in Schuylkill County in Pennsylvania's Coal Region, which includes Lackawanna, Luzerne, Columbia, Carbon, Schuylkill, Northumberland, and the extreme northeast corner of Dauphin counties. In fact her nostalgia was so potent that she decided to create a whole blog to celebrate and share them. A Coalcracker in the Kitchen is her site, which delves deep into the foodways of Northeastern PA, Amish County and Eastern Europe, all of which speak to her experiences growing up in the area.
Her site includes an extensive, well-organized catalog of recipes, from homey one-pot suppers like Pennsylvania Dutch Ham and String Beans to holiday favorites like Cope's Dried Sweet Corn. Each recipe is preceded by an introduction written by Fogg, often touching on her personal experiences, family life and highlighting culturally relevant facts. There are also sections of the blog dedicated to the history and geography of the coal region, as well as more personal writings about topics like her experiences living in a wheelchair. Taken as a whole, A Coalcracker in the Kitchen is a love letter to the Coal Region in Pennsylvania.
We had the pleasure of chatting with Fogg, whose sharp memory and deep appreciation for the regional cuisine her blog covers made for a rich conversation. Get to know her through this Q&A, and be sure to check out her blog for a truly amazing resource for recipes and regional cooking inspiration!
PA Eats: Lori, can you give us an idea of what your life was like growing up in the Coal Region?
Lori Fogg: I grew up in Western Schuylkill County, outside of a little town called Tremont. A lot of people aren't all that familiar with area and are more familiar with the center and eastern part of the county, like Pottsville. Where I lived was pretty rural, a town of about 300 people with one gas station that also sold milk, cookies, bread and things like that. There were a few bars at the time, but otherwise, there wasn't a whole lot.

After my dad came back from the service in World War 2, my parents moved into the house that my grandmother and grandfather lived in. The house was built for my great-great grandmother. She was the postmistress there for many years, and the post office was in the parlor of the house! In my family, the house went to the daughters of every generation. The household family was my mother's mom and dad, my parents and me.

It was the typical Coal Region house, a two-story house, with a peaked roof in the front and a flat roof in the back. In the back of the house was the kitchen. It was fairly small, but there was always a kitchen table in the middle of the floor. Small as it was, it was always the gathering place and definitely the very center of the home. I always remember my grandmother in a cotton apron with rick rack trim. The second we came back home from doing anything, she'd open the cellar doorway in the kitchen and reach in and take the apron off its hook and slip it on over her head. , I don't remember so much having conversations in the living room but i do remember them around the kitchen table.
What kinds of food do you remember your grandmother cooking?
She made homemade bread. She also canned tomatoes at the end of the season. I remember as a kid  going to the local farm in Hegins to get these big baskets of tomatoes that they'd save for her. She also did things like chili sauce.
She was noted for her chow chow, my grandfather adored it. He wasn't big on poultry, so when there times when we'd have a chicken for dinner, he would just eat a chow-chow sandwich on my grandmother's bread. When she made it, there was a tremendous amount of prep. It started with a big stainless steel dish pan and she'd put it on the stove, and with chow chow everything should be cooked separately, so she'd cook, drain and cool each vegetable, the start the process again. By the end of the day everything would go back on the stove. Sometimes, this would go well into the evening, but the house would smell of mustard and vinegar for days.
When did you start helping or getting interested in cooking?
I participated a lot in the kitchen when I was a kid, basically from the time I was five. But my grandmother passed when I was just about 15, and I didn't pick her brain enough. I didn't realize the importance of it. I went day to day and didn't think about the future. But around the same time, my dad got sick and my mom went out to work for the first time. Our life was entirely different, because my dad couldn't work anymore, which was tough for him. He'd been working since 8th grade. I took over all of the cooking. I had helped my grandmother a lot and my mother cooked all the time, so I'd just look in the fridge, like, Well let's see what do we have, what can I make? Sometimes I made pot pie or meatloaf or chicken or ham and string beans. We ate the way we always ate, and chances are if I served a meal to someone and they didn't know who cooked it, they would've thought my grandmother cooked it.
What inspired you to share all of these recipes and memories through a blog?
That came when I moved to New Hampshire in the 2000s. I had cabin fever, and I really missed Pennsylvania. No one knew about those foods in New Hampshire. Every once in awhile, I'd see someone on a Facebook page looking for a recipe and I realized there were other people who had the same connection to the foods I grew up with. I started to look through the cookbooks that have been in my family for many years and made the connection to home. My favorite cookbook is one my grandmother gave to me a long time ago. It was a church community cookbook and I've never made anything from it it that didn't come out perfectly. It's still my go-tom and it's all spotted and page stuck together.
Anyway, I was a web designer for years, and I'd started a website that was a tribute to the Anthracite Miners, which included my dad. The recipe section was just an offshoot of that site that I added, but then I got more involved in Facebook, and decided to split the recipes off and make a separate page. At first it was a free template with a lousy design, and I put a few recipes up and I didn't do a whole lot. But not too long before we left New Hampshire, the Anthracite Miners page began picking up some traffic. That was about 2010. I cross-posted a recipe and it got traffic and that was the actual start. Eventually, these recipes started to get shares. I started with a few hundred Facebook followers, and now I have 25,000!
You did eventually move back to Pennsylvania, right? How did that come about?
Well, I lost my leg that gave me a whole new perspective on daily life. In the years before, I had a Mustang and I loved to drive it, it made me feel like the queen of the world. But I had to give that up. I got into a terrible funk and I was terribly depressed. It was devastating. First of all, I'd lost a body part, a very important one, and I couldn't walk on my own anymore. I felt like I'd let my husband down even though he constantly assured me that that wasn't the case. But it was then that I wanted to come home. My mom and dad weren't here anymore, and we'd sold the old family homestead, but Pennsylvania was home.

We moved back in July of 2018. We were trying to get back to the Schuylkill County area but with my physical limitations my husband's health issues we couldn't found a home that was able to be modified properly. We started looking in Western PA, in Johnstown, which is very much like Schuylkill County because it was originally built around one industry, which was steel, and it was devastated when that industry went away. But it's got a reasonable cost of living, a lot of shopping in the area, public transportation. Also, the Eastern European population is large here, they have a three-day polka fest and a Slavic fest. So, even though it has some differences from where I grew up, the area feels very familiar to me.
During that hard time, after you lost your leg, did the blog help you feel connected to a community?
Yes. I had total strangers contacting me, and yet they didn't feel like strangers. They felt like someone I went to school with or grew up next to. I felt very isolated in New Hampshire and I never felt at home there. I had a friend or two, but we lived in a rural area, it was like 45 minutes to anything. But the blog was this was this little community I had immediate contact with and they got me, when no one in New Hampshire understood it. I couldn't say "dippy eggs" in New Hampshire, people would look at me like I had two heads!
Are there specific posts on the blog that have resonated with your readers in a surprising way?
There's one post I had totally not expected to be so popular: clear toy candy. I didn't even know if anyone would remember what this is, but after I posted it, my husband called me from the living room saying, You have to take a look at this post, it's blowing up! Every time I repost it, it just gets all these hits and shares. People just absolutely love clear toy candy and it brings back memories of childhood for them. My top post consistently is a recipe for liver and onions. Now who in god's name would think that, right? The other top posts change and switch around, especially around certain holidays, where things like Fasnachts and PA Dutch potato filling get more hits.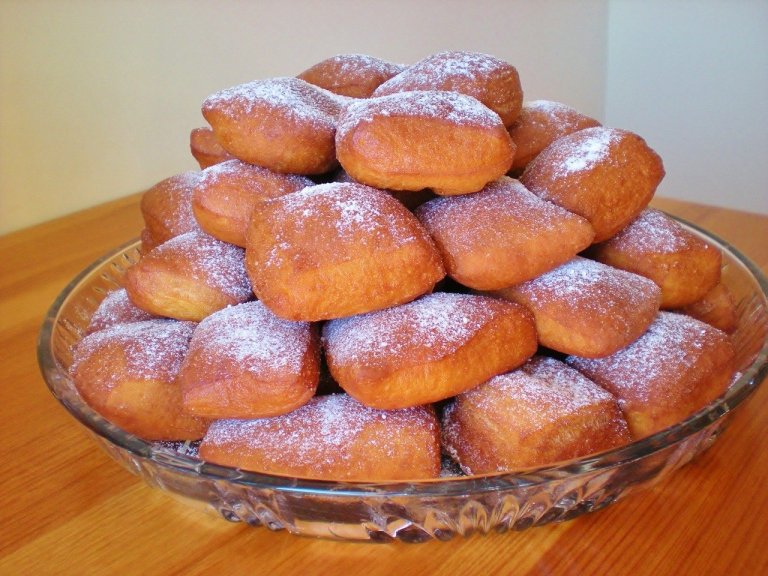 What do you think we can learn from the way your grandmother cooked?
Sometimes the simplest thing in life like bleenies (potato pancakes) are the most comforting things. Or icing cakes with just a dab of sour cream or applesauce. These require just a couple ingredients, but a lot of love needs to go into it. Don't get me wrong, if you like something, you should eat it that way, there's no food shaming here! But I think that what gets overlooked is that people sort of think that "simple" means something is wrong. Simple is tasty and good and filling. I think a lot of people realized this during the last year when everyone was locked down and couldn't go to restaurants. 
How are things going with the blog these days?
Well, earlier this year my husband James passed away. It was really tough. He was my cheerleader, he was right there with me. He would eat anything I made, and he would be honest if something didn't come out right or if it wasn't to his taste. He would help me in the kitchen, like last summer we canned some apple butter and apple sauce and he got really into canning. He would be in this big cloud of steam over the stove and he'd say, Hey hon, I really love doing this with you. So I'm in a bit of a funk right now, and find myself not interested in a whole lot because instead of food and cooking bringing comforting memories right now, they brings sad ones. But he would want me to keep cooking, so I have done some new posts, and a lot of them are in his memory.

The outpouring when I made the post that James passed away was amazing. People couldn't knock on my door and hand me a plate of pierogi like would've happened if they were my real-life neighbor, but I got emails, I got letters, and comment after comment. I've shared a lot of my life with complete strangers but they feel like family.
Many thanks to Lori Fogg for sharing her story with us! If you're interested in traditional PA recipes or want to find recipes for the foods you remember enjoying as a kid, explore more of her recipes and musings on NEPA life and culture at A Coalcracker in the Kitchen, and join the community she's helped to foster on Facebook.
Photos:

Courtesy of A Coalcracker in the Kitchen