Did you know that there are over 40 craft breweries in the city of Pittsburgh? That's a pretty crowded market! How brewers make their mark amidst the saturated playing field is often a matter of creativity and style. For Dancing Gnome Beer, creating a strong identity is all about pulling from the cultural traditions of its hometown — a "work hard, play hard" mentality — to create hop-forward beers meant for sharing.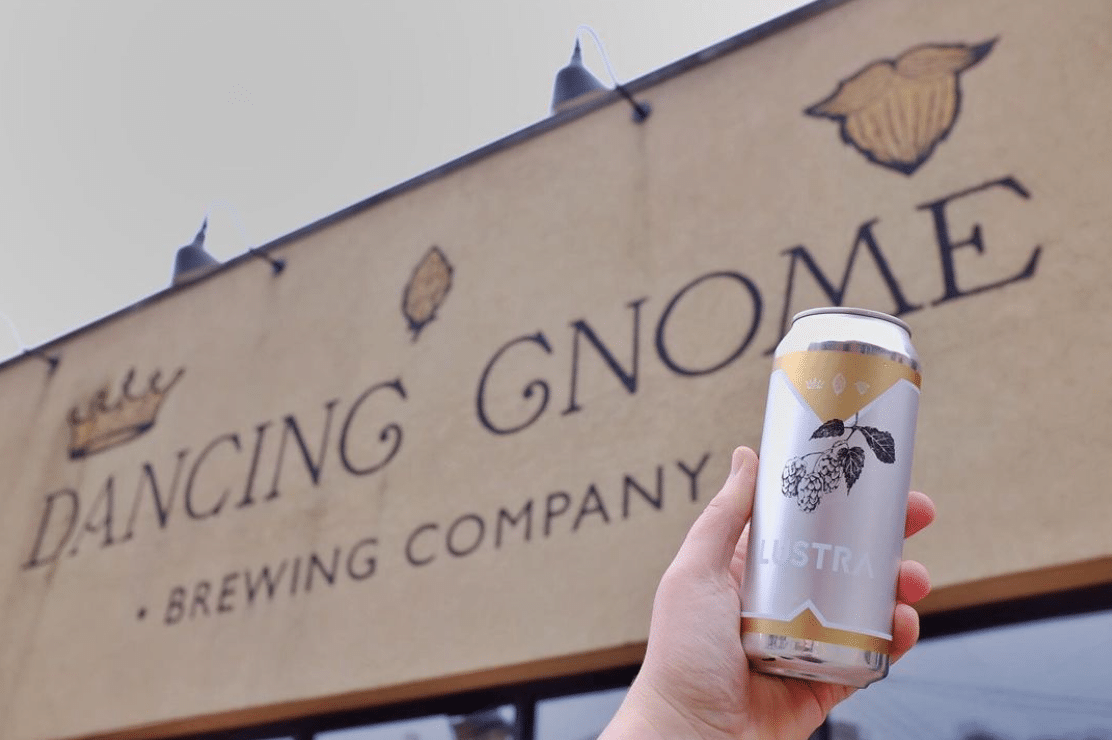 Dancing Gnome was officially started in December of 2014, after founder Andrew Witchey finished his business plan. Its taproom in Sharpsburg, a borough right off the Allegheny River a few miles northeast of downtown Pittsburgh,  opened to the public on October 1, 2016.
At the time, its staff consisted of just Witchey and two other employees, Mike Dunlay, the front of house manager, and Emily Taylor, a bartender. (Fun fact: Both Dunlay and Taylor still work for Dancing Gnome and are now married!) In the nearly 20 years since opening, Dancing Gnome has grown to encompass 15 full-time employees and a second location, which opened in Summer of 2021. Along the way, it has made lots and lots (and lots) of ales (as well and some lagers, too), starting with its original release, Lustra.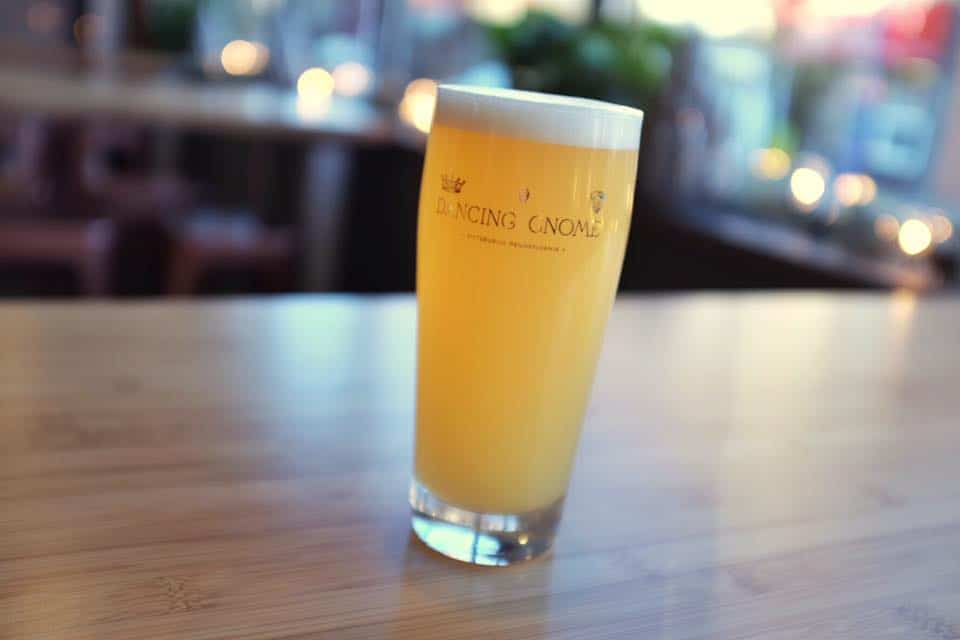 We were able to chat with Witchey about Dancing Gnome's beginnings, what inspires him, and how his brewery helped to forge a new path for American ales.
PA Eats: Let's go back to the beginning. What about making beer made you feel like, "this is the direction I want to take my career?"
Andrew Witchey: It sounds simple, but honestly, I just really loved beer. The culinary aspect of the beverage and the aromatics and flavors you could elicit from seemingly simple and ordinary ingredients really took a hold on me. I think a lot of folks grew up with family and community gatherings surrounding food, and I was certainly no different, so it was easy to translate that community over to beverage. I began studying beer pretty heavily in 2013 and went to American Brewers Guild (ABG) for my certificate in Science and Engineering of Commercial Brewing in 2014, finishing the coursework right as I was beginning my business plan.
What was the development of your company like? Did you set out with some idea of the culture you wanted to create, or did it happen organically?
Development in the beginning is exciting, but also anxious. Writing a legitimate business plan that laid everything out was one of the best decisions I've made, and regardless of your intended size or business category, I'd recommend it to everyone looking to step out on their own in some way. It really helps understand the entirety of the company and how it will operate, as well as what goals you have and how to best move forward towards those goals. It's a guide in making decisions down the road as well, since you're forced to really develop your mission and ethos.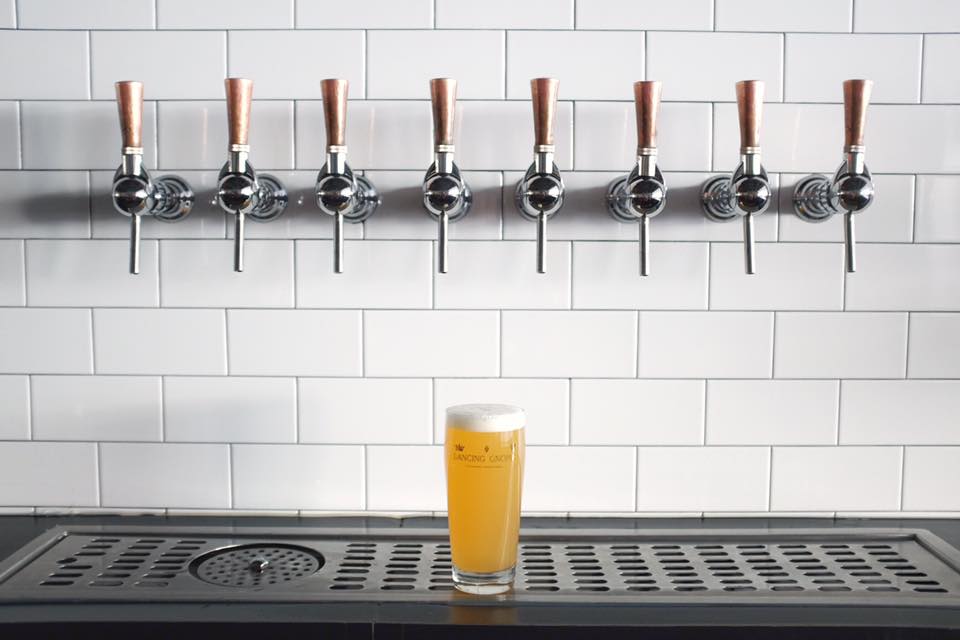 ABG helped on the technical brewing side. I read a ton of literature, talked to everyone I could, spent time at breweries and bars understanding markets and what drives consumers. Branding and image were always important and I set out to have a mark that could live on its own without the wordmark, as well as a cohesive feel with our taproom design and our can artwork.

I think hiring and culture really all came organically. We always just ran things honestly, understood quality service, and worked hard to educate folks on our products and why anyone should care. That environment from early on just attracted the right individuals as we organically grew and needed to bring on more talent.
Is there a fun story behind the Dancing Gnome name?
This gets asked a lot, and I always feel it's a bit of a letdown, but I'm nothing if not honest. The name resonated with me for a few reasons. The first was that our ethos is based in earnest work and ebullient play, and I really felt that Dancing Gnome captured that. I've been a fan of English pubs and the beer experience you get there, as well, and 'The Dancing Gnome' seemed to have a playful pub ring to it, though we haven't yet gone that route in our image or service. And finally, I felt that it was memorable, for better or worse. You may hate Gnomes or think it's a stupid name, but you won't forget it. The only thing of note is that we have never, and will never, use Gnomes in branding, though we do get asked to often!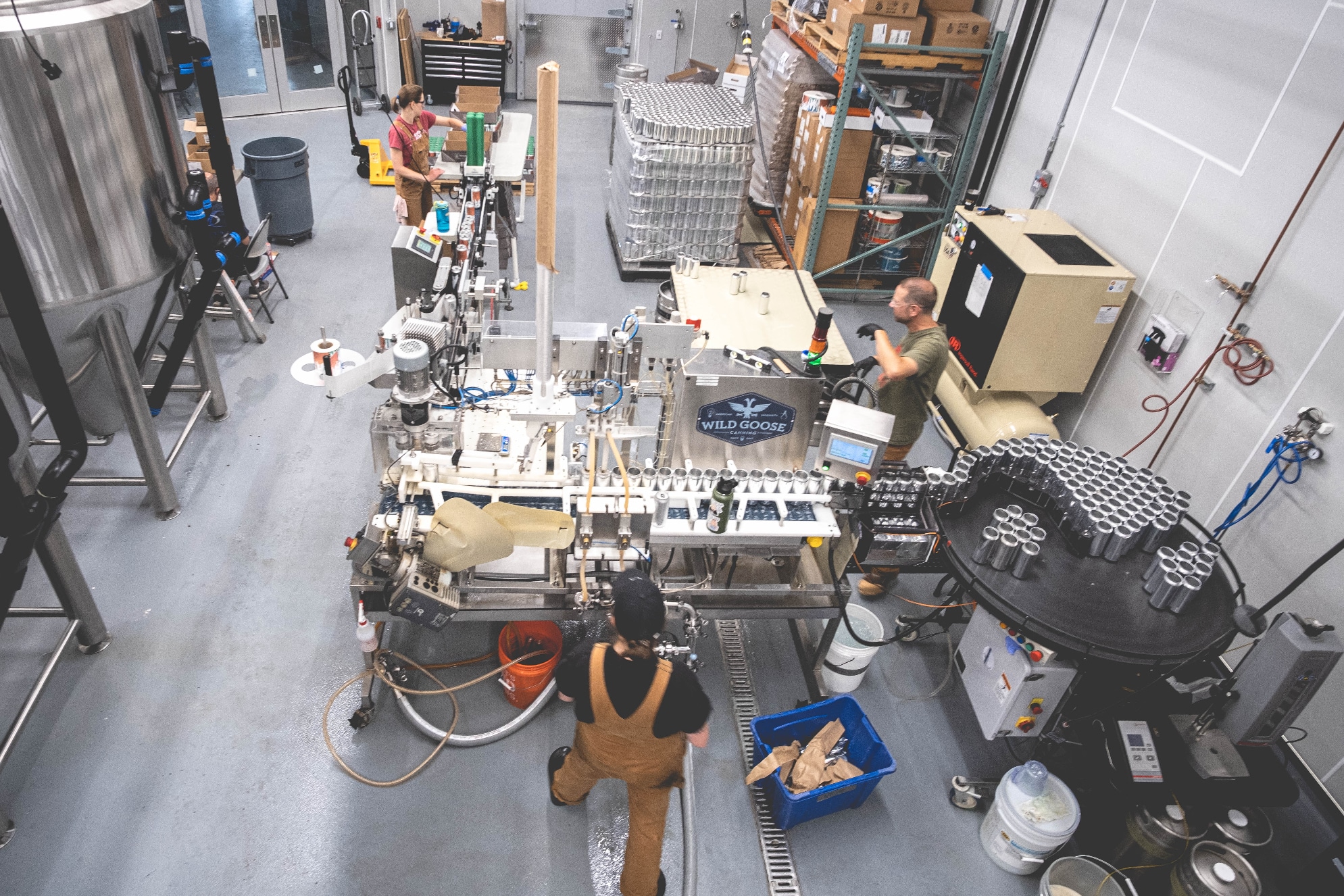 Tell us a bit about your physical space! Did you have help designing it? What features felt important to you, both on the brewing side and on the guest experience side?
We actually just opened up our second space, and though different, both were very much designed on the same platform. Our spaces are split basically 50/50 between production and experience, with large glass windows to view between the two. That keeps the interest and understanding that we're actually producing our product, but it's separate enough for safety and efficiency.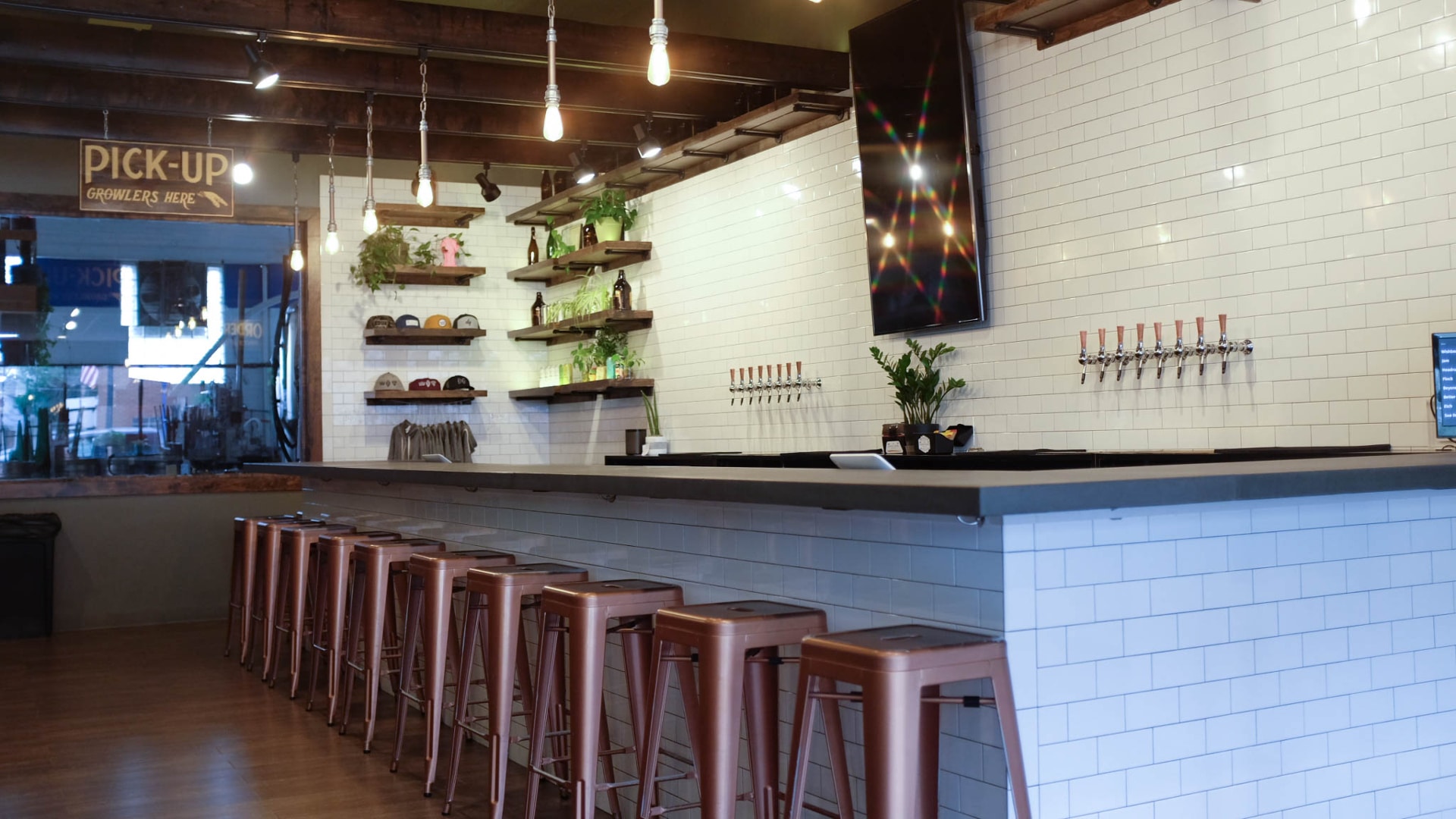 Design-wise, we just went for clean and modern, but familiar and cozy. For the original space I really had a vision, but for the second space we utilized an architect to take our experience and translate it into a more modern and open space. The most important thing is efficiency on both ends. The space needs to make sense and to be understandable in order to focus on the aspects that really drive the experience. Ultimately, we want to get you a beer as quickly as possible, so you can spend more time with the community, whether that's us at the bar, or the friends or family you came with, or someone you just met.
What was it about the location of the brewery space that called to you?
From the physical building side, it was just the general layout. For both spaces I was able to walk into an empty building and visualize exactly how I thought it should look and work towards making that all come alive. It sounds strange, but honestly it's almost just a feeling you get when you walk in. There's excitement and it just seems right.

From the map location side of things, Sharpsburg just made a ton of sense. I worked with the Borough before committing to the space and they were incredibly supportive of our plan and mission. It also has great access from all directions of Pittsburgh, with many routes all intersecting through our small town. Its proximity to the city proper, without dealing with the bureaucracy of the city, was also a major selling point.
Let's talk about beer! Who or what influences the sorts of beers that you put out into the world?
Initially we set out to 'forge a new path for the American Ale' and I think, collectively, we did that. And by that I mean not just DG, but the other breweries around the country. We began focusing heavily on what we termed 'Hop-Forward American Styles,' which was before anything was coined New England-style or hazy. We were just trying to showcase hops in a more aromatic and saturated manner.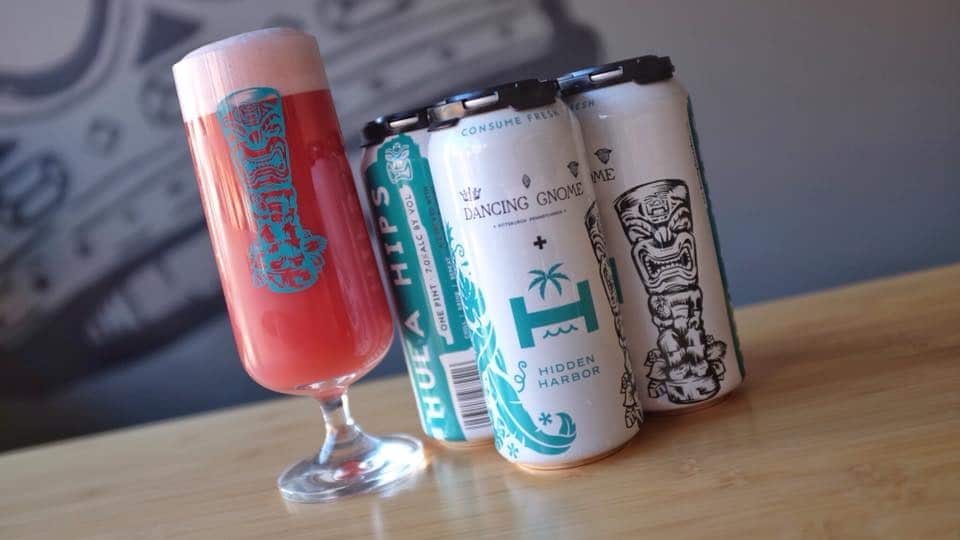 Since then, our only goal has been to make the most impactful, flavor-forward and clean beer that we can. Hops and haze will always be close to what we do here. Our house pale ale is soft and hazy and delicious, but with our growth over the years we've been able to branch out and offer other styles, most often stemming from traditional brewing. For example, there are plenty of folks who may be of the mindset that lagers are boring and lack flavor or spunk. In reality, the nuances in a properly made pilsner or helles, despite their perceived simplicity, can be far more impactful to flavor and the overall enjoyment of that product. So the one thing that hasn't changed throughout is our commitment to the education of beer and what it's capable of being.
For now, is your beer only available at the brewery?
The best experience is certainly at the brewery, but we do have distribution within Allegheny County and some of the surrounding counties. Part of our growth plan was to be able to spread out through the region and really become a Pittsburgh brand that's available to those interested in beer the same way we are. Our second location is allowing us to do that and will provide the opportunity for continued growth throughout the state as it becomes desired and pertinent, but we're definitely focused on local at this point.

Any other Pittsburgh peeps or businesses you want to shout out?
There are so many! There are too many excellent breweries in this region to name them all, but the best resource is the Pittsburgh Brewers Guild and Pittsburgh Brewery Diversity Council. It's a collective, working to make a difference in the Pittsburgh beer scene. PBG hosts information on all the breweries in our region and is a wonderful place to map out a trip or brewery hop.
Wildcard: What's your desert island beer? Like if you could only drink one beer for the rest of your life it would be …
This question so difficult because I love variety and the plethora of styles that are available to us! But if you're going to make me choose one forever, I think I'd go with Timothy Taylor's Landlord [a pale ale from a British brewery]. I think that would satisfy my affinity for light and crushable, while also being a bit more sturdy than say, a Reissdorf Kölsch [a classic German beer], which get's the honorable mention.
To learn more about Dancing Gnome, check out its website, where you can also purchase beer for pick-up. To keep up with their numerous new releases, like She Knows Beer, a collaboration with the Pittsburgh Brewery Diversity Council to benefit Planned Parenthood, follow along on Instagram and Facebook.
Visit Dancing Gnome Beer at 925 Main St. and 1025 Main St. in Pittsburgh, PA; phone: (412) 408-2083.